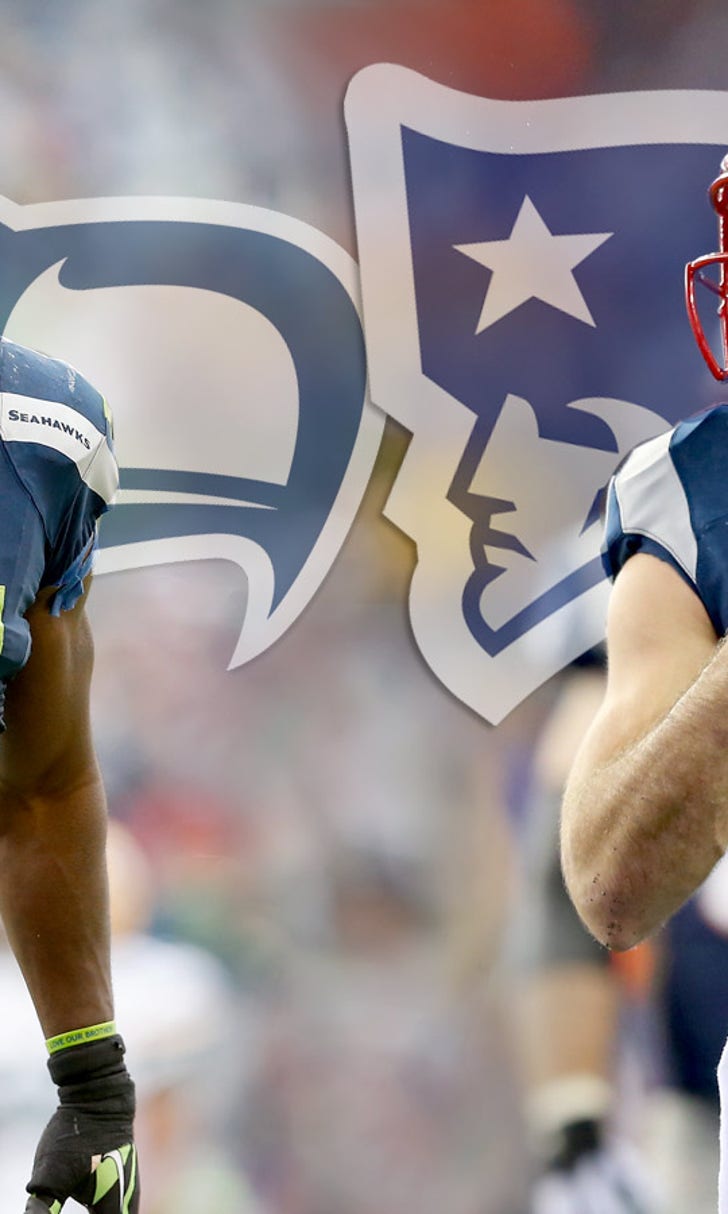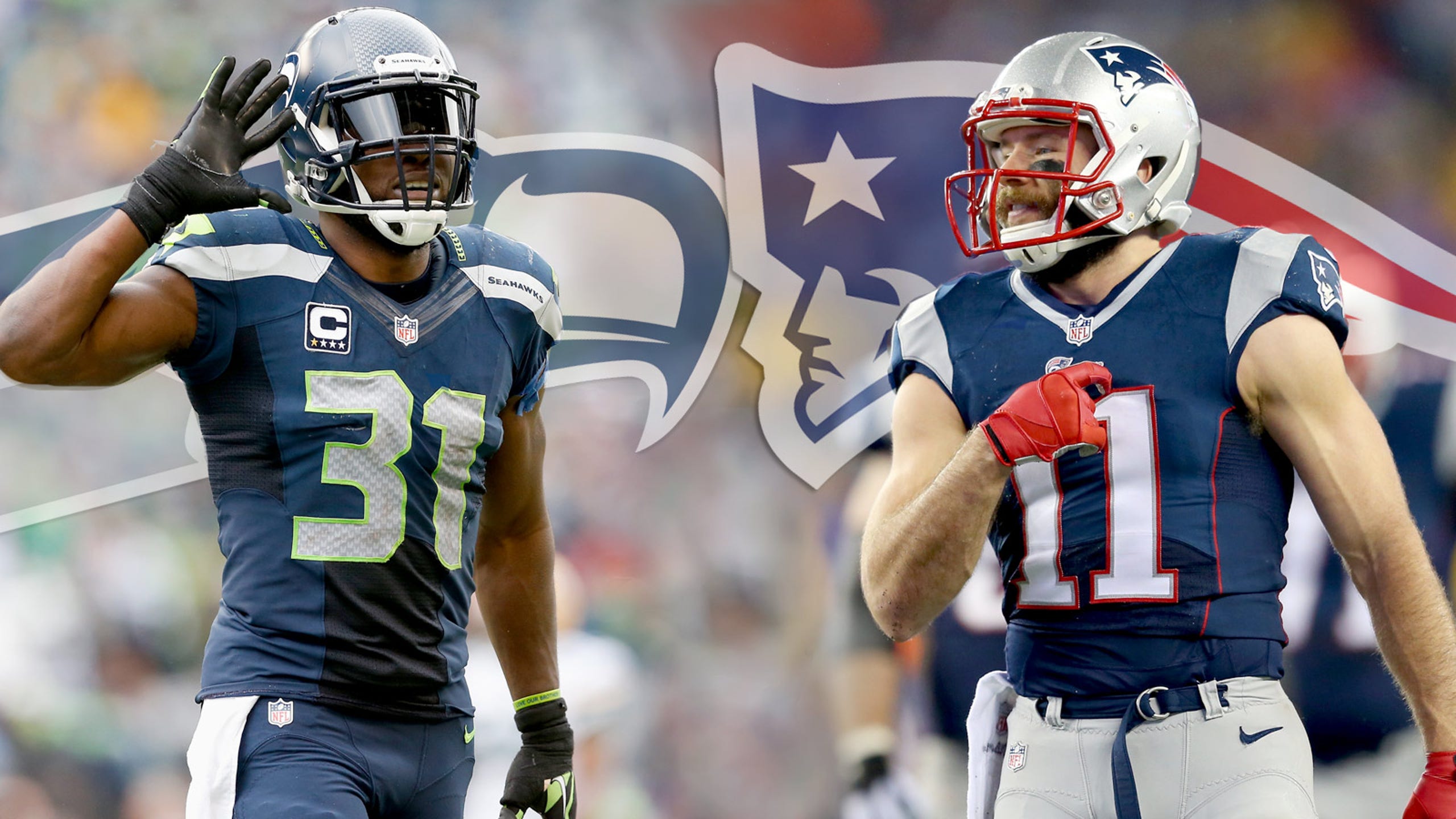 NFL expert picks: Predicting Super Bowl XLIX champion
BY foxsports • September 4, 2014
All season on FOXSports.com, our experts have offered their predictions for the week's NFL games.
Participating this year:
• Alex Marvez, Mike Garafolo and Peter Schrager, FOX Sports 1 NFL Insiders and FOXSports.com NFL writers;
• Brendon Ayanbadejo, former NFL player and current FOX Sports 1 NFL analyst and FOXSports.com NFL contributor;
• Jimmy Traina, of FOXSports.com's Buzzer page;
• Our in-house FOXSports.com NFL editors: James Parziale, Ross Jones and Sid Saraf. For the previous weeks, each one submitted a pick for each game and majority ruled to determine one overall pick for the group. For the Super Bowl, they'll each pick individually;
• WhatIfSports, our fantasy sports partners who provide a mathematical slant to predicting winners;
• Bing Predictions, our partners at Microsoft who have their own unique formula for breaking down winners. Click here to check out win likelihood percentages for each prediction. (Note: Bing's predictions are fluid throughout the week, and winning picks may differ from the table below. The picks here are as of Thursday morning, the deadline for all participants.)
Need more statistical analysis? Head on over to WhatIfSports.com for their full Super Bowl pick breakdown.
We've been keeping track of their records throughout the season to see who fares best. Click here for an archive of previous weeks' picks.
Brendon Ayanbadejo is our regular-season champion for 2014. The leader going into Week 17 went 13-3 in the final week and got his key win when the Panthers manhandled the Falcons. He finished two games clear of WhatIfSports for the overall crown with a 175-80 mark. Ayanbadejo nabbed the outright lead in Week 3 and never gave it up.
Alex Marvez and WhatIfSports entered the Super Bowl week tied for the overall lead in playoff picks at 8-2 ... and both picked the ill-fated Seahawks. Bing was 7-3 entering the big game and correctly chose the Patriots, giving us a three-way tie for the playoff title at 8-3. Peter Schrager, Jimmy Traina, and the majority of our three NFL editors chose the Patriots as well, moving all three of them up to 7-4 for the postseason. Ayanbadejo -- our regular-season champion -- went with the Seahawks to fall to 6-5 in the playoffs.
Thanks to everyone who came by during the year to check out our picks. Enjoy the offseason and we'll see you next year.
Expert

Pick

Comment

This week

Playoff record

Reg. season record

Alex Marvez

Unlike their past two Super Bowl teams that peaked too early, the Patriots are playing their best football down the stretch. But that still won't be enough against a Seahawks squad that appears ready to start its own dynasty like New England did when winning three Super Bowls in four seasons.

0-1

8-3

165-90

Peter Schrager

When I covered the Patriots in training camp, I wrote down in a notebook that this was the year they got over the hump. This was the year that this team would find a way to slay their dragons and get that elusive fourth Lombardi Trophy. Sometimes you just have a feeling.

1-0

7-4

164-91

Brendon Ayanbadejo

With legendary coaches, a legendary quarterback, a young QB breaking all legendary QB records, two strong defenses, and physical offensive lines, there is plenty of intrigue in this game. There is one thing you can't coach -- chemistry. Seattle has more of it.

0-1

6-5

175-80

Jimmy Traina

Despite becoming a deflated-ball scientist for a brief time, I'll take Bill Belichick with two weeks to prepare against an offense that isn't really anything special. Seahawks are just a different team when they don't play at home. I'll take New England.

1-0

7-4

170-85

James Parziale

Much like the Broncos last season, the Patriots aren't quite aware of what type of game the Seahawks are going to bring. Seattle's offense and special teams won't have the dynamics of Percy Harvin this time, but after seeing what Marshawn Lynch did against the Packers almost completely on his own, it's hard to see how the Patriots will be able to stop the run. Russell Wilson got his bad game out of the way and the champs will lift the Lombardi Trophy a second straight year. Too early to talk three-peat?

0-1

7-4
(NFL editors)

154-101

Ross Jones

New England is playing the better brand of football right now and is the more balanced team offensively. Expect Tom Brady to pick apart Seattle's over-aggressive defense with short to intermediate routes and mix in a heavy load of the running game on short-yardage situations. Defensively, second-year standout Jamie Collins will be tasked with spying ultra-elusive Russell Wilson and he will succeed. Collins has flashed in some big games during his first two seasons, but this will be the former Southern Miss defender's breakout game.

1-0

7-4
(NFL editors)

154-101

Sid Saraf

Forget about Deflategate. The Patriots don't need any underhanded tactics to win this game. The Seahawks' pass rush looked dangerously inept in the NFC championship and New England's strength lies in its offensive line -- despite it being banged up. Look for Tom Brady to sit untouched in the pocket, consistently find open targets and frustrate the Legion of Boom. Sorry, Seattle, no miracle comebacks here as its one-dimensional offense will have a hard time getting off the ground against a tough Pats' front seven. New England will pull away in the second half and win convincingly.

1-0

7-4
(NFL editors)

154-101

The computer says: 51.5 percent likely that the Patriots will pull it out with a predicted final score of New England 24, Seattle 23.

1-0

8-3

172-83

WhatIfSports (Full pick)

We used our NFL simulation engine to play New England vs. Seattle 1,001 times. The Seahawks won 53.3 percent of simulations, outscoring the Patriots by an average score of 24-22. So there you have it!

0-1

8-3

173-82
---
---