New England Patriots
New England Patriots
Jerry Jones defends Greg Hardy with comments about society, women
Published
Oct. 9, 2015 4:36 p.m. ET

Dallas Cowboys defensive end Greg Hardy returned this week from a four-game suspension related to a domestic-violence incident last year, and his comments during his first meeting with the press drew heavy criticism.
Among other things, Hardy said Tuesday that he plans to come out "guns blazing" Sunday against the Patriots and made suggestive comments about Tom Brady's wife -- supermodel Gisele Bundchen -- and her sister.
Team owner Jerry Jones finally responded Friday, generally supporting Hardy during an interview with 105.3 The Fan in Dallas. Jones said he believes Hardy's comments would've been scrutinized regardless of what was said, given his situation.
"Most of the comments are going to go the wrong way if they have any element of being positive, of being aggressive, of being the way you want to be as a football player as far as your attitude is concerned," Jones said. "He has that attitude. It's not just talk. It's not just in front of a bunch of cameras. That's what he is, and he is that way. He's very aggressive out there. ...
"Here's the deal: Unless he looks like he's contrite, unless he looks like he is just absolutely whipped and really obviously sorry for what his situation, he's going to get criticized. We all know that. But he was in a football setting. Those questions that were being asked of him, the people who were asking those questions, those were not workplace.
"We know some things are out of order if an attorney is talking to you or a salesperson is talking to you and they're the opposite sex. We know some things in today's society that is behavior that we don't have today. We know that."
In case you're entirely unclear about that last statement regarding society, Jones continued to ramble from there, making an odd analogy between Hardy's comments about women and the public perception of famed actress Elizabeth Taylor.
"When you talked about Elizabeth Taylor . . . you talked about how pretty she was," Jones said. "Nobody thought that you were being disrespectful of women or the workplace."
Clearly, Jones isn't concerned about Hardy's attitude; rather, he's doubling down on his team's offseason acquisition of Hardy, who left the Panthers in free agency to sign with the Cowboys. Ultimately, Jones said, he believed Hardy deserved a second chance, especially given the impact he can have on the field.
"There's other things to think about here, and I'll be very up front -- certainly I'm trying to improve the football team," Jones said. "Absolutely I'm trying to improve the football team. But I'm going to say something else, too: I have seen people that can not only improve the football team but have a contribution to make as far as things that happen in society."
---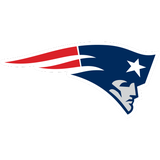 Get more from New England Patriots
Follow your favorites to get information about games, news and more
---