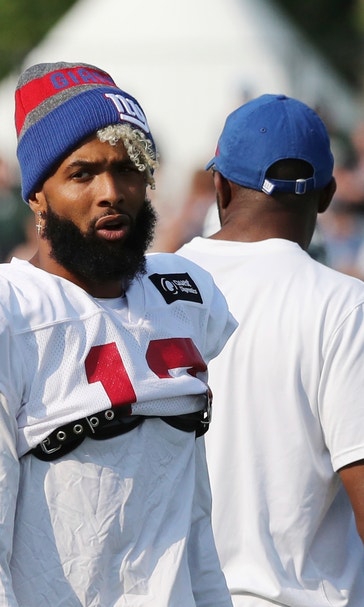 Giants' Beckham: 'Back in love with what I've always loved'
August 16, 2018
ALLEN PARK, Mich. (AP) — Odell Beckham Jr. looks as if he has fully recovered from ankle surgery.
The New York Giants star receiver sounds like it, too.
"Just to be back in the swing of things, I just feel like I'm back in love with what I've always loved," he said Thursday.
Giants coach Pat Shurmur declined to say if Beckham would play in his first preseason game Friday night against the Detroit Lions .
"I've got a plan," he said. "It will get revealed."
The 25-year-old Beckham broke his left ankle nearly 10 months ago, putting his short and stellar career in jeopardy. At the Lions' training facility, there seemed no doubt Beckham is nearly healthy.
He ran sprints and made sharp cuts on his own, testing his ankle. The three-time Pro Bowler effortlessly made one-handed catches during drills. He also appeared to run full-speed routs against Detroit defensive backs, including All-Pro cornerback Darius Slay .
"I've been going against Slay since Mississippi State," said Beckham, a former LSU star. "Every time I see him, it's always good energy. Obviously, he's been one of the best corners in the league."
And when healthy, Beckham is one of the NFL's best receivers.
He averaged 96 catches, 1,374 yards receiving and nearly 12 touchdowns per year over his first three seasons. His last season was cut short in the fourth game, limiting him to 25 catches for 302 yards and three touchdowns.
As talented and accomplished as Beckham is, he acknowledged it was encouraging to face unfamiliar competition.
"It was a good confidence-builder," he said. "We've been doing it in practice. You put the pads on, you go against somebody else. It was a lot of fun. It was much needed."
The Giants don't need to push rookie running back Saquon Barkley back onto the field with a strained left hamstring, and they probably will not in Detroit. The No. 2 overall pick was held out of practice for a third straight day and likely will not play in the team's second preseason game.
Barkley acknowledged it was frustrating to watch practice. And, the former Penn State star said he could have prevented having his first hamstring injury.
"It's about taking care of your body, treating your body, making sure you're hydrated," he said. "I thought I was doing all of those things right, but it kind of just showed me that even when you think you're doing enough, you got to find a way to do more."
Beckham, meanwhile, is preaching patience to Barkley because he also had a hamstring injury as a rookie in 2014.
"I told him, 'Just take your time,'" Beckham recalled. "There's nothing you need to prove to any of us. There's nothing you need to prove to anybody. You know what you're capable of. ... It's just about getting healthy."
---
---