Minnesota Vikings
Minnesota Vikings
Ex-Vikes DT sues Andrews, others over surgery complication
Published
Nov. 7, 2018 5:05 p.m. ET
MINNEAPOLIS (AP) — Former Minnesota Vikings defensive tackle Sharrif Floyd has filed a lawsuit against famed orthopedist Dr. James Andrews and several other parties for alleged negligence during a 2016 knee surgery that caused career-ending complications, seeking at least $180 million for potentially lost earnings.
Brad Sohn, an attorney for Floyd, confirmed Tuesday the complaint was filed in Orlando, Florida, in the Ninth Judicial Circuit Court for Orange County. Sohn said he believes the case can be made for damages exceeding $200 million, when projecting career contract values for the NFL's premier defensive tackles.
Floyd carried that potential, but he played in only 44 games, the last on Sept. 11, 2016.
"He's trying to figure out what's next for him in life," Sohn said. "That's not an easy thing, because he had no interest in ceasing to play football."
Floyd was drafted by the Vikings out of Florida with the 23rd overall pick in 2013, and he became a full-time starter in his second season. Floyd missed three games in 2015 for cartilage cleanup in his left knee, which continued to bother him the following training camp after the Vikings exercised the fifth-year option on his contract. After playing in the 2016 season opener, Floyd needed a similar arthroscopic operation on the right knee.
During that surgery, Sohn said, doctors determined a more comprehensive procedure was necessary to help stimulate regrowth of Floyd's cartilage. After drilling into the knee bone, a post-operation pain blocker was injected into the nerve.
Floyd's leg never fully recovered enough to be able to return to the field. He was placed on the non-football injury list before the 2017 season, after which his rookie contract expired.
"Sharrif is never going to play football again because of permanent nerve and muscle damage in and around his right knee and right lower leg. That was directly caused, we allege, from the nerve block," Sohn said. "The only reason it was even arguably necessary is because a far more significant surgery was performed than what had been represented to Sharrif. They told him he'd go in for a routine scope and be out a few weeks, and then they did a really complex procedure and required a significant pain intervention that ended his career."
Andrews, two surgical fellows, an anesthesiologist, the hospital and the organizations associated with the doctors are named as defendants in the case.
"We strongly dispute Mr. Floyd's allegations and plan to vigorously defend this case. Unfortunately we are unable to comment further due to the pending nature of the litigation," said Candy McGuyre, corporate marketing director with Baptist Health Care in Pensacola, Florida.
---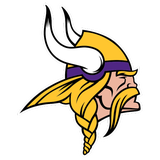 Get more from Minnesota Vikings
Follow your favorites to get information about games, news and more
---