Green Bay Packers
Green Bay Packers
Cris Carter explains how the Packers can beat the Falcons in the NFC Championship
Published
Jan. 19, 2017 3:10 p.m. ET

The Atlanta Falcons are pretty heavy favorites over the Green Bay Packers on Sunday — at least according to the oddsmakers, anyway — and with good reason.

Dan Quinn's team boasts the most balanced offense in the NFL this season, and the defense is red hot, thanks to guys like Vic Beasley Jr. cranking up the pressure on opposing quarterbacks. So even though Green Bay seems like a team of destiny, most people are coming down on Atlanta's side ahead of the NFC Championship game. Perhaps that's the smart bet — but Cris Carter doesn't count out Aaron Rodgers and the Packers just yet.




The NFL Hall of Famer and FOX Sports insider explained how Green Bay can top Atlanta on this week's "Make Me Smarter" football podcast with Nick Wright. And his keys to the game go against conventional wisdom in slowing the Falcons offense:

CARTER: Every person has that hole in their armor. The reason why you don't turn your back in the armor, is because the hole is in the back.
The back to Atlanta's armor happens to be their running attack. You say, "Wow, they're a great running football team!" But Nick, six times this year, they didn't rush for 100 yards. You know what their record is? Very mediocre; they're 3-3. So you have to try to remove that option. You can't have an explosive offense like this and just let them do things both way. ... So you have to eliminate the ground game.
WRIGHT: So this goes against conventional wisdom. What you're saying is, if you're going to beat the Falcons, what you need to do instead of doubling Julio [Jones] is, what you need to do is make it so they can't run. If they can't run, they're a .500 football team.
CARTER: That's a proven fact. ... How else can we do it? They're not a great team on 3rd down, even though they scored all these points. So that leads you to believe, if they're not a great team on 3rd down, how are they doing this scoring? Big plays. Second in the NFL in plays over 15 yards. So play soft coverage. Don't play man-to-man, because Julio or the other receivers make you miss one tackle, that's a house call.
So you have to make them make long drives, all right? Take the running game away, and eliminate the big pass play. That's going to be the Kryptonite to slow the Falcons down.
---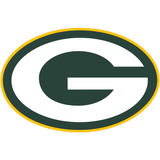 Get more from Green Bay Packers
Follow your favorites to get information about games, news and more
---