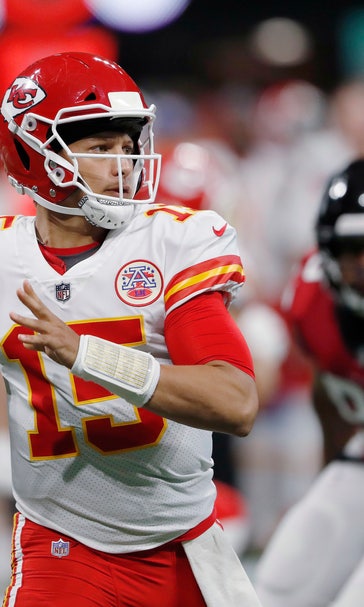 Chiefs' Mahomes making home debut as 49ers visit Arrowhead
September 20, 2018
KANSAS CITY, Mo. (AP) — Patrick Mahomes has never lost an NFL game as the starting quarterback of the Kansas City Chiefs, beating the Broncos last season and the Chargers and Steelers to start this season.
He's also never started a game at Arrowhead Stadium.
That moment comes Sunday against the San Francisco 49ers, and it's one that Mahomes has thought about ever since the Chiefs traded up to select him 10th overall last year.
Because as much fun as it was to win a trio of games on the road, performing for his home fans figures to be quite a party.
"I'm extremely excited," Mahomes said. "I can't wait to run on the field and hear them roar."
You can bet there will be plenty of noise for Mahomes, given the way he's performed two games into the season. He's tossed an NFL-record 10 touchdown passes, has yet to throw an interception, and he already has Chiefs fans wondering whether this is the season their playoff nightmares end.
"Remember, it's only been two games," Chiefs coach Andy Reid said. "I understand the excitement. I get it. But when you're in the grinder like he is, like I am — the rest of the team — you don't worry about all that other stuff. You worry about a really good team coming in here."
Besides, the 49ers (1-1) have a fairly high-profile quarterback of their own.
Jimmy Garoppolo was perfect in five starts to finish last season, and while he's had trouble with interceptions the first two weeks, he's also a big reason why San Francisco won a shootout against the Lions last week. Garoppolo threw a pair of touchdown passes in the 30-27 victory.
"I think it's good to have a mindset of you hold yourself to a high standard," he said, "so when you do that, you want to perform at your best. You try to not make any mistakes."
Mahomes and Garoppolo each had time to learn that lesson under quarterbacks that rarely make an error: Alex Smith with the Chiefs last year and Tom Brady when Garoppolo was with the Patriots.
"I think it's tremendous for a quarterback to sit his first year," Garoppolo said. "You kind of try to put yourself in that situation, how to learn from it, what you would do if you were in the spot they were in. There's a ton of things that you could benefit from."
Such as how to win in a tough road environment like Arrowhead Stadium.
Or in the case of Mahomes, how to win in one of the most favorable home venues in the NFL.
"I know he's looking forward to it," Reid said. "Should be a heck of a game."
SPREADING THE WEALTH
The Chiefs have already had three different receivers with 100-yard games, while running back Kareem Hunt is coming off a 75-yard rushing performance against Pittsburgh.
In other words, the Chiefs may boast the deepest, most versatile set of skill position players in the NFL.
"We can all contribute to the game, no matter how many targets, no matter how many yards," wide receiver Sammy Watkins said. "We're really about winning. That's all we're about."
STEPPING UP
The 49ers faced questions at running back after projected starter Jerick McKinnon went down with a season-ending knee injury a week before the opener.
Second-year back Matt Breida has filled in nicely and leads the NFL in rushing after two weeks with 184 yards.
"A lot of people thought this year that I wasn't going to get as much playing time as I did last year," Breida said. "It sucks that Jet went down, but I feel like me and (Alfred Morris) are going to be able to help this team out a lot and have a great year."
GETTING DEFENSIVE
There should be points-a-plenty on Sunday. The Chiefs are allowing 430 yards passing and 508 yards per game, last in the league, while the 49ers are in the 20s in each of the statistical categories. San Francisco is also minus-2 in turnover margin.
FOSTER RETURNS
San Francisco figures to get a big boost on defense from Reuben Foster, who was suspended for the first two games of the season for violating the league's substance abuse and personal conduct policy.
The linebacker excelled in 10 games when he was healthy last season, showing an ability to shut down the running game and the athleticism to guard running backs and tight ends.
Those skills could be crucial this week against Hunt and tight end Travis Kelce.
LOCKDOWN SHERMAN
Opposing quarterbacks are staying away from 49ers cornerback Richard Sherman, even as he comes back from last year's season-ending Achilles' tendon surgery. Sherman has allowed one catch in 99 coverage snaps and only been targeted four times, according to Pro Football Focus.
"Sherman is a very instinctual player," Mahomes said. "They have a big defensive line. It's going to be a big challenge, especially our first home game. We just have to keep getting better."
---
---