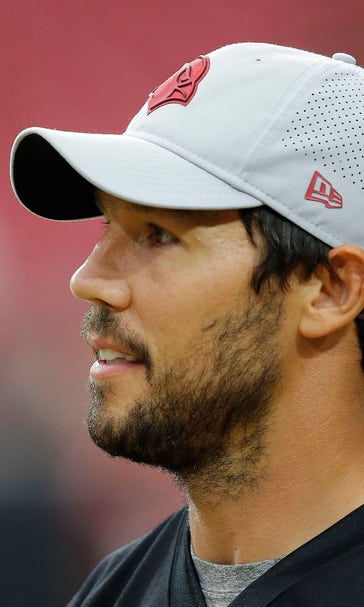 Cardinals wrap up short training camp, head to New Orleans
August 15, 2018
GLENDALE, Ariz. (AP) — The Arizona Cardinals wrapped up their shortest training camp in recent memory Wednesday with a workout at University of Phoenix Stadium.
The Cardinals reported on July 27 for their first camp under new coach Steve Wilks and scattered a handful of outdoor practices in the desert heat with workouts inside the air conditioned stadium.
"I thought we really came down here and accomplished a lot," Wilks said, "most importantly trying to emphasize and focus on the fundamentals and techniques of the game, trying to create that mindset, the physicality and most importantly the effort that's going to sustain us throughout the year."
Arizona plays its second preseason game at New Orleans on Friday night and will resume practices Sunday on the other side of suburban Phoenix at the Cardinals practice facility in Tempe.
The camp lasted less than three weeks.
"My mindset is to try to frontload on the front end," Wilks said. "I want to get back to Tempe so I can get these guys into a routine of how it's going to be during the season and really starting to get their mind right and most importantly get their legs back underneath them."
Rookie quarterback Josh Rosen, who figures to get some time with the first unit against the Saints, said he learned a lot in the camp and he's looking forward to getting a chance to play with the starters.
"It's awesome I get to run with really good players," he said, "hopefully complete a ball to Larry (Fitzgerald) and keep playing whether it's ones, twos or threes."
Wilks said Rosen had a good practice Wednesday.
He "looked real good today and I'm hoping that can translate over to the game on Friday," Wilks said. "He's still learning, he's still growing. He's a rookie and he's going to have some bumps here and there. But the guy has a short-term memory, which is great, and he's a great competitor."
Sam Bradford still has a firm hold on the starting quarterback job and figures to get more snaps than he did in the preseason opener, when he played one series and threw just one pass — a 6-yard completion — in Arizona's 24-17 victory over the Los Angeles Chargers.
The Cardinals, under what has become known as "the plan," have brought Bradford along slowly as he comes back from his latest knee injury. Bradford had regular days off during the camp.
"Like you guys have heard me talk about a million times," Bradford said, "just the plan that we had kind of put together when I got here in the spring and then at the end of the spring talked about training camp and having that plan in place and really sticking to that plan. I think my knee feels really good right now. I think my body's in a great place and so I think that those days off have come at the right time and kept my body where it is."
Notes: Wilks said WR Brice Butler probably would miss the Saints game with a foot injury sustained during practice earlier this week. ... The Cardinals re-signed S Harlan Miller and waived/injured CB Lou Young III. Miller played in seven games for Arizona the past two seasons.
---
---