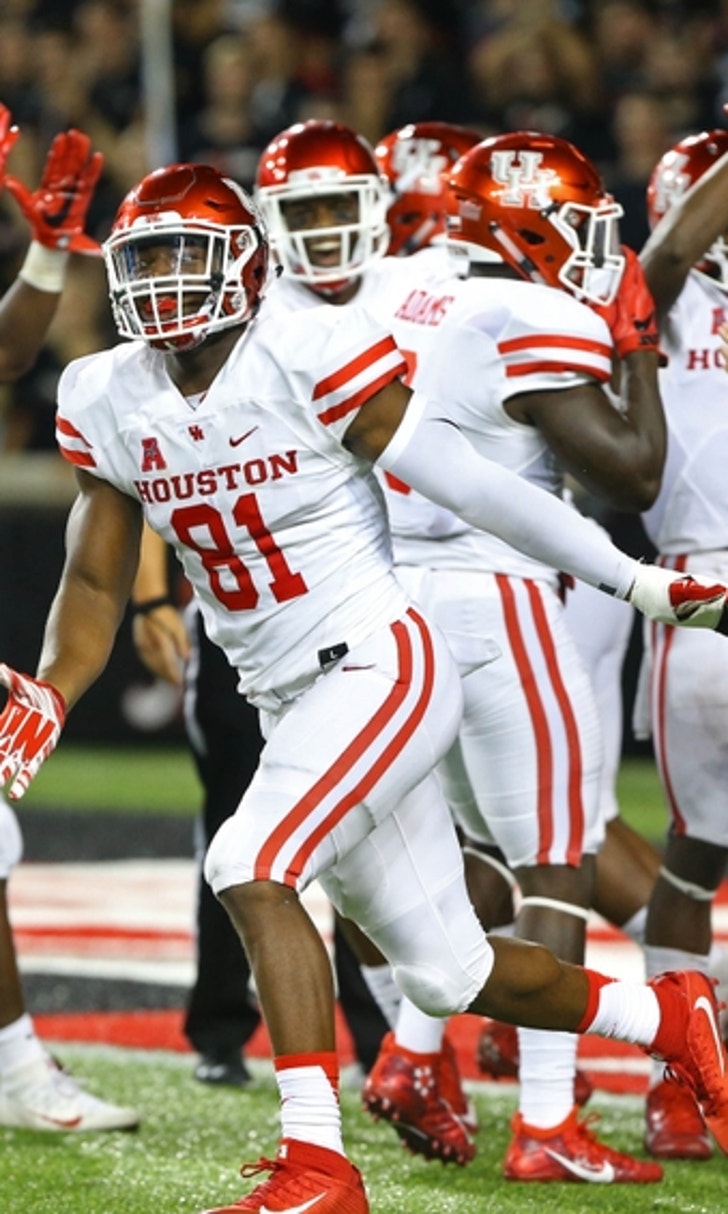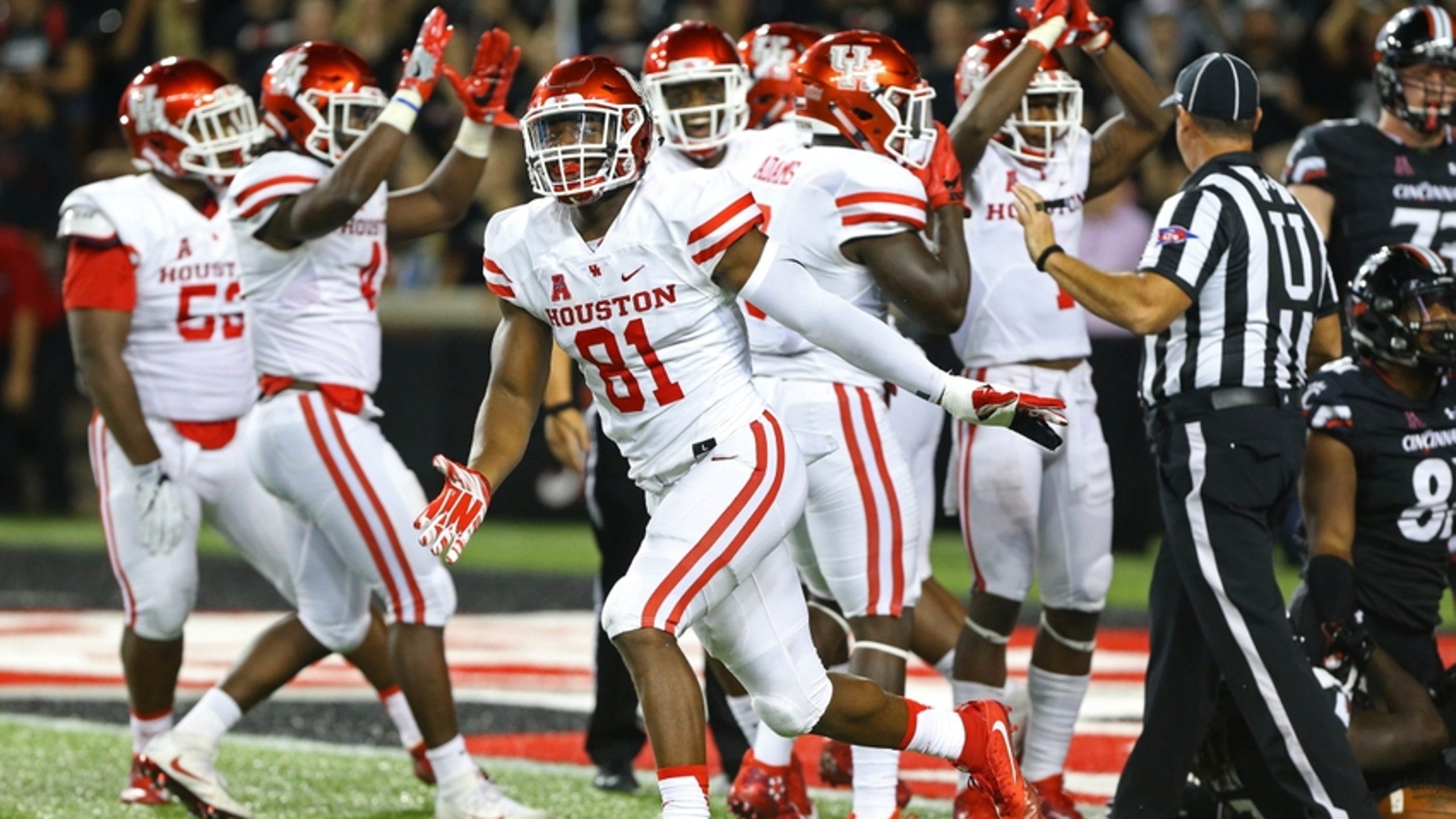 2016 Las Vegas Bowl: 5 NFL Draft Prospects to Watch
BY Fansided and Dan Schmelzer/FanSided via NFL Spin Zone • December 17, 2016
The top 2017 NFL Draft prospects to watch in the Las Vegas Bowl matchup between Houston and San Diego State.
Bowl season is a great time to evaluate NFL Draft prospects. It is a time of the year where the high-level talent separates themselves from the pack. In the 2016 Las Vegas Bowl, we get an interesting matchup between San Diego State and Houston. These early bowl games do not typically generate a ton of interest, but these are two exciting teams with legitimate NFL Draft talent.
Led by dynamic quarterback Greg Ward Jr. and a dominant defensive unit, Houston was an extremely interesting team early in the season. Their 9-3 record was a bit of a disappointment, but this is undoubtedly a talented team that is capable of a big-time Las Vegas Bowl performance.
San Diego State shows a similarly dominant defense and an explosive rushing attack that can put points on the board against anybody. They should have been much better than 10-3 this season, but inexplicable losses to Colorado State and South Alabama hurt their chances at a major bowl game. That being said, the Aztecs took home the Mountain West title for the second consecutive season and undoubtedly have a lot of NFL Draft talent on the roster.
Houston is a three-point favorite in this game, but this could really go in either direction. However, we at NFL Spin Zone are not worried about the game itself, we want to look at the best players in this game for the next level.
Here are the top five 2017 NFL Draft prospects in the Las Vegas Bowl.
Sep 15, 2016; Cincinnati, OH, USA; Houston Cougars linebacker Tyus Bowser (81) reacts after tackling Cincinnati Bearcats running back Mike Boone (not pictured) for a safety in the second half at Nippert Stadium. Houston won 40-16. Mandatory Credit: Aaron Doster-USA TODAY Sports
5. Tyus Bowser, EDGE — Houston
Height: 6-3
Weight: 240 pounds
Class: Senior
A broken orbital bone suffered in a fight with a teammate has caused Tyus Bowser to miss some time down the stretch. Bowser will undoubtedly have to answer questions about the altercation in the NFL Draft prospect, but he is an extremely interesting prospect who has serious upside at the next level.
More from NFL Spin Zone
Bowser lines up as a stand-up rusher in Houston's defense. He lacks ideal size on the edge, but he is a quick, athletic player who can get after the quarterback. Bowser shows great balance while rushing off the edge and packs an extremely strong punch in his hands.
His pass rushing upside is real, but there is more to Bowser's game. The Houston outside linebacker does a great job of setting the edge and making plays against the run. He can squeeze down the offensive lineman, create separation and make a play against the run.
Also, Bowser shows solid coverage skills, even being able to defend quick and elusive slot receivers at times. He is a strong overall player who has legitimate pass rush upside at the next level. His lack of size likely makes him nothing more than a situational player at the next level. However, he can certainly make an impact in that role. Bowser is undoubtedly an NFL Draft prospect to watch in the Las Vegas Bowl against San Diego State.
Oct 21, 2016; San Diego, CA, USA; San Diego State Aztecs running back Donnel Pumphrey (19) runs for a second quarter touchdown against the San Jose State Spartans at Qualcomm Stadium. Mandatory Credit: Jake Roth-USA TODAY Sports
4. Donnel Pumphrey, RB — San Diego State
Height: 5-9
Weight: 180 pounds
Class: Senior
San Diego State running back Donnel Pumphrey is one of the most productive rushers in the history of college football. The SDSU back has essentially been the entire offense for the Aztecs this season, rushing for an incredible 2,018 yards and 16 touchdowns on 330 carries this season.
Pumphrey has been great this season, but it is preceded by three other productive years before his senior season. Pumphrey has already passed Ricky Williams to become the second-leading rusher in NCAA Division 1 FBS history. If he rushes for 108 yards in the Las Vegas Bowl against Houston, he will be the all-time leading rusher.
Obviously, Pumphrey is the best college football player in this matchup. His numbers speak for themselves. Nobody has been able to shut down the quick and elusive back, but that does not necessarily lead to NFL success.
At 5-9, 180 pounds, Pumphrey does not have ideal size for NFL standards. His speed, quickness and ball carrier vision make him an interesting prospect, but there is not a team that is going to look at Pumphrey as a top-tier NFL Draft prospect.
His talent and college production make him an interesting option, but Pumphrey simply is not an every down back at the next level. That being said, Pumphrey will take his big play ability to the NFL. He will have great upside as a scat back, return specialist or even a slot receiver. NFL teams will undoubtedly have their eyes on Pumphrey in the Las Vegas Bowl and so should the NFL Draft fan in you.
Sep 19, 2015; San Diego, CA, USA; A detailed view of the San Diego State Aztecs logo on a goaline pylon before the game against the South Alabama Jaguars at Qualcomm Stadium. Mandatory Credit: Jake Roth-USA TODAY Sports
3. Nico Siragusa, OG — San Diego State
Height: 6-5
Weight: 330 pounds
Class: Senior
Pumphrey obviously had a lot to do with his historic college production. That being said, he had an impressive offensive line opening up holes in front of him. Offensive guard Nico Siragusa has been Pumphrey's most productive offensive lineman.
A big and powerful man who absolutely dominates in the rushing attack, Siragusa has opened up massive holes for Pumphrey for the last three years. A massive man who dominates with power, Siragusa also shows an explosive and quick first step off of the snap.
He is never going to be a guy who excels in a zone scheme or anything like that, but Siragusa does have nice quickness for a massive man. He has experience playing both left and right guard for San Diego State, and has even lined up a bit at tight end for the team.
Siragusa's strength is undoubtedly in his powerful run blocking ability, but he is a solid pass protector as well. He does a great job of consistently mirroring opposing pass rushers, and while he can struggle against elite speed, Siragusa dominates power rushers.
A big and explosive blocker up front, any NFL team looking to improve their rushing attack should be considering Siragusa. He is a solid mid-round NFL Draft prospect who undoubtedly has some nice upside at the next level.
Sep 10, 2016; San Diego, CA, USA; San Diego State Aztecs cornerback Damontae Kazee (23) defends a pass to California Golden Bears wide receiver Demetris Robertson (8) during the fourth quarter at Qualcomm Stadium. Mandatory Credit: Jake Roth-USA TODAY Sports
2. Damontae Kazee, CB — San Diego State
Height: 5-11
Weight: 190 pounds
Class: Senior
NFL teams are always looking for high-level cornerback prospects. In today's NFL where the passing game is king, there is not much that is more important than finding a guy who can shut down receivers on the outside.
Damontae Kazee is not a perfect cornerback prospect. He does not have ideal size and can be a bit slow at times. However, he is a quick cornerback with strong athletic traits that should translate well to the next level.
More than any of his raw skills, Kazee impresses with his natural coverage ability. He is a balanced player who shows great technique and aggressiveness in coverage. Kazee is also an extremely aware cornerback, showing the necessary route recognition skills to excel at the next level.
The San Diego State product shows great press coverage ability, consistently being able to jam receivers at the line of scrimmage. He also tracks the ball extremely well, making plays on passes that he has no business being a part of.
Kazee's aggressiveness does get him in trouble at times. He will gamble a bit too much and is susceptible to getting burned deep on a double move. That being said, his aggressive nature works out for him more often than not. Also, Kazee is a strong return specialist on top of being a potential shutdown cornerback.
An extremely talented and productive player, Damontae Kazee has nice upside at the next level. He will be under consideration in day two of the 2017 NFL Draft.
Oct 29, 2016; Houston, TX, USA; Houston Cougars linebacker Steven Taylor (41) attempts to tackle Central Florida Knights quarterback McKenzie Milton (10) during the fourth quarter at TDECU Stadium. The Cougars won 31-24. Mandatory Credit: Troy Taormina-USA TODAY Sports
1. Steven Taylor, OLB — Houston
Height: 6-1
Weight: 225 pounds
Class: Senior
We kicked off this list with one edge rusher for the Houston Cougars, and coming in at No. 1 is his running mate. Steven Taylor is officially listed as an outside linebacker, but he is not a consistent edge rusher like Bowser. Houston uses Taylor as a versatile chess piece all over the field. He will line up and attack the passer from the edge at times, but Taylor also plays on the inside.
He shows pass rush upside from both the outside and inside, consistently making plays using his impressive combination of quickness, burst and athleticism. Taylor is also a strong run defender who can handle his own on the inside and set the edge well on outside runs.
Taylor also shows some nice upside in pass coverage, showing the necessarily athleticism to defend tough matchup tight ends. Taylor's size will be a concern for some NFL scouts, but he is a fast and athletic linebacker who has a nose for the ball.
Simply put, Taylor is a high-level playmaker who can play a variety of roles at the next level. At worst, he has the ability to be special teams ace and an occasional defensive weapon. However, Taylor has much more upside than that.
His versatility is key and could turn him into a strong NFL defensive player. Using him in a variety of roles is the key here. Taylor is an extremely promising player who has great upside at the next level. He is the number one guy to watch on either side in the Las Vegas Bowl.
---
---