Russell Westbrook
Russell Westbrook
Westbrook still out as Thunder face Mavericks
Published
Nov. 10, 2018 12:02 a.m. ET
The Oklahoma City Thunder have managed quite nicely, thank you, without superstar Russell Westbrook, whose two-game absence has not prevented the Thunder from continuing a league-best run.
The Thunder will bring a seven-game winning streak into a Saturday game at Dallas, which has lost eight of its first 11 games but has played much better at home, winning three of five.
The Thunder (7-4) obviously would not want to play a long stretch without Westbrook, who is averaging 24.1 points, 8.3 rebounds and 8.9 assists. But their defense of late has shown them capable of hanging with just about anyone.
Oklahoma City limited Houston to 37.8 percent shooting from the field in a 98-80 victory on Thursday after holding Cleveland to 37.1 percent shooting in a win in the first of that back-to-back set Wednesday.
"We've got guys that can guard and want to guard," Thunder forward Paul George told reporters after his double-double of 20 points and 11 rebounds against Houston. "That's just what it comes down to."
Westbrook is not expected to play in the game against Dallas because of his ankle sprain, although Dennis Schroder has played well in his absence. Schroder has 42 points, 13 rebounds, five assists and eight turnovers in two starts in place of Westbrook, shooting 17 of 31 from the field.
George has 38 points, 18 rebounds and eight assists in the last two games, and second-year guard Terrance Ferguson had a season-high 14 points in a season-high 30 minutes against the Rockets.
"We got stops, we turned it into offense, and we just played faster," George said.
The Thunder lost their first four games, two while Westbrook recovered from offseason right knee surgery, but are entering a stretch in which they could look to extend their streak.
Oklahoma City has a home-and-home series against Phoenix around a home game against New York in the next week. Then comes a two-game road trip to Sacramento and Golden State, the latter game on Nov. 21. The Thunder conclude the month with a four-game homestand.
"We're playing like we're hungry," Thunder reserve guard Raymond Felton told reporters.
"We've just got to keep that (up)."
Oklahoma City has won eight of the last 11 against Dallas, although the teams split four games a year ago,
The Mavericks' issue to this point is not so much with personnel as it is with maintaining possession, which has been a franchise staple since it won the NBA championship in 2011.
Dallas has been close to the gold standard in ball security in the previous seven seasons. It was second in the league while averaging 11.8 and 11.2 turnovers per game the last two seasons, and has been in the top five in six of the last seven seasons.
The Mavericks are playing at a faster pace in a new offense this season, however, and the speed of the game and the expected learning curve for a new offense have come at some cost.
The Mavericks are averaging 17.1 turnovers a game, which ranks 28th in the league, and they committed 25 turnovers, which led to 31 points, in a 117-102 loss at Utah on Wednesday. The trailed by 23 at half.
"The turnovers killed us," rookie Luka Doncic told reporters.
"It's a big problem, and we got to get it solved," coach Rick Carlisle told reporters. "In the West, it's going to test you every night. It's going to test your togetherness, it's going to test your collective will. And we just got to stick together and be up to it."
Turnovers can lead to easier baskets, and Mavs' opponents are shooting 49.2 percent from the floor, 29th in the league. Opponents are averaging 12 3-pointers a game and have made a league-high 42.3 percent from 3-point range.
Those shooting figures translate into an opponents' effective field-goal percentage of 56.2 percent.
Dallas rookie point guard Jalen Brunson had a career-high 11 points on 5-of-7 shooting with two assists and two turnovers in 16 minutes against Utah, while starting point Dennis Smith had 10 points, four rebounds, an assist and four turnovers in 24 minutes.
"Brunson was a very positive factor in the game," Carlisle said. "A good job at both ends. He's plus-nine in 15 minutes. That tells you he was ready to play. We need those kind of performances from top to bottom."
Mavericks guard Devin Harris, who has not played since the season opener because of a hamstring injury, might play on Saturday.
---
---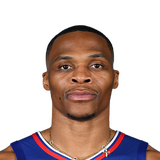 Get more from Russell Westbrook
Follow your favorites to get information about games, news and more
---