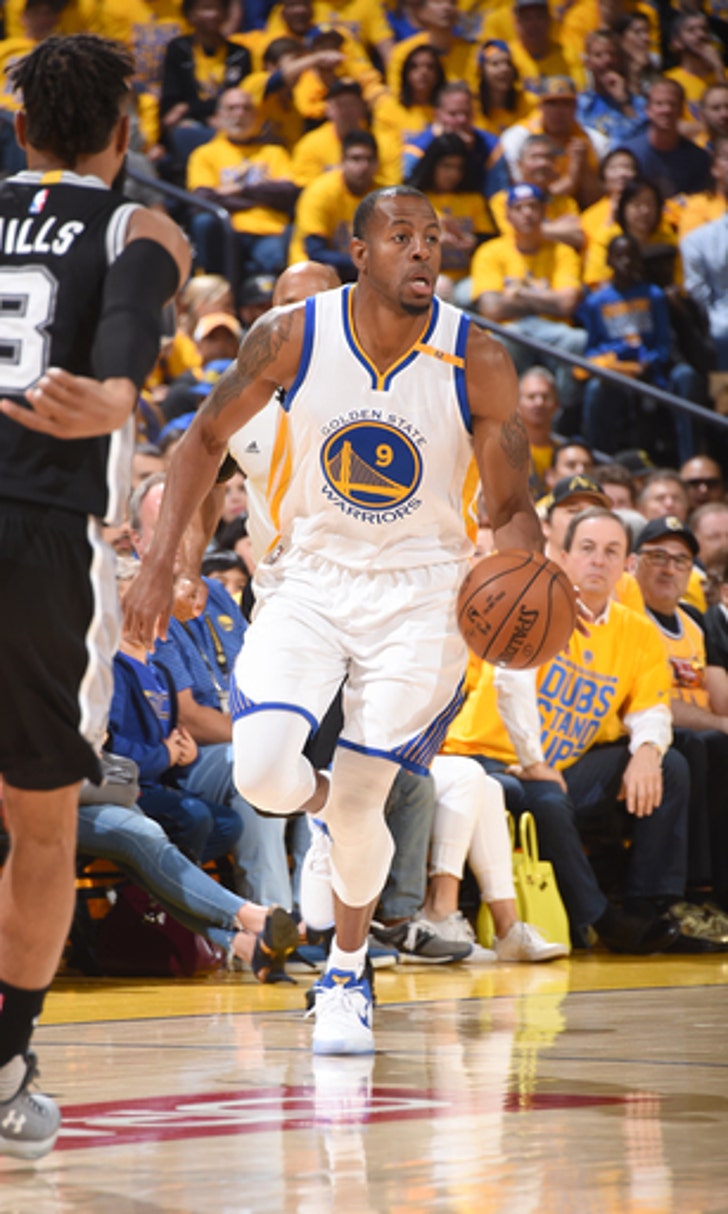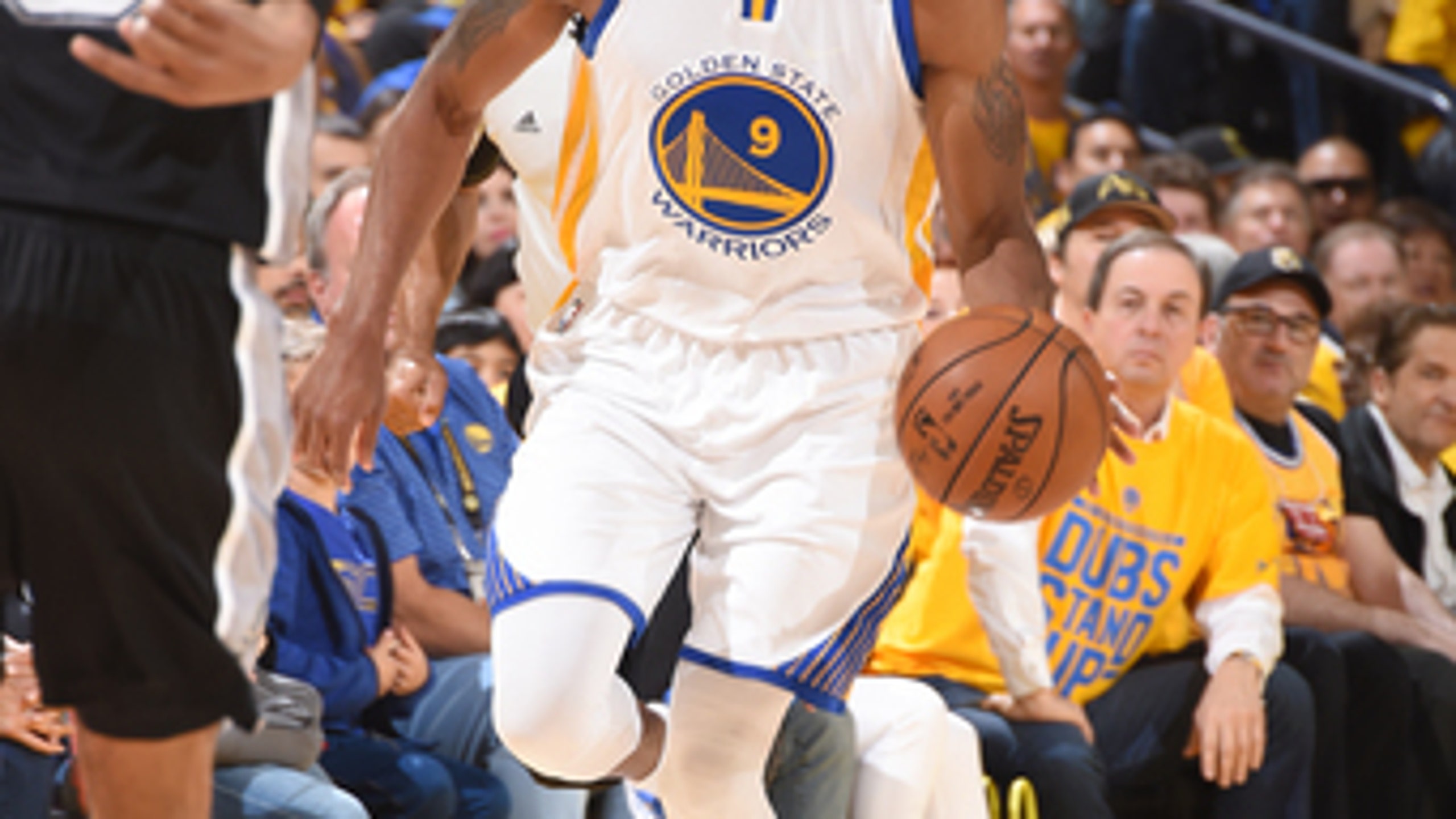 Warriors reach agreements with Andre Iguodala, David West
BY AP • July 2, 2017
OAKLAND, Calif. (AP) About as quickly as they can blow games open with big runs, the high-flying Golden State Warriors are keeping their roster intact for another championship chase.
Key reserve Andre Iguodala announced his own re-signing Saturday night on Twitter, reaching agreement on a $48 million, three-year contract in which all the money is guaranteed, a person with direct knowledge of the deal said. The person spoke on condition of anonymity late Saturday because terms hadn't been publicly disclosed.
Fresh off his first career title, David West is coming back for what is expected to be his final NBA season. Reserve guard Shaun Livingston has a new deal, too.
Iguodala, the 2015 NBA Finals MVP and a menacing defender who generated major interest, posted on his Twitter account late Saturday a reference to sticking around: ''Sources close to Andre Iguodala reporting agreed to terms to return to the bay....''
With a star-studded, close-knit roster, this is right where these veterans want to remain. They will have many familiar faces alongside them, including the NBA's new richest man: Stephen Curry.
The Warriors said Saturday they intend to sign West to a new deal next week upon the conclusion of the free agency moratorium period. Agent Jeff Austin told The AP that West would likely receive the veteran minimum $2.3 million, though final details were still being completed.
Austin also confirmed the details of Curry's new max deal of $201 million over five years.
''We intend to enter into a Player Contract with David once the Moratorium Period ends,'' general manager and lead negotiator Bob Myers said.
The versatile forward just completed his 14th NBA season by averaging 4.5 points, 2.7 rebounds and 2.1 assists during the Warriors' postseason run to their second title in three seasons.
Iguodala regularly guarded Cleveland star LeBron James during the NBA Finals yet again, and scored his postseason high of 20 points in the Game 5 title clincher. He averaged 7.2 points, 4.1 rebounds and 3.2 assists during the postseason for Golden State. During the regular season, he became the first Warrior to ever lead the NBA in assist-to-turnover ratio at 4.50 - 261 assists to 58 turnovers.
''I think it's part of the reason people enjoy watching us play, people see so much unselfishness, they see the beauty in the pass,'' the 33-year-old Iguodala said last month. ''It can scare teams at times. What do you do?''
From Day 1, West realized being part of the Warriors was special, and he emerged as one of their best passers off the bench as Golden State recorded regular 30-assist nights. Even back on June 12 ahead of Game 5 later that night against King James and the Cavaliers, West noted how nearly everybody showed up at an optional shootaround.
''That's what we do. That's why we won it,'' said West, who will turn 37 next month. ''Because even when Coach says, `Get what you need, it's on you to make the decision,' everybody's still working. That's what this group is about. That's why we got to the top. Talent only takes you so far. But details and X's and O's, committing to one another every single day. We stayed out of the streets, we stayed in the gym and won. That's all it's about. Straight up.''
Myers already reached agreements with two-time MVP Curry on a record max-money deal and with key reserve Livingston for $24 million over three more seasons.
During the regular season, West posted averages of 4.6 points, 3.0 rebounds and 2.2 assists while playing 12.6 minutes and shooting 53.6 percent from the floor. The Warriors finished with the league's best record for a third straight year.
Warriors assistant Mike Brown, who filled in for the ailing Steve Kerr during a chunk of the postseason, could sense how much the season - and close-knit, fun atmosphere - meant to West at this stage of his career.
''You can feel it this year but he's not a rah-rah guy so you don't see it all the time,'' Brown said. ''I think the fit here is terrific for him because of the way we play. We space the floor, we have guys that move very well without the basketball, we have great shooters.''
---
More AP NBA: -www.apnews.com/tag/NBAbasketball
---
---