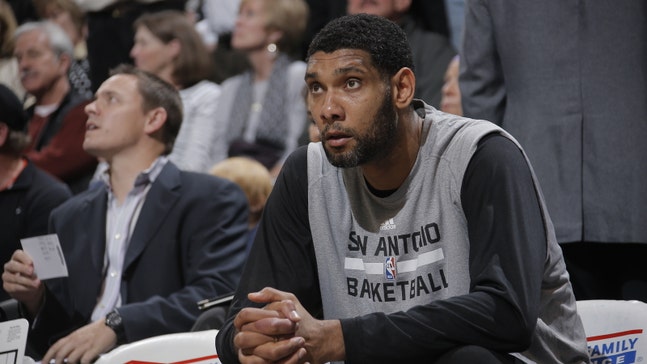 Tim Duncan sits, sacrifices for good of Spurs in win over Warriors
Updated
Mar. 4, 2020 1:05 p.m. EST

Gregg Popovich did a crazy thing with Boris Diaw back in 2013: He had him guard LeBron James in Game 5 of the Finals.
It worked, and on Saturday night Pop did another crazy thing with Diaw: He started him over Tim Duncan in the biggest game of the season.
Once again it worked, as Diaw helped spark a small lineup that lifted the Spurs over the Warriors, 87-79, and avenged a 30-point loss in January.
Duncan came off the bench for just the third time in his career. He scored one point in eight minutes, while Diaw had 14 on 6-of-7 shooting with eight rebounds.
"He's such a great person," teammate LaMarcus Aldridge said. "He didn't pout; he was very positive. He was talking to me. I don't know if many guys in that position would have handled it as well as he did."
He'd done it only twice before in 1,383 regular-season games: March 18, 2004 against Minnesota after returning from an injury, and on Jan. 3, 2010, against Toronto as Popovich attempted a lineup change.
Diaw made his first three attempts Saturday as San Antonio took an 8-5 lead and never looked back.
The Associated Press contributed to this report.
---
---