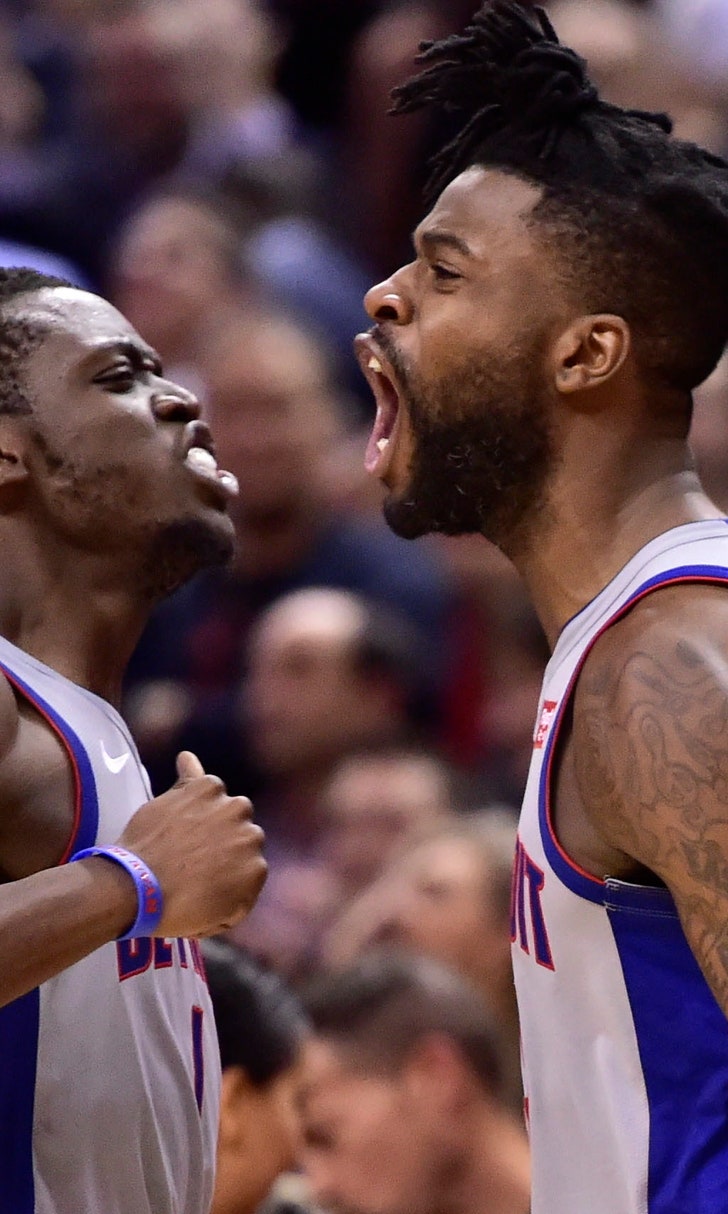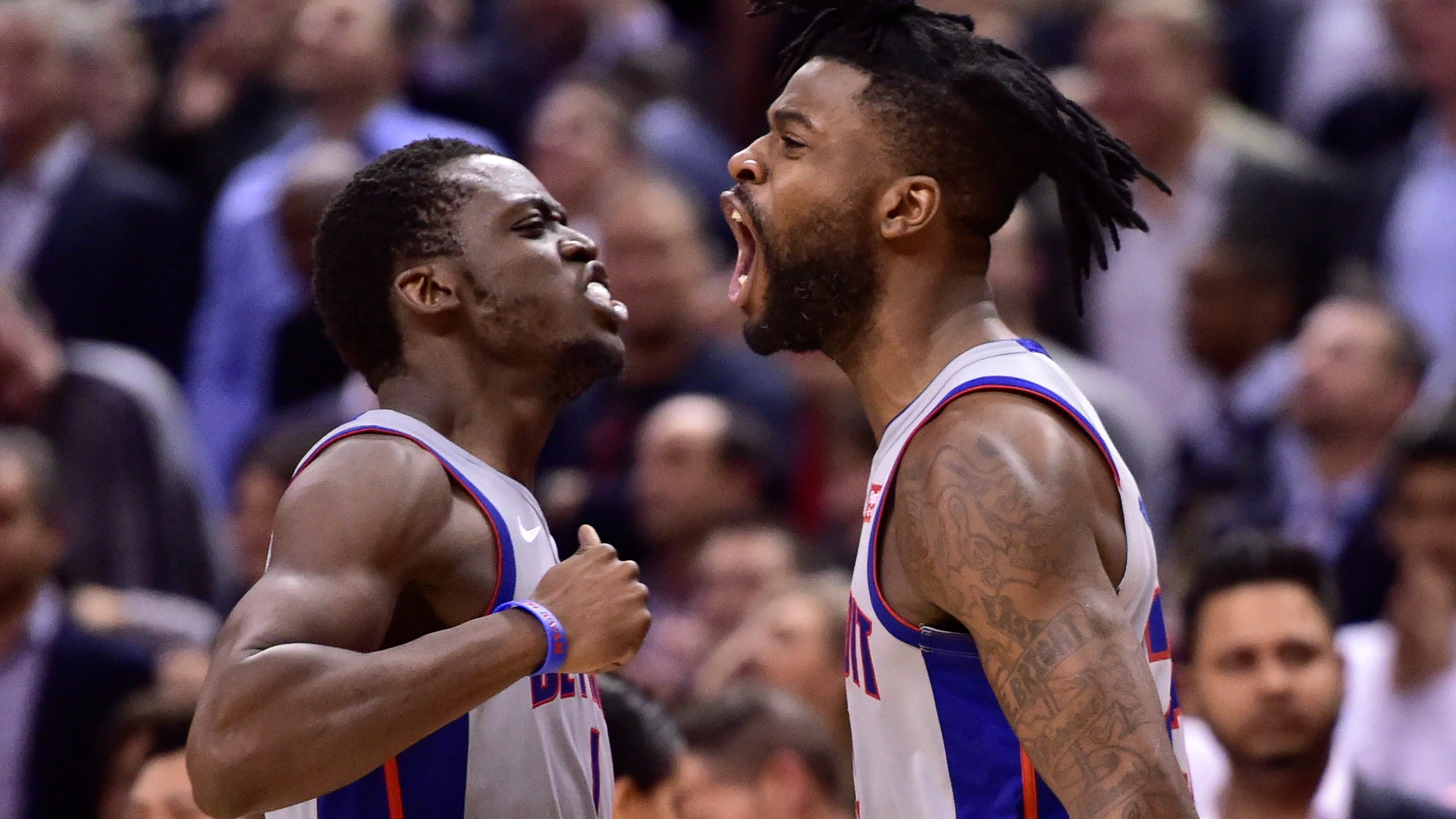 Pistons beat Raptors 106-104 in Casey's return to Toronto
November 15, 2018
TORONTO (AP) — Reggie Bullock made the winning shot as time expired and the Detroit Pistons rallied from a 19-point deficit to beat the Toronto Raptors 106-104 on Wednesday night, giving coach Dwane Casey a victory over his former team.
Blake Griffin had 30 points and 12 rebounds, Reggie Jackson and Langston Galloway each scored 13 points and Stanley Johnson had 12 for the Pistons. They had lost six of eight.
Kawhi Leonard scored 26 points and Pascal Siakam and Greg Monroe each had 17 for the Raptors. They have lost consecutive home games after a 7-0 start. Toronto (12-3) also failed to match the best start in franchise history. The Raptors went 13-2 to begin the 2014-15 season.
Toronto had won six straight over the Pistons, and nine of the previous 11 meetings.
LAKERS 126, TRAIL BLAZERS 117
LOS ANGELES (AP) — LeBron James had a season-high 44 points, 10 rebounds and nine assists, passing Wilt Chamberlain for fifth place on the NBA's career scoring list and leading Los Angeles over Portland.
James scored 28 points in the second half and vaulted past Chamberlain on a three-point play with 3:55 to go, finishing the night with 31,425 points. James also fell just short of his 75th career triple-double during his most impressive performance since joining the Lakers in the offseason.
But while James delivered a dazzling performance in Los Angeles' fourth straight victory, it wasn't all good news for the Lakers (8-6). Afterward, coach Luke Walton said Rajon Rondo broke his hand during the game. The veteran point guard will be sidelined for at least a few weeks.
Damian Lillard had 31 points, 11 assists and eight rebounds, and CJ McCollum scored 23 in the Trail Blazers' first road loss to the Lakers since Feb. 22, 2013, ending a nine-game streak at Staples Center. Portland has lost two straight to the Lakers after winning 16 in a row.
JaVale McGee scored 20 points and Brandon Ingram added 17 in the Lakers' sixth win in seven games.
MILWAUKEE (AP) — Marc Gasol scored 29 points, Mike Conley added 26 and Memphis used a late 15-2 run to hand Milwaukee its first home loss of the season.
After losing a 15-point lead in the third quarter, Memphis surged ahead again late and held on with key baskets from Conley. With the shot clock winding down, Conley hit a turnaround jumper in the middle of the lane for a 113-109 lead with 26 seconds left.
Conley also hit two foul shots with 9.9 seconds left for a four-point lead, though Shelvin Mack went 1 of 2 at the line with 2.1 seconds left to give the Bucks one last chance trailing by three.
The Bucks inbounded the ball to their best 3-point shooter, Khris Middleton, but he missed near the top of the arc with two defenders in his face as time expired. Giannis Antetokounmpo scored 31 points, and Middleton added 25 for the Bucks.
MAGIC 111, 76ERS 106
ORLANDO, Fla. (AP) — Jimmy Butler had 14 points in his Philadelphia debut, but the 76ers collapsed late and lost to Orlando after Terrence Ross hit a tiebreaking 3-pointer with 8.7 seconds.
Butler played 33 minutes and shot 6 for 12 from the field. The four-time All-Star was acquired Monday from Minnesota in a five-player trade.
Orlando scored 21 straight points in the fourth quarter, then held the 76ers without a field goal over the final 3 1/2 minutes. Nikola Vucevic had 30 points, making two free throws with 5.8 seconds left.
Joel Embiid finished with a triple-double of 19 points, 13 rebounds and 10 assists for the 76ers. J.J. Redick led Philadelphia with 22 points but committed two turnovers in the final 31 seconds.
TIMBERWOLVES 107, PELICANS 100
MINNEAPOLIS (AP) — Karl-Anthony Towns had 25 points and 16 rebounds, Andrew Wiggins scored 23 points and Minnesota beat New Orleans to to improve to 2-0 since trading Jimmy Butler.
Jeff Teague added 14 points and 14 assists. E'Twaun Moore scored a season-high 31 and Anthony Davis had 29 points and 11 rebounds for the Pelicans.
The game was Minnesota's first with forwards Robert Covington and Dario Saric. They were acquired from the Philadelphia 76ers along with injured guard Jerryd Bayless in exchange for the disgruntled Butler.
Covington started and had 13 points and seven rebounds. Saric added nine points and three rebounds.
DALLAS (AP) — Harrison Barnes scored 19 points and Dallas handed the Jazz their worst loss since moving to Utah.
While in New Orleans, the Jazz lost to Milwaukee by 56, 158-102 on March 14, 1979.
Dallas set a franchise mark for the fewest points allowed in a half at 22, giving up 13 in the third quarter and nine in the fourth. The previous record was 23 against Sacramento on Jan. 14, 2012. The 50-point margin of victory was the second-highest in team history behind a 53-point win over Philadelphia.
Utah was a point off its lowest-scoring half, set against the Los Angeles Lakers on Feb. 4, 2000.
The Mavericks shot 58 percent, making 43 percent of their 3-point shots.
Ricky Rubio led Utah with 11 points.
OKLAHOMA CITY (AP) — Paul George scored a season-high 35 points to help Oklahoma City rout New York.
Steven Adams had 19 points and seven rebounds, and Dennis Schroder added 15 points and 12 assists for the Thunder. They have won nine of 10 since an 0-4 start, and improved to 4-1 since point guard Russell Westbrook was sidelined with a sprained left ankle.
Tim Hardaway, Jr. scored 20 points, and Enes Kanter added 19 for the Knicks.
BOSTON (AP) — Kyrie Irving had 17 points and seven assists and Boston routed Chicago.
Jaylen Brown scored 18 points and Jayson Tatum added 14 to help Boston rebound from two straight losses on a 1-4 trip. Gordon Hayward had 11 points, and Al Horford added 10 points and eight rebounds.
Shaquille Harrison led Chicago with 16 points.
WASHINGTON (AP) — Bradley Beal scored 20 points, Otto Porter added 15 and Washington beat undermanned Cleveland for its third straight victory.
Rookie Collin Sexton had a career-high 24 points for Cleveland. Playing the second of back-to-backs after topping Charlotte on Tuesday night, the Cavaliers are an NBA-worst 2-12.
In addition to forward Kevin Love (foot surgery), the Cavaliers were without starting point guard George Hill (hamstring), forward Sam Dekker (ankle) and forward Kyle Korver (sore right foot).
PHOENIX (AP) — T.J. Warren scored 16 of his 27 points in the first half and Phoenix built a big lead, almost lost it and then pulled away to beat San Antonio.
The Suns ended a four-game losing streak to improve to 3-11.
Deandre Ayton added 17 points and 10 rebounds, including a powerful dunk over Davis Bertans early in the fourth quarter. Isaiah Canaan had 19 points and made all five of his 3-pointers, Devin Booker had 13 points and 12 assists and the Suns shot a season-high 56 percent.
DeMar DeRozan had 24 points for the Spurs.
NEW YORK (AP) — Tyler Johnson scored a season-high 24 points, Goran Dragic had 21 and Miami beat Brooklyn to snap a three-game losing streak.
Josh Richardson added 15 points and Hassan Whiteside had 14 points and 10 rebounds for the Heat. They never trailed and led by as much as 23.
Spencer Dinwiddie scored 18 points for the Nets in their first game since losing leading scorer Caris LeVert to a dislocated right foot.
---
---