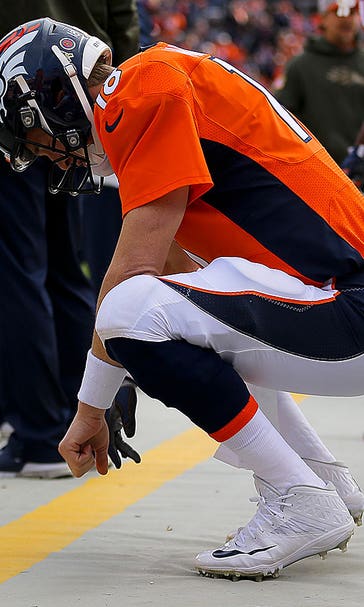 Peyton's 0.0 rating resonates with former Bills QB Marangi
November 16, 2015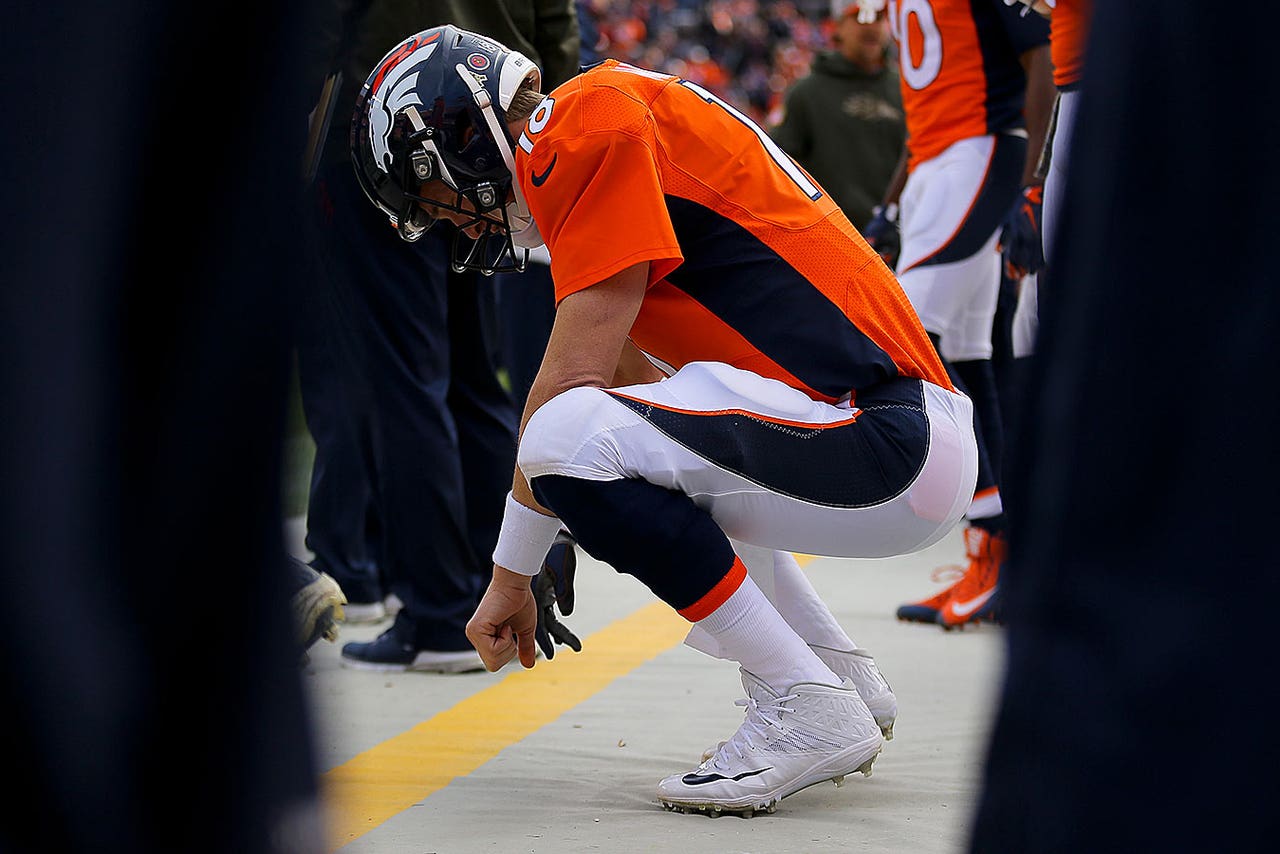 During the same game in which he supplanted Brett Favre as the NFL's all-time passing yards leader, Peyton Manning also posted a career-low, registering a dismal 0.0 quarterback rating in the Denver Broncos' 29-13 Sunday loss to the Kansas City Chiefs.
Battling injuries to his shoulder, ribcage and foot, the 39-year-old Manning completed five of 20 pass attempts for 35 yards with four interceptions before being pulled for backup Brock Osweiler in the second half, the first benching of Manning's career.
It was by far the worst of Manning's 289 career starts (including 24 in the playoffs), and after the game Broncos coach Gary Kubiak admitted he made a mistake in playing the hobbled five-time league MVP to begin with, though he reiterated that Manning will be the team's quarterback when he's "healthy and ready to go."
The question now is when, exactly, that might be -- the severity of his foot injury, reported to be torn plantar fascia, is currently unclear -- but if by some chance Sunday turns out to be the last we see of one of the league's all-time greats, at least his perfectly imperfect swan song would put him in decent company.
Over the years, dozens of quarterbacks have hit the position's low-water mark, including Peyton's brother, Eli, his father, Archie, and Hall of Famers Warren Moon, Joe Namath and Johnny Unitas, among others. It's not necessarily easy to do, and it doesn't happen often -- Manning could have spiked each of his 20 attempts into the ground and still finished with a rating of 39.6, and it had been eight years since the last 0.0 rating  -- but even the best have their worst days.
There's also some comfort, perhaps, in knowing that it could have been worse, something former Buffalo Bills quarterback Gary Marangi knows all too well. Because Marangi, now a high school football coach on Long Island, holds the dubious record of having thrown the most passes en route to a 0.0 rating in league history.
On Nov. 21, 1976, Marangi went 8-of-30 for 83 yards with three interceptions in a 34-13 loss to the visiting San Diego Chargers, the second 0.0 game of his career. (He'd also gone 1-for-6 for 15 yards with two picks off the bench in a 19-14 loss to the Rams two years earlier.) However, unlike Manning, Marangi wasn't exactly perceived as a sympathetic figure afterward, and the Buffalo fans were not so shy about expressing their displeasure with his outing.
"I remember getting hit with beer bottles and beer cans walking through the tunnel back to the locker room," Marangi said Monday in a phone interview with FOX Sports. "They weren't very happy.
"I could never understand throwing something at somebody, but I could understand how they felt, especially in Buffalo, where they're so invested in their team and their players," Marangi continued. "To have somebody let them down like that -- that's kind of the reaction I expected. I remember not taking my helmet off as I ran through because I kind of thought something might happen."
In fairness to Marangi, he, like Manning, was playing hurt. A former starter at Boston College, Marangi had shoulder problems dating to the early part of his college career -- he was once told he'd never throw a football again – that progressively got worse as his three-year stint in the pros dragged on.
Marangi appeared in three games off the bench as a rookie, including an impressive showing against the then-mighty Dolphins, before the aforementioned meltdown against the Rams. He also got into four games in his second pro season, including one dreadful showing that put fans in their place after chanting to have him replace starter Joe Ferguson.
"There was an article every day in the paper, pro-Ferguson or pro-Marangi, why I should play or why he should play, and it even divided the team sometimes," Marangi said. "I had great training camps, and my preseason games were good, and the games I got into during the regular season, I usually played well. That first game I ever played in against Miami, I had a great game after Ferguson got hurt, so there was reason for people to think I was going to be a pretty good quarterback."
Unfortunately, by the time Marangi finally got his shot to be a starter, after a midseason back injury to Ferguson in '76, his own sore shoulder -- which required four surgeries over the years -- was in no condition to be on an NFL field.
"I was hurt, but I would never say anything," Marangi said. "I could barely lift my arm at that point, but I was going to play whether I had a broken arm or not because I finally got my chance. It turned out being my downfall because I really couldn't be the player that I wanted to be. I couldn't deliver the football anywhere, which was heartbreaking to me."
After coming in off the bench in the game that saw Ferguson go down, Marangi completed six of 22 passes, and things didn't improve much from there. Over the next three games -- the first three starts of his career -- Marangi went 35 of 92 with three touchdowns and eight picks. Then came the infamous 0.0 game, followed by a 4-of-21 showing four days later in a Thanksgiving Day tilt with Detroit.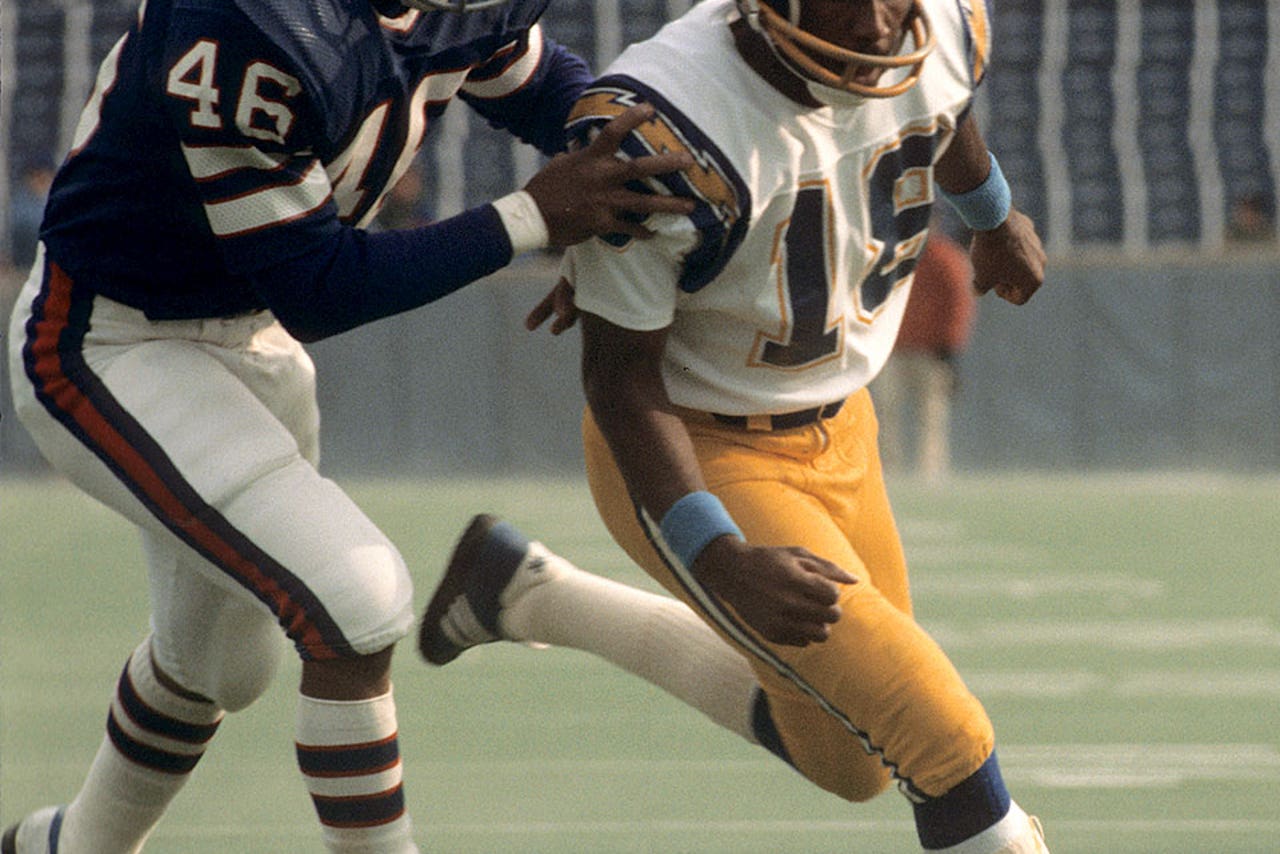 The Chargers downed the Bills, 34-13, in the game Gary Marangi came up zeroes.
The Bills wound up losing the final seven games of the season with Marangi completing 36.2 percent of his passes as a starter. He threw 15 interceptions and just six touchdown passes, and as the season wore on Marangi found his struggles difficult to shake, even away from the field.
"Those things follow you home," Marangi said. "That whole year was tough. You never leave that at the stadium, and if anyone says they do, they're lying to you.
"I kind of thought of myself as a loser," he continued. "I felt like I failed, to be honest with you. I could never really understand how you could throw the ball 70 yards one day -- I had a pretty good arm -- and then all of a sudden it's gone. It's tough to handle, and sometimes, even to this day, I wonder if I've gotten over it."
After the 1976 season, Buffalo attempted to trade Marangi to Green Bay, but the deal was voided after Marangi's bum shoulder resulted in a failed physical. At the end of the 1977 season, Marangi signed briefly with the Browns but never got into a game.
Over the next two decades, Marangi bounced from job to job, with stints as a horse trainer and in construction among his stops, but in the mid-'90s, he decided to get back into football. He returned to school and got an education degree and has been coaching at Patchogue-Medford (N.Y.) High School since 2001, including the last four years as the head coach.
It's not often, Marangi says, that his players are aware of his previous life as an NFL quarterback -- that likely won't be the case when Manning inevitably gets into coaching someday. But Marangi has helped put more than a dozen players on college rosters already, including Maryland offensive lineman Sean Christie, and says his success as a coach has helped him come to terms with his struggles as a player, even if the latter weren't entirely his fault.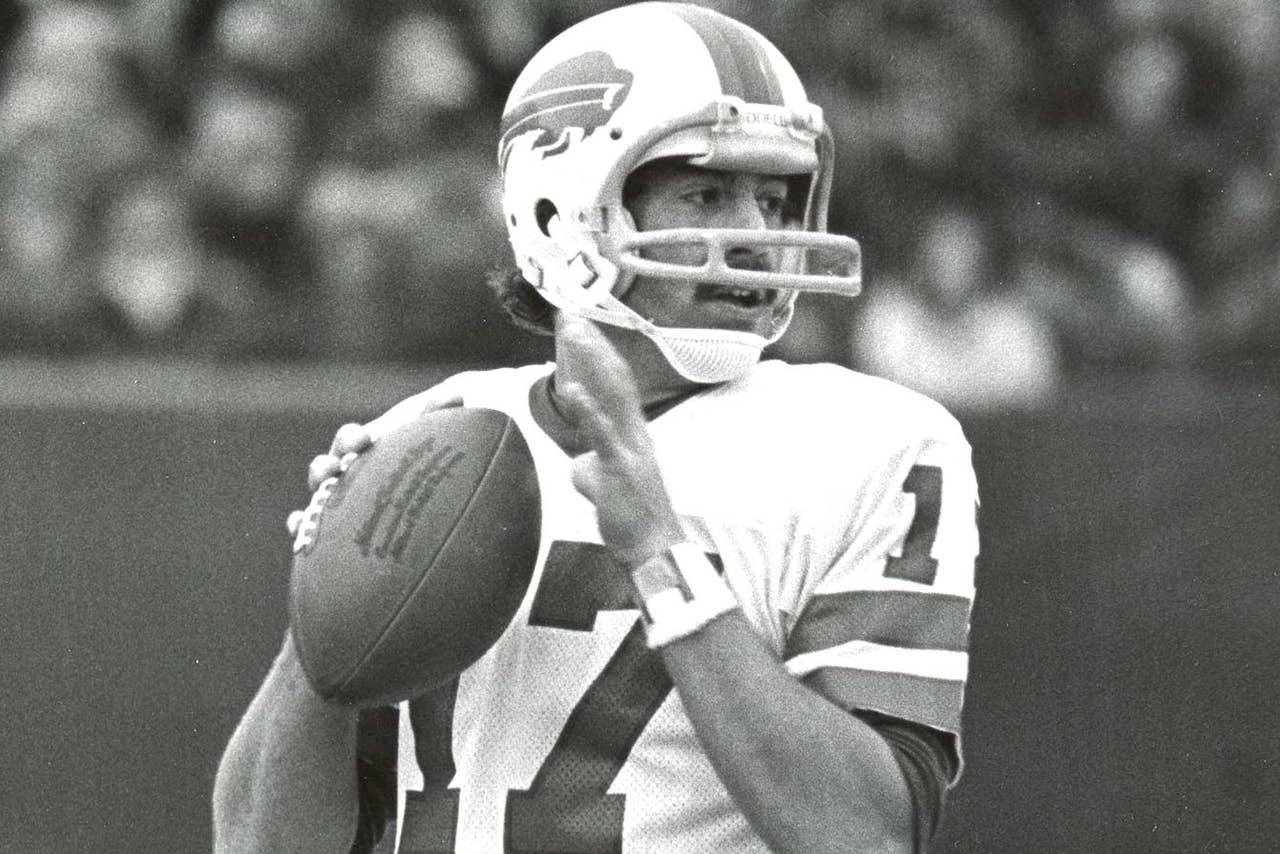 Gary Marangi of the Buffalo Bills

"Being back in coaching, you get that competitive excitement," Marangi said. "It's a different level of it when you're coaching, but at least you have that back in your life, and for me, I need that. I'm very competitive no matter what it is I do, and that was a part of my life that I was really missing."
And though he's not exactly honored to now be in the same class as Manning, it's reassuring to know that even the best can be the worst on a given day.
"Peyton, he's an established guy, an all-time great, and there's a lot of injuries on the team and he's trying to play because he knows everybody is hurt," Marangi said of Manning's 0.0 rating on Sunday. "He's trying to be a man out there, and it winds up hurting his team, but he gets a pass because he's a Hall of Famer. I wasn't afforded that position, and rightfully so."
You can follow Sam Gardner on Twitter or email him at samgardnerfox@gmail.com.
---
---