New Orleans Pelicans
New Orleans Pelicans
Pelicans aim to continue Nets' woes (Jan 20, 2017)
Published
Jan. 19, 2017 4:04 p.m. ET

NEW ORLEANS -- The New Jersey Nets have not won a game in 2017 and have lost their last 11 in a row.
The New Orleans Pelicans are responsible for one of those losses and they'll try to add another to the Nets' streak Friday night in the Smoothie King Center.
The Pelicans beat the Nets 104-95 on Jan. 12 in Brooklyn despite playing without All-Star forward Anthony Davis, who left a 118-98 victory against Orlando on Wednesday to have his left hand X-rayed but returned and should be ready to go against New Jersey this time.
The victory Wednesday started a season-long six-game homestand for New Orleans (17-26), which is hanging around the eighth and final playoff spot in the Western Conference.
The Pelicans took advantage of a tired Magic team that was finishing a six-game road trip on which it won just one game.
"We came out really knowing that they are going home after this, and just going from the start and punching them in the mouth," guard Jrue Holiday said. "That just builds our confidence, especially for this homestand."
Now comes the team with the worst record in the NBA (8-33) before the homestand gets much tougher with Cleveland, Oklahoma City, San Antonio and Washington coming to New Orleans.
"It's a big one," Pelicans guard Langston Galloway said of Friday's game. "We have to continue to take care of (homecourt advantage), and that's important, especially going forward. I think that this will be a great stretch for us."
Galloway scored 18 points off the bench against Orlando, making 5-of-8 field goals, including 4-of-7 3-pointers.
"I thought Langston did a good job of shooting the ball and getting himself in open space," New Orleans coach Alvin Gentry said.
Galloway has emerged as a consistent scoring threat off the bench. He has made at least three 3-pointers in nine of his last 21 games.
The Nets also have had a young player emerge of late as rookie No. 1 draft choice Caris LeVert had 14 points -- including Brooklyn's final 10 points in the third quarter -- on 6-of-8 shooting in a 119-109 home loss to Toronto on Monday.
In his last 10 games, LeVert is averaging 8.9 points and shooting 51 percent from the field.
"We want to bring him along intelligently, grow him," Nets coach Kenny Atkinson told the New York Post of LeVert. "He's pushing us for more minutes, and it's something we'll look at. But if he keeps playing like this, he's obviously demanding more minutes, more time."
Nets guard Jeremy Lin is expected to miss his 12th straight game because of a strained left hamstring. Forward Lucas Nogueira did not play in the second half Monday because of blurred vision.
"We all know it's a process, but obviously no one likes losing," LeVert said. "We all came from winning programs in college, so it's definitely something new to us. But it's something that we're not going to get used to. We're going to get better each and every day, and soon we'll be on the other side of things."
In the first meeting Tyreke Evans scored a season-high 29 points and Terrence Jones filled in nicely as Davis rested a bruised left hip and had 24 points and 12 rebounds. New Orleans finished the game on a 13-1 run.
---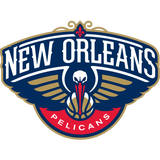 Get more from New Orleans Pelicans
Follow your favorites to get information about games, news and more
---