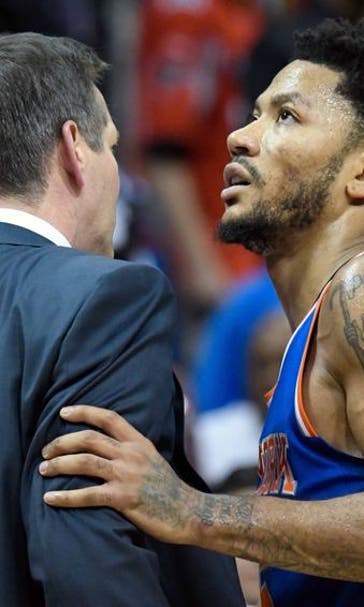 New York Knicks Taking Accountability for Loss To Atlanta
December 29, 2016

Fansided, Maxwell Ogden/FanSided via Daily Knicks
Rather than blaming the referees, the New York Knicks are taking accountability for the 102-98 overtime loss to the Atlanta Hawks.
---
The New York Knicks suffered one of the most frustrating losses of the 2016-17 NBA regular season on Wednesday, December 28. Though the loss wasn't exclusively because of the referees, there were a number of highly questionable calls that influenced the outcome of the game.
Rather than pointing fingers following the heartbreaking 102-98 overtime loss to Atlanta, the Knicks are taking accountability for what they could have done better.
Carmelo Anthony was ejected in the second quarter after he grabbed Thabo Sefolosha by the neck and allegedly threw a punch. Jeff Hornacek and Derrick Rose later received technical fouls, as well, and the Knicks missed multiple shots that could have tied or won the game.
According to Stefan Bondy of The New York Daily News, head coach Jeff Hornacek took full accountability for the technical foul he earned in overtime.
"I told our guys, 'I can't get a technical in that situation, either,'" the coach said. "A point here or there in a close game could make a difference. Even though I didn't agree with the call, I shouldn't have gotten a technical."
Owning up to one's mistakes is the first step towards ensuring they don't happen again.
Hornacek is a mild-mannered individual, which made his emotional outburst quite shocking. It was justifiable, however, as it followed a play during which Paul Millsap got away with a push-off mere seconds after Kristaps Porzingis was called for the same foul.
Monty McCutchen is widely regarded as one of the best referees in the NBA—Mike Breen even praised him as such early in last night's broadcast—but it was a questionable outing.
The positive sign for New York is that the players banded together and took accountability for what should have been a win.
Per Bondy, Kristaps Porzingis avoided blaming the referees and placed the onus upon himself to execute at a higher level. He summarized the reason for the Knicks' loss as, "Just wrong decisions and missed shots," which includes a tough miss on a series of potential game-tying free throws.
Two-time Olympic gold medalist, three-time WNBA champion, and two-time NCAA champion Swin Cash sees Porzingis' heartbreaking miss as something that will help him grow.
I'm really happy KP Is getting this experience late game when they go to him. It will help a lot down the road trust me! #knicks #growth

— Swin Cash (@SwinCash) December 29, 2016
Cash knows a thing or two about winning important games.
Derrick Rose pulled no punches when he said, "I tried to get it to (Porzingis), and I f-ing slipped, man," per Bondy. Rather than blaming it on the referees missing a potential foul call, Rose took accountability.
Following a tough loss, that's the best possible thing the Knicks can do.
At 16-15, the key to the New York Knicks continuing what's been a strong season will be turning accepted liability into improved execution.
More from Daily Knicks
This article originally appeared on
---
---