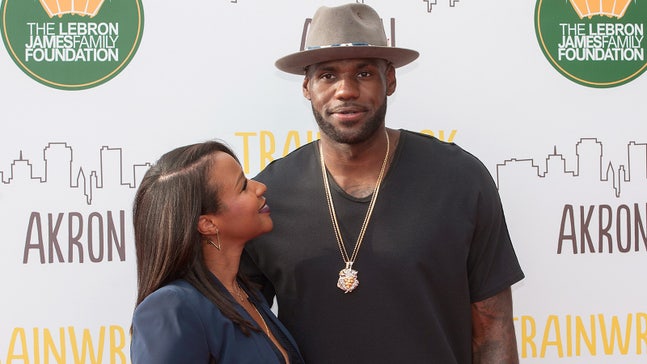 LeBron hosts co-stars in Akron VIP screening of his new comedy
Published
Jul. 10, 2015 11:19 p.m. ET

AKRON, Ohio
LeBron James stepped out of the backseat of the luxury sedan to loud screams from his adoring fans.
He was on a different stage Friday night, but was still the main attraction.
James hosted an invitation-only screening for "Trainwreck," a raunchy romantic comedy in which the NBA star plays a supporting role to co-stars Amy Schumer and Bill Hader. In his first major film, James, who has acted in numerous TV commercials and once hosted "Saturday Night Live," plays himself in the R-rated film, acting as Hader's best friend and life coach.
Shortly after arriving at the theater near his home, James dismissed the idea he has gone Hollywood.
"I'm not a movie star," the four-time MVP said, smiling. "I know what my day job is."
The world's best all-around player looked like a natural in his handful of scenes in the movie, which was filmed last summer in New York. Only one of the scenes takes place on a basketball court, where Hader and James engaged in a very one-sided game of one-on-one. Hader does manage to make one jump shot against James, but he has no plans to try his hand a hoops.
"When you see the movie you'll see I have no future in that," Hader said. "The Cavs would actively ask me to leave Ohio if I tried to sign with them."
Hader said it didn't take long for James to refine his acting game.
"He actually knew how to improvise," Hader said. "I went to school for it. He actually knew how to do it."
Schumer wrote the screenplay and said she put James in the script because "he is the only basketball player I have ever heard of. He said yes and I can't believe it. It's surreal. "
James wanted to show the movie to family and friends before the New York premiere. He also wanted to bring his co-stars to Akron, the hometown he loves to show off any time he can.
Schumer was comfortable being in Ohio.
"My mom's whole side of the family is from Cincinnati so I feel very at home here," she said. "She went to Miami of Ohio, so, I feel like I spent a lot of time here. I'm a total hometown girl so I loved that. We all jumped at the chance to come."
More than 500 fans, some arriving more than four hours before the event began to get close to James and the others, lined barriers in a parking lot near a red carpet leading into the multiplex.
Sherri Kennedy of Barberton brought her 6-year-old son, Sebastian, to see his basketball hero.
"It's amazing," she said. "We don't get to see stuff like this around here very often."
Before the screening, James drove Schumer, Hader and director Judd Apatow to Swenson's, a legendary local hangout known for its juicy burgers and thick milkshakes, to film an episode for the website "Funny Or Die."
James ordered the group cheeseburgers and banana shakes.
"It was delicious," Shumer said. "I ate the whole thing."
Earlier in the day, James re-signed with the Cavaliers, putting his name on a two-year, $47 million contract for a team he pulled from despair to the NBA Finals in his first season back with Cleveland.
While he always has top billing with the Cavs, James had no problem not being the film's top star.
"I don't mind it," he said. "I'm a team player."
---
---