Miami Heat
Miami Heat
Heat-Thunder Preview
Updated
Mar. 4, 2020 8:28 p.m. ET

Nearly midway through a daunting road stretch, the banged-up Miami Heat face a significant task in trying to close a six-game trip at .500 before a brief swing home.
That challenge comes Sunday night against the Oklahoma City Thunder, who own the NBA's third-best home record and have recently gotten back to pairing solid defense with explosive offense on their floor.
The Heat (23-17) continue battling Atlanta atop the Southeast Division while playing 11 of 12 on the road. Although Miami has lost three of those first five, it has kept pace because the Hawks are slumping.
The Heat return to Miami to face Milwaukee on Tuesday before embarking on a five-game trip, and a loss to the Thunder will drop them to 9-9 on the road.
After opening the first of their two treks with a win at Phoenix, the Heat lost to Utah, Golden State and the Los Angeles Clippers before beating Denver 98-95 on Friday despite missing their starting backcourt.
Dwyane Wade sat out with ailing shoulders and Goran Dragic with a strained right calf that will keep him out a week. Dragic had an MRI that ruled out tears in the calf.
"I haven't gotten any MRIs or nothing," said Wade, who hoped three days off for treatment will get him ready for the Thunder. "Right now I'm going off how I feel."
Miami went big without its starting guards. Hassan Whiteside had 19 points, 17 rebounds and 11 blocks, and Chris Bosh scored 24, including the tiebreaking jumper with 55 seconds left. Beno Udrih filled in for Dragic with 11 assists and no turnovers.
Whiteside, who's been battling right knee tendinitis, had 10 points, 12 rebounds and seven blocks during a second half in which Denver shot 28 percent with him dominating the middle. The Nuggets finished with 22 points in the paint.
"I told coach (Erik Spoelstra) when I got on the bus my knee felt the best it's felt since I injured it," Whiteside said. "I told him, 'Don't limit my minutes. I'm back to that athletic Hassan you know.'"
He'll need to bring that athleticism against Oklahoma City (29-12), which is second in the league with an average of 108.8 points and third with 48.8 per game in the paint. The Heat already allow the third-fewest points in the NBA at 95.5.
Miami beat the Thunder at home 97-95 on Dec. 3 with Whiteside patrolling the lane, but he didn't force them to the perimeter. Oklahoma City did miss 12 from 3-point range, but its 16 attempts were more than five below its season average and it owned a 44-35 rebounding advantage while scoring 50 points inside.
Russell Westbrook and Kevin Durant had 25 points apiece for Oklahoma City but combined for 12 turnovers. Wade had a game-high 28 points and Whiteside scored 11 with eight rebounds.
The Thunder are 19-5 at Chesapeake Energy Arena and have returned to playing strong defense there with an average of 92.0 points allowed in the previous three. Pair that with a 111.0 scoring average in those games and they're looking tough to beat at home.
The Northwest leaders got 21 points from Durant while Westbrook had 12 points, 11 rebounds and 10 assists for his fourth triple-double of the season before sitting out the entire fourth quarter of Friday's 113-93 rout of Minnesota.
"Everybody's passing the ball, everybody's moving the ball around, making the extra pass and getting guys wide-open shots, wide-open dunks," said Westbrook, who's been limited to 37.1 percent shooting in his career against the Heat.
Durant's career numbers are much better against Miami with an average of 28.6 points on 48.5 percent shooting, but his teams have gone 7-9 in those contests.
---
---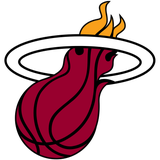 Get more from Miami Heat
Follow your favorites to get information about games, news and more
---