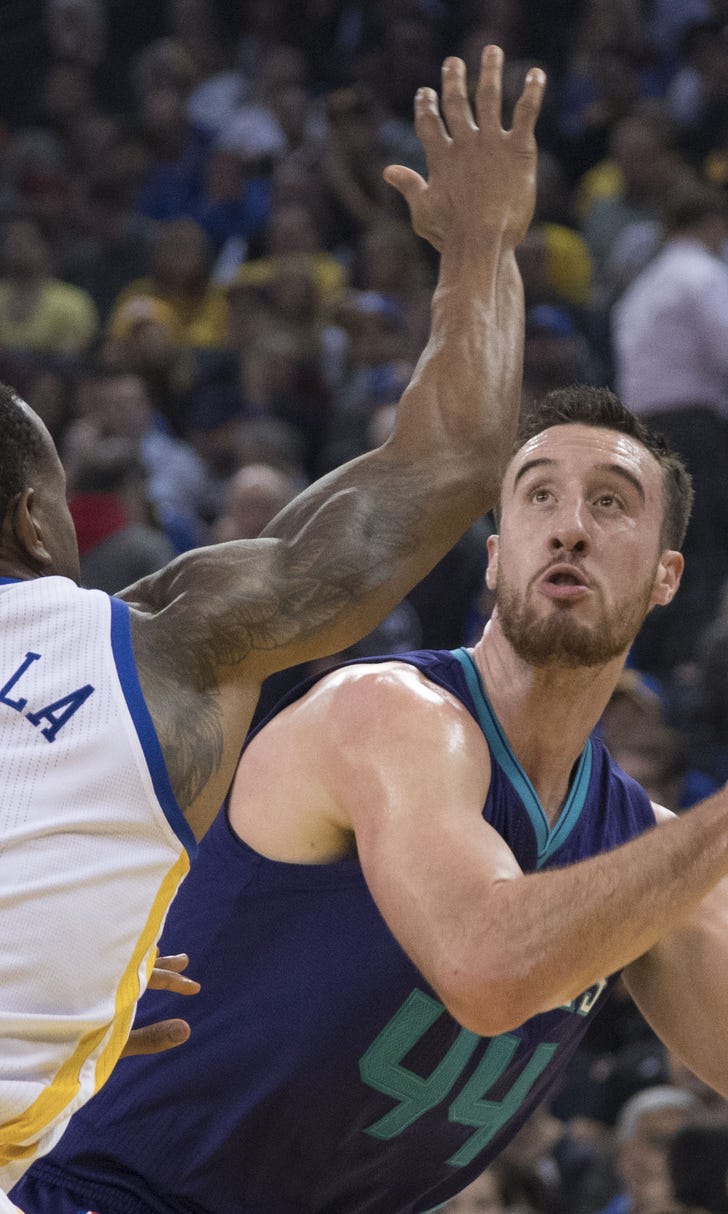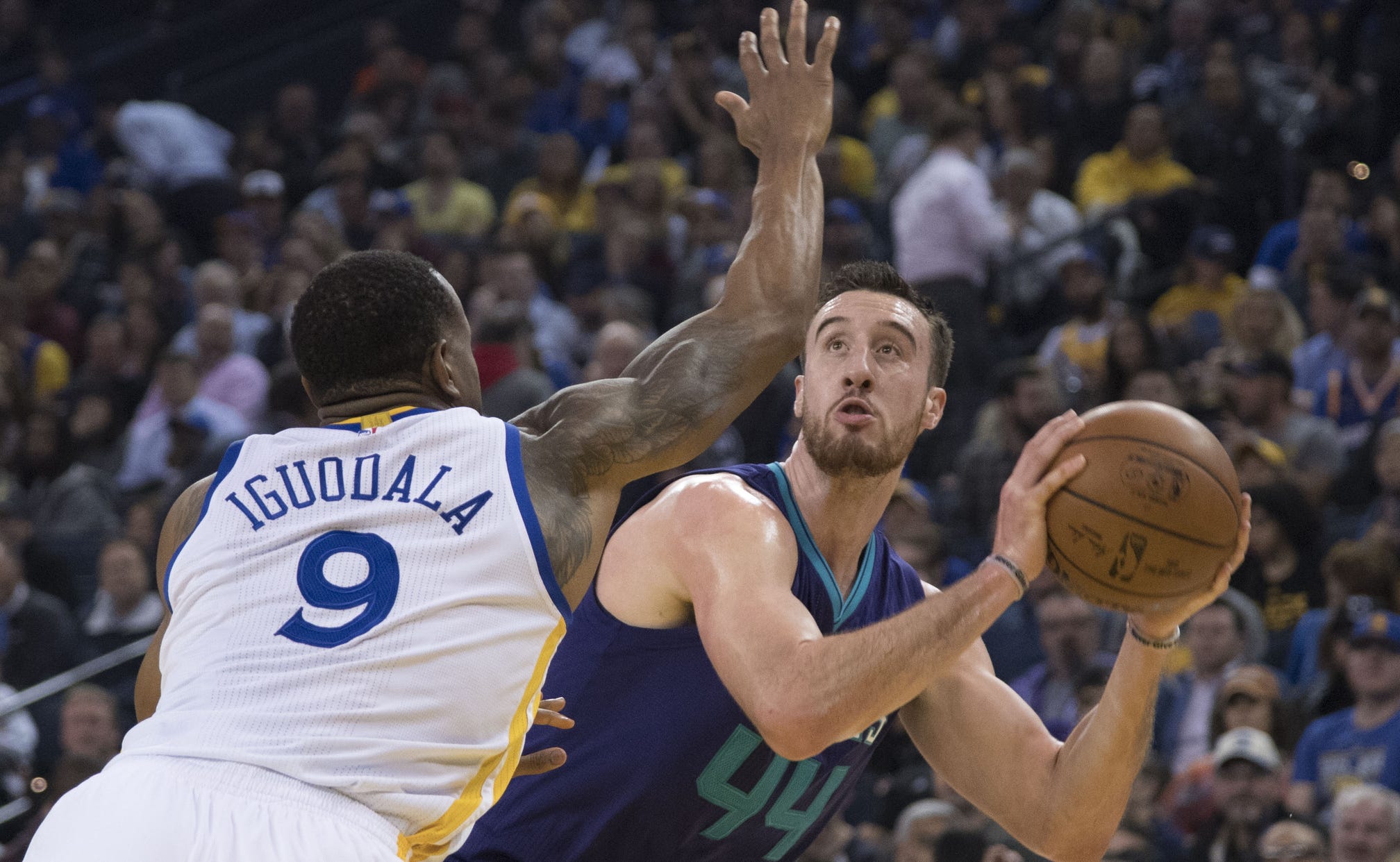 Charlotte Hornets: Frank Kaminsky Sets a New Career-High in Loss to Golden State
BY Fansided and Giovanni Spillman/FanSided via Swarm and Sting • June 30, 2017
Despite being behind the Warriors all night, Frank Kaminsky came alive and provided a lot of offense for the Charlotte Hornets in their blowout loss.
The Charlotte Hornets suffered yet another loss, putting them at six straight defeats. This defeat comes at the hands of the Golden State Warriors.Charlotte trailed for the entirety of the game as they were never able to find their rhythm against Stephen Curry and Company.
Our player of the game is Frank Kaminsky. While setting a new career-high in points, he sparked a possible comeback for the Hornets late in the game. Look for Frank's offensive game and defensive game to improve. Hopefully, he can continue this offensive outburst.
Player Grades
Frank Kaminsky (A-)
24 PTS 2 AST 7 REBS
Tonight did not seem like a lot of fun, but for Kaminsky, he was balling. Frank set a new career high in points and did a good job on the defensive side of the ball with two steals. Big Frank also was 4-4 from the free throw line as well.
More from Swarm and Sting
Kemba Walker (C)
7 PTS 4 AST 2REBS
Tonight Kemba had one of his worst games of the whole season. In the loss to the warriors, Walkers played a season low of twenty-five minutes. Expect Kemba to come back with a chip on his shoulder Saturday against the Utah Jazz.
Nicolas Batum (B-)
13 PTS 7 AST 5 REBS
Nick did not play as many minutes tonight as he usually does, but he provided the offense with great playmaking. Even though the Hornets were losing most of the night, it did not stop Batum from trying to lead his team to win. He also had a good shooting night, while making four out of seven shots.
8 PTS 1AST 9 REBS
Kid-Gilchrist had a better game against the warriors, despite having a bad game to the trailblazers. He shot the ball very well tonight, and also had a good amount of rebounds.Expect Michael to have a stellar game on Saturday against the Jazz.
Marvin Williams (B)
14 PTS 1 AST 5 REBS
Marvin had a good shooting night tonight and provided a lot of energy to the lineup. He provided good defense and also made two three points. We can expect his good shooting to carry over to the next game against the Jazz.
Get the FanSided App
Ramon Sessions (D-)
1 PTS 3 AST 0 REBS
Sessions did not get many minutes in the game and he was not effective on the offensive side of the ball like normal. Ramon's minutes could be, being stolen by the young Brian Roberts.
Marco Belinelli (B+)
16 PTS 7 AST 2 REBS
Despite losing most of the night, Marco put on a show for fans back home in Charlotte. He made some acrobatic shots and led the team in scoring right behind Frank Kaminsky. Could we be seeing the old Marco from earlier in the season before the ankle injury?
Spencer Hawes (C-)
4 PTS 3 AST 4 REBs
Hawes had his first start tonight, but he did not perform like an NBA starter. While only having four points, he did provide good defense with two blocks.
Brian Roberts (B+)
8 PTS 3 AST 2 REBS
Once again, Roberts comes off the bench again at the end of the game and makes some great plays. He made some wild shots and led the team to stay within fifteen of the loss to Golden State.
Jeremy Lamb, Christian Wood, Treveon Graham (C+): These guys had more playing time tonight but did not make much of an impact. They made some good shots at the end of the game, which can be noted.
Despite suffering this blowout loss, we can expect the Hornets to come out firing against the Utah Jazz on Saturday. The game against the Jazz ends a three-game road trip. After that, Charlotte will return home for a four-game homestand.
---
---