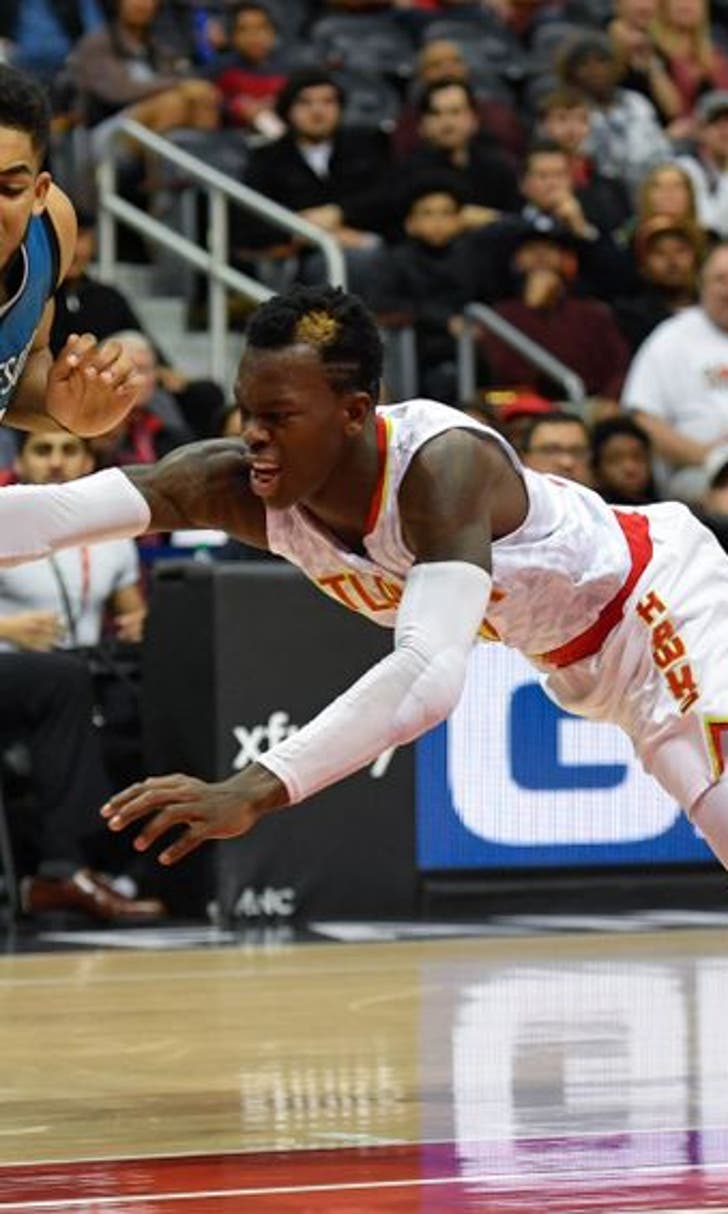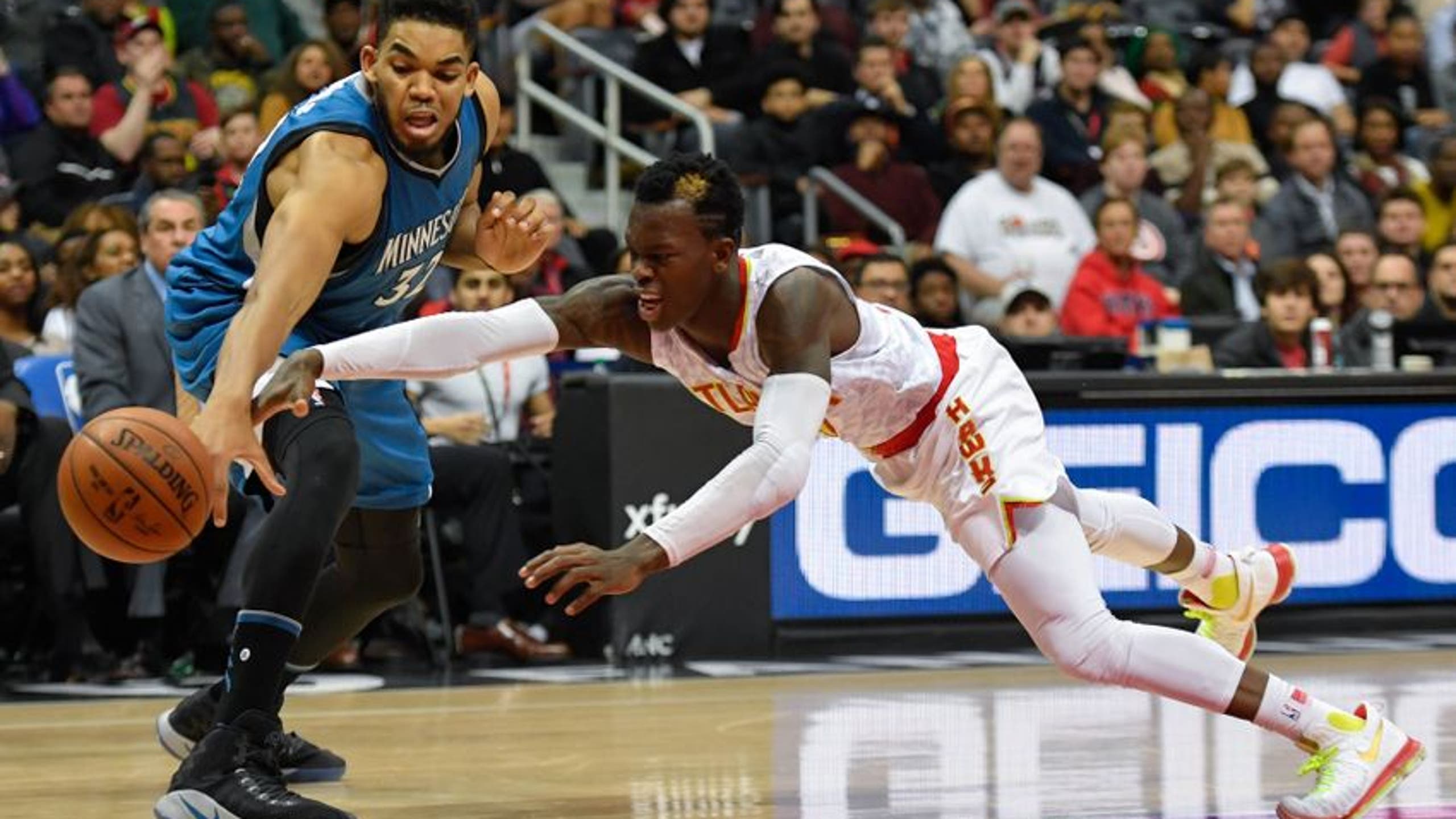 Atlanta Hawks: Grades From 92-84 Loss To Timberwolves
BY Fansided and Andrew Snyder/FanSided via Soaring Down South • December 22, 2016
Dec 21, 2016; Atlanta, GA, USA; Minnesota Timberwolves center Karl-Anthony Towns (32) and Atlanta Hawks guard Dennis Schroder (17) go after a loose ball during the second half at Philips Arena. The Timberwolves defeated the Hawks 92-84. Mandatory Credit: Dale Zanine-USA TODAY Sports
The Atlanta Hawks lost Wednesday night to the Minnesota Timberwolves. Were there any bright spots in the loss?
Is this the winter of Atlanta's discontent? Made not so glorious by the Timberwolves of Minnesota. Enough fake Shakespeare. The inconsistency remains consistent for the Atlanta Hawks. No matter how many good teams they beat on the road, they just can't stop losing to teams they're better than.
Wednesday night the Hawks returned home to Phillips Arena where they fell to the Minnesota Timberwolves 92-84. Once again, Dwight Howard sat out due to back tightness. To combat Howard's absence, Mike Budenholzer elected to start the small-ball lineup consisting of Dennis Schroder, Kent Bazemore, Kyle Korver, Thabo Sefolosha, and Paul Millsap.
It didn't work out quite as well as he had hoped. The Timberwolves jumped out to a 12-2 lead, and Budenholzer decided that small-ball wasn't the best option against a team with a front-line as large as Minnesota's. He inserted Mike Muscala into the lineup, who played well, and helped the Hawks claw their way back into the game.
Still, Budenholzer didn't pin the poor start on the small-ball lineup. Here is what he told reporters after the game.
"I don't think it was just the lineup," Budenholzer said. "There wasn't an urgency that you need. We went with Muscala and that put us back in our comfort zone, put us back in things that we were more familiar with."
At half-time they found themselves down just five points. So you're telling me there's a chance!
The Hawks continued to fight, despite being shorthanded. The offense just wasn't as crisp as it had been in recent games. The team shot 41.5 percent from the field and a dismal 26.9 percent from three-point range.
More from Soaring Down South
Minnesota played one of their better defensive games of the season, but much of Atlanta's struggles came down to missed open shots.
Minnesota's size advantage turned out to be extremely important. The Timberwolves dominated the rebounding battle, holding a 52 to 35 advantage in total rebounds. They also collected 15 offensive rebounds, giving their offense extra possessions.
The slow start didn't lead to Atlanta's demise. Their play in the fourth quarter is ultimately what did them in. The Hawks could not buy a basket during the final quarter.
They scored just 15 points on 5-for-15 shooting and 1-for-6 from outside. The final score was 92-84 in favor of Minnesota.
Let's take a look at a few of the individual performances.
Dec 21, 2016; Atlanta, GA, USA; Minnesota Timberwolves guard Ricky Rubio (9) battles for the ball with Atlanta Hawks guard Kyle Korver (26) during the second half at Philips Arena. The Timberwolves defeated the Hawks 92-84. Mandatory Credit: Dale Zanine-USA TODAY Sports
The Starting Five
Dennis Schroder
PG, Atlanta Hawks
ADespite the questionable losses, and the inconsistency, this season has had some bright spots. One of them being Dennis Schroder's continued development. He has been outstanding lately. Wednesday wasn't his best performance of the season, but he was still very good. Schroder scored 21 points and handed out seven assists on 10-for-21 shooting. He only committed one turnover, which is huge for Schroder long-term. If he can be as a dynamic as he his offensively, without turning the ball over, he will eventually be an All-Star. He only shot 1-for-7 from three-point range, but that's to be expected with Schroder. He's never going to be a knock-down shooter. Still, he made up for those struggles by getting into the paint and scoring at the rim.
Kent Bazemore
SG, Atlanta Hawks
BIt was another mixed bag for Kent Bazemore. He did some good things, he did some bad things. The important thing is that he finally looks healthy. That was apparent when he unleashed a thunderous dunk. He wasn't very efficient, he shot 3-for-9 from the field, but he did finish with nine points. Defensively he was good, if a little sporadic, but that's the Bazemore Hawks fans know and love. He swatted four shots, grabbed four rebounds, and recorded a single assist. Bazemore is on his way back to being himself. He's almost there.
Kyle Korver
SF, Atlanta Hawks
BEven Kyle Korver fell victim to the starting lineup's three-point shooting woes. A 2-for-6 three-point shooting performance from Korver is like 0-for-10 for mere mortals. Of course, Korver isn't mortal. He was designed in a science lab. Genetically engineered to be a three-point shooting machine. Anyway, he may not have been lights out from deep, but this was one of the best defensive performances of the season for Korver. Like Sefolosha, he was getting into passing lanes and wreaking havoc. He also had four blocks! Kyle Korver had four blocks. The new market inefficiency is rim-protecting three-point snipers. Korver's final line reads 10 points, five rebounds, four blocks, and three assists. His slightly below average three-point shooting and four turnovers were an issue, but overall it was a well-rounded game for Korver.
Thabo Sefolosha
SF, Atlanta Hawks
BThabo Sefolosha remains as steady as can be. He's never going to be an impact player on offense, but his defense was spectacular against the Timberwolves. He got his hands in passing lanes, he harassed ball-handlers, and he stuffed the stat sheet. Sefolosha finished with six rebounds, four steals, an assist, but just four points on 2-for-6 shooting. Sefolosha should remain in the starting lineup, even after Dwight Howard returns to the lineup. A starting five of Dennis Schroder, Kent Bazemore, Sefolosha, Paul Millsap, and Howard could be one of the best defensive groups in the NBA. More on that later this week.
Paul Millsap
PF, Atlanta Hawks
B+It wasn't his most efficient performance, but Paul Millsap still had a fine game. He contributed 18 points and 10 rebounds on 7-for-18 shooting. He also dished out seven assists. The three-point shooting struggles that plagued the entire starting five also impacted Millsap. He was 0-for-5 from beyond the arc. Defensively he had his work cut out for him. Guarding Karl-Anthony Towns one on one is actually illegal in five states. The kid is that good. Millsap held his own, traded buckets with Towns in the paint. It was a fun match-up and one we'll get to see again very soon. Next: The Bench
Dec 21, 2016; Atlanta, GA, USA; Atlanta Hawks forward Mike Muscala (31) controls a rebound against Minnesota Timberwolves forward Gorgui Dieng (5) during the second half at Philips Arena. The Timberwolves defeated the Hawks 92-84. Mandatory Credit: Dale Zanine-USA TODAY Sports
The Bench
Malcolm Delaney
PG, Atlanta Hawks
C-It was another rough game for Malcolm Delaney. He missed his only two shots of the night, failing to score for the second straight game. He did record a steal. Delaney only played six minutes, so it makes sense that he would struggle. How is a player supposed to get into a rhythm in only six minutes? Delaney has had positive moments this season. Hopefully he gets back on track soon.
Tim Hardaway Jr.
SG, Atlanta Hawks
Inc.It's difficult to give a grade for one minute of action. Tim Hardaway Jr. entered the game, made a shot, and then promptly left the game due to a groin injury. Groin injuries are notoriously lingering. We'll have to wait and see how long this keeps Hardaway out of action. With their shooting struggles, the Hawks could have certainly used him in the second half. Get well soon.
Mike Scott
PF, Atlanta Hawks
CIt looks like Mike Scott is firmly back in the rotation, at least he is when Dwight Howard is out. It wasn't Scott's best night offensively. He shot 1-for-4 and ended his evening with four points and four rebounds in 18 minutes played. The Hawks sure could use the Mike Scott that shot 39.2 percent from three-point range last season. It's been a weird season for him. It's hard to say what will come next.
Mike Muscala
C, Atlanta Hawks
A+I certainly hope the construction on the Mike Muscala statue has started outside of Phillips Arena. Muscala's entry into the game sparked the Hawks, turning a 12-2 deficit into a tightly contested game. Muscala scored in a variety of ways. He scored in the paint. He buried his nifty mid-range jumper, and he shot 3-for-3 from three-point range. Muscala ended up with 16 points and four rebounds on 6-for-9 shooting. His performance raises an interesting question. If Dwight Howard's back issues continue to keep him inactive, will Budenholzer start Muscala instead of throwing out Atlanta's small-ball lineup? He has to consider it. Have a day, Mike Muscala. Have a day.
Taurean Prince
SF, Atlanta Hawks
CI am here for any and all Taurean Prince minutes. Get this guy on the court! Playing him is the only way to develop him. He only played 11 minutes, and he failed to score, but he oozes potential. He's going to be an elite defensive player and rebounder at some point in his career. This Hawks team isn't winning anything significant this season. Not with the Golden State Warriors and Cleveland Cavaliers still in the NBA. Giving minutes to Prince is only going to help Atlanta down the line. Next: The Minnesota Timberwolves
Dec 21, 2016; Atlanta, GA, USA; Minnesota Timberwolves center Karl-Anthony Towns (32) and guard Ricky Rubio (9) react as the clock runs out against the Atlanta Hawks at Philips Arena. The Timberwolves defeated the Hawks 92-84. Mandatory Credit: Dale Zanine-USA TODAY Sports
The Minnesota Timberwolves
Minnesota Timberwolves
Western Conference, 9-19
B+It wasn't a pretty performance, but it got the job done. Minnesota seemed to have two strategies. The first being to let Karl-Anthony Towns and Andrew Wiggins cook. The second being to launch as many three-pointers as possible. It worked! Towns wasn't dominant, but he was very good. He finished with 17 points and 18 rebounds on 7-for-16 shooting. He was locked in a tense battle with Paul Millsap all night. Those sorts of one-on-one match-ups are what makes basketball the greatest sport in the world. Wiggins led the way with a quiet 19 points. As a team, Minnesota shot 9-for-29 from three-point range. Not great, but Zach LaVine's 4-for-8 performance proved huge. Minnesota made the most of their size advantage, out-rebounding Atlanta 52 to 35. These teams play again on Dec. 26. It should be another intriguing battle.Next: The Head Coach
Dec 21, 2016; Atlanta, GA, USA; Atlanta Hawks head coach Mike Budenholzer reacts to referee Leon Wood (40) during the game against the Minnesota Timberwolves during the second half at Philips Arena. The Timberwolves defeated the Hawks 92-84. Mandatory Credit: Dale Zanine-USA TODAY Sports
The Head Coach
Mike Budenholzer
Head Coach, Atlanta Hawks
B+I bet Mike Budenholzer is really digging Coldplay these days. "Nobody said it was easy, nobody said that it would be this hard." He's got a difficult puzzle in front of him and he's doing his best to assemble the pieces. The biggest move Budenholzer made during the game was abandoning the small-ball lineup and sticking Mike Muscala at center. It paid off, giving Atlanta new life. It's hard to blame Budenholzer for missed three-pointers. If Atlanta had been average from outside, instead of awful, they win that game. Budenholzer still has some tinkering to do. Let's see what happens in Denver. Next: The Most Unique Hawks Gear On EbayThis article originally appeared on
---
---