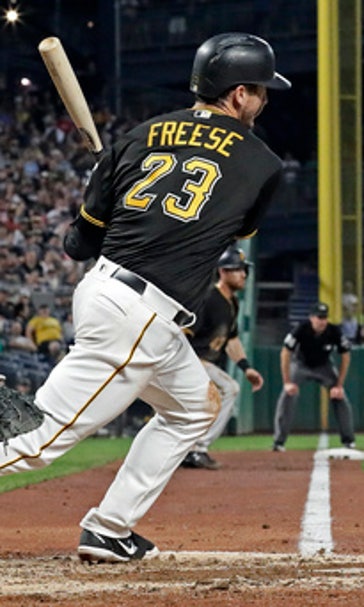 Freese 5 RBIs, single in 9th lifts Pirates over Mets 5-4
July 27, 2018
PITTSBURGH (AP) The Pittsburgh Pirates needed someone to lean on with three of their better hitters out of the lineup Friday. On cue, David Freese came through in a big way.
Freese drove in five runs, including an RBI single in the ninth inning that lifted the Pirates over the New York Mets 5-4. He homered in going 3 for 3 with two walks, helping the Pirates win for the 12th time in 14 games.
''It's wild,'' Freese said. ''We just have to step up. These are the dog days, I guess, and it's tough out there. Bodies are dragging a little bit. But we are in the hunt, that's what's cool. We just have to keep going.''
The Mets had won three in a row. They beat the Pirates 12-6 Thursday night behind Asdrubal Cabrera's homer and two doubles - Cabrera was traded to Philadelphia on Friday.
Josh Harrison led off the Pittsburgh ninth with an infield single against rookie reliever Tim Peterson (2-2). A single by Gregory Polanco put runners at the corner and Elias Diaz was intentionally walked to load the bases. Freese hit a drive over center fielder Brandon Nimmo for the win.
Pittsburgh was without outfielders Starling Marte and Corey Dickerson, who were out with a left hand contusion and left hamstring discomfort, respectively. First baseman Josh Bell played two innings before leaving with left side discomfort.
''We didn't have a lot of depth, truthfully,'' Pirates manager Clint Hurdle said. ''That's one thing these guys have done all year long, is that they show up. Whoever is available plays and they depend upon one another.''
Pirates closer Felipe Vazquez (4-2) got the win after striking out two in a scoreless ninth.
After Freese gave the Pirates a 4-3 lead with a two-out, two-run single up the middle with the bases loaded in the fifth, the Mets loaded the bases with no outs in the sixth.
Reliever Edgar Santana struck out Kevin Plawecki and had a chance to get out of the inning when Jose Reyes sharply lined out to left fielder Jordan Luplow. Michael Conforto paused after charging from third, but Luplow's throw sailed to the backstop, allowing Conforto to continue and beat the tag at home, tying it at 4.
Mets reliever Seth Lugo gave up the go-ahead single to Freese in the fifth, after replacing starter Jason Vargas. In his first start since June 19, Vargas allowed three runs on three hits with three strikeouts and three walks in 4 1/3 innings.
''I thought (Vargas) did a good job,'' Mets manager Mickey Callaway said. ''To push him any further than we did, I thought would be tough. He started getting a little tired there at the end.''
Without getting the decision, Vargas was still pleased with his return.
''It's kind of hard to say what you anticipate, but I felt really solid out there,'' Vargas said. ''I felt like I was able to make some pitches. I made that one mistake to Freese that he really went out there and hammered, but I felt like I did a good job.''
That one mistake led to Freese's home run, which cut the Mets' 3-0 lead to 3-2 in the second. Conforto gave New York that lead with a three-run homer in the first.
Pirates starter Ivan Nova gave up three earned runs in five innings.
ROSTER MOVES
Mets: Cabrera was traded to the Philadelphia Phillies for RHP Franklyn Kilome. New York signed OF Austin Jackson and designated OF Matt den Dekker for assignment.
Pirates: RHP Alex McRae was recalled from Triple-A Indianapolis. RHP Michael Feliz was optioned to Indianapolis.
TRAINER'S ROOM
Pirates: Hurdle did not provide an update on Bell, Marte or Dickerson. He did not say whether Marte or Dickerson could have pinch-hit if the game went to extra innings.
UP NEXT
Mets: RHP Jacob deGrom (5-5, 1.71 ERA) will look to win for the third time in four starts when he takes the mound against Pittsburgh on Saturday. He has allowed three earned runs combined during his past three starts, and has gone eight innings in each.
Pirates: RHP Trevor Williams (8-7, 4.11) hopes to build off of his last two starts when he faces the Mets on Saturday. After allowing five runs in five innings of a 17-5 loss to the Phillies on July 6, Williams hasn't allowed a run in his two starts since, including when he shut out the Cleveland Indians in six innings of a rain-shortened, 7-0 win on Monday.
---
More AP baseball: https://apnews.com/tag/MLBbaseball
---
---