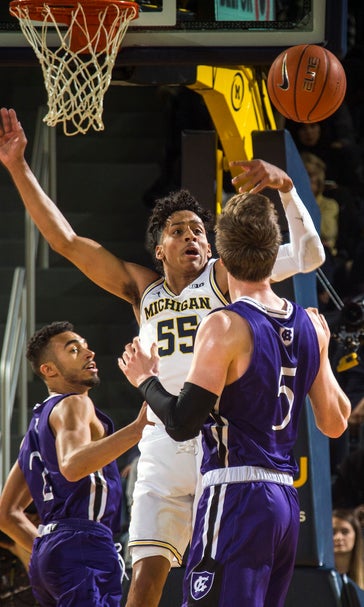 Brazdeikis leads No. 19 Michigan over Holy Cross 56-37
November 10, 2018
ANN ARBOR, Mich. (AP) — Ignas Brazdeikis watched helplessly as his future Michigan teammates got drubbed in last season's NCAA championship game.
On Saturday night, Brazdeikis finally got a chance to help boost the Wolverines' struggling offense.
Brazdeikis scored 19 points, Charles Matthews added 20 and No. 19 Michigan held off Holy Cross 56-37.
The freshman from Mono, Ontario, scored 15 points in the first 4:49 of the second half as part of a 32-8 game-changing run that gave Michigan a commanding lead.
"I need to keep that going because that's the player I've always been my entire life," Brazdeikis said. "As long as I continue that mentality, things will happen."
Michigan (2-0) now heads into a NCAA final rematch with Villanova on Wednesday.
"They're hunters," Michigan coach John Beilein said of Brazdeikis and Matthews. "We just really simplified our attack in the second half and just tried to go off penetration. We weren't outsmarting them. We just had to go with some speed, some quickness, and certainly Iggy got us off to a nice start."
Reserve forward Connor Niego scored 13 points for Holy Cross (1-1), all on 5-of-5 shooting in the first half, including 3 for 3 on 3-pointers. He did not score in the second half, missing two shots.
Jacob Grandison scored 12 points for the Crusaders, who led by as many as nine points in the first half and led 24-18 at halftime.
"We passed the ball around pretty nicely and got some open shots and some easy baskets, and they were missing some things that maybe they normally make in the first half," Holy Cross coach Bill Carmody said. "Then the second half they just turned up the heat."
Michigan forced 16 turnovers in the game and held Holy Cross to 13 points in the second half.
But the Wolverines shot poorly, finishing 3 of 19 (15.8 percent) on 3-pointers. However, they had a big edge on free throws, shooting 17 of 21 (80.9 percent), while Holy Cross was 1 for 3.
Isaiah Livers had seven points and 10 rebounds for Michigan, as six Wolverines scored.
BIG PICTURE
Holy Cross: The Crusaders look to be a team ready to improve on their sixth-place finish in the Patriot League last season.
Michigan: With shooting the big question mark coming into the season, Michigan didn't silence doubts early, shooting 5 for 24 (20.8 percent) in the first half, including 2 of 11 (18.2 percent) on 3-pointers.
WIN 801
Beilein was honored before the game and given a ball to commemorate his 800th victory, which was Tuesday against Norfolk State.
Beilein also was presented with a portrait of himself, which was painted by a speed artist at halftime. Upon seeing the painting before the postgame news conference, he asked his wife Kathleen where it should go.
"I thought we'd put it right over the fireplace," she said, before he added: "I don't think it's going . I know it's not going over our fireplace."
STILL WAITING
Holy Cross last beat a Big Ten team on Dec. 21, 1992, topping Northwestern 83-78. The Crusaders have now lost six straight against the conference.
Holy Cross has just one win against a ranked opponent in its last 34 chances, dating to 1977.
UPSET MINDED
Holy Cross used a 13-0 run to take an 18-9 lead midway through the first half. Niego had a pair of 3-pointers during the run.
BLOCK PARTY
Michigan center Jon Teske had a career-high five blocked shots, many off layup attempts after successful Holy Cross cuts.
"When it works right and somebody comes out of nowhere and pins it off the board, it is heartbreaking for the team," Beilein said "It is demoralizing for the team and we were able to do that."
UP NEXT
Holy Cross plays at Providence on Tuesday. The Friars, of the Big East, have made the NCAA Tournament five straight seasons, a program record.
Michigan plays at No. 9 Villanova on Wednesday in the Final Four rematch, a 79-62 Villanova win.
---
---