Quarterback controversies: 6 you need to know about
The Dallas Cowboys have a quarterback controversy looming. Tell me you've never heard that before. 
With Dak Prescott playing so well, it's going to be awkward and entertaining to see what happens when Tony Romo returns in a few weeks.
So, what happens now? If things go bad with Romo, do you go back to Prescott even if he's a rookie? That my friends is a quarterback controversy, now you know about Joe Montana and Steve Young but there were some others that you might've forgot about.
Troy Aikman vs. Steve Walsh
Can you believe this was an actual thing!?!
When Jimmy Johnson first took over the Dallas Cowboys, they drafted Troy Aikman. However, Johnson also wanted one of his guys and got his former quarterback at the University of Miami, Steve Walsh. This seems laughable but there was a time where Johnson was looking to get the right guy for the job, even if it was at the expense of the guy he drafted first overall.
Aikman wound up being the winner and Steve Walsh bounced around the NFL until he retired in 1999.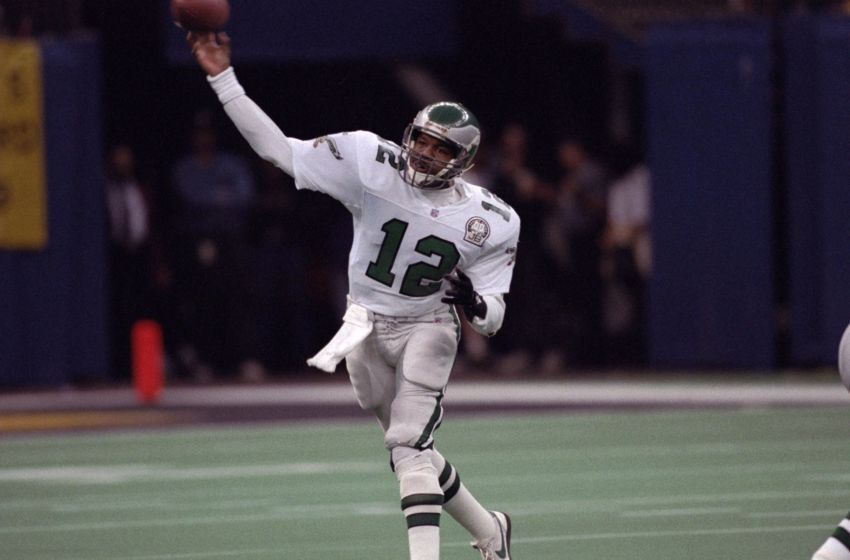 UNITED STATES – JANUARY 03: Football: NFC playoffs, Philadelphia Eagles QB Randall Cunningham (12) in action, making pass vs New Orleans Saints, New Orleans, LA 1/3/1993 (Photo by Richard Mackson/Sports Illustrated/Getty Images) (SetNumber: X43814)
Ron Jaworski vs. Randall Cunningham 
When Buddy Ryan arrived in Philadelphia in the winter of 1986, he made changes that rocked the city and the franchise. One of them was using a unique quarterback system that would have Randall Cunningham come in for starter Ron Jaworski on third down. In midseason, Jaws got hurt and Cunningham took over. By 1987, Cunningham was the man full-time and would usher in a new age of quarterback in the NFL.
Rob Johnson vs. Doug Flutie 
This is one of the most unlikeliest of battles. The Bills struggled to find "the" guy in the post Jim Kelly era. You had Rob Johnson against former Heisman winner and CFL hero, Doug Flutie. Although Johnson was the clubhouse leader, it was Flutie's magical run that kept the Bills in the playoff chase.
It all came to a climax in the 1999 AFC Wild Card game against Tennessee where head coach Wade Philips selected Johnson over Flutie. As you likely know, the Bills lost on a controversial final play by the Titans. Flutie moved west to San Diego and thus ended the Buffalo quarterback war.
Sonny Jurgensen vs. Billy Kilmer 
Sonny Jurgensen was the free-wheeling signal caller for the Redskins in the 1960s and 70s. When George Allen arrived in D.C. back in '71, he wasn't a fan of the incumbent Jurgensen so he decided to trade for Billy Kilmer. Their rivalry became even more intense after Jurgensen was injured early in 1972 and Kilmer guided the Cinderella Redskins to Super Bowl VII.
For the next few seasons, all of D.C. was discussing two things; Watergate and who would be the quarterback for the Redskins. The city became so divided that bumper stickers were created to show support for Billy and Sonny. Eventually, Jurgensen would be the first to bow out when he retired in '74. Kilmer would battle with Joe Theismann until he left the game in 1978.
Rich Gannon vs. Elvis Grbac
You say the name Elvis Grbac to a Kansas City Chiefs fan and they may scream a few bad words back to you. In 1997, the Chiefs fought their way to a division title due to Rich Gannon leading the Chiefs on a six-game winning streak to end the season and hosting a home playoff game against the Denver Broncos.
There was some debate on who would be the starter. Should Marty Schottenheimer stay with Gannon who was red-hot or go back to Grbac? Of course, the Chiefs  Grbac took the field that Sunday and of course, the Chiefs ended up losing. To this day, Kansas City fans will argue that had Gannon been in the game instead of Grbac, the Chiefs move on in the AFC Playoffs.
Drew Brees vs. Philip Rivers 
In some ways, you can kinda blame Eli Manning for this.
In 2004, the San Diego Chargers were looking to draft a quarterback. Since Eli Manning didn't want to be in San Diego, the Chargers made a deal with the New York Giants to get Philip Rivers. That was essentially a middle finger to Brees as the Chargers brass made it clear that Drew wasn't going to be the guy.
This got even more complicated as Rivers decided to hold out and Brees asserted himself as the lead dog under center. Brees then led the Chargers to a division title. In fall of 2005, Brees ended up getting hurt, which led to his departure. Both Brees and Rivers have seen their careers take off as both are headed towards Canton.
This article originally appeared on