Dolphins: Positioning to Trade Ryan Tannehill?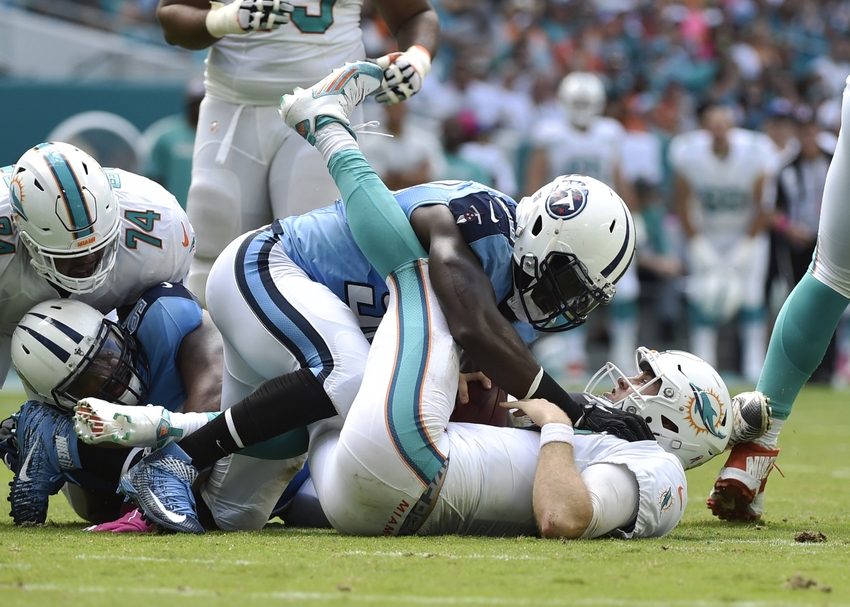 The Miami Dolphins could be 'sticking' with quarterback Ryan Tannehill not because they believe in him, but because he's still too awful to trade.
Ryan Tannehill is the latest Miami Dolphins quarterback on the team's nearly two decade quarterback carousel. After an atrocious start to his 2016 campaign, Tannehill just received the dreaded 'vote of confidence' from head coach Adam Gase.
Tannehill is frustrating. Initially, when Gase stated yesterday that Tannehill will remain at starter, I was confused.
Statistically, Ryan Tannehill is either horrible or mediocre in many categories. This season, he has thrown more interceptions than touchdowns (7 INT vs. 6 TD). In addition, Tannehill has a proclivity for fumbling: he has fumbled four times this year and 42 times over his 4+ NFL seasons. Comparatively, his QBR (Quarterback Rating) is an abysmal 53.46 out of 100, or 30th in the NFL (of 31).
However, the reason that the Dolphins may be 'sticking' with Tannehill is because they see him as potentially having trade value. Often, this is a tactic used by General Managers in baseball; artificially inflating a trade chip's value by giving them forced playing time.
The hope is that, if the prospective player breaks out of their rut, the team can make a cost neutral assessment: keep the (now) successful player and look like a genius for sticking with them, or trade them as planned.
Could this be the Dolphins' plan with Ryan Tannehill?
First, it is important to understand a little of the history and psyche of the person responsible for this decision: Mike Tannenbaum. The Miami Dolphins czar of football operations has an interesting history. Tannenbaum isn't exactly the sort of personnel manager who is willing to allow mediocrity to fester on the roster unchecked.
Tannenbaum likes to take Ruthian swings in his approach to roster building. While he was responsible for drafting outstanding players on occasion (Darrelle Revis, David Harris, Mohammed Wilkerson, Sheldon Richardson), he has also had his share of really aggressive but failed selections (Mark Sanchez, Vernon Gholston).
Knowing Tannenbaum's history, he isn't content with Tannehill or the Dolphins' roster in it's totality. The Dolphins, in addition to needing help at quarterback, will also need to determine: the future in the backfield, at tight end, all along the offensive line, the approach for Ndamukong Suh and the defensive line, if the team has any salvageable outside linebackers, and whether there is anyone in the secondary worth retaining (except for 2016 second-round pick Xavien Howard and safety Rashad Jones).
He is probably assessing what trade chips he has and how he intends on building this roster come 2017.
Out of the current 53 players on the roster, undeniably safe entering 2017 are few: Suh, Jarvis Landry, Devante Parker, Laremy Tunsil, Kiko Alonso, and Rashad Jones. That means everyone else is trade bait.
While trades are less common in the NFL as opposed to the other professional sports leagues, it feels as though the willingness of team personnel to trade has increased recently.
'Firesales,' or selling off numerous assets off of a sinking ship, have increased. If you are a Marlins fan, you are woefully familiar with the firesale philosophy.
Anyway, this approach seems to be catching on in the NFL. For example, at the very beginning of this season, the Philadelphia Eagles had a mini-firesale of their own.
They traded highly-paid starting quarterback Sam Bradford, and moved many of Chip Kelly's former players (Eric Rowe, Dennis Kelly, Mark Sanchez). In exchange for these four players, alone, the Eagles netted five draft picks and Dorial Green-Beckham.
The Dolphins could be looking to begin a firesale in the same mold as the Eagles. But first, they need to decide how best to approach the inevitable departure of Ryan Tannehill.
Ryan Tannehill's current contract is pricey; he signed a contract extension last off-season. Tannehill's contract necessitates an $11 million pay-check in March, the beginning of the 2017 'League Year.' If Tannehill is on the roster as of the fifth day of the 2017 season, the Dolphins owe him another paycheck, but for over $14 million. Tannehill would either have to be willing to renegotiate his contract, or, for some reason, they could  exchange him for a quarterback with a similarly stupid contract (so that they cancel them out?).
In the second vein of thinking, Dolphins fans have floated the idea of the team acquiring a few really expensive, antiquated quarterbacks. Jay Cutler, Philip Rivers or Tony Romo aren't going to be enough to fix the Dolphins.
More from With the First Pick
At best, each of those players have two or three decent seasons left before going the way of Peyton Manning. While it would be nice to have a decent quarterback under center for Miami, Dolphins fans deserve better. Daunte Culpepper and Chad Pennington may have sold tickets, but they never gave Miami a chance of building something long-term.
But what about renegotiating his contract (again)?
The Dolphins could attempt to ask Tannehill to defer some of the money due to him over the next year and a half. In exchange, they could extend his contract length or set Tannehill up with an immediate signing bonus as a parting gift.
The current quarterback climate of the NFL has a wide spectrum. It is a disparity where many teams are somewhere between Pro Bowl caliber and… well… whatever is going on in Cleveland. Tannehill, in fairness, falls somewhere in between.
The Dolphins are hoping that Tannehill can string together a few decent games before the week 8 trading deadline or over the duration of the season. With the right sample size, the Dolphins hope a team like the Browns or 49ers are allured by Tannehill: a step up from what they have and tantalizing first-round talent.
This article originally appeared on