Alabama's Defense Will Be Remembered As The Best Ever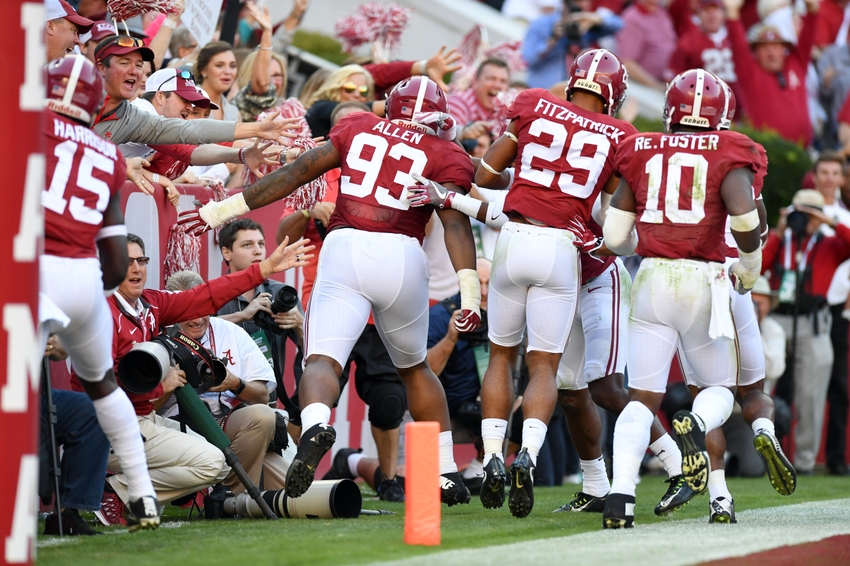 Alabama just finished off an undefeated regular season, and it doesn't even feel like an accomplishment at this point in their dynasty.
Alabama steamrolled everybody they played, even with the first true freshman quarterback that Nick Saban has ever started.
Jalen Hurts struggled at times, and turned the ball over in each of the last seven games, but it didn't matter. Alabama's defense was able to mask every deficiency in their offense, and sometimes even outscored their opponents, especially with their 11 week stretch of scoring a non-offensive touchdown.
Nobody thought coming into the year that their defense could improve after long time defensive coordinator, Kirby Smart, left for Georgia. However, Jeremy Pruitt has done the impossible. His aggressive calls and willingness to put pressure on the quarterback has what's turned this defense up a notch.
This defense will go down as the greatest of all time. They are lightning fast, they shut down any hopes of running the ball, they want to purge opposing offenses, and they suck the will to fight out of every team they play. Whether it be their star-studded pass rush, their NFL caliber linebackers, or their shutdown secondary they continue to find new ways to shock you.
On Saturday in Bryant Denny Stadium, as the Purge sirens blared as the vaunted defense took the field, you knew it was about to get real. Alabama held the nation's best rushing attack to 66 yards on 20 carries (2.5 ypc) and only allowed 182 total yards, 55 coming on one passing play and only allowed 12 points.
Speaking of points, Alabama's defense didn't allow a touchdown for the entire month of November, and hasn't since they went down against Texas A&M. This is a defense that can do it all; stop bruising backs, stop the HUNH offenses, shut down dual threat quarterbacks, and they can get to the quarterback faster than any team in football.
Looking at their depth chart, you can find guys that will excel in the NFL and four and five stars all across the board. Jonathan Allen is largely considered the safest bet in the draft at this point, Reuben Foster is a heat seeking missile at inside linebacker who is a true three down linebacker, and Tim Williams looks like the next best pass rush specialist.
Even the guys who aren't draft eligible have scouts salivating. Sophomore Minkah Fitzpatrick is a star in the making, and helped himself even more by switching and excelling at safety from slot corner. Marlon Humphrey is insanely athletic, and developing better cover skills, he is eligible to leave but it's unknown if he will. Not to mention the likes of Shaun Dion Hamilton, Da'Ron Payne, DaShawn Hand, and countless others.
With a weak Florida offense next week in the SEC championship game, they'll be able to pad their stats. After that who knows who they will face in a bowl or the College Football Playoff. If they can continue to carry the Tide through next week and to championship number 17, they will be legendary.
Alabama's defense is first in total defense giving up 11.4 points per game, their passing defense has picked off opposing QB's 11 times while allowing nine touchdowns, and they have yet to allow an opposing back to reach 100 yards while allowing only three touchdowns and 2.2 yards per carry.
Their numbers don't do it a justice. This defense is nasty, they're out to make their opponents quit. We are witnessing greatness each time they take the field, and it's time to appreciate their greatness before their stars all head to the NFL after this season's end.
This article originally appeared on