NBA Trade Rumors: Five Biggest Names Most Likely To Be Traded
Deanna Chapman/FanSided via Sir Charles In Charge

Fansided
NBA Trade Rumors: With the NBA Trade Deadline a few weeks away, we explore the five biggest names most likely to be moved
The NBA Trade Deadline is quickly approaching, which means rumors are running rampant. From the biggest to smallest of names, it feels like there's more than enough trade rumors to go around.
Will DeMarcus Cousins be moved before the deadline? Will any team make a move or two that results in getting them closer to playoff, or even championship, contention?
There are so many questions, and just not enough answers at this point. However, all of which will likely be answered at some point during the weeks leading up to the trade deadline.
In this piece, we will explore the five big-name players most likely to be dealt before the NBA Trade Deadline.
Carmelo Anthony, New York Knicks
Rumored Destinations: Cleveland Cavaliers, LA Clippers, Boston Celtics
The Latest Whispers: The New York Knicks want to move him, but Carmelo Anthony's no-trade clause is standing in the way. Ultimately, it will come down to Anthony. Will he waive it or not?
The Vertical's Adrian Wojnarowski and Chris Mannix reported that Phil Jackson wants to move Melo by the deadline. However, as stated above, his no-trade clause makes that a bit difficult.
The Knicks have reached out to the Celtics, Clippers and Cavs to gauge each team's interest in the perennial All-Star. The Cavs might not be an option since they just traded for Kyle Korver and because they're reluctant to give up Kevin Love in any trade for Melo.
The Clippers have some pieces they can move without affecting their big three and the Celtics have a lot of assets to work with, too. One of those teams would be the more likely choice.
DeMarcus Cousins, Sacramento Kings
Rumored Destinations: Boston Celtics, Phoenix Suns, Los Angeles Lakers
The Latest Whispers: Per Arizona Sports, the Suns and Kings discussed a potential trade centered around DeMarcus Cousins.
DeMarcus Cousins has a tendency to let it be known how miserable his situation in Sacramento has been. He's been through more coaches than some players go through their entire careers, and in much less time.
There have been talks between the Kings and the Suns about a deal for Boogie. In return, the Kings would recieve Alex Len, T.J. Warren, and a first-round draft pick that will seemingly fall into the top 10. Considering high draft picks don't always pan out, this feels like it could end up being a much better deal for the Suns.
And maybe, just maybe, Boogie would be in a better situation where he can thrive even more.
Serge Ibaka, Orlando Magic
Rumored Destinations: Toronto Raptors
The Latest Whispers: Per Sporting News, the Orlando Magic hope to move Serge Ibaka ahead of the NBA Trade Deadline
Ever since he was traded to the Orlando Magic on draft night, things have not been great for Serge Ibaka. There are plenty of teams that he could thrive on. As a Lakers fan, I wouldn't mind seeing him on the team, but that might mean giving up one of the young players.
I'd love to see the Lakers keep their younger player together, but Ibaka could contribute to the team, especially on the defensive end. He may not be the player he was in OKC, but he still flashes on occasion.
Austin Rivers, LA Clippers
Rumored Destinations: New York Knicks
The Latest Whispers: If a Carmelo Anthony to the Clippers trade goes through, Rivers will likely end up part of the deal in New York
The LA Clippers (and NBA fans) weren't sure of how the father/son as coach/GM/player dynamic would work. It turns out, Austin Rivers has been a solid addition to the team, but with them just out of title contention the last few years, they could use another piece on their team.
Although, it's beyond me how the CP3/Blake/DJ combo hasn't panned out for them. Maybe he'll end up in a trade deal for Melo with some other Clippers players or draft picks. If such deal goes down, he'll almost definitely be involved.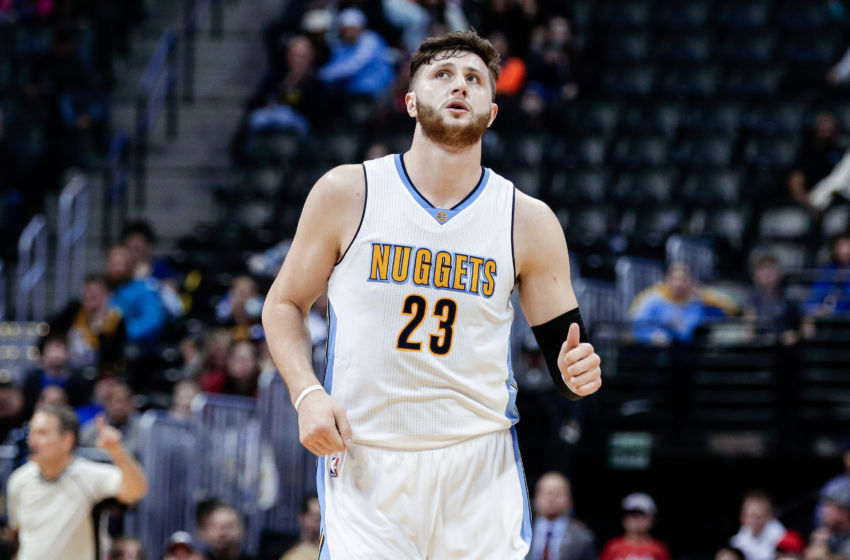 Jusuf Nurkic, Denver Nuggets
The Latest Whispers: According to ESPN, the Denver Nuggets are trying to trade Jusuf Nurkic.
The Denver Nuggets have watch Jusuf Nurkic and Nikola Jokic struggle to click together. The likelihood of them traded Nurkic is pretty high seeing as Jokic has been the better player for them.
More from Sir Charles In Charge
No matter which team he goes to, he would be coming off of the bench, but there are plenty of teams that need help from their bench. The Clippers, Bucks, and the Mavericks (he may actually have a chance to start here) all could be good options. He can score in the post and he can be a big help on defense (literally).
Now, these are just a handful of players and who knows, some of them might not even go anywhere. It's clear that some of them want to move, while others might not. Would Rivers want to leave the Clippers? Probably not.
Does Boogie want to leave the Kings? It appears the answer to that has been yes for a while. The thing is, it's not up to the players where they go (unless you're Kobe Bryant and refuse to play for the team that wants to draft you).
Only time will tell which of these players are moved by February 23rd, but it could shake up the NBA with just Boogie and Melo being traded.
This article originally appeared on