Looking Back At Vince Carter's Missed Championship Opportunities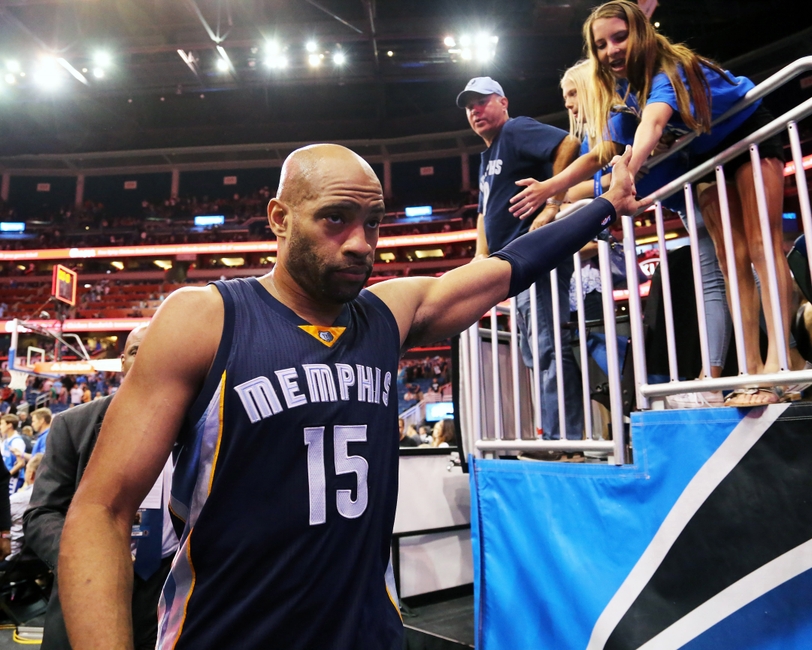 Vince Carter appears that he will fall short of winning an NBA Championship; we look back at the times he was close 
Vince Carter was must-see TV the moment he entered the league. He was often compared to Michael Jordan early on because he was a high flyer out of MJ's Alma mater, UNC, and Carter was obviously a great player also.
His superstar play for the Raptors made him one of the biggest stars that not only Toronto has ever seen, but Canada as a whole.
Vince Carter's rookie campaign was an impressive one. Carter averaged 18 points, nearly six boards and three assists per game.
It was his sophomore season, though, when he really made a name for himself. He made his first all-star appearance and was selected to third team All-NBA. Vince Carter put up an impressive 25.7 ppg, 5.8 rpg and 3.9 apg stat line.
The world got to see more of his high-flying aerial arts during the 2000 Slam Dunk Contest. Vince Carter put on arguably the greatest show in Dunk Contest History. NBA fans had never seen anything like it. You know the saying, "and the rest is history".
Raptors fans didn't take Vince Carter's departure from the team during the 2004-05 season too lightly. When he left Toronto, he bounced around the league a little bit. He was upset about how things were going. He wasn't too fond of the Raptors management and felt like they would never be an elite team with Richard Peddie as the Raptors' president.
Carter was traded to the Nets in December of 2004. He played there for about 4 1/2 seasons before he was traded to his hometown team, the Orlando Magic, on draft day in 2009. Also playing for the Suns, Mavericks, and Grizzlies, there were a few championship opportunities that Carter had just missed out on before arriving to these teams.
VC On The Nets
Before Moving to Brooklyn in 2012, the Nets were located in East Rutherford, New Jersey. After being traded to the Nets in 2004, Vince Carter was optimistic about what was to come. This team had some great pieces. An all-time great point guard in Jason Kidd and a slashing scorer in Richard Jefferson, Vince Carter was ready to be a major addition to that.
More from Sir Charles In Charge
Things didn't go as planned after the first season with his new team. Jason Kidd was returning from microfracture surgery and Richard Jefferson had to get season-ending surgery after just 33 games. Still, Vince Carter led the team to an 8th seed even with the struggles. They lost in the first round to the Miami Heat. It was a 4-0 sweep.
In 2005-06 the Nets won 49 games and had the third seed in the east. On December 12th he tied his career high of 51 points in a win against the Miami Heat. The first time he scored this much was in 2000 against the Suns. Carter averaged 24 points and led the Nets to the second round before losing to Miami for the second year in a row.
Fast forward to 2007-08 and Jason Kidd is traded to the Dallas Mavericks. This left Carter and Jefferson on an island wondering what's next for this team. They finished 34-48, failing to make the playoffs for the first time since 2000-01.
Richard Jefferson was traded in the offseason, to the Bucks, and the Nets were headed towards rebuilding mode.
2008-09 was another unsuccessful year for the Nets. They finished with the exact same record as the previous season and on draft day Vince Carter was traded to the Magic.
Coming to the Nets in 04-05 Carter had just missed what you might call the golden years of the NBA's version of the Nets. The Nets made two straight finals appearances in 2002 and 2003.
VC In Orlando
The Orlando Magic aquiring Vince Carter on draft day was an excellent move. Adding a star playing to an already contending team, it seemed like the only way to go for them was up.
Carter had a pretty decent year averaging 16/4/3. In February, Carter poured in a season high 48 points against the Hornets. Clearly at 33 years old he could still turn it on when needed.
Orlando finished 59-23, good for second in the Eastern Conference. They breezed through the first two rounds sweeping both teams. In the Conference Finals, they met up against one of the toughest teams in the league, the Boston Celtics. Orlando made it to six games before falling short of the NBA finals – 12 seasons in the league and this was Vince Carter's first Conference Finals.
Their season was still a success to most but maybe not them, Orlando had Championship aspirations.
Starting the 2010-11 season 12-9, Orlando parted ways with Vince Carter. He was traded to the Phoenix Suns in December. The Magic made the Finals in 2009, the season before Vince's arrival. Another missed opportunity for him.
VC In Phoenix
Vince Carter's time in Phoenix was short-lived. He played just 51 games.
The Suns finished 40-42 and did not make the playoffs. Alongside Steve Nash, Carter averaged 13.5 points per game for the Suns. It was well-known that the Suns would no longer be a contender. Amar'e Stoudemire opted out and signed with the Knicks on June 30, 2010 and Phoenix could not make up for that loss.
Stoudemire's last season with the Suns was a success. They made it to the Conference Finals but he still decided to move on. This was one season before Vince Carter got traded to Phoenix. Who knows what could've been if Amar'e was there with Carter and Nash. Tough luck for V.C.
VC Signs With Dallas
At this point Vince Carter is no longer a star player but still very good. In December 2011, he signed a three-year deal (one year guaranteed) with the Dallas Mavericks. He found himself alongside Jason Kidd once again, trying to renew the good times they had in New Jersey.
Carter's first season in Dallas didn't go as expected. They made the playoffs but lost in the first round to OKC. They didn't have much time to work on chemistry because of the lockout.
The 2012-13 season was no better than the last, in fact it was worse. No playoff appearance for the Mavericks and this surely had Vince wondering if he made the right decision to come to Dallas.
Things got better in 2013-14 as they went on to win 49 games and placed 8th in the western conference.
They faced San Antonio in the first round, and boy was this a series. The series went to seven games, including five nail biters. In Game 3, Vince Carter hit the game-winning three-pointer with no time left on the clock.
This put them up 2-1 against the number one team in the conference, a real confidence booster. Eventually Dallas could not hold off the Spurs and ended up losing in seven.
Vince Carter came to Dallas one season after they won a ring hoping they would repeat or eventually win another as a contributor to the team. This did not happen and it was the 4th time Vince Carter came to a team that either made the Conference Finals or NBA Finals at least two seasons before he got to the team.
VC's Last Stop?
Signing a three-year, $12.2 million deal in 2014, Vince Carter found himself in a good position. The Grizzlies usually make the playoffs and Carter came looking to add to their success.
In his first season as a Grizzly, Vince Carter only played 16.5 minutes per game but the team had a good year. Winning 55 games in the regular season, the Grizzlies were looking to continue their winning ways in the playoffs. They made it to the second round before being knocked off by the Golden State Warriors, the eventual 2015 NBA champions.
The 2015-16 season wasn't what the Grizzlies wanted it to be. They won 13 fewer games, finishing 42-40. Vince Carter played around the same amount of minutes and averaged just .8 points more than the last season at 6.6. The Grizzlies barely made the playoffs and hit the road early losing 4-0 to the Spurs in the first round.
Now in the 2016-17 season, the Grizzlies are off to a decent start and Vince Carter is playing great. Recently, Vince Carter became the oldest player in the last 30 seasons to score 20+ points off the bench. He also became the oldest player to score 20+ since Michael Jordan did it in April 2003. Carter is averaging 10 points this season and is averaging 15 over his last five games.
No one knows when Vince Carter will retire but he came to this Grizzlies franchise in hopes of finally capturing his first ring before he does. He signed with Memphis two seasons after they made the Western Conference Finals. Memphis is the 5th team that Vince Carter has been on that either made the conference finals or NBA finals at least two seasons before he got there.
This has happened with EVERY team he's been on since he left Toronto. Those days for Memphis are most likely over at least for the next couple of years.
At the end of the 2016-17 season, Vince Carter's contract will expire and he will become an unrestricted free agent. Whether he chooses to retire, stay in Memphis, or leave is confidential to the public.
He'll be 40 by then so there isn't much time left. It's up to him to decide if he wants to go to a true contender or if a true contender is interested and there's no doubt that they will be.
Vince Carter is a 7-time all-star, 6th all-time in 3-pt fg's made (soon to be 5th), and has over 24,000 career points. He is one of the greatest players ever. Title or not, Vince Carter is on his way to the Hall of Fame.
This article originally appeared on