What LeBron James must do to surpass Michael Jordan
LeBron wants to chase ghosts? Let's chase some ghosts.
In a cover story for Sports Illustrated this week, LeBron James admitted that his motivation is "the ghost" who played in Chicago: Michael Jordan.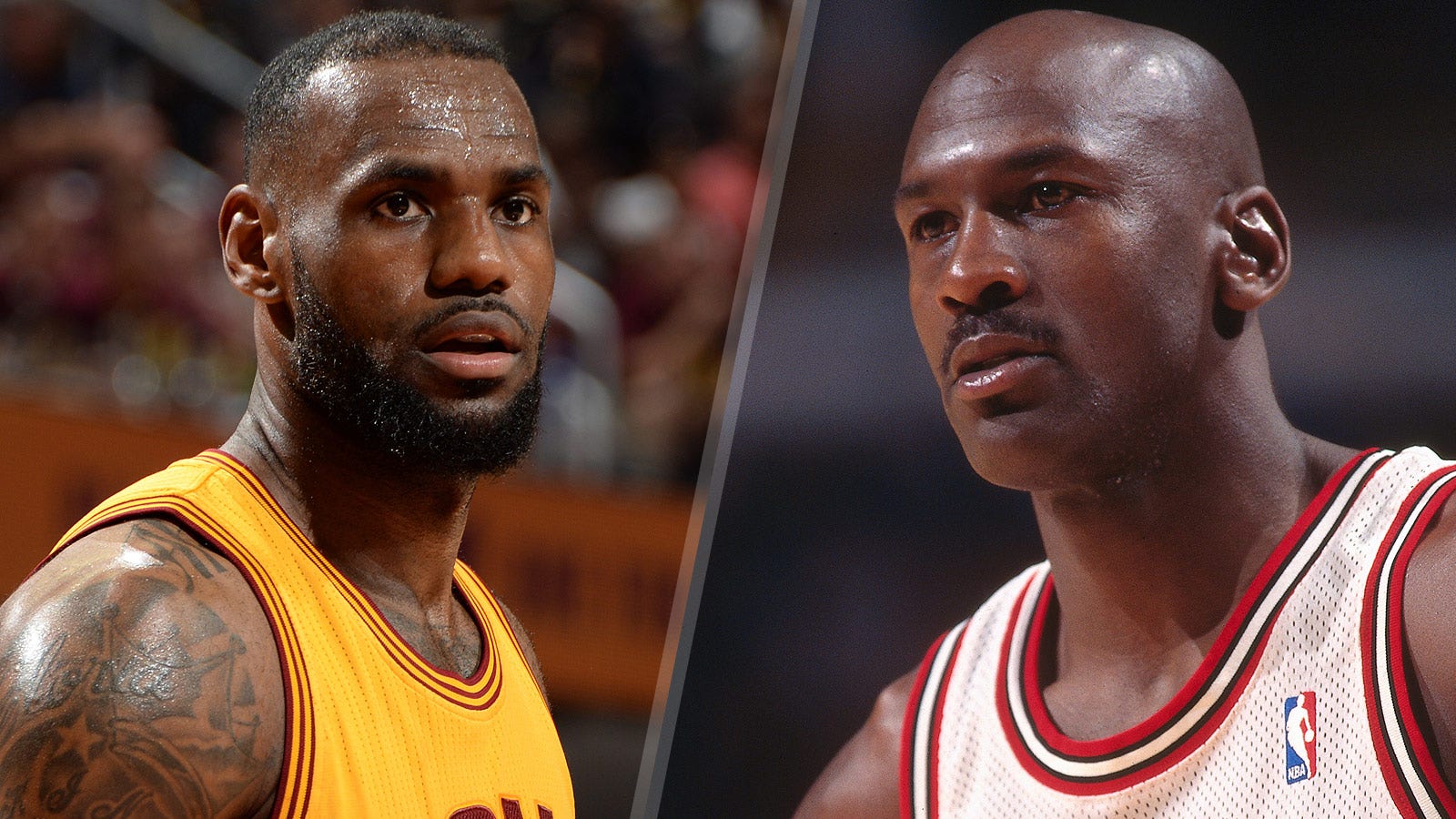 With apologies to Kobe Bryant fans, this is the quintessential basketball discussion. Jordan's the GOAT. LeBron vaulted himself back into the conversation by leading the Cleveland Cavaliers all the way back from a 3-1 deficit in the NBA Finals. Of course, LeBron still has a long way to go; his 2016 championship might have been the sweetest, but it still counts as just one of three. Jordan, as you likely know, has a few more.
The question, then, is simple: How can LeBron surpass Jordan as the greatest player in NBA history? I don't mean just having a leg to stand on in the argument. We're talking about what it would take for LeBron to prove once and for all that he is the GOAT.
First, LeBron has to stay with the Cleveland Cavaliers for the rest of his career. This part isn't negotiable. We've forgiven him for the dalliance with the Miami Heat; leaving again would not be so quickly forgotten. People want their superstars to be loyal, so LeBron is stuck in Cleveland for the rest of his life (or NBA career, which is basically the same thing).
He also can't turn the Cavs into a superteam — not any more than they already are, anyway. Joining forces with Dwyane Wade, Chris Paul, Carmelo Anthony, or another player who's actually at his basketball peak would give people reason to bash on any future accomplishments from LeBron. With Jordan on his radar, LeBron has to chase rings with Kyrie Irving, Kevin Love and Tristan Thompson. There are worse fates, one supposes.
On a systemic level, LeBron needs to root for peace between the league and the union. Here, perhaps he'll flex his muscle as vice president of the players' union to make sure that the NBA avoids missing games. A prolonged lockout in 2017 that leads to canceled games could put a significant dent in his climb up various career leaderboards. Every point, rebound and assist will count for LeBron as he makes his case to a skeptical public.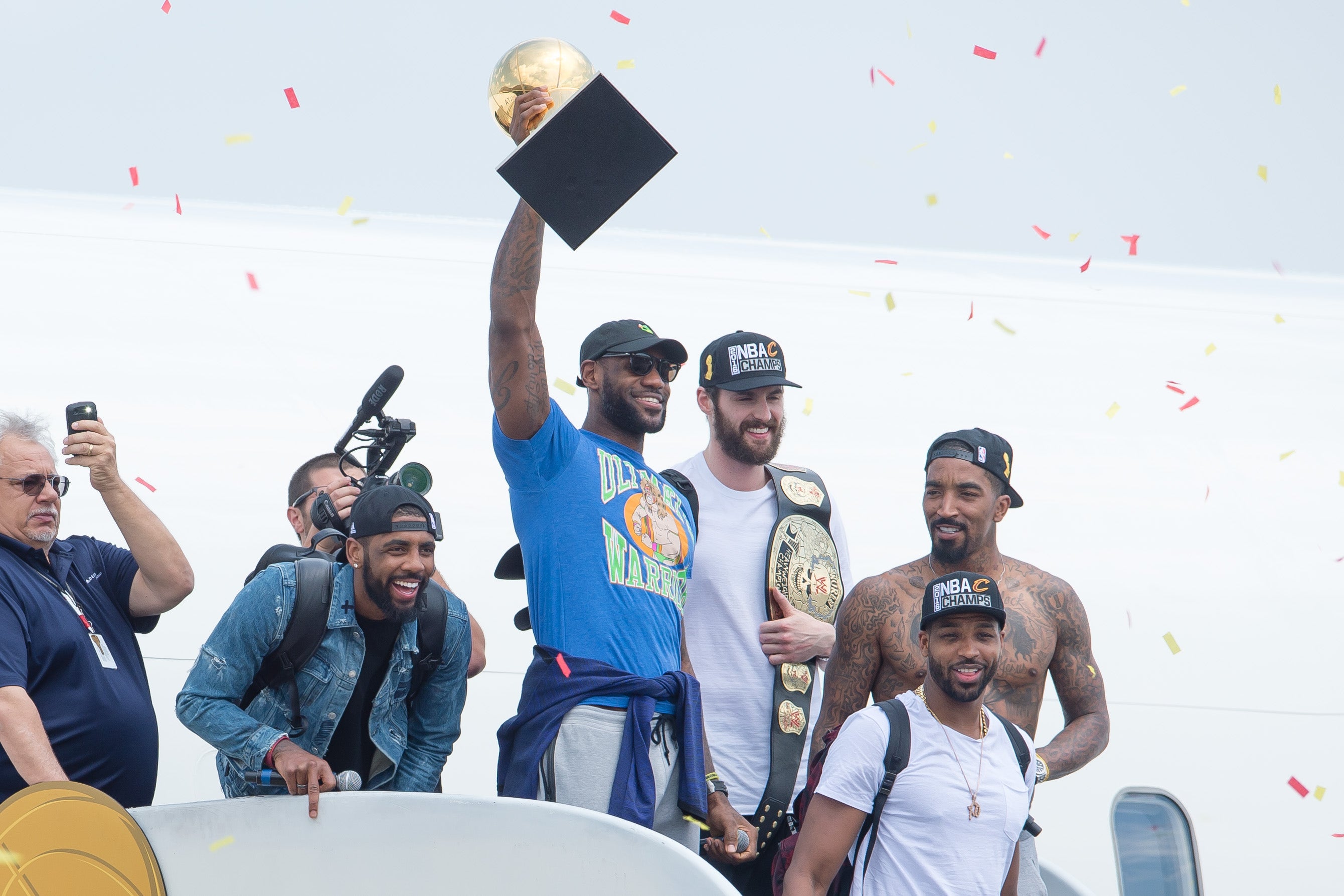 Yet there's one stat that matters above all others: championships.
The math is easy. LeBron currently has three rings (in seven tries). Jordan has six. Unless James wins four more and literally surpasses MJ in rings with seven, this entire conversation is a non-starter.
That's not nearly the end of LeBron's Herculean trials, however. Next year, he has to stare down the most super of superteams, the unholy basketball amalgam that is the Golden State Warriors. It's almost poetic that the King faces a team that's significantly more talented than any Jordan crushed. LeBron created this particular breed of beast when he joined the Heat. Only he can slay his monster. He must; for LeBron to approach MJ's throne, he'll also have to win the next three NBA titles. Consecutively. In a row. That would give him four straight — a feat Jordan never accomplished — and leave LeBron one shy of that seventh title.
If he can crush the spirits of Kevin Durant and Stephen Curry along the way, scattering the Warriors to the winds of next summer's free agency, so much the better. Imagine a Finals victory so decisive Curry's mouthpiece ends up hurled at Durant's chest, while Klay Thompson considers vacation plans and Draymond Green yells at everything that moves. Imagine Durant deciding Golden State was the wrong decision, returning to a Thunder team that never traded Russell Westbrook. Imagine Stephen Curry adorned in San Antonio black and silver.
These are the possibilities, improbable as they might be, when a King chases greatness. In that pursuit of seven titles, LeBron will need to pass a couple of milestones as well. Four more championships should mean four more Finals MVPs for the Cavs star, giving him seven such awards — and breaking Michael Jordan's record of six.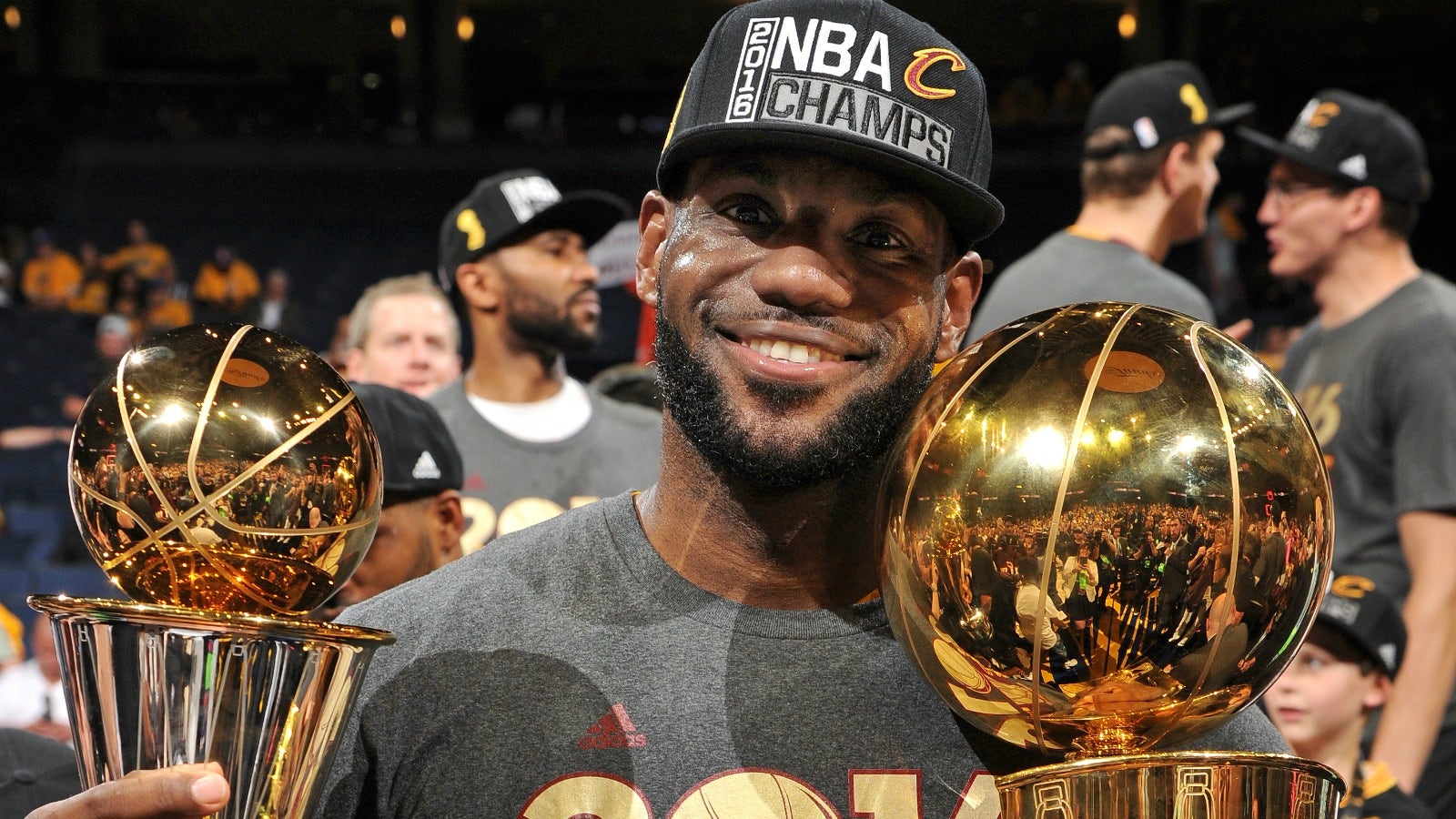 While he's at it, LeBron might as well top Bill Russell's mark of eight consecutive Finals appearances. He currently has six in a row; the aforementioned four-peat would conveniently make nine straight. That's not enough, though. LeBron needs to make 10 straight NBA Finals appearances to preempt any arguments about the weakness of the Eastern Conference during his reign.
Easy enough, right? But wait, there's more! To truly surpass Jordan, James will have to topple the rest of basketball history.
LeBron has allowed Stephen Curry to borrow his MVP award for long enough. James needs to win seven total regular season MVPs — three more than he currently has — to break Kareem Abdul-Jabbar's current mark. That would give LeBron two more than Jordan (with both players able to make the argument that they should have won more).
.@ColinCowherd: If LeBron wins two more titles, he'll equal or surpass MJ. #HerdHerehttps://t.co/oTHT5zaKTJ

— Herd w/Colin Cowherd (@TheHerd) August 2, 2016
From there, it's all about padding the resume. LeBron should be looking beyond Jordan on the scoring list, since he'll pass MJ sometime within the next four seasons at his current rate. Instead, he must move all the way to No. 2 on the all-time regular-season scoring leaderboard, passing Karl Malone's current total of 36,928 points. Otherwise, critics will point to Jordan's time away from basketball as the reason for the disparity. He has 10,096 points to go until he tops the Mailman, an admittedly daunting task we'll discuss more in a moment.
Scoring is one thing, but LeBron is the best all-around player in the modern era. To make that argument, he'll have to move into the top 50 of all-time rebounders, too, which he can do with a little over 2,000 more boards. And just for good measure, why not climb into the top 10 in career assists? He's already one of only two players in the top 20 of both scoring and assists, along with Oscar Robertson. That one will be easy; he should have the 1,173 dimes he needs within the first couple months of the 2018-19 season.
Speaking of Oscar Robertson, there's one last thing LeBron can do to catch Jordan. Averaging a triple-double for an entire season sounds impossible, but if the King wants to dethrone the GOAT, he needs to make a statement as the most dominant wing in NBA history. A triple-double regular season would leave an impression.
As for the postseason, LeBron (5,572 points) is on pace to surpass Jordan (5,987) as the leading scorer in playoff history in next year's Finals. He'll likely finish his career in the top five in playoff rebounds and assists while setting records for games and minutes played.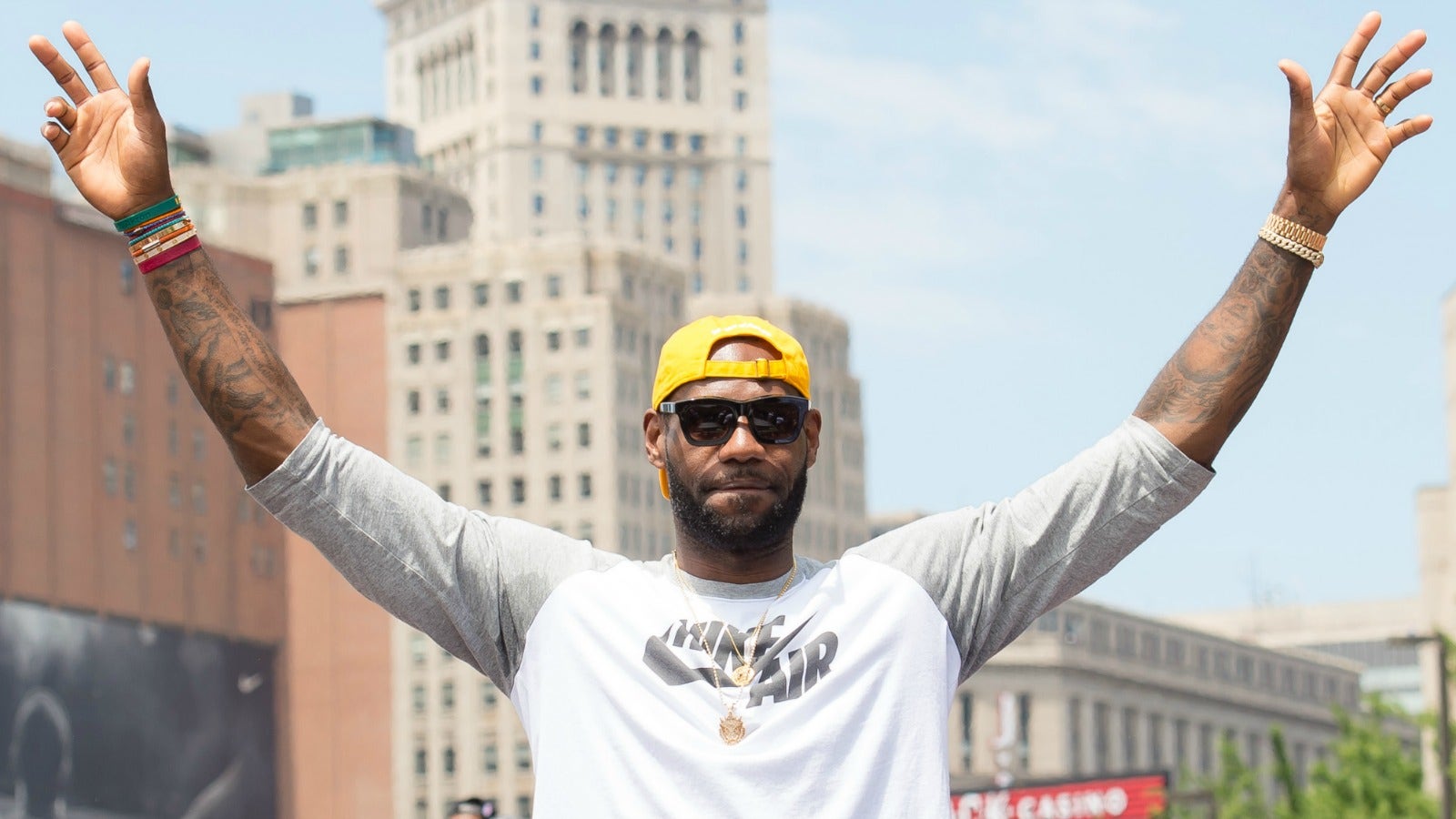 Combine all those individual accomplishments with the title goals, and there would be no doubt. That version of LeBron James is the greatest NBA player ever. Sorry, MJ.
Are you kidding? He's LeBron, not God.
Ignore the ridiculous championship requirements, unfathomable as they might be. And forget the wear and tear on LeBron's body from trying to win seven titles and make the Finals 10 straight times. To move into second on the all-time scoring list, LeBron needs to average 23 points for 439 more games, which is about half of his current career total. At 70 games per season (remember, for all of LeBron's legendary durability, he's averaged 75 games through 13 seasons), he'd pass Malone sometime in the 2022-23 campaign. That would be LeBron's 20th season in the NBA — and that's assuming he doesn't suffer a major injury.
He's in a similar situation with rebounding. At an average of six boards per game (and that same 70 games per season), LeBron would move into the top 50 before the end of the 2021-22 season. It's conceivable, if he wants to play that long.
It's also extremely unlikely. The whole thing is. Seven titles; four straight championships; seven Finals MVPs, seven regular-season MVPs; 10 consecutive Finals; second on the all-time scoring list; a top-50 all-time rebounder; top-five in assists; averaging a triple-double — there's just no way.
Short of building a time machine and erasing his Finals losses so that he can stack up against Jordan's six-for-six record, James is … well, he's chasing ghosts. He obviously knows that, and he doesn't care.
For that, you kind of have to hand it to LeBron. A man who accomplished his life's work turned around, surveyed his domain, and wondered what was next. We should all be so bold.