Why LeBron James' dream team with Wade, CP3 and Melo would never work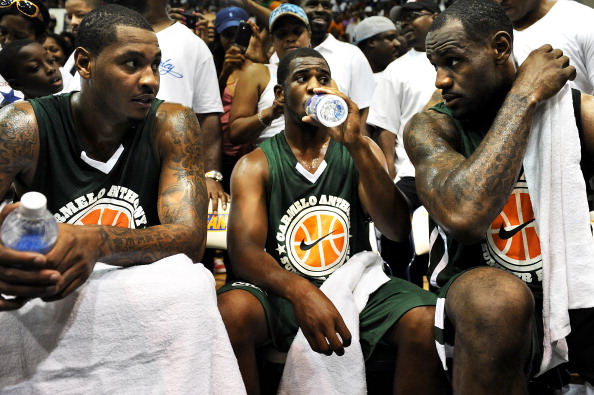 LeBron James recently told Bleacher Report he'd be willing to take a pay cut if it led to Carmelo Anthony, Dwyane Wade and Chris Paul becoming his teammates (via Bleacher Report):
"I really hope that, before our career is over, we can all play together," James said. "At least one, maybe one or two seasons—me, Melo, D-Wade, CP—we can get a year in. I would actually take a pay cut to do that." Maybe at the end of their careers, James said. Maybe sooner. One more ring chase, this time with everyone on board. "It would be pretty cool," James said. "I've definitely had thoughts about it."
This is an amazing statement for approximately 10,000 reasons, but let's cut through them all to try and figure out if, for basketball reasons, them binding together would actually work.
To win a championship, the primary ingredient is superstar talent, and this hypothetical team would have at least three guys (sorry Wade) on the wrong side of 30 who're still capable of being the best player on a dangerous team.
No matter what, at every point in every game, this team would have a first-rate scorer/playmaker on the floor. That's important, and should make their attack as relentless as any in the NBA so long as their head coach knows how to stagger minutes/has a functioning brain.
The more intricate questions then become: Can LeBron and Carmelo co-exist? How about Wade and CP3? Paul and LeBron? Melo and Wade? The very first obstacle is sacrifice. We already know Wade is willing to take a backseat and maximize his efficiency as an off-ball cutter and second fiddle. He did it in Miami, allowing LeBron the space and volume he needed to lift that team to two straight championships.
(Wade's usage percentage in the 2011 playoffs—the year the Heat collapsed against the Dallas Mavericks—was an astounding 30.4 percent. Two years later, it was down to 25.3 percent, per Basketball-Reference.)
That's important. Every team, no matter how talented, must eventually figure out which single player is most deserving of having the nightly game plan revolving around their ability. LeBron will always be the best out of these four, and even though he's in subtle decline, the team can only reach their apex if they cater to his strengths.
As he grows older, James needs the ball in his hands more and more. Why? He kinda, sorta is literally having one of the worst three-point shooting seasons in NBA history. Defenders will droop towards the middle and clog the paint whenever LeBron is off alone on the weakside. Outside of being a perfectly functional screener/cutter, he needs to be at the center of his team's offense or it might fall apart.
If Paul and Anthony are both willing to play off the ball for the first time in their NBA careers, great! Neither guy can be left alone on the perimeter, which creates the driving and passing lanes LeBron needs to thrive.
Wade can't shoot, but his aforementioned cutting ability should still work when help defenders get antsy about LeBron's first step. That's all good news, but also a best-case scenario. In reality, it will be very difficult for someone like Paul to find comfort away from the action, and not letting him yo-yo the defense with 200 pick-and-rolls every night will mitigate how effective he can truly be.
Sure, the occasional Paul-Melo pick-and-pop will be lava for any defense that puts two on the ball, but there's a very real ceiling over that play's long-term effectiveness if Wade and LeBron are standing in each corner.
In the end, these four are intelligent, well-aged basketball players whose off-court chemistry should help smooth out the eventual on-court issues that bubble up on offense. They'll share the ball and be one of the three most efficient teams in the league.
Defense is a much larger concern. A good chunk of their success on that end will come down to A) who's playing center?, and B) how many 3-and-D role players who actually provide both those qualities would they be able to afford? (A bit more on that later.)
Under the assumption that James' offensive responsibilities would be a tad lower on a team with three trustworthy alpha dogs, he may once again morph into a fearsome two-way hurricane. Anthony is the obvious weak link, but may finally give multiple efforts with more accomplished teammates who're constantly on his back. Paul more than holds his own against the deepest position in the league. Wade is still decent enough when he feels like trying.
But where's the rebounding? Where's the rim protection? Where's the length and athleticism?
Again, these guys are smart, and should have at least one above-average defender on the floor at all times. But that's not good enough. There's almost no way they'd be able to string consecutive stops down the stretch of a tight playoff game, let alone a random February night against the Milwaukee Bucks.
What they do have in their favor is positional versatility. When these four share the court, there's a good chance they can hold their own by switching every screen and forcing the opposite side to go small. This doesn't necessarily work to their advantage in certain match ups (going up against a Kawhi Leonard-LaMarcus Aldridge front-court would be super rough), but it's still good to be at your best with a modernized lineup.
It's impossible to know exactly what style this team would utilize without knowing who else is on the team, but it's fair to say they'd resemble molasses and do their best to grab as many shooters as possible, preferably ones who can also hold their own in the paint. Big guys who can space the floor don't come cheap, though.
For cap-related posture, let's assume that the "Brotherhood" crew forms under a $90-92 million salary cap on a brand new expansion team. Without complicating matters too much, we'll say Paul and Anthony are still under their current deals (about $47.3 million combined), LeBron opts in to his $24 million player option (a definite pay cut) and Wade piggybacks on for another $15 million ($5 million less than his current salary, which is more than fair for a declining non-shooter who turns 35 next January).
That leaves $4-6 million in available cap space to pay 11 other guys. Yikes. This team won't have a bench. It won't have a competent center. They'll need to pray more than one veteran with gas left in his tank is willing to pull a David West and climb on for the league minimum.
Even so, this team will still be pretty good, because, you know, it's top four guys are all headed to the Hall of Fame. But unless any one of them is willing to take a serious pay cut, it's almost impossible to envision how they'll be good enough to win a championship.
Somewhere, the Golden State Warriors are laughing.