Milwaukee Brewers All Time 25 Man Roster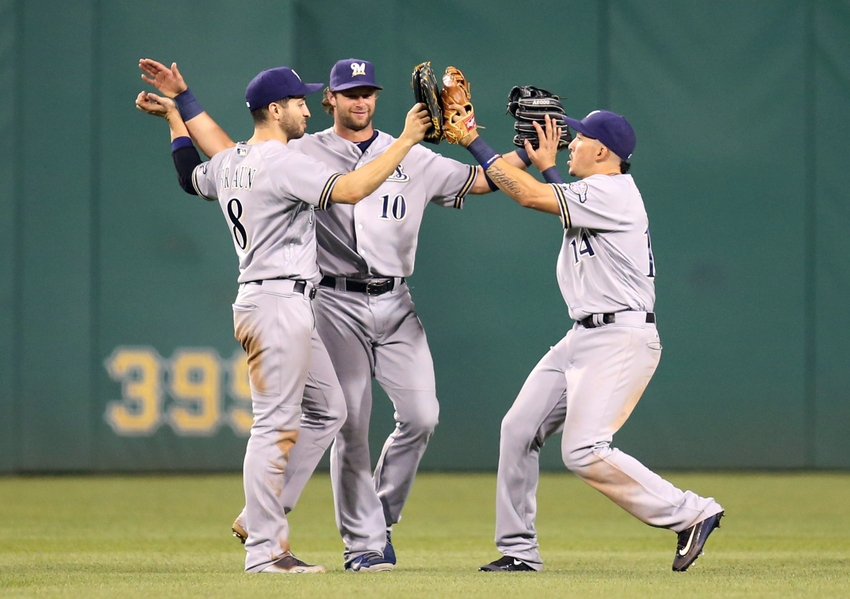 The Milwaukee Brewers may not have the long time success of other teams in baseball, but they can still boast an excellent all time 25 man roster.
It did not take long for the Milwaukee Brewers to become the vagabonds of baseball. They began as the Seattle Pilots as an expansion team in 1969, only to move to Milwaukee the following year. They are the only team to play in four different divisions, and changed leagues in 1998, going from the American League to the National League.
Despite all of those changes, and the numerous divisions they have been a part of, success has eluded the Brewers. They have made the postseason only four times in their history, making their only World Series appearance in 1982. In fact, 1981 and 1982 were the only times that the Brewers made the postseason in consecutive years.
With that run of futility, one would imagine that the Brewers would not have had much in the way of talent over the history of their franchise. However, that is not the case. The Brewers have had a number of excellent players, with five former Brewers enshrined in the Hall of Fame. Two, Robin Yount and Paul Molitor, are even in Cooperstown wearing a Brewers hat.
So, what would an all time Milwaukee Brewers 25 man roster look like? Let us answer that question by taking a trip through time and looking over the history of the Brewers, starting at catcher.
Catcher – Jonathan Lucroy (2010-2016)
Jonathan Lucroy barely missed a game behind the plate, being a true iron man as a catcher for the Milwaukee Brewers. Even that workload could not slow down his production.
A young catcher during the Brewers solid run at the beginning of the decade, it took a couple of years before Lucroy began to hit the way we have become accustomed to seeing. He exploded offensively in 2012, posting a 132 OPS+, and continued to hit since. A two time All Star, Lucroy led the National League with 53 doubles in 2014, as he finished fourth in the MVP vote.
During his tenure with the Brewers, Lucroy had a .284/.342/.436 batting line, hitting 79 home runs and 157 doubles. He proved to be quite adept at putting the bat on the ball, striking out only 461 times in 2838 at bats. If the Brewers needed a runner to be moved along, or a hit and run, Lucroy was the perfect player to get that ball in play.
Behind the plate, Lucroy was the best defensive the Brewers had, narrowly edging out B.J. Surhoff with a 56.7 DEF rating. Lucroy's solid arm has him currently leading the National League with a 40% caught stealing rate this season. He worked his way from being a defensive liability to one of the more underrated defensive catchers in the game today.
Although his tenure with the Brewers ended earlier this season, Jonathan Lucroy may continue to provide value for Milwaukee for years to come. The best all around catcher in team history, Lucroy's legacy lives on.
First Base – Cecil Cooper (1977-1987)
A solid player with the Boston Red Sox, Cecil Cooper became a star with the Milwaukee Brewers.
Cooper had displayed solid power for the Red Sox during his six years in Boston, but it took a trade to the Brewers to unlock his potential. He had over 30 doubles and 20 home runs for the first time in his career in his first season in Milwaukee, and was only just starting to become a key part of the lineup. He would go on to lead the American League in doubles and RBI twice, making five All Star Games and finishing fifth in the MVP vote three times.
The three time Silver Slugger winner had an excellent run of success with Milwaukee. Overall, he produced a .302/.339/.470 batting line, hitting 201 home runs and 345 doubles. Cooper even had a bit of speed, stealing 77 bases and hitting double digits four times.
Defensively, Cooper was not nearly the same player as he aged. He was only worth ten runs saved defensively during his time in Milwaukee, but he was good enough to win two Gold Glove awards, taking home the prize in 1979 and 1980. With a solid arm and excellent range, Cooper was a good first baseman who could make all the plays.
Cecil Cooper had plenty of power potential, but it took a trade to the Brewers to bring out the type of player he could be. One of the keys to the Brewers success in the early 1980's, Cooper became a star once he came to Milwaukee.
Second Base – Jim Gantner (1976-1992)
The Milwaukee Brewers have five officially retired numbers. Then, there is number 17, belonging to Jim Gantner, which has not been retired. However, no one has worn it since he hung up his cleats.
In a way, Gantner may have been the perfect Brewer. Born and raised in Wisconsin, he attended The University of Wisconsin at Oshkosh, and spent his entire career in Milwaukee. A solid, steady player, he was never going to dazzle anyone, but he provided steady production at second. He was a blue collar player in a blue collar city.
Although he never won an award for his play, Gantner had a solid career. A career .274/.319/.351 hitter, Gantner had 1696 hits and 262 doubles. Even though he was rarely amongst the league leaders in any offensive category, he did enough with the bat to keep the opposition honest when he was at the plate.
Where Gantner truly shined was on defense. He saved the Brewers 42 runs at second over his career, and was frequently among the league leaders in range factor, assists, and double plays. He was willing to sacrifice himself defensively, having two serious knee injuries suffered while turning a double play. Yet, despite his excellence with the glove, Gantner never won a Gold Glove award.
A fan favorite, Jim Gantner was able to connect with the fans of the Brewers because he was one of them. A native son, he spent his entire career with the home town team, providing steady production both offensively and defensively.
Third Base – Jeff Cirillo (1994-1999, 2005-2006)
Third basemen typically hit for a great deal of power. Jeff Cirillo was a throwback to the days when third basemen were expected to make solid contact and provide excellent defense.
Overshadowed by the sluggers in the league at the height of the Steroid Era, Cirillo was more of a doubles hitter than a home run threat. He had excellent gap power, hitting over 30 doubles in four seasons in Milwaukee, while providing double digit home runs and a few steals. Cirillo had a solid batting eye as well, drawing a walk almost as often as he was set down on strikes.
During his time in Milwaukee, Cirillo put together a respectable .307/.383/.449 batting line, worth a 113 OPS+. He had exactly 1000 hits in a Brewers uniform, with 73 homers and 217 doubles. Although he was not the most successful basestealer, he did manage to swipe 37 bases during his eight seasons.
Cirillo was another underrated defensive player on the Brewers. It could be argued that he was deserving of at least one Gold Glove award, given his work at the hot corner. As a Brewer, Cirillo saved 54 runs in eight years, while showing impressive range. In 1997 and 1998, Cirillo led the league in runs saved, double plays, and assists at third base. During his prime, few were in the same class.
Jeff Cirillo may not have been the prototypical third baseman of the times, but he was still a solid all around player. An excellent defensive player with a solid bat, Cirillo deserved more recognition than his one All Star appearance as a Brewer.
Shortstop – Robin Yount (1974-1993)
Admittedly, Robin Yount could have also been the choice for the Milwaukee Brewers in center field, as he played over 1100 games there at the end of his career. However, with the majority of his time spent at short, Yount gets the nod at his original position.
It really does not matter where he played, as Yount was a star. The face of the Brewers for a generation, Yount won an MVP and a Silver Slugger at both short and center. While he was appreciated by those around the game, he was underrated by fans throughout his career, making only three All Star appearances.
Despite playing for 20 seasons, Yount is considered to have retired early, as he retired at age 37. Yet, his career was impressive nonetheless, as he posted a .285/.342/.430 batting line. He ranks 18th all time with 3142 hits, and had 583 doubles and 251 homers. Yount's deceptive speed helped him to 126 triples, as he led the American League in that category twice.
A Gold Glove winner in 1982, Yount made himself into a solid defensive shortstop, saving 25 runs and posting above average numbers in range factor and fielding percentage. He was not as successful in center, as he is considered to have cost the Brewers 72 runs, but he was about league average in every other metric. His strong arm helped him lead the league in both double plays and assists in 1986 and 1988 respectively, showing that he was not a complete liability in the ouitfield.
One of the great players in the late 1970's and through the 1980's, Robin Yount is the greatest player in the history of the Milwaukee Brewers. A first ballot Hall of Famer, he may keep that title for quite some time.
Left Field – Ryan Braun (2007-present)
The current face of the Milwaukee Brewers, Ryan Braun has a difficult legacy to unravel.
On one hand, Braun has been the best player on the Brewers since the days of Robin Yount. On the other hand, his PED suspension, and failed drug test that he had thrown out, cast suspicions upon his accomplishments. However, after injuries and his suspension ruined Braun's 2013 campaign, he has come back strong, giving the Brewers close to the same production as before.
Already the Brewers team leader in home runs, Braun has had quite the impressive career. He has made six All Star Games, won an MVP award and a Rookie of the Year title, and has taken home five Silver Slugger awards. The speed may not be the same as it was during his younger days, but Braun seems a lock to, at the very least, reach the 200 home run and 200 stolen base threshold. If he ages well, the 300/300 club may be within reach.
Braun is much more than just a hitter. He has ranked among the league leaders in putouts, double plays, fielding percentage, and assists in left since his conversion to the position. Fifth amongst active left fielders in assists, and second in double plays, Braun's arm is still a factor. His presence has kept runners from taking that extra base, helping Milwaukee over the years.
There is no question that Ryan Braun is amongst the greatest Brewers to play the game. The question is how his accomplishments should be remembered.
Center Field – Gorman Thomas (1973-1976, 1978-1983, 1986)
A key part of the Harvey's Wallbangers team in 1982, Gorman Thomas was almost lost following the 1977 season.
After struggling in his first four seasons with the Milwaukee Brewers, Thomas spent the 1977 season in AAA. While he preformed well, and hit 36 homers, the Brwers did not have room for him on the 40 man roster, leading to a trade with the Rangers. The Rangers later sold Thomas back to the Brewers after the Rule V Draft, where he would become a low average, high strikeout power hitter.
Thomas was a true all or nothing hitter. A two time home run king, he had 208 home runs for the Brewers. Thomas also produced a .230/.325/.461 batting line, striking out 1033 times. However, he drew 501 walks in 4133 plate appearances, making his mark as a three true outcomes batter.
Despite being relatively slow afoot, Thomas played a passable center field. He would consistently produce league average numbers defensively, and proved to be somewhat adept in the outfield. Although he would never be confused with a Gold Glove caliber outfielder, Thomas' instincts, as he was originally drafted as a shortstop, proved valuable.
A first round draft pick back in the days of the Seattle Pilots in 1986, Gorman Thomas made a mark as a member of the Brewers. His power bat helped fuel those contending teams of the early 1980's, as he led the league in home runs during that glorious run to the World Series in 1982.
Right Field – Sixto Lezcano (1974-1980)
A defensive stalwart with a stellar arm, Sixto Lezcano was also handy with the bat, hitting for surprising power and displaying occasional speed.
Making his MLB debut at the same time as Robin Yount, Lezcano was a part of the young core that the Brewers began to build around in the 1970's. He was not a star, as he received votes for the MVP award in only one year, but he was a very underrated player with a bit of power and a great arm that held the opposition in check.
During his seven years in Milwaukee, Lezcano produced a .275/.354/.452 batting line, hitting 102 home runs and 130 doubles. His best season came in 1979, when he had a .321/.414/.573 batting line with 28 homers, and finished second with a 164 OPS+. Even though he would never hit those marks again, he was still a solid batter who could change the game with one swing of the bat.
Lezcano would get his recognition for his defense more than his offensive acumen. He won a Gold Glove in 1979, even though that was not his best year in the field. He led the American League in assists with 18 in 1978, and finished inthe top three twice. With that strong arm, Lezcano also finished in the top four in double plays on four occasions. Possessing excellent range, Lezcano ranks 15th all time in MLB history in range factor per nine innings in right, showing how good of a defensive player he was.
Overshadowed by players such as Yount and Paul Molitor, Sixto Lezcano was a key piece to the Milwaukee Brewers during the mid to late 1970's. An excellent fielder, and solid hitter, he deserved more recognition than he received.
Designated Hitter – Paul Molitor (1978-1992)
Paul Molitor had played over 150 games at three different positions in his career, but spent the most time during his playing days as a designated hitter. Given his excellent hitting ability, and a tendency to injure himself in the field, that move made a great deal of sense.
During his time in Milwaukee, Molitor established himself as a star. He won two Silver Slugger awards and made five All Star Games, while finishing in the top ten in the MVP vote twice. A dynamic presence atop the Brewers lineup, he led the American League in runs three times. In 1991, he led the league in hits and triples, while finishing seventh in OPS+, but only finished 11th in the MVP vote.
Overall with the Brewers, Molitor established himself as a possible Hall of Fame player. He produced a .303/.367/.444 batting line, hitting 405 doubles while stealing 412 bases. Molitor was routinely among the league leaders in batting average and hits, helping set the table for the powerful Milwaukee lineup.
A decent defensive player, Molitor was a solid fielder at second and third. He led the league in range factor as a second baseman in 1980, and when he moved to third, led the league in double plays two years later. In fact, the only reason why Molitor's glove was taken out of the lineup was due to his tendency to injure himself while fielding.
One of the all time greats for the Milwaukee Brewers, Paul Molitor was a professional hitter on a team with quite a few power bats. As the sparkplug for the Brewers in the late 1970's and throughout the 1980's, he proved to be a force.
And now, on to the reserves.
Backup Catcher – B.J. Surhoff (1987-1995)
B.J. Surhoff may have disappointed after being selected with the first overall pick of the 1985 MLB Amateur Draft, but he still had a relatively solid career with the Milwaukee Brewers.
A player who could hit for a decent batting average with a bit of power, Surhoff also had surprising speed for a player who was primarily a catcher for his first six seasons. During his time in Milwaukee, he stole double digit bases six times, with a career high of 21 steals in 1988. His power, while with the Brwers, typically manifested in doubles, as he hit 20 or more two baggers five times.
Overall, the former top draft pick posted a .274/.323/.380 batting line with the Brewers, hitting 194 doubles and stealing 102 bases. An excellent contact hitter, Surhoff was typically one of the hardest players to strike out during his time in Milwaukee, as evidenced by his 323 strikeouts in 4304 plate appearances.
Aside from his ability to produce a solid batting average, Surhoff's versatility made him a valuable contributor. As a catcher, he was worth 11 runs saved for the Brewers, while typically ranking around the league averages in other fielding metrics. However, Surhoff also had a season as the Brewers primary third baseman and then moved on to first. He made appearances in both corner outfield positions, and even made appearances in center, at second and at short.
A valuable player to have due to his defensive versatility and ability to make contact, B.J. Surhoff may not have developed into a star as had been hoped. He was, however, a solid piece on the Brewers in the late 1980's and through the mid 1990's.
Infielder – George Scott (1972-1976)
A solid power hitter with excellent contact skills, George Scott was also a brilliant defensive first baseman.
During his five years in Milwaukee, Scott only made one All Star Game, but his impact upon the Brewers cannot be understated. He led the American League in home runs and RBI in 1975, and twice led the league in total bases. Scott finished in the top five in RBI on two other occasions, and was in the top ten in home runs twice. He also finished in the top ten in total bases four times in those five seasons.
Overall for the Brewers, Scott was a force. He produced a .283/.342/.456 batting line, hitting 115 home runs and 139 doubles. Scott also stole 40 bases, and had a career high 16 stolen bases in his first season in Milwaukee. His production was strong enough for him to earn MVP votes in four of his five seasons, finishing as high as eighth after his excellent 1975 campaign.
Defensively, few were in his class at first. He won six consecutive Gold Glove awards, including all five seasons in Milwaukee. He saved 30 runs at first with the Brewers, leading the league from 1972 through 1974. Scott had a stellar arm, leading the league in assists at first three times, and finishing in the top five in each of his five seasons with the Brewers.
A stellar defensive player with excellent power, George Scott was one of the best all around players the Brewers had. If he was with the team for longer, he would have been remembered as an all time great in Milwaukee.
Outfield – Carlos Gomez (2010-2015)
Even though he has been a disappointment with the Houston Astros and the Texas Rangers, Carlos Gomez was quite the productive outfielder during his time in Milwaukee.
A former top prospect with the Twins organization, Gomez began to show his promise when he came over the the Brewers. He developed his power stroke, hitting over 20 homers in a season twice, and narrowly missing when he hit 19 home runs in 2012. Meanwhile, Gomez displayed his impressive speed, stealing 30 or more bases three times.
Overall, Gomez hit at a .267/.325/.452 clip with the Brewers, hitting 122 doubles and 87 home runs. A two time All Star, Gomez stole 159 bases, finishing in the top five in steals three times. A two time 20/20 player, Gomez had become a solid all around player with the bat.
Defensively, Gomez was worth a solid outfielder, saving 16 runs in center while producing highlight reel worthy catches. The 2013 Gold Glove winner, he led the National League with 15 runs saved, while leading outfielders in putouts and range factor per game, while finishing fifth in fielding percentage.
Although Carlos Gomez has not been the same player since leaving Milwaukee, he was an excellent player for the Brewers. He finally reached his potential, providing a solid all around game.
Outfield – Geoff Jenkins (1998-2007)
A solid power hitter who had an excellent glove, Geoff Jenkins was an underrated player during the Milwaukee Brewers down seasons.
During his decade in Milwaukee, Jenkins hit 20 or more home runs seven times, with a high of 34 homers in 2000. He had 30 or more doubles five times, and twice had more than 40 doubles in a season. While he never drove in 100 runs in a season, he had more than 90 RBI three different times, and even stole 11 basses in 1999.
In his time in  Milwaukee, Jenkins produced a decent .277/.347/.496 batting line, hitting 212 home runs and 287 doubles. While he made the All Star Game in 2003, his best season may have been in 2000, his third season in the league. That year, he produced a .303/.360/.588 batting line with 34 homers and 36 doubles. That would be the only season he would hit over .300 in a season, even though he had a solid average overall.
Jenkins was also a bit underrated defensively. He never won a Gold Glove award, and is not going to be considered one of the great defensive outfielders in history, but he more than held his own. He led the league in range factor twice, and his seven double plays led all National League outfielders in 2005. With 37 runs saved in left, Jenkins was not only excellent in left for the Brewers, but ranks 24th all time in MLB history.
One of the more underappreciated players in Milwaukee Brewers history, Geoff Jenkins was an all around threat in both the lineup and on the field. A solid hitter, and an excellent glove man, Jenkins deserved more recognition than he received.
Now, on to the pitching staff.
Starting Pitcher – Teddy Higuera (1985-1991, 1993-1994)
Just as Fernando-Mania took over Los Angeles during Fernando Valenzuela's rookie season, Teddy Higuera was considered the American League answer.
Like Valenzuela, Higuera was a Mexican hurler who threw a devastating screwball. And like his countryman, he had immediate success in the Majors, spawning his own mania in Milwaukee. He finished second in the 1986 Cy Young award voting, made an All Star team, and became the second Mexican hurler to win 20 games in a season, as Valenzuela beat him to the mark by three days.
During his time with the Brewers, Higuera posted a 94-64 record with a 3.61 ERA and a 1.236 WHiP. Possessing excellent control, he struck out 1081 batters while issuing only 443 walks in 1380 innings of work. He won 15 or more games in each of his first four seasons, and led the league with a 0.999 WHiP in 1988. That year, despite a 16-9 record and a 2.45 ERA, he failed to make the All Star Game or garner a vote for the Cy Young award.
After that point, injuries derailed his career. He injured his back and sprained his ankle in 1989, and after one last season where he was healthy in 1990, Higuera tore his rotator cuff the following year. That effectively ended his career, as he missed most of 1991 and all of 1992 before attempting to come back in 1993. That comeback, lasting 25 games over two seasons, ended with Higuera posting a 7.11 ERA and a 1.906 WHiP.
Had injuries not derailed his career, Teddy Higuera could well have been one of the better pitchers into the early and mid 1990's. Unfortunately, his career came to an early end as his arm just could not hold up.
Starting Pitcher – Ben Sheets (2001-2008)
Another injury plagued pitcher, Ben Sheets was a star when he was healthy. Unfortunately, that was not always the case.
Sheets was a four time All Star, even making the team in his rookie season. While he struggled with his command early in his career, leaving too many pitches over the plate, he corrected that after his first three seasons. With his excellent command, his breakout season in 2005 appeared to be a harbinger for great things to come.
That never happened, as the injuries began for Sheets. Inner ear infections, shoulder tendonitis, hamstring problems and the need for Tommy John surgery hampered him in his final four years in Milwaukee, ruining what could have been a stellar career.
As it was, Sheets ended up as the Brewers leader with a 31.8 WAR for pitchers. When he was able to get to the mound, Sheets produced an 86-83 record with a 3.72 ERA and a 1.201 WHiP. The all time leader in strikeouts as well, Sheets struck out 1206 batters against 313 walks in 1428 innings of work. In fact, his 3.591 strikeout to walk rate over his career is the 20th best in MLB history.
Similar to Teddy Higuera, Ben Sheets could have had an excellent career if he reamined healthy. Instead, Brewers fans are left wondering what could have been.
Starting Pitcher – Yovani Gallardo (2007-2014)
The all time Milwaukee Brewers leader in strikeouts, Yovani Gallardo was a steady presence in the rotation, a pitcher who took the ball every fifth day and typically provided solid results.
More of a workhorse than a true ace, Gallardo took that role by necessity. He still came through more often than not, and his five Opening Day starts with the Brewers were a testament to his ability to produce. He won double digit games five times, twice winning more than 15 in a season. Despite having only four complete games in his time in Milwaukee, Gallardo had over 200 innings in a season on two occasions.
Overall, he produced a respectable 89-64, posting a 3.69 ERA and a 1.303 WHiP. He struck out 1226 batters while issuing only 474 walks in 1289.1 innings of work. Gallardo also did an excellent job of keeping the ball in the park, allowing only 167 home runs in his eight years as a Brewer.
Gallardo was also a threat with his bat. In a game that the Brewers ran out of position players, he won the game with a pinch hit double in the bottom of the tenth inning after Mark Reynolds was intentionally walked. He hit 12 home runs as a member of the Brewers, and won the 2010 Silver Slugger award. That season, he had eight extra base hits, including four homers, while posting a .254/.329/.508 batting line.
Yovani Gallardo was not just a threat with his arm, but with his bat as well. A solid pitcher, and perhaps the last pitcher that could truly be considered an ace with the Brewers, he more than held his own atop the rotation.
Starting Pitcher – Mike Caldwell (1977-1984)
Mike Caldwell had a relatively unspectacular career before being traded to Milwaukee. However, once with the Brewers, he became one of the more reliable starters in the American League.
Although he never made an All Star Game, he did finish second in the 1978 Cy Young vote after going 22-9 with a 2.36 ERA and a league leading 23 complete games. He never pitched at that level again, but he won double digit games for six consecutive seasons, until his inability to strike batters out caught up with him.
Caldwell was also brilliant in the Brewers lone World Series appearance. After getting roughed up during the American League playoffs, he pitched a shutout in Game One against the Cardinals. He followed that up with a victory in Game Five, although Milwaukee would eventually fall in seven games.
During his time with the Brewers, Caldwell finished with a 102-80 record, posting a 3.74 ERA and a 1.284 WHiP. He was not a strikeout pitcher by any means, with only 540 strikeouts in 1604.2 innings pitched, but he had impeccable control. During those eight seasons in Milwaukee, he only issues 353 walks, with 24 of those being intentional.
He may not have been the most dominating of pitchers, but Mike Caldwell was an effective innings eater who got the job done.
Starting Pitcher – Jim Slaton (1971-1977, 1979-1983)
Jim Slaton had two stints with the Milwaukee Brewers, both of which were decidedly different. Nonetheless, Slaton ended his time in Milwaukee as the Brewers all time wins leader.
His time with the Brewers featured two distinctly different roles, punctuated by his one year in Detroit. In the first stint, he was an effective innings eater, a pitcher who threw over 200 innings for five consecutive years. He made an All Star team in 1977, and won double digit games in six of those first seven years.
Returning to Milwaukee after a year away, Slaton picked up right where he left off. He was 15-9 with a 3.63 ERA in 1979, but after injuries derailed his next two seasons, Slaton transitioned to the bullpen. He still made the occasional spot start, and would pick up the odd save here and there as he remained effective in his new role.
Overall, Slaton posted a 117-121 record with the Brewers, with a 3.86 ERA and a 1.389 WHiP. He currently ranks as Milwaukee's all time leader in wins, innings pitched (2025.1) and shutouts (19). He ranks third in strikeouts, with 929, and is second with 69 complete games.
Another Brewers pitcher who was more effective than his stuff would seemingly indicate, Jim Slaton carved his way into the Brewers history books. As things currently stand, his records may be safe for the foreseeable future.
Now to the bullpen.
Closer – Dan Plesac (1986-1992)
Chances are, if one was to guess who the Milwaukee Brewers all time saves leader would be, Dan Plesac would not be the first person to come to mind. Yet, there he is, sitting atop the list, making above the more memorable closers that Milwaukee has had.
Despite beginning his career as a starter, Plesac transitioned into the bullpen, where he became one of the rare left handed closers. He seized the role during his rookie season, and held on to the spot for his first five years before becoming a stellar lefty specialist.
As a closer, Plesac made three All Star Games, and earned three votes for the MVP award in 1988. He saved 20 or more games four times, and reached the 30 saved threshold twice. After his closing days with the Brewers, Plesac even made 14 starts, as he filled whatever role he was asked.
Overall with the Brewers, Plesac had a 29-37 record with 133 saves, as he is one of two Milwaukee closers to reach that 100 save mark. Armed with a mid 90's fastball and a devastating slider, he posted a 3.21 ERA and a 1.232 WHiP, striking out 448 batters in 524.1 innings. Although he would have occasional bouts of wildness, Plesac was still quite the effective reliever.
The Brewers all time leader in saves, ERA, and hits per nine innings, Dan Plesac was one of the premier closers in the game during his time in Milwaukee. When that time ended, he was still an effective lefty specialist, typically providing the Brewers with worry free appearances out of the bullpen.
Relief Pitcher – Rollie Fingers (1981-1982, 1984-1985)
Rollie Fingers was one of the greatest closers in MLB history, and when healthy, he was the same for the Brewers.
Acquired in a blockbuster trade after the 1980 season, Fingers paid immediate dividends for Milwaukee. He dominated in the strike interrupted 1981 campaign, leading the American League with 28 saves while posting a 1.04 ERA and a 0.827 WHiP. After that season, Fingers became the first Brewers player to win the Cy Young award, as well as the MVP award.
While he remained effective after that year, Fingers struggled with injuries, missing the 1982 World Series and the entire 1983 season. He came back as an effective pitcher in 1984, but an injury marred season the final year caused him to lose the closer role, and ended his career.
All in all, Fingers was exactly what the Brewers hoped when he was healthy. Despite a rough final season, Fingers produced a 2.91 ERA and a 1.081 WHiP, recording 97 saves. He retained his excellent command, striking out 196 batters against 65 walks in 259 innings of work.
Remembered for his handlebar moustache, Rollie Fingers also helped to define the modern closer. He was the first pitcher to eclipse the 300 save threshold, and one of the few of his day not to transition back into the starting rotation after finding success as a reliever. A dominant reliever, Fingers remained effective late into his career until injuries took him down.
Relief Pitcher – Bob Wickman (1996-2000)
When the Milwaukee Brewers acquired Bob Wickman from the Yankees, one could easily say they stole his services. When he was traded from the Brewers, the team had another steal of a deal, acquiring Richie Sexton as part of the package.
In between, during his four plus seasons in Milwaukee, Wickman went from being a solid setup man into an excellent closer. Given the chance to pitch the ninth after another season in the setup role, he seized the opportunity and became an All Star caliber closer.
He saved over 25 games in both of his final two full years in Milwaukee, and is tied for the seventh most saves in team history with 37 in 1999. Armed with a devastating sinker, due to missing a part of his index finger, he struck out over seven and a half batters per nine innings, routinely generating weak groundballs.
During his time in Milwaukee, Wickman recorded 79 saves, posting a 3.20 ERA and a 1.397 WHiP. He struck out 267 batters and allowed only 292 hits in 315 innings, but had occasional issues with his command. He walked 148 batters and uncorked 14 wild pitches, but typically worked around those free passes to close out the ballgame.
A key part of the Brewers, Bob Wickman become a solid closer, and then helped build the team when he was traded away. In both his coming and going, Wickman was a key piece.
Relief Pitcher – John Axford (2009-2013)
The Milwaukee Brewers single season saves leader, John Axford was a dominant closer before suddenly losing his velocity, and subsequently, his job.
Sporting a handlebar moustache similar to Rollie Fingers, Axford took over as the Brewers closer when Trevor Hoffman struggled. Despite never closing before, he took over the role and performed admirably, notching 24 saves after his promotion from the Minors. He was even better the following season, breaking the team record for saves, which had been set four years earlier.
While command was never one of Axford's strong suits, he made up for that with his fastball that could hit 100 MPH. Striking out over ten batters per nine innings, he posted the fourth longest streak in MLB history when he notched 49 consecutive saves. That streak ended on May 11, 2012, when his wife went into labor with their second child.
Even after he lost his closer role, Axford was still a dominant strikeout pitcher. As a Brewer, Axford recorded 106 saves with a 3.35 ERA and a 1.325 WHiP. He struck out 318 batters in 260.1 innings, but also walked 120 batters. Yet, those control issues were mitigated as he allowed only 229 hits.
Still active, and pitching for the Oakland A's, John Axford could potentially climb up the Brewers all time ranks, should be return to the team. Even if he does not, he still has a role in the Brewers all time bullpen.
Relief Pitcher – Mike Fetters (1992-1997)
Known for his sudden head movement and permanent scowl while pitching, Mike Fetters was a solid closer during his only chance in the role.
Primarily a setup man during his 16 year Major League career, Fetters had three years as a closer, all with the Brewers. He took over as the primary closer in 1994, and increased his saves total in each of the next three seasons, with a career high 32 saves in 1996. After that season, he lost the role to Doug Jones, who had been acquired the previous year.
Even though he had early command problems, Fetters improved his control and increased his strikeout rate. After watching his strikeout rate drop to 3.5 per nine innings in 1993, he struck out over six batters per nine innings each year for the next decade.
A solid pitcher, Fetters recorded 79 saves in his six years in Milwaukee. He posted a 2.99 ERA and a 1.367 WHiP. Although Fetters allowed only 8.2 hits per nine innings, that lack of command was his biggest concern. However, he was typically able to avoid having those runners come back to haunt him, with his 245 strikeouts in 334.1 innings.
A solid reliever, Mike Fetters may not have had the command of the more dominant closers, but he filled the role admirably.
Relief Pitcher – Francisco Rodriguez (2011-2013, 2014-2015)
In his first stint with the Milwaukee Brewers, Francisco Rodriguez served in a setup role. During his second time passing through, he was once again an All Star caliber closer.
Prior to being traded in the 2013 season, Rodrgiuez was a dominant setup man. He recorded 54 holds, helping to bring the Brewers to the postseason after being acquired in the 2011 season, and served as a key piece in the bullpen as he set up John Axford. With Axford struggling the following season, Rodriguez took over as the closer before being traded to the Orioles.
Resigned that offseason, Rodriguez signed a one year contract to be the Brewers closer. He excelled in that role, and then remained in Milwaukee after signing a two year deal with an option for the 2017 season. However, the Brewers traded him once again, sending him to the Tigers after the 2015 campaign.
During his time with the Brewers, Rodriguez recorded 95 saves while posting a 13-16 record. He had a 2.91 ERA and a 1.081 WHiP, striking out 266 batters in 250.2 innings of work. His typical excellent command had been in evidence, as he walked only 79 batters during his time in Milwaukee.
He is still a dominant closer with the Tigers, and, depending on what the Brewers decide to do in the future, it may not be a surprise to see him back in town.
Relief Pitcher – Ken Sanders (1970-1972)
A journeyman pitcher, Ken Sanders found a home with the Milwaukee Brewers, taking over as a solid closer on some terrible teams.
After moving from Seattle, the Brewers went through quite a few years with little success. However, Sanders was one of the few bright spots on those early teams, pitching at a high level despite having few chances. Although he was never an All Star, Sanders led the American League with 31 saves and 83 appearances in 1971.
That year would prove to be the high point of Sanders' career. He was still a solid closer the next year, but was unable to duplicate that level of success. After the 1972 season, he was traded to the Phillies, beginning a stretch of time where he was with six different teams in the next four years.
Overall for the Brewers, Sanders posted a deceptive 14-23 record. His 2.25 ERA and 1.100 WHiP were far more indicitive of the pitcher he was with Milwaukee, as he was a dominant reliever on occasion. He recorded 61 saves, striking out 195 batters in 321 innings of work, while issuing only 90 walks. Even then, 29 of those free passes were intentional.
A forgotten man from the early days of the Milwaukee Brewers, Ken Sanders was the first dominant closer in team history. He certainly provided excellent value for a team that needed all the help they could get.
This article originally appeared on