Cancer caught looking? Motte, MLB players go for the strikeout
The idea started with a backward "K," the scorecard notation for a strikeout looking.
The backward "K" logo was on a T-shirt manufactured by 108 Stitches, a partner of the union. Cardinals reliever Jason Motte had started a foundation dedicated to "striking out" cancer and already worked with the company on another shirt to benefit his cause.
The idea fit like a snug tee.
Motte, 31, asked Eric Ross, one of three founders of 108 Stitches, if the company could print up some T-shirts with the word "cancer" under the backward "K." Motte figured he would hand them out to teammates and sell them at his foundation's event in Memphis, Tenn. He committed to buying 300.
"That was really as far as I thought about it," Motte said.
A year later, the "K Cancer" T-shirts are prominent in every major-league clubhouse, in every team's colors, affiliated with one player who has been touched by cancer on every team.
Just this week, left-hander Bruce Chen became the Royals' representative. When infielder Kevin Frandsen declined a minor-league assignment from the Phillies to join the Nationals, left-hander Cliff Lee agreed to represent the Phils.
The shirts sell for $32 on 108Stitches.com and at sporting goods retailers. From there, $5 goes to Motte's foundation and $5 goes to the charity of the opposing player's choice.
All spring, baseball fans heard about contracts, about the Tigers' $292 million commitment to Miguel Cabrera and the Angels' $144.5 million signing of Mike Trout.
Fans also heard a lot about Tommy John surgery, and the damage that elbow injuries to pitchers are doing to the sport.
On Opening Day, a time of hope and renewal, here is a player who flipped both scripts.
Motte, who closed out the 2011 World Series for the Cardinals, accelerated his charitable efforts while recovering from Tommy John surgery, and enlisted other likeminded major leaguers in his crusade.
"A lot of times we get into initiatives with players where we kind of take the reins and run with it and the guy checks in every so often," said Tim Slavin, director of business affairs for the union, which worked closely with Motte to identify player representatives for each team.
"This guy was as diligent as a CEO getting involved with this program, making sure I's were dotted, T's were crossed."
It's funny. At least one of Motte's former teammates with the Cardinals, Reds infielder Skip Schumaker, never envisioned the reliever becoming such an advocate.
"No," Schumaker said, laughing. "He's always been a great guy, don't get me wrong. But you think about Adam Wainwright, you knew he was going to do something (charitable). Matt Holliday, you knew he was going to do something.
"Jason was always a quiet, reserved guy — and an animal on the mound. You never saw him doing a league-wide campaign, there's no way."
**********
The idea started with a sign at the West Clinic in Memphis, Tenn., where Lynn Doyle, the grandfather of Motte's wife, Caitlin, was undergoing treatment for Stage 4 lung cancer.
The sign was a request for donations to purchase blankets.
"We were like, 'Oh, we can do that,' " recalled Motte's wife, Caitlin. "We asked how we could help."
The sign provided the seed for the Strike Out Cancer with Jason Motte Foundation. The foundation's mission: To provide comfort and care where there is a need for those affected, either directly or indirectly, by cancers of all kinds.
Jason's favorite phrase, a quote from the late Roberto Clemente, is inscribed on the inside of the "K Cancer" shirt, just under the label:
"Any time you have an opportunity to make a difference in this world and you don't, then you are wasting your time on Earth."
Motte grew to embody those words, thanks to the inspiration of a young boy and the void created by his own Tommy John surgery last May.
Motte first became aware of Brandt Ballenger when someone asked him in Nov. 2012 to take a photograph with a "Team Brandt" sign for Brandt's Facebook page.
Brandt, then 8, was suffering from Wilm's Tumor, Stage 4, a cancer of the kidney that typically occurs in children. He had been diagnosed on Oct. 29, 2011, the day after the Cardinals won the World Series.
"In baseball, you like to think you're on top of the world," Motte said. "Then literally five minutes up the street, an 8-year-old boy is hearing this news."
Brandt lived in Swansea, Ill., near St. Louis. Motte sent back a photo to help inspire the boy, then made sure to stay in touch.
The two met the following spring, on Brandt's Make-A-Wish trip to Disney World in Orlando, Fla. Motte visited the Ballengers at their hotel and presented Brandt with a signed Cardinals jersey.
"They just kind of hit it off," Brandt's father, Jeff, said.
Their next meeting was last Opening Day, during the Cardinals' annual truck ride around Busch Stadium. Brandt rode in Motte's truck. Not in the backseat with other passengers. No, in the back with Motte, for the entire sellout crowd to see.
Motte, through Twitter, had gotten the word out that Brandt would accompany him. He recalled seeing 50 to 60 Team Brandt signs while circling the ballpark.
"I don't see many Jason Motte signs," Brandt said. "I see a whole lot of Team Brandt signs."
"You're way more popular than I am, Bud," Motte replied.
Motte continued to visit Brandt at Cardinal Glennon Children's Medical Center in St. Louis, at least once a week, sometimes twice, Jeff Ballenger said. Brandt actually would ask to get his radiation treatment done early when he knew Motte was coming, so that he could return to his room in time.
All of this was possible only because Motte was rehabilitating from Tommy John surgery, which generally sidelines pitchers for at least 12 months.
Motte had time for Brandt. Time for Caitlin and their newborn daughter, Margaret. Time to brainstorm for his foundation.
"You can put your head down and say, 'Poor me,' " Motte said. "But you start doing that, and no one really wants to be around you. I saw it as an opportunity. I thought, 'I don't know why this has happened. But it happened for a reason.' "
Caitlin Motte said she wasn't sure how Jason would react to the news that he needed surgery. She noticed that he seemed unusually at ease in the first few days afterward. She actually confronted him about it, thinking he might be putting on an act.
"The team was on the road. It was just the two of us," Caitlin said. "I said, 'All right, look, let's be honest, I'm not (manager) Mike (Matheny). I'm not Mo (general manager John Mozeliak). I'm not the media. Shoot me straight, how do you really feel about it?'
"He was like, 'I'm fine. I'm good with this.' He told me two things: One, this is the best thing that can happen for my teammates, all the young guys in the bullpen, this is their chance to maybe show their stuff more. Second, he just felt like God was putting something on his heart."
Motte began talking to 108 Stitches, the players' union and opposing players about turning the "K Cancer" shirts into something bigger. He planned "Strikeout Children Cancer Day" for Busch Stadium last September.
Then, on July 23, Brandt died at the age of 9.
"I was with Jason that day," said Ross, the 108 Stitches executive. "We were taking photos of all the Cardinals for a poster that we did. Jason was in tears."
Motte previously had experienced loss. Caitlin's grandfather Lynn died on Dec. 26, 2011. Lane Goodwin, a young cancer patient to whom Motte had flipped a ball during the 2011 World Series, passed away during the NLCS the following year at 13. Motte never met Lane, but frequently spoke with his mother, Angie, before and after his death.
The death of Brandt, though, was a rallying point, "propelling Jason even more in our mission," Caitlin said.
For once, a pitcher had Tommy John surgery to thank.
"In retrospect, it was a blessing," Caitlin said. "I know that's weird to say. But Jason says all the time, he got to do so much more."
**********
The idea started on cancer walks and television appearances, anywhere Motte would wear his "K Cancer" T-shirt.
People noticed. They liked the shirts. They would see the backward "K" and tell Motte, "That's awesome. You're striking out cancer looking. You're not even giving it a chance!"
But when folks asked Motte how they could buy the shirts, all he could say was the the shirts were not for sale.
So, Motte said that around June or July, he asked 108 Stitches if the company could start selling the shirts on its web site. The company agreed, and said it would donate $10 from each shirt to Motte's foundation.
"We figured we'd do it, no harm, no foul, see what comes of it," Ross said. "And we probably raised over $20,000 in six months."
Rival players took note of the shirts, too. Motte gave a few to Schumaker, then with the Dodgers, and a few to the Braves relievers David Carpenter and Craig Kimbrel. He also started contacting players on his own, asking if they were interested in wearing the shirts in their own team's colors.
"Initially, I thought we'd reach out to 5-6 guys, get it around the league in different colors and then maybe some people would say, 'Hey, that's cool, I want to get on board,' " Motte said.
He needed the union's blessing, and at some point during his conversations with Slavin and others with the players association, the idea grew to include a single player from all 30 teams.
Motte's only requirement: That the players found meaning in the cause.
"We went to our data bases, tried to figure out which guys on every single team had open ties to cancer-related charities," Slavin said.
"We had a number of guys tied to cancer on almost every single team. It was a relatively difficult initiative to execute because of the interest … a great problem to have."
Motte, of course, was doing some of the groundwork himself.
He had spoken during the season with Pirates reliever Jason Grilli in St. Louis. Grilli lost his grandfather, Julio, to cancer. Little did he know, his brother-in-law, Randy Boivin, 39, would be diagnosed with Stage 3 Sarcoma in October. Grilli was in.
Motte spoke during the World Series with Red Sox left-hander Jon Lester, who underwent treatment for lymphoma in 2006. Lester was in.
Motte spoke just before Christmas with Dodgers catcher A.J. Ellis; the two had become friendly in the Florida State League in 2004 and '05, back before Motte converted to pitching, and in the words of Ellis, "bonded as two defensive catchers who couldn't hit."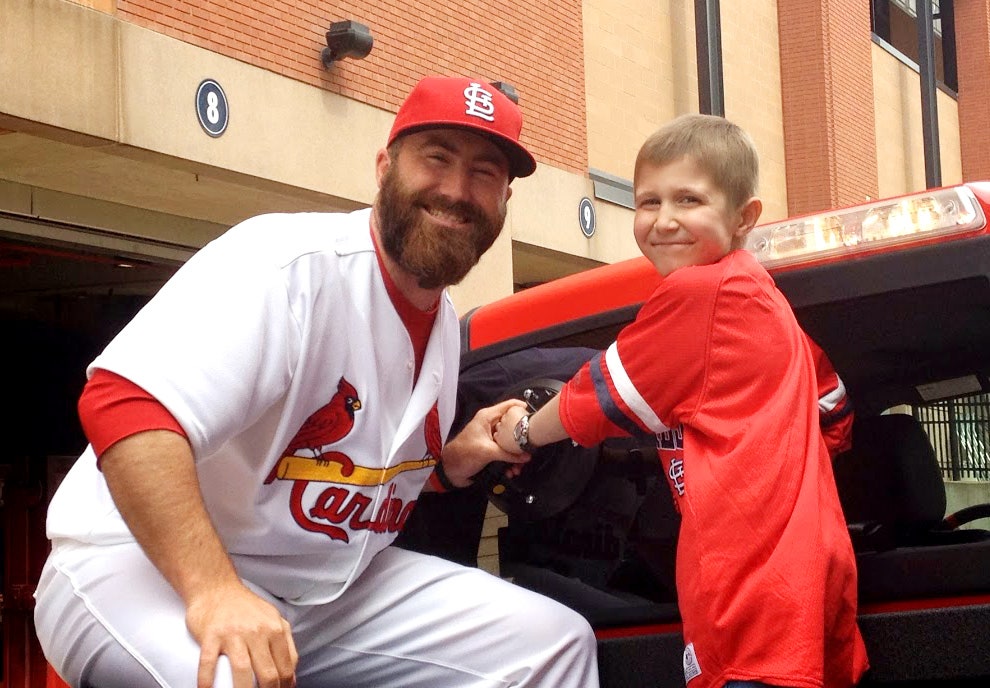 Ellis had lost his aunt, Anne, to pancreatic cancer during his teenage years — he, too, was in.
The union, meanwhile, rallied other players.
Twins third baseman Trevor Plouffe heard from his agent, Nez Balelo. Plouffe's mother, Diane, and aunt, Louise, are both survivors of breast cancer. He was in.
Cubs first baseman Anthony Rizzo, who was diagnosed with Hodgkin's Lymphoma when he was 18 and at Class A with the Red Sox, heard from union officials. Rizzo was in.
"Some of it's benefiting his foundation. Some of it's benefiting my foundation. And ultimately, it's benefiting the same goal, helping cancer patients in so many different areas," Rizzo said.
One by one, the list grew.
Several of the players involved are Motte's former Cardinal teammates — the Reds' Schumaker, Athletics' Nick Punto, Indians' John Axford and Yankees' Carlos Beltran. But many others came aboard.
The Blue Jays' R.A. Dickey, Rays' Evan Longoria and Marlins' Jose Fernandez. The Braves' Kimbrel, Orioles' Nick Markakis and White Sox's John Danks. The Mariners' Logan Morrison, Angels' C.J. Wilson and Brewers' Yovani Gollardo.
One player from every team.
"I was honored that he thought of me," Grilli said. "Obviously he's tackling a pretty big bear, trying to tackle cancer.
"It's turning into something wonderful. If everybody does a little bit it can help a lot."
**********
The idea started with one player. Less than a year later, Motte's "K Cancer" creation is an increasingly popular fashion choice among major leaguers, and the momentum continues to build.
A visitor to any clubhouse in Florida or Arizona this spring could not help but notice players wearing the shirts. Schumaker said that 108 Stitches initially sent him 30 to distribute among the Reds. He had to ask for an additional 50, and ran out again.
Last summer, Catilin Motte and Yadier Molina's wife, Wanda, were selling mystery grab bags during a game at Busch Stadium, when Wanda noticed a fan and asked Caitlin, "Isn't that one of the shirts?"
Caitlin said that she did not immediately grasp the significance of the moment; at that point, the shirts had been only on sale about two weeks. But then it sunk in: A complete stranger was wearing the "K Cancer" shirt.
Jason, too, grew increasingly stunned as he saw more fans wearing shirts, noticing maybe eight to 10 from the bullpen per game.
That number only will increase now, both at home and on the road.
"I don't know what I'm going to do when I see a royal blue and red K cancer shirt in Chicago for Anthony Rizzo," Motte said. "That's when it will be like, 'Holy cow, this is cool.' "
Oh, it's cool, all right — so cool that Slavin said the union already is discussing broader, player-driven initiatives, maybe even a rollout of new products with new players every season. That way, Slavin said, fans would see that "players are as impressive off the field as they are on."
Few, though, impress Slavin as much as Motte.
"This is a guy who, if he's got something on his mind and wants to achieve a specific goal, it's happening," Slavin said. "He stands out."
Motte, entering the second year of a two-year, $12 million contract, is close to achieving a specific baseball goal — his return from Tommy John surgery, which could happen by late April or early May.
His platform is only growing. And so is his help.
Each player representative did a photo shoot this spring, and 108 Stitches tweeted out many of the shots on its feed. The players say the shirts are exceedingly comfortable, and they should know — major leaguers receive a never-ending supply of free garb.
Yet comfort, of course, is not the point.
"On the field, I might be trying to strike you out or you might be trying to hit a ball 750 feet off of me," Motte said.
"This shows that we may be opponents on the field, but off the field we can all come together for one common thing. That's kind of my goal in all this — to show people that people do care, and do want to help."
On Opening Day, could there be any greater sign of hope?
The idea started with one player. It is spreading to them all — and beyond.
The "K Cancer" T-shirts can be purchased at 108stitches.com.