Dustin Pedroia's game has always been bigger than his stature
Ask Brewers bench coach Pat Murphy about Dustin Pedroia, and the stories flow freely, easily, hilariously.
Murphy was the head coach at Arizona State University when Pedroia arrived at ASU in 2002. Pedroia was as brash then as he is now, just not as accomplished. Yet.
Under a hot sun last month at the Brewers' training camp in Maryvale, Ariz., Murphy regaled me with tales from Pedroia's college career. I didn't take notes — the Adam LaRoche story was about to break — but I later called Murph and he repeated the stories almost word for word. I then saw Pedroia at the Red Sox's training camp in Ft. Myers, Fla., and he happily added his own memories.
Pedroia came to Arizona State from Woodland (Ca.) H.S. He was 5-foot-2, 140 pounds as a senior year in high school, according to published reports, and is listed at 5-9, 175 today.
"I had a little cubbyhole office in the old Packard Stadium," Murphy recalled. "We were anxiously awaiting the arrivals of our new players. I had met Dustin in the recruiting process. But my assistant (Jay Sferra) did a lot of it, did a great job corralling him.
"When he came on campus for the first time, he walked into that little office. He had a little white T-shirt on with no sleeves. His arms were as white as a sheet of paper. He flexed and said, 'Hey, coach, how do you like them guns?'
"I assumed it was Pedroia. I thought I recognized him. And I said, 'Pedroia, you had better be able to catch groundballs.' He said, 'Don't you worry coach, for four years you won't need another shortstop.' If he had stayed four years, we sure wouldn't have."
Pedroia entered the draft after his junior year, and the Red Sox selected him in the second round, with the 65th pick overall.
"I probably did have a sleeveless shirt," Pedroia said. "I don't think I said, 'Look at these guns.' But I probably did have a cutoff on.
"It was 400 degrees. I'm coming from Northern California and it's Arizona in the summer. If I could have put no shirt on, I would have done it. He was probably looking at me like, 'We messed up recruiting this guy.'"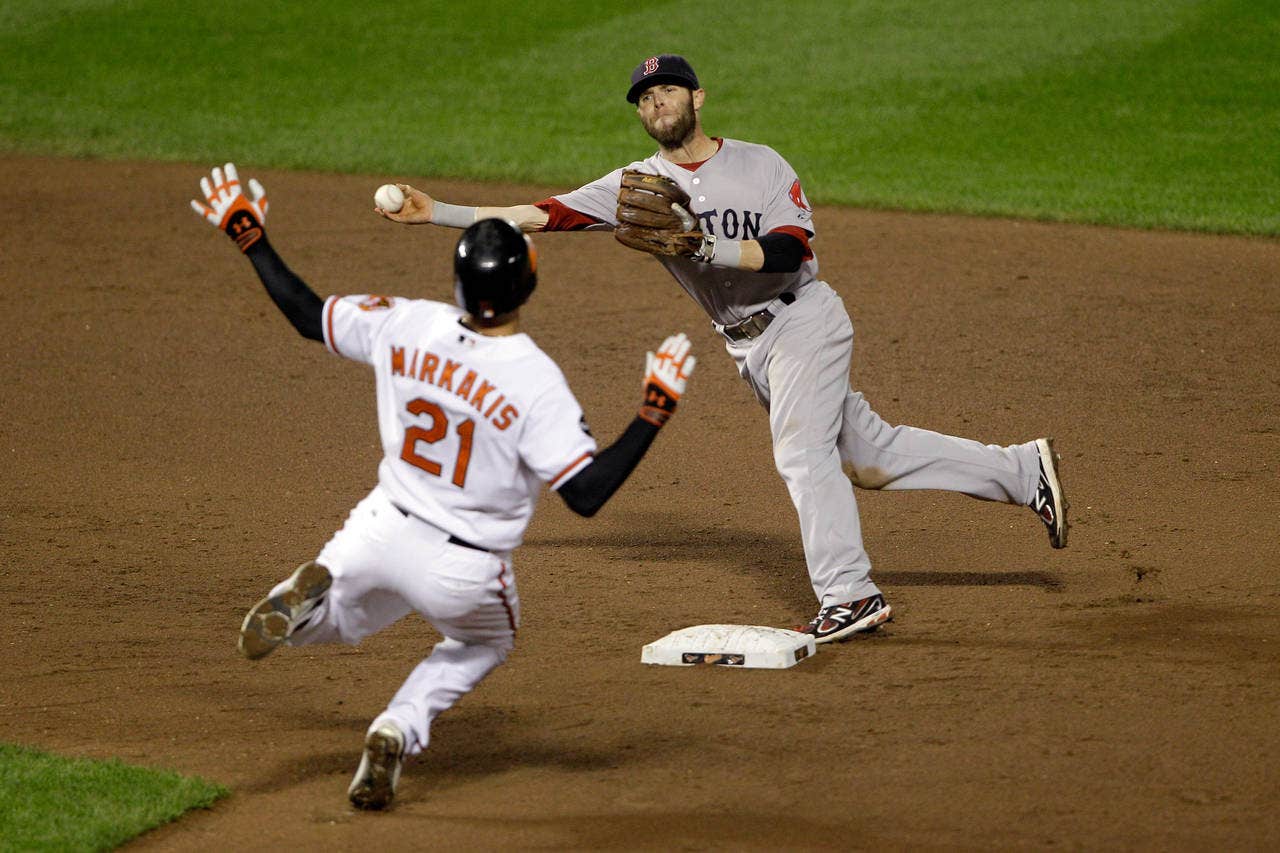 Pedroia was a sophomore. So was Long Beach State right-hander Jered Weaver, a preseason All-American.
"One of Dustin's first at-bats, he came back to the dugout and I asked him, 'How was that slider?'" Murphy said. "And he said, 'Nasty. He's a little cross-fire, hard to pick up. It's nasty.' Well, everybody in the dugout just went, 'You've got to be kidding me. If Dustin can't hit it, none of us can, either.'
"I kind of grabbed him and said, 'Hey, man, from now on, when someone asks you about a pitcher, you can't always give them an honest answer. Sometimes, you've got to protect what your teammates hear. Especially as good a player as you are, they expect you to be able to hit everybody.'
"For the rest of his career, he'd come back after every pitcher. I'd purposefully say, 'Hey, what do you have on this guy?' And he'd say, 'This guy's got nothing. He's ripe to hit. We're going to have a field day.'
"Sure enough, the next at-bat against Weaver, he hits a line drive to third. He comes peeling past Weaver. 'Did you see that, big boy? It's going to happen all day!' Weaver just snapped back at him like, 'Who is this little runt?'"
Arizona State won, 3-0. Weaver allowed one run on three hits in 5 1/3 innings. Pedroia went 1-for-4 with a run scored.
"He was probably the best pitcher at that time in college," Pedroia said. "I played with him for Team USA in the Pan Am Games the summer after that. I was like, 'Dammit, man, I screamed at this guy and now he's probably going to kill me.'
"It was cool, though. Me and him were, like, best friends on that team. He was like, 'Yeah, man, why were you yelling at me?' I was like, 'I don't know. I just lost my mind.' But that's how we were. That's how (Murphy) built us. We were the underdogs."
Pedroia has a different recollection about when Murphy told him never to compliment an opposing pitcher.
The incident, Pedroia said, happened when he was freshman.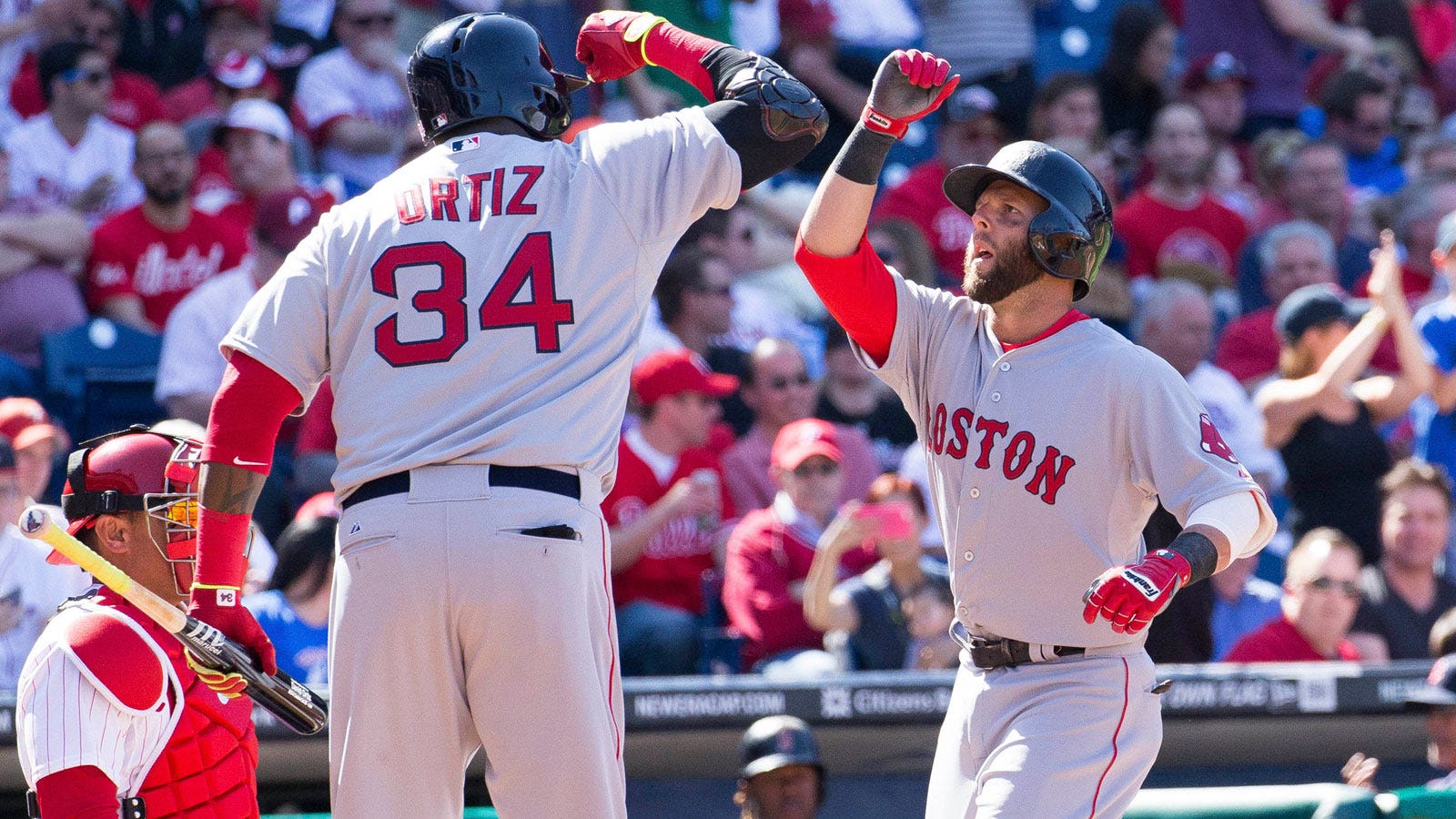 "If I go up there and say I've got no chance, how do you think my teammates are going to react?" Pedroia said. "My freshman year, I struck out and said, 'That was nasty, man. I didn't see that.' And (Murphy) blew me up.
"He told me, 'Don't ever say that again.' I was like, 'Why?' And he said, 'If you can't hit him, how do you think the other guys are going to do?' Good point. The guy had a point."
Stephen Drew, Florida State's star shortstop, was widely considered the top position player in the country. He would fall to the Diamondbacks at the 15th pick of the first round only due to signability concerns.
"He was a big prospect. He deservedly was on the cover of Baseball America," Murphy said. "Pedroia was hellbent on showing everybody at the game that he was better. He said, 'I'm going to prove it.'
"He had a little chip on his shoulder all day. When Drew would take infield, Pedroia would be yelling over at the Florida State team on the other bench. 'You want to see the best shortstop in America? Right here!'
"He'd be taking groundballs, and every throw he'd make, he'd kind of stare in their dugout. It was amazing. He wanted to make a point that everybody knew who he was. Poor Stephen Drew is thinking to himself, 'What did I do to get in this mess?'
"The Florida State guys were kind of snickering at Pedroia like, 'What's this guy talking about?' It didn't get to a point where (it got ugly). But he definitely let everyone in the stadium know that he was here to compete and he could compete with anybody in the stadium, including Stephen Drew.
"I think Drew probably didn't know what was going on. He probably turned around and said, 'Is that guy yelling at me?' But Dustin was just yelling, 'Hey. Hey. Baseball America or not. I'm the best shortstop!" It was beautiful."
Drew and Pedroia later were teammates with the 2013 World Series champion Red Sox and also in '14.
"When I played with, 'Dirt,' he was like, 'What were you yelling at me for?'" Pedroia recalled, using Drew's nickname. "No one ever talked about me. It kind of pissed me off a little bit. So I would just yell at him. But it was all fun. It was all competition, man. It was a good time."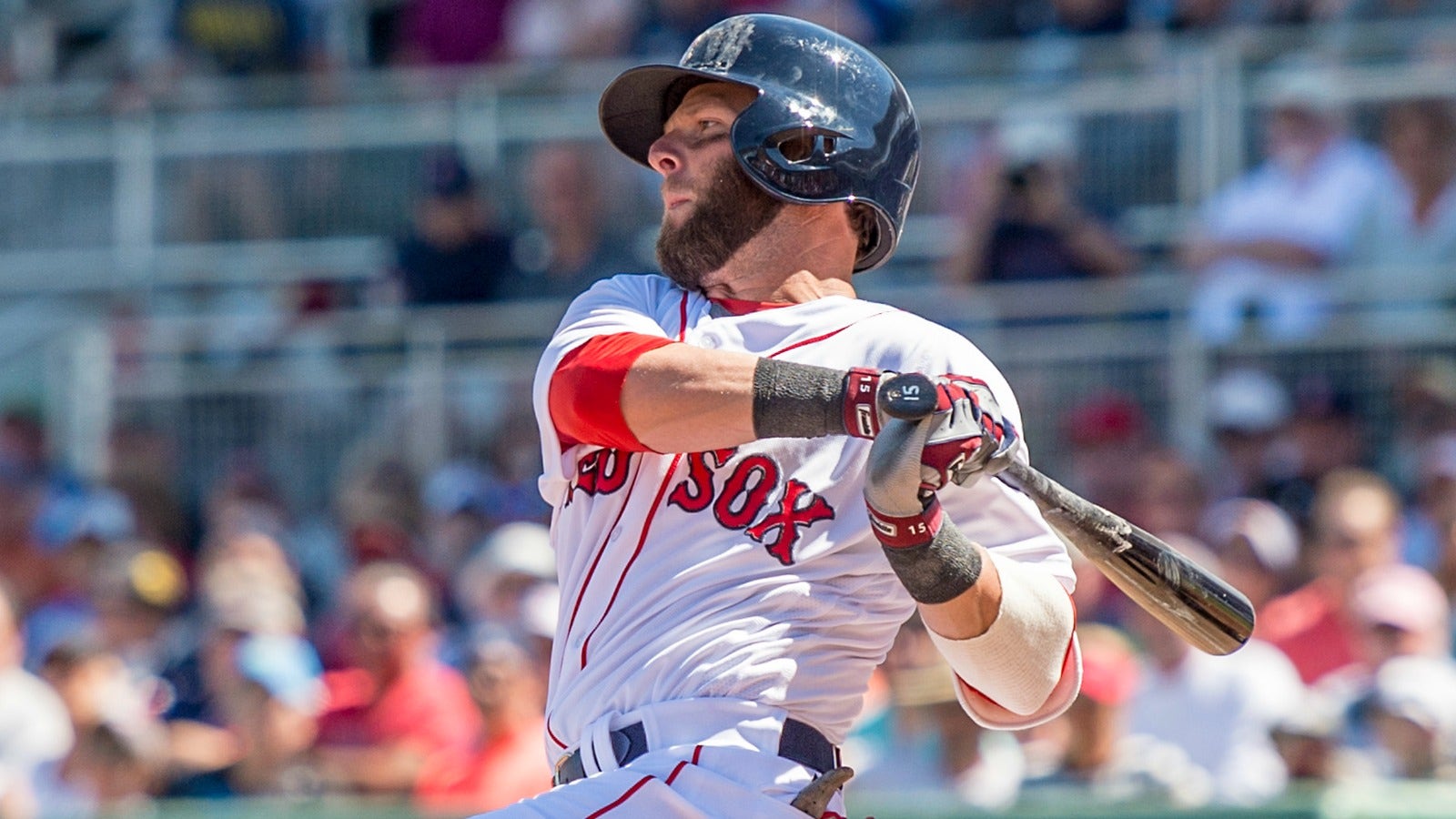 Arizona State swept the three-game series. Pedroia went 5-for-15 with five runs scored and an RBI. Drew went 3-for-12 with a run scored and two RBI.
Right-hander Mike Pelfrey started for Wichita State. The following year, he would be the Mets' first-round pick, and ninth overall selection.
"That was one of the first places you could see the (velocity readings) on the scoreboard. Pelfrey was throwing 96-97," Murphy said.
"Pedroia was a junior. Sure enough, Pelfrey warmed up before the game with some high numbers. One of the first pitches of the game, Pedroia hits a line drive off the center-field fence, just a bolt. He gets to second base, and he's ripping off his batting gloves saying, 'Hey, 96 coming in, 113 going out.' Pelfrey is 6-foot-7, looking at him, thinking, 'What the heck?'
"We had a pretty good game. Pedroia came in the dugout, maybe after his second line drive and started yelling, 'Hey, it's a laser show! A laser show all day!' I think that was the first time I heard the 'laser show' comment."
Arizona State won, 4-3. Pedroia went 2-for-5 with a run scored and an RBI. Pelfrey lasted just four innings, giving up four runs, two earned.
"Did you ever see him pitch in college? He was throwing 1,000 miles an hour," Pedroia said. "We were trying to talk ourselves into the idea that we were going to beat him. You know what I mean? It was one of those kind of deals.
"We ended up winning both the games we played there. But his stuff, he was by far the best pitcher I faced in college. He was throwing 100."
Was it the first time Pedroia invoked the term, "laser show?"
Hardly.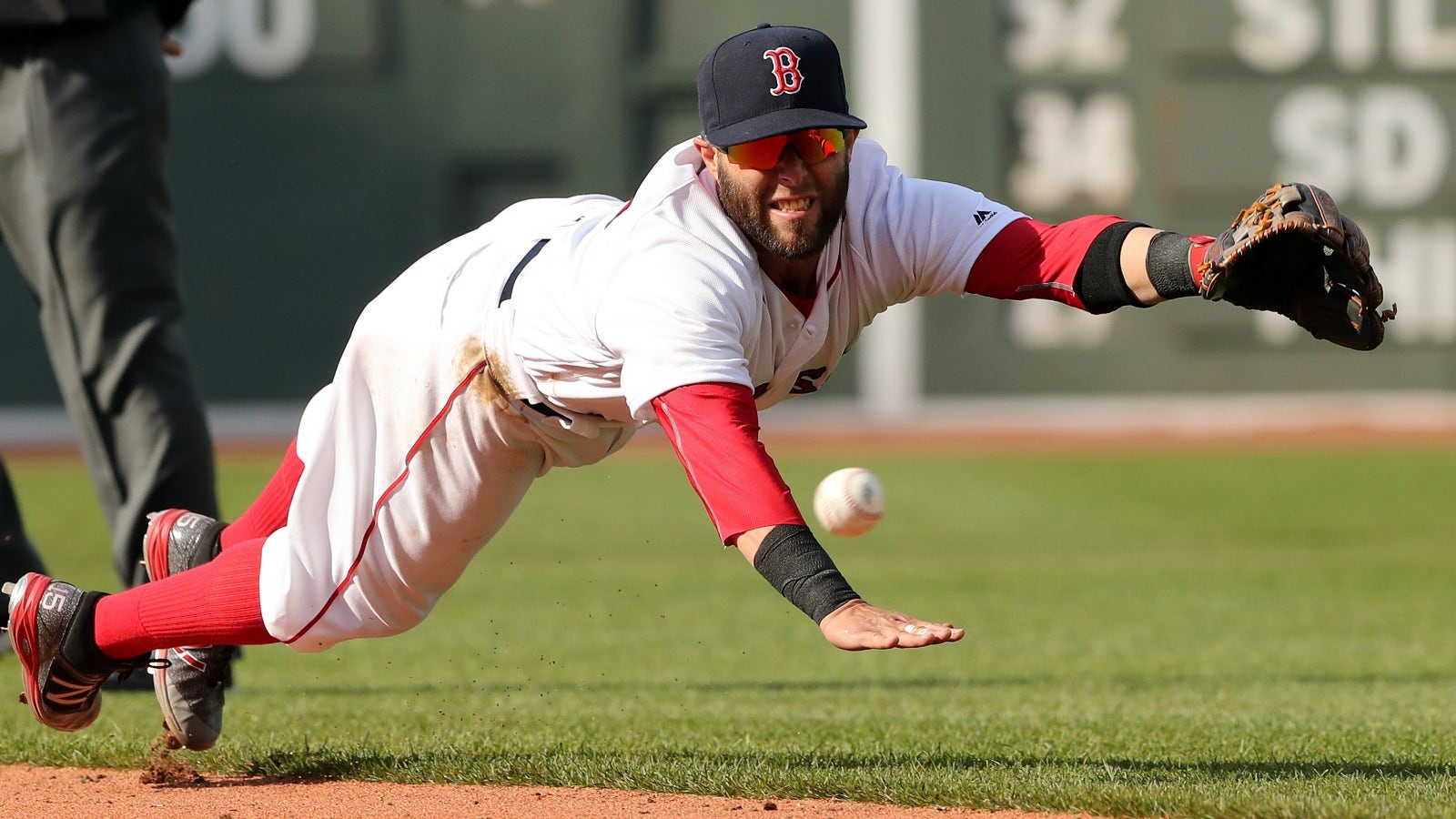 "We always talked about that. In my high school, we would mess around with that," Pedroia said.
Here's Murphy going back one more time to Pedroia's freshman year:
"Two prominent scouts who were ASU alums stood on the field with me at one of our first fall practices. They kind of nudged me and one of them said, 'Hey, Murph, this little guy you've got running around at shortstop? I don't see what you're thinking. I don't see this kid being a shortstop. This is ASU. ASU can attract some of the top players in the country. You gave this kid a scholarship to come to Arizona State?'
"I said, 'Hey, I think he's pretty good. Just hang in there, I think you'll like what you see.' Every time I see those two, I give it 'em. They know it's coming. We're friends.
"The only thing I did for (Pedroia) was put his name in the lineup. And maybe I gave him a license to be himself. Maybe I could have tried to squash him and get him all prettied up and make him step closed in the batter's box and make him not field groundballs by going to his knee, whatever I could have done. But I would have screwed him up if I tried.
"This is kid is as special a story I've ever seen. What he has accomplished for his size and strength, his physical ability . . . it's amazing, a testament to our game."