Big Papi one-ups Ellen, takes selfie with President Obama
Move over, Ellen DeGeneres. David Ortiz is here to steal your selfie glory.
The 2013 World Series champion Boston Red Sox paid a visit to the White House on Tuesday, and as most championship teams do, the Sox presented President Barack Obama with a custom jersey.
The jersey featured Obama's name and the No. 44 on the back to honor the 44th president. Obama implored Ortiz to partake in a photo op with the official White House photographers and Ortiz said, "But first, let me take a selfie."
Well, Big Papi didn't actually say that, but he requested to snap a photo with his personal camera phone before taking an official one. And that's how the best selfie of 2014 was made.
Check it out in the photos below.
What an honor! Thanks for the #selfie, @BarackObama pic.twitter.com/y5Ww74sEID

— David Ortiz (@davidortiz) April 1, 2014
Yup. A Big Papi selfie with the President during the ceremony pic.twitter.com/PCHpvJ1yvP

— Linda Pizzuti (@Linda_Pizzuti) April 1, 2014
Of course, this isn't the first time Obama has displayed his technological savvy — or his penchant for selfies.
He drew headlines around the world back in December when he posed for this selfie with British Prime Minister David Cameron and Denmark Prime Minister Helle Thorning Schmidt at the funeral service for Nelson Mandela.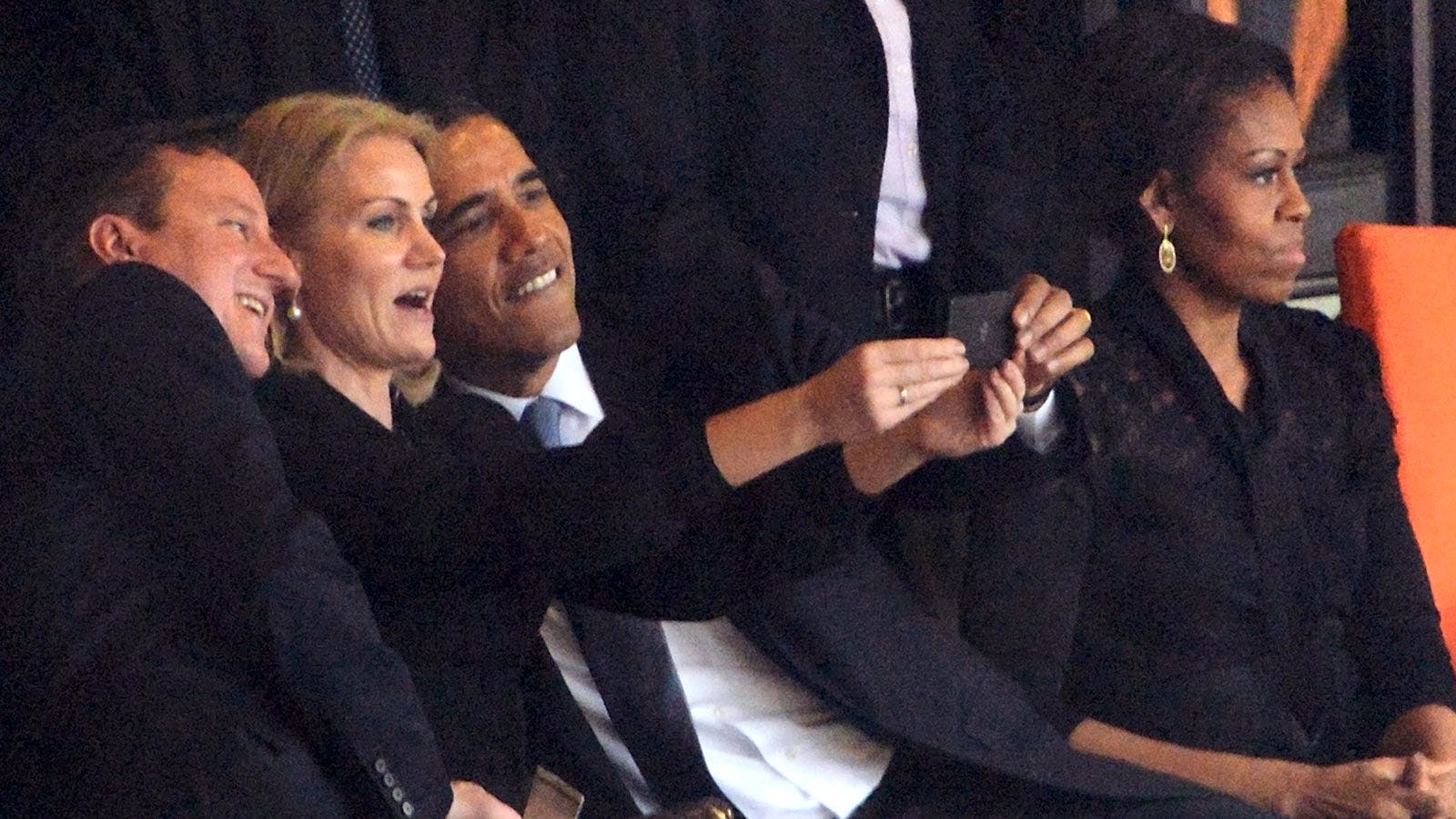 Clearly, Michelle was not impressed.
And in case you're unaware of how the "selfie" epidemic has caught fire, well, you need to up your Internet acumen:
If only Bradley's arm was longer. Best photo ever. #oscars pic.twitter.com/C9U5NOtGap

— Ellen DeGeneres (@TheEllenShow) March 3, 2014