In up-tempo times, Derek Mason leads the future of SEC defense
NASHVILLE — We are in the midst of a major offensive evolution in college football (and NFL), with more points and yardage being racked up than ever before, and the traditionally smash-mouth SEC is witnessing its share of change. Look at what has happened during the past few years within a conference known for dominant defense.
At the conclusion of the 2011 season, Alabama and LSU finished first and second, respectively, in total defense. South Carolina, Georgia and Florida joined them in the top 8, and all five of those teams also ranked in the top 8 on a per-play basis.
Fast-forward to the 2013 season, and only Alabama (fifth) and Florida (eighth) ranked in the top 10 in total D and no SEC team cracked the top 10 in per-play defense (Alabama ranked No. 13, while Florida plummeted to No. 42). Alongside this decline in D, we've also seen offensive numbers increase with the tempo.
In 2013, games involving SEC teams averaged 137.5 plays, according to Fox Sports' stats department, an increase from 133.4 plays during 2008-12. More plays equals more yards and more points, as SEC teams averaged 432.5 yards (up from 385.9 during '08-12) and 31.7 points (29.3 from '08-12) per game last season.
What's driving this? Rule changes that protect offensive players, making it more difficult for defenders to be physical, and better quarterback talent have certainly been factors, but the evolution of offensive schemes – spreading defenses out and upping the tempo – deserves the most credit.
Gus Malzahn has brought a breakneck speed to Auburn; the additions of Texas A&M and Missouri have sped up the league; Ole Miss operates with tempo and Florida will likely run an up-tempo scheme in 2014 with new offensive coordinator Kurt Roper. There are even rumblings that LSU, of all places, will increase the tempo more in Cam Cameron's second season as OC.
While the SEC will still feature quality defense, complete dominance is no longer a certainty, as coaches search for answers to the tempo evolution. Where should they start? By studying their newest league peer, Vanderbilt head coach Derek Mason.
Mason is one of the nation's most well-respected defensive minds, the man behind the Stanford defenses that have disrupted Oregon in recent years, one of the most prolific offensive teams over the last decade. NFL coaches have flown across the country to learn his methods for figuring out the read-option and adjusting to the pace and space with which more offenses are operating.
Mason credits Willie Shaw, the father of Stanford head coach David Shaw, as one of his mentors. "Stanford is a place of problem-solvers," Mason told me on a recent visit to Vanderbilt. "Willie Shaw often made me think. He'd ask a question in passing, and then he would come back a few days later to see if I had come up with the answer. He helped me understand that, as much as football evolves, we need to go outside the box with our thinking."
As the SEC continues to shift, let's take a closer look at what makes up-tempo offenses effective and dig deeper into Mason's philosophy for facing them to see what the rest of the league can learn.
What makes up-tempo offenses effective?
I was looking forward to hearing Mason's Jedi-like wisdom about the secret to up-tempo offenses, and then he said this: "It's like that ancient Chinese secret – there is no secret."
Deciphering Mason's Zen-like koan, I realized he meant that up-tempo offenses don't have a magic formula or use esoteric plays. They do the same things that huddle-up offenses do, but they do them at a blistering pace. It's not so much about what they do, but rather what they do to defenses. There are four issues:
1) Defenses get stuck in one call
While defensive coordinators enter a game with a long list of plays, the defenders on the field are often forced to play the same call repeatedly when the ball is being snapped every 14-18 seconds. The middle linebacker often looks to the sideline only to see the defensive signal-caller frantically gesturing to repeat the last call.
This is a strategic advantage for the offense because it simplifies the game and makes pre-snap reads easier for quarterbacks.
For example, if a QB sees a defense is in Cover 2, he knows almost certainly that the defense will be stuck in the same call if they get to the line quickly for the next play. If his offensive coordinator calls a run, the QB can easily identify where the back go; if a pass play is signaled, he would know exactly where the weakness of the defense exists before the ball is even snapped.
2) Defenses don't get ready in time
Even when defensive players get their play call on time – some defenses will often call two or three plays in advance when facing an up-tempo team – you will often see the defenders unsuccessfully scurrying to get into their proper alignment before the ball is snapped.
While the fault can sometimes be placed on the defensive coordinator for not getting the call in soon enough, defenders are often late getting into proper pre-snap position because they were either so far removed from the ball placement at the start of the next play or were simply fatigued. In either case, lack of proper preparation for an up-tempo offense is the reason that defenses are not ready before the snap.
3) One-on-one matchups
Tackling a skill player one-on-one in space is one of the most difficult tasks in football. Up-tempo offenses often operate out of a spread scheme that forces defenses to cover the entire width and length of the field, as Mason noted.
"Being out West and seeing how those offenses use the width and length of the field to create one-on-one matchups – isolating their best on our best – it challenged us to think outside the box in terms of how we were going to defend it," Mason said.
Instead of playing the game in a phone booth, you are playing on a 57,600-square foot field and are forced to tackle the best athletes the other team was able to recruit – all by yourself. Combine this with the physical exhaustion caused by the pace of an up-tempo scheme, and defenders find themselves at a major disadvantage.
4) More snaps per game
Mason said it best as we sat and talked ball: "The up-tempo offense offers teams more opportunities to put points on the board and fans in the stands."
The nature of the game allows for proactive offensive players to have a built-in advantage over reactive defenders — they know what they are going to do before the play starts while defenders do not. Over the course of a game, up-tempo schemes allow for more opportunities to gamble with better odds.
What are the keys to defending up-tempo?
Just as Mason said there's no true secret to running an up-tempo scheme, the same is true for defending it. Part of it is just survival.
But there are important methods defenses can utilize to prepare for these schemes. Here are six Mason outlined:
1) Simplify the personnel
Keeping up with the pace and getting calls to the players on the field is difficult enough for a defense. Now add a coach in the press box with binoculars trying to read the jersey numbers of the offensive players being shuttled on and off the field when the opponent changes personnel. That puts additional stress on the defensive coordinator and makes keeping your defensive personnel – defensive backs, linebackers and linemen – perfectly matched up with the offensive players currently on the field almost impossible.
Watching tape of Stanford's game against Oregon last year, I noticed Mason would run a form of Cover 1, Cover 2, Cover 3 and blitz with his same 11 players on the field regardless of what personnel Oregon was in and the mismatches that may have resulted in man-to-man situations. If it meant a linebacker would have to cover a wide receiver man-to-man in certain situations, so be it. "We decided that we just need to keep our best 11 on the field as often as we can," Mason said.
It's a calculated gamble, but being able to run multiple calls versus an up-tempo team offers a big payout when executed correctly. An example: Against Oregon last year, Stanford linebacker AJ Tarpley matched up in the slot against Keenan Lowe, a 5-foot-9, 180-pound speedster who runs a 4.4 40-yard dash. Before the snap, Mariota may have thought Tarpley was walked out in the slot playing zone coverage. He wasn't. Stanford was in man-to-man coverage and Tarpley stuck with Lowe on a vertical seam route 20 yards downfield.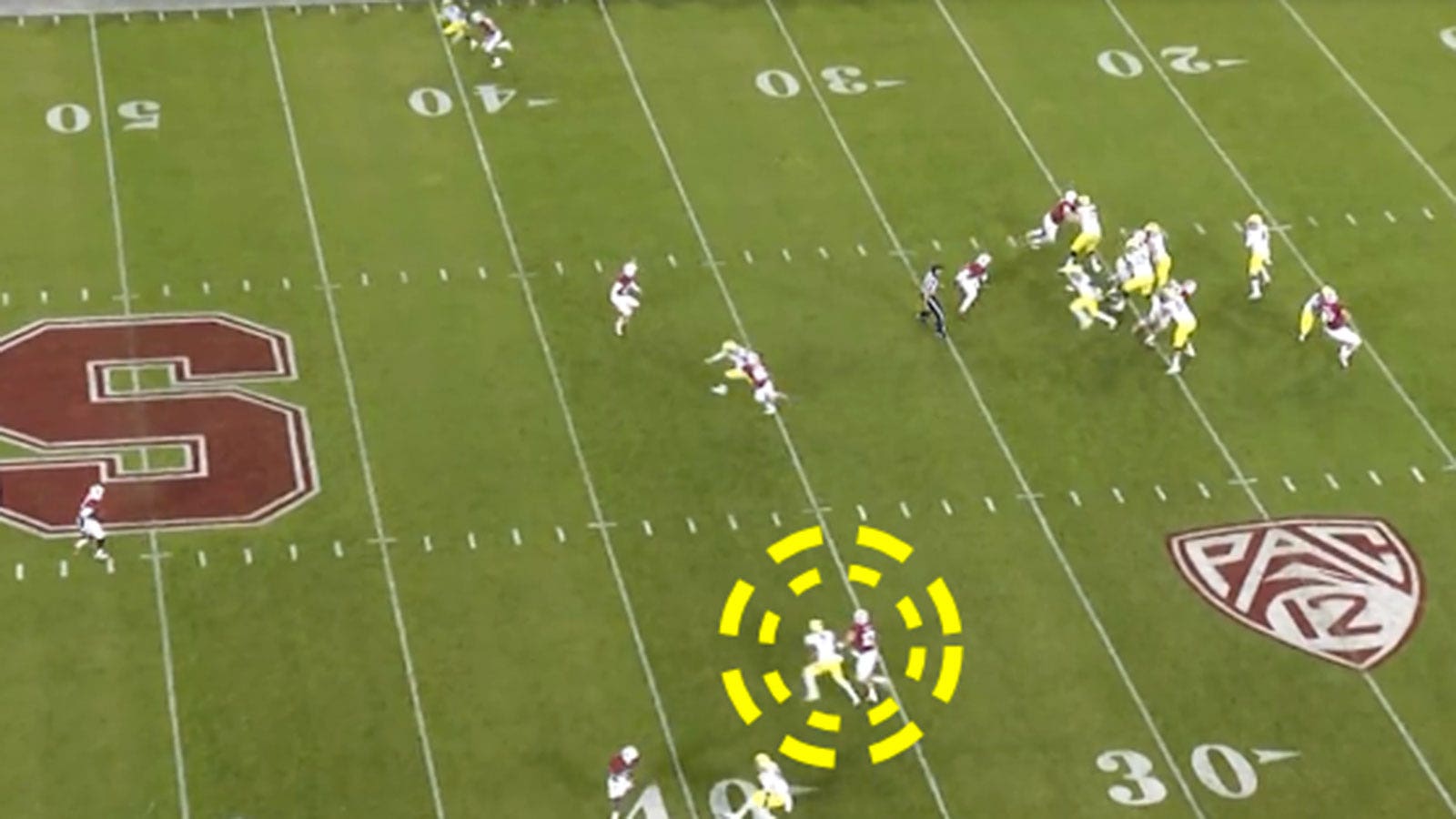 Having players who can handle multiple calls, thus limiting substitutions, gave Mason a huge advantage.
2) Simplify the play calls
As a player, I always loved when our defensive coordinator said we would be going into a game with a simple game plan. "We want you to be able to play fast," they would always say. I often wondered why that was not the plan every single week.
I understand the importance of having varied looks and schemes when facing a mastermind QB like Peyton Manning or Tom Brady, but there aren't many quarterbacks who can pick a simple defense apart like they can.
Mason has found that simplifying the game plan, while keeping some diversity, is extremely beneficial when facing up-tempo teams. Mason said, "The one thing that I learned after the first few times I faced Oregon was that I was doing too much. You have to simplify your calls, refine and hone what you do."
Mason, understandably, refrained from expanding on how exactly he'll simplify his schemes, but the overriding theme to remember for both personnel and play-calling against up-tempo is "simplicity."
3) Mentally tax players
Up-tempo schemes often make defenders think more about their physical well-being – gasping for their next breath of air — rather than their assignment. Staying focused is vital.
In order to compete with offensive players who run 80-plus plays per game, Mason believes you have to train your defense to defend 80-plus plays per game. "We push our players to the limit," he told me. "We physically exhaust them, but then we train them to still be able to think and communicate after they have reached exhaustion."
In practice, Mason forces his defense to compete against two separate offenses that fire off a play every 10 seconds. One offense lines up in front of the defense, while a second one aligns behind. The defense executes a play against the first offense, looks to the sideline to get the next call and then turns around where the other offense is already lined up ready to run the next play.
"When we first started doing it, it looked like a cluster, but the more the players did it the more their mental capabilities grew," Mason said. "It started to become second nature to operate that fast. Eventually they could stay focused when they were tired and handle more responsibilities at a faster pace. Once each week, we would run 30 different plays at them in under 10 minutes, let them rest and then do it again."
Trent Murphy, Stanford's All-America outside linebacker and team captain under Mason, told me that when facing up-tempo offenses, "You have to be able to stay focused, line up correctly, get the call and do your job. Coach Mason's practice philosophy is huge. We didn't dread playing Oregon, but instead we dreaded what our own coaches would do to us in practice. We would run 90-105 plays during practice. Coach Mason took the speed to a level that can't be replicated in a game because there aren't two offenses lining up on game day."
4) Create depth
The way Mason creates depth with his roster is an example of how he thinks outside of the box. His defensive units don't consist of "first teamers" and "second teamers" but rather "goons" and "goblins."
The goons and goblins are two different platoons of ball-seeking missiles that consist of anyone on the roster – even freshmen – and depend on role players to make an impact. Mason has found that "most defensive players can play up to 60 snaps per game at a high level," so there's a need for "goblins" to fill in on other plays. This fosters a culture and identity that an entire team can take pride in.
"When facing up-tempo teams [that can run upwards of 80 plays per game] you need role players who can step in and give you 2-3 quality series in the game," Mason explained. "We had success at Stanford because we had young guys who knew they would have a chance to play early. As a result, they became fully invested early. Some coaches are afraid to get young players involved, but I've always thought, 'Why save them?' Nowadays [with players leaving early], there's a good chance you won't even have them for their senior year anyways."
Mason recalls Stanford's upset of Oregon at Autzen Stadium in 2012 as an example of the importance of quality depth when playing an up-tempo team, pointing out Devon Carrington's touchdown-saving tackle on Marcus Mariota after a long run in the first quarter. "Or what about Josh Morrow, who had a tackle-for-loss on fourth down later in that same drive to keep Oregon out of the end zone," Mason said. "It was goblins not goons!"
5) Communicate
The importance of communication on defense was more glaringly obvious than any other facet as I watched Vandy practice. Mason was shouting the exact verbiage that the players should have been using before every snap. He was showing them exactly how it should be done.
"Open your mouth!" Mason shouted at a young defender after one play. "What's your job when they motion to a nub tight end?"
"Cloud," the young cornerback replied.
"Then say 'cloud,'" Mason said. "We can't be afraid to be wrong!"
Vanderbilt's defense has a long way to go before it reaches the level of communication I saw when visiting his well-trained Stanford squad last year. Mason rarely had to say a word before a snap at practice on the Farm, where his players sounded like an NFL-caliber defense as they yelled and shouted pre-snap commands and adjustments amongst each other before each play. Establishing this level of communication will help decrease confusion when an offense goes up-tempo.
6) Create muscle memory
There's no doubt that facing an up-tempo attack is one of the most physically demanding grinds a defender will ever experience. I loathed facing no-huddle teams. Defensive players run greater distances and change direction much more frequently than offensive players, and all the backpedaling, planting, cutting and sprinting in various directions on each play takes a toll.
Mason knows this, so he constantly conditions his players to withstand these physical demands, even during weeks when they're not facing an up-tempo offense. "There are three speeds of offense that we have to face: The huddle, the two-minute – which used to be fast but, to me, isn't really that fast – and NASCAR."
"NASCAR?" I asked peculiarly.
"Yes. NASCAR," Mason replied.
Mason immerses his players into up-tempo battles at "NASCAR" speed every week of the season. "Even if you're playing Alabama – who does not run an up-tempo scheme – you have to have a period of practice that subjects the players to a fast pace. Over a period of time, you'll create habits and muscle memory that will help you find success when you do face an up-tempo team."
Mason even writes "NASCAR" into is spring practice scripts. Look:
Repetition is the key. Defenses must build up a tolerance for physical rigors if they have any chance of keeping up with up-tempo teams.
What's the future for SEC defense?
It's unclear whether we'll ever return to the kind of defensive dominance the SEC has recently been known for or if this is only the beginning of the offensive evolution. I do think tempo across the board will continue to increase, which will change how SEC teams recruit and physically build their defenses.
At Vanderbilt, I immediately noticed the defensive line when the tempo picked up. Players were built like brick smokehouses, and it was obvious they had spent most of their time in the weight room in previous years under a squat rack and on the bench press with as much weight as their joints could possibly withstand. They were strong as oxen but also extremely stiff, lacking endurance and fluidity. This will change across the sport as football becomes more like "fast-break basketball," as Mason describes it, and it already has at Vandy.
Bill Hughan is Vanderbilt's new director of sports performance after spending 2013 at Stanford with Mason and the previous decade in the NFL (I had the privilege of training under Hughan with the Atlanta Falcons). Hughan's busy redeveloping the strength, conditioning and nutrition programs in an effort to modify the physical makeup of Vandy's personnel, especially the D-line.
"Right now, our defensive line is only averaging a 12 on the FMS," Hughan said, referring to the Functional Movement Screen, a test used to determine the efficiency of an athletes' movements in which 21 marks a perfect score. Hughan's challenge is to take the Commodores' roster of able bodies and train them to perform optimally against both big, strong SEC teams and the up-tempo squads. The days of being a "meathead" in the weight room are a thing of the past.
Will all of this make Mason's defense one of the SEC's best immediately? That's unlikely. There's a process at play here, and Mason faces challenges such as teaching a new 3-4 scheme to a young defense that returns only five starters (and zero in the secondary). He also needs time to recruit.
However, there's little reason to believe he, and DC David Kotulski (who Mason brought from Stanford), won't construct the kind of defense at Vanderbilt that the Cardinal have enjoyed in recent seasons. Mason's track record against up-tempo offenses in the Pac-12 gives him an immediate advantage entering the evolving SEC, where other programs are still searching for answers to the evolution.
In this new era, it's Mason's philosophy of simplicity and constant mental and physical preparation for up-tempo attacks that will define the SEC's defensive future and put him at the front of the pack.
Coy Wire played college football at Stanford before a nine-year NFL career in Buffalo and Atlanta. He's currently a college football analyst for FOX Sports 1 and writes for FOXsports.com. Follow him on Twitter @CoyWire.