Has college football ever seen two truly dominant teams like Cavs/Warriors?
Apologies for going four weeks without a new Mailbag. I'm going to make it up to you in two ways.
1) We're going weekly from here.
2) This one is a two-parter. Stay tuned for the tease at the end.
Also, please note that nearly all of this week's questions came from Facebook users. I still welcome your e-mails at stewart.mandel@fox.com, but now would be a good time to "like" my page if you haven't already.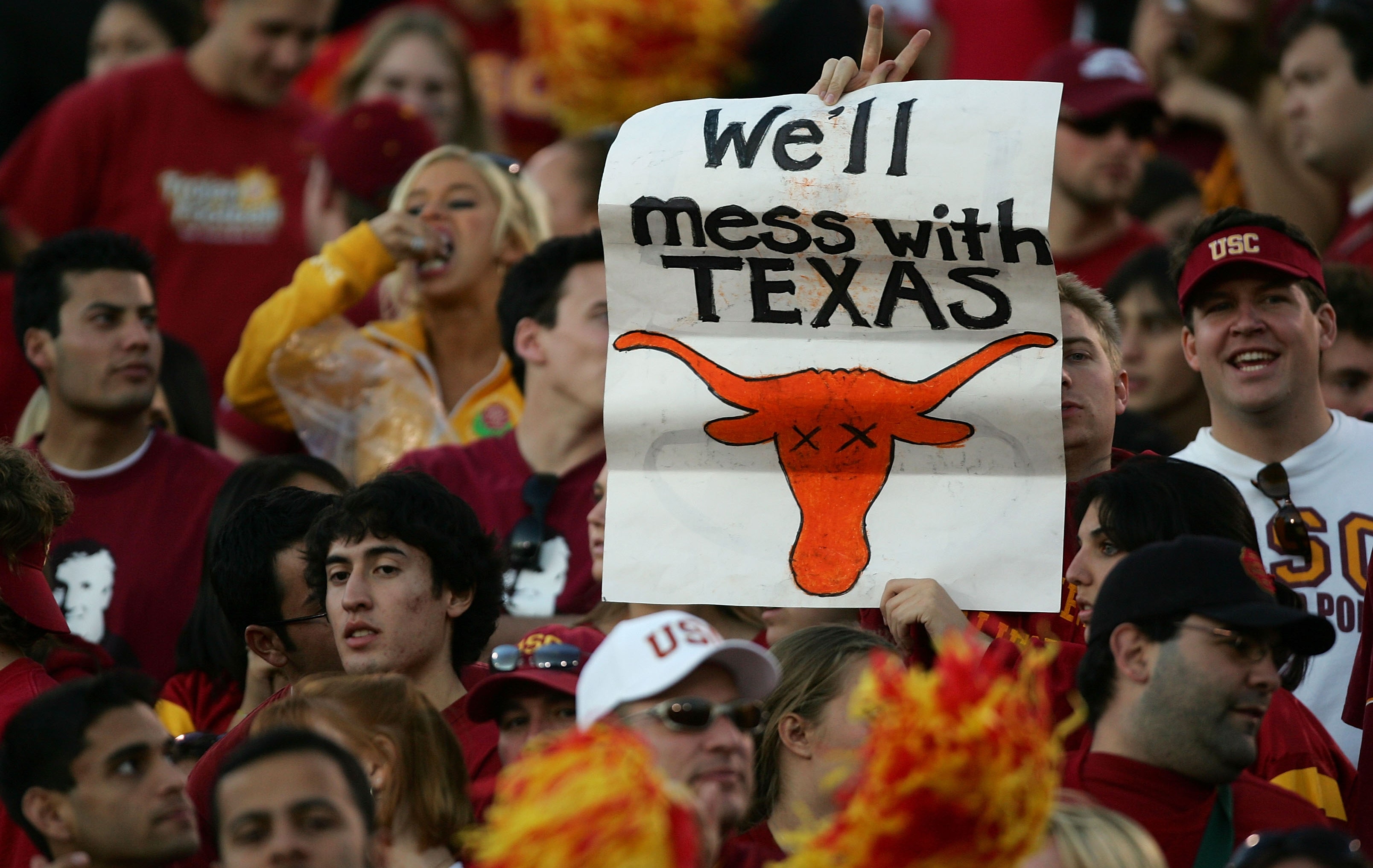 Can you think of any college football season where two teams stood head and shoulders above the rest as the Warriors and Cavs are doing in the NBA playoffs? I submit 2005 Texas-USC as the closest analogy.
-John Malanga
It's an intriguing question, but a tough one to answer because the sports aren't apples-to-apples. By the time we get to the NBA Finals, the Cavs and Warriors will have played nearly 100 games each, against the entire league, including three best-of-7 series against the supposed next-best teams in their conferences. The best college football teams play 15 games, missing out on most of the country, and playing just one similarly ranked team in the postseason prior to the national championship game.
Case in point: LSU and Alabama in 2011 would seem like a surefire answer given they were so universally respected they met in not one, but two No. 1 vs. No. 2 games. But many people, myself included, felt Oklahoma State deserved to be in the championship game instead. That was not Warriors-Cavs.
That 2005 season does feel like the closest comparison. Not only were the Trojans and 'Horns the lone undefeated teams come the postseason, they went wire-to-wire as the top two teams in the polls. And I don't remember there being too much respect for No. 3 Penn State, despite the fact the Nittany Lions' sole loss came on a last-second Michigan touchdown pass.
But it's easy to say all this now with the benefit of hindsight. In real time, the story most of that season wasn't USC and Texas — it was whether USC was the best team of all-time. The 'Horns were largely an afterthought right up until Vince Young's game-winning touchdown. The better NBA comparison might be last year's Warriors-Cavs dynamic.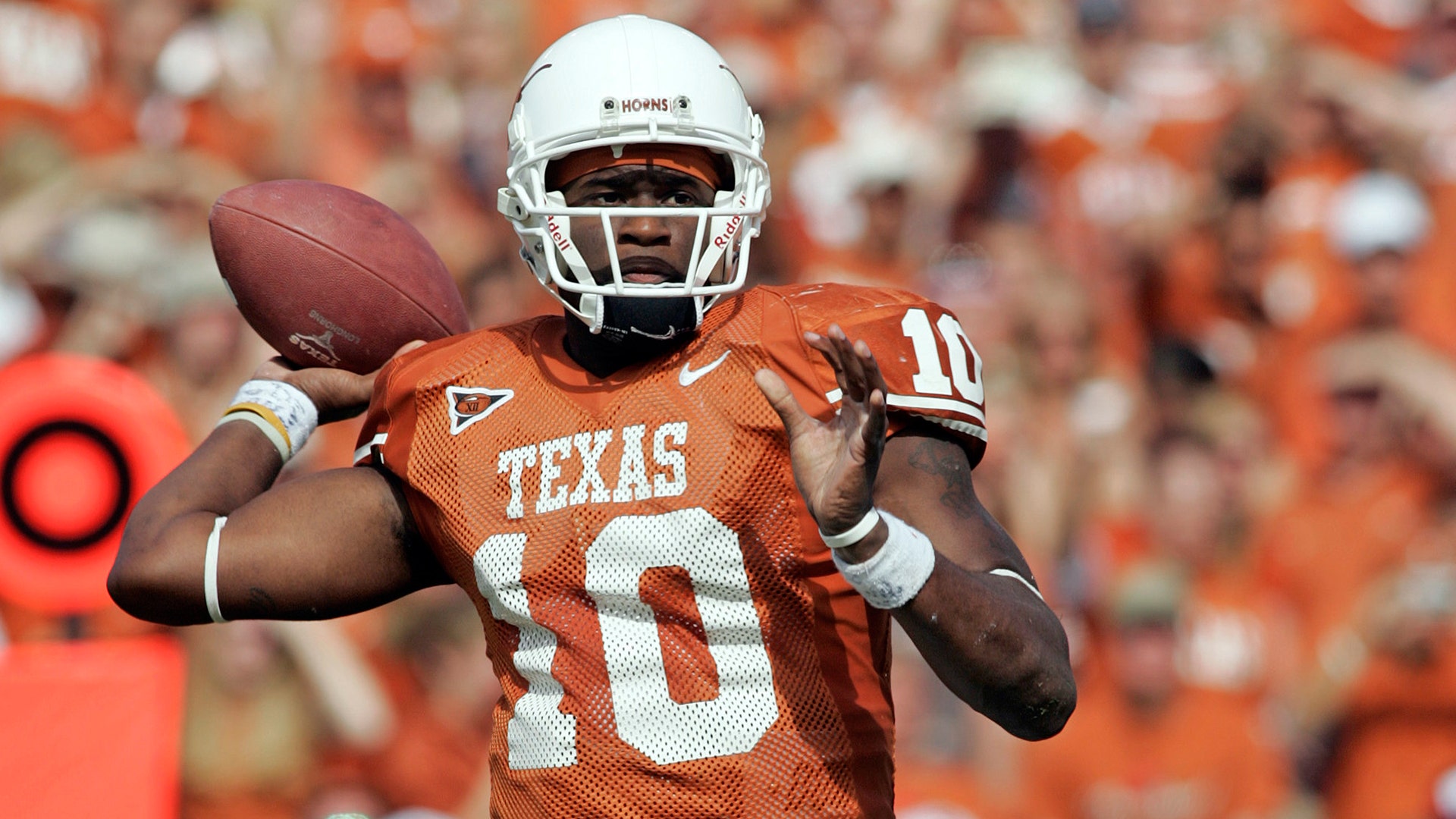 Going back longer than that, I'd point to any number of pre-BCS seasons where we had undefeated split national champions, like Miami and Washington in 1991 and Nebraska and Michigan in '97. In both cases those teams so clearly separated themselves that pollsters couldn't decide which one was best.
But of course, that'd be like the Cavs and Warriors making it to the Finals only to play someone other than each other. Which kind of puts in perspective just how weird college football was prior to 1998.
I loved it.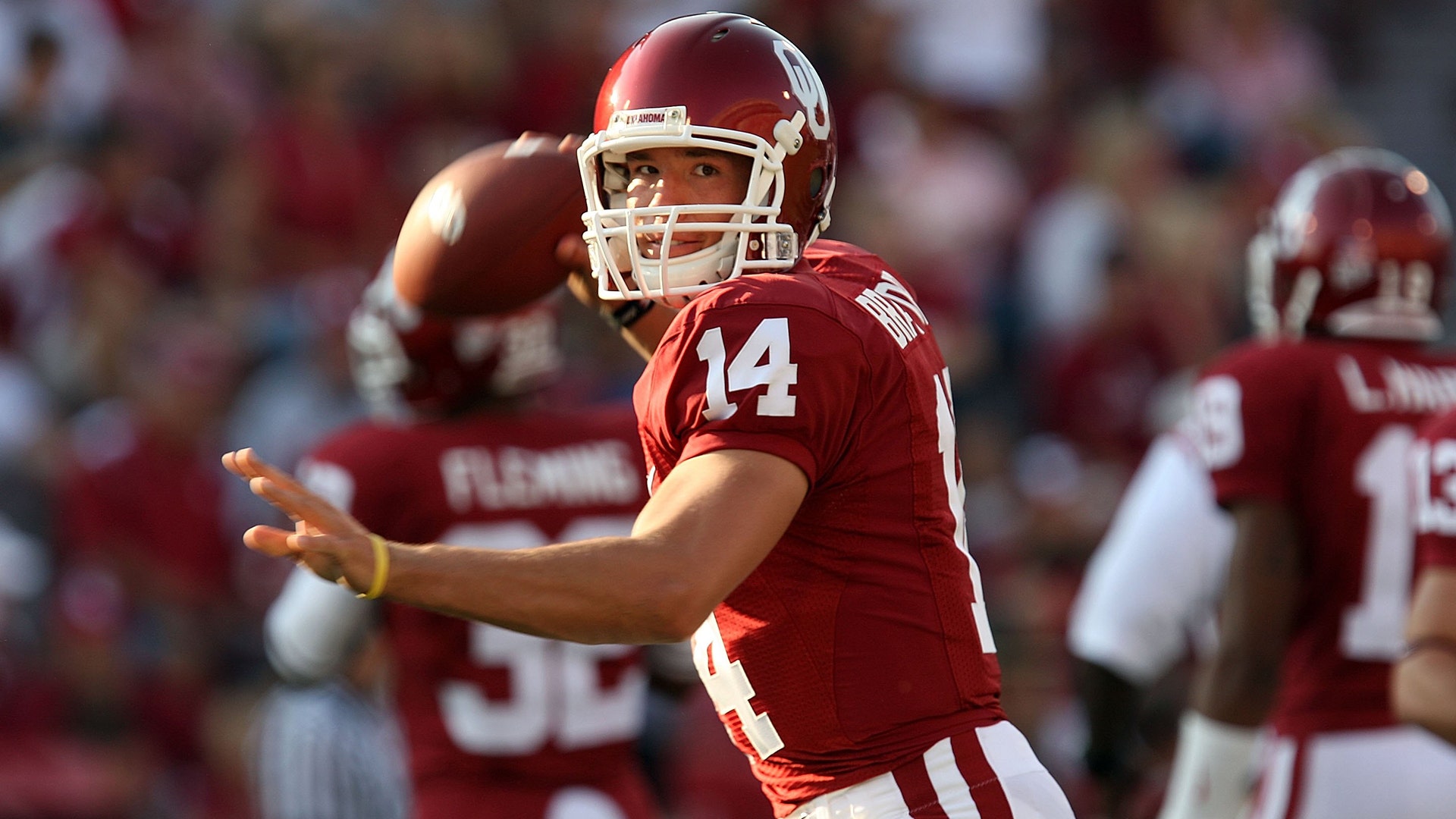 Texas Tech QB Pat Mahomes' high draft selection got me thinking about Big 12 quarterbacks and the NFL. Is it possible that Sam Bradford is the best NFL quarterback to come out of the Big 12 in the 21-year history of the conference?  If so, do you have any theories to explain this?
– Steve in Atlanta
Wow, I hadn't thought of it that way. But you're definitely on to something.
Bradford, the No. 1 pick in 2010, has made 78 career starts. After suffering through a brutal injury stretch a couple of years ago, he broke the NFL record for completion percentage last year with the Vikings. So not exactly a full-on bust, but so far at least, not the kind of career expected of a former No. 1 pick.
And yet, those 78 career starts far exceed those of other notable Big 12 quarterbacks over the years like Texas' Vince Young (50 career starts) and Colt McCoy (25), Baylor's Robert Griffin III (40), Oklahoma's Jason White (never played in the NFL) and Landry Jones (four starts), Missouri's Blaine Gabbert (40) and Chase Daniel (two), Oklahoma State's Brandon Weeden (25), Texas Tech's Graham Harrell (four) and West Virginia's Geno Smith (30, but only one in the last two seasons).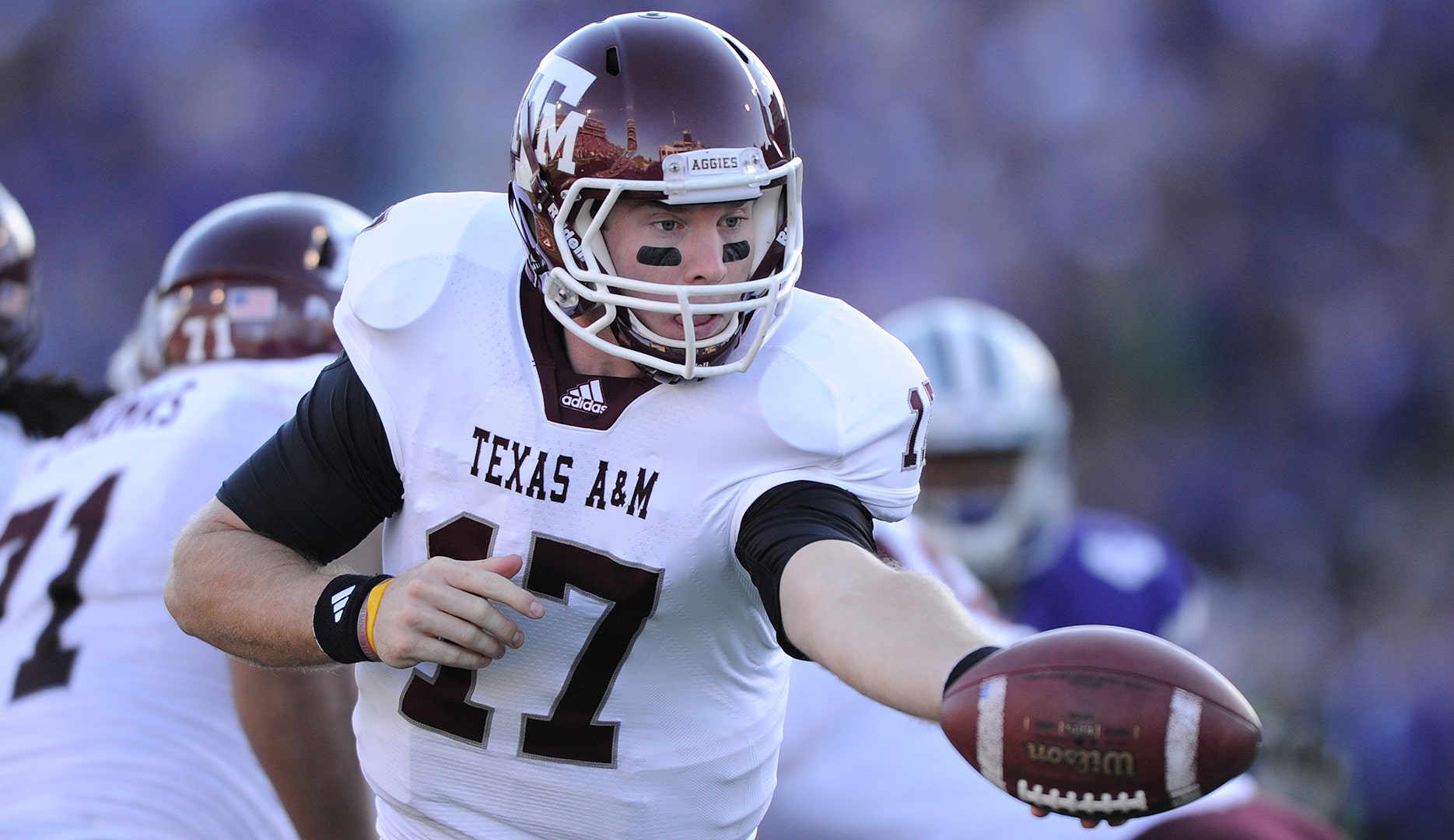 There is one current NFL starter who played for a then-Big 12 school and is arguably more accomplished than Bradford — Texas A&M's Ryan Tannehill, the Dolphins' top quarterback since the day they drafted him in 2012. But no Pro Bowls for him, either.
What's the explanation? For one thing, the conference has never been much for pro-style offenses, save for the disastrous Bill Callahan era at Nebraska. The Huskers' most distinguished QB of the Big 12 era, Eric Crouch, ran the option. Bill Snyder has made a living off run-first guys like Michael Bishop and Collin Klein. And Texas Tech's Air Raid QBs prior to Mahomes were never taken seriously.
But some of it is also just plain bad luck, whether injuries, the teams they were drafted by, or other various off-field factors that would cause a star like Young to flame out. If it's any consolation, there are at least two current Big 12 quarterbacks, Oklahoma's Baker Mayfield and Oklahoma State's Mason Rudolph, who should be drafted very high next spring. We'll see whether they can break the curse.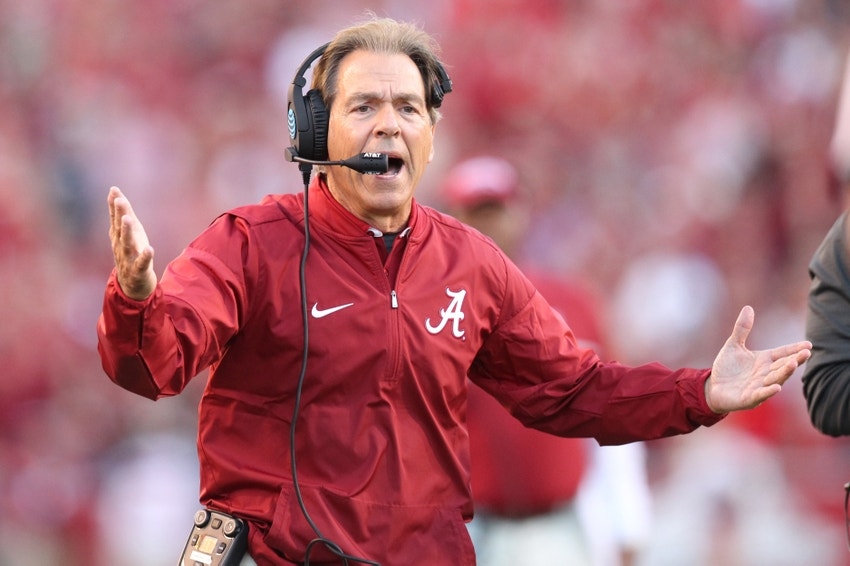 Dear Stewart: If Florida State beats 'Bama to open the season, does that mean 'Bama is now vulnerable to its SEC West foes, or does it just make them meaner and harder for everyone else to beat?
-Will West
I suppose the question is, if Alabama loses to Florida State does that mean they just lost to a fellow playoff-caliber foe, or is it a sign that 2017 is the year the Tide finally lose a step or two? I assume we'll wildly overreact either way, but our initial answer may depend on whether it's a three-point loss or a blowout.
Considering, it's been seven years since a Nick Saban team lost more than one regular-season game, I will likely come away more concerned for those SEC West foes than the Tide themselves. But you never really know with those opening games. We came away from Texas-Notre Dame last year convinced the 'Horns were going to be an offensive juggernaut, not that both teams would finish below .500.
Finally, before I go answering another question about the possibility of Florida State beating Alabama, I'd just like to note for the record the scores of Alabama's seven neutral-site openers under Saban: 34-10 over Clemson, 34-24 over Virginia Tech, 41-14 over Michigan, 35-10 over Virginia Tech, 33-23 over West Virginia, 35-17 over Wisconsin and 52-6 over USC.
As awesome as this game would appear going in, I'll be taking an "I'll believe it when I see it" approach to Alabama not only losing but even winning by fewer than double digits.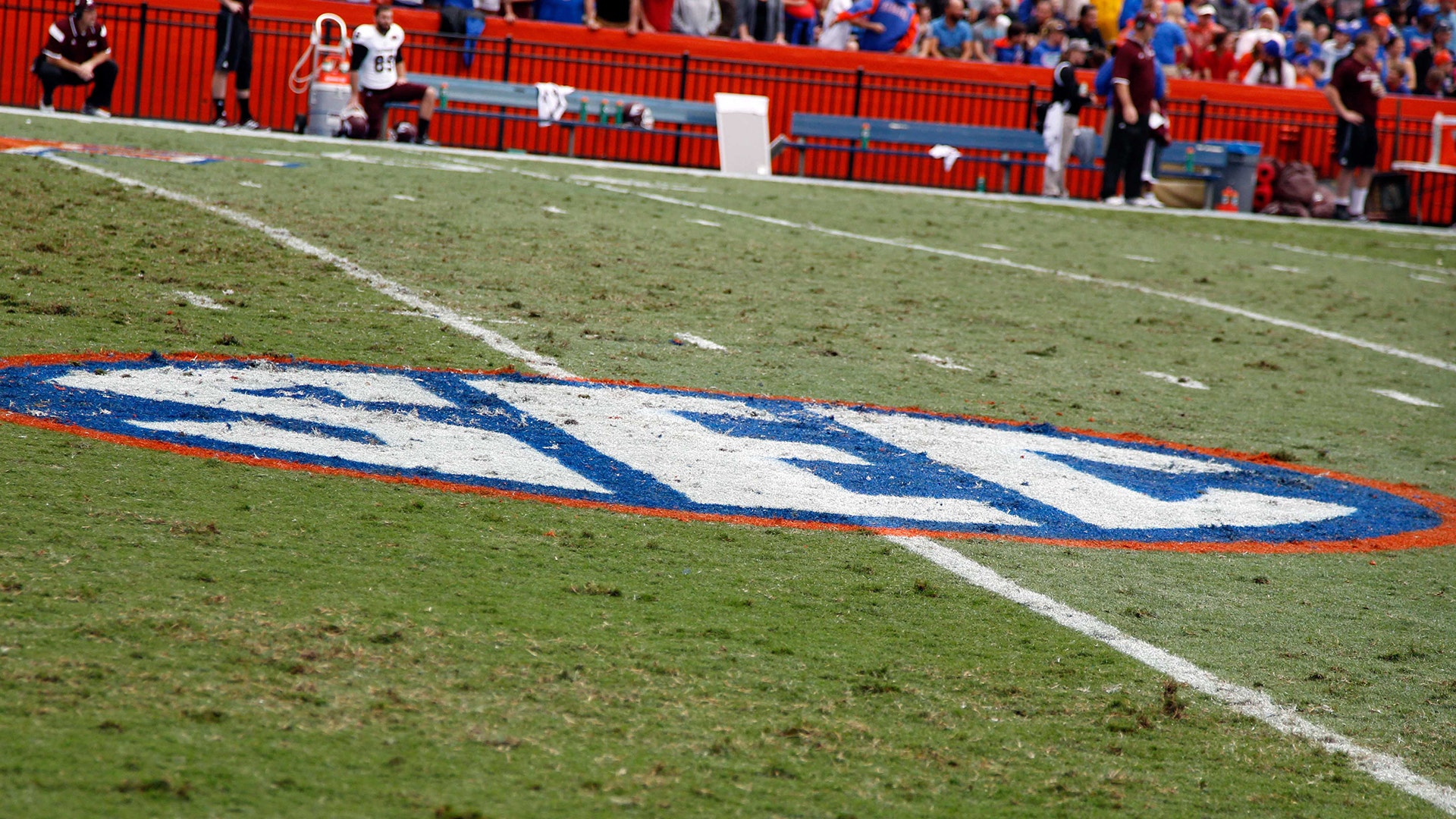 When are the current round of conference TV deals set to expire, and what do you think the lay of the land will be when conferences are up for renewal? It seems like the current atmosphere of networks throwing money at conferences isn't terribly sustainable (especially given things like the recent ESPN layoffs).
– Philip Allison, Starkville, Miss.
It's a pretty wide range. The Big Ten's new FOX/ESPN deal set to begin this fall is only for six years, so that conference's will come back up first, in 2023. From there, it's the Pac-12 in 2024 and the Big 12 in 2025. ESPN's more recent deals with the ACC and SEC — which include those leagues' conference networks — are locked in way beyond the others, well into the 2030s, though the SEC's CBS contract comes up sooner, in 2024.
Meanwhile, the College Football Playoff's ESPN deal runs through 2025. So needless to say, we will see some sort of major shakeup come that 2023-25 window.
None of us can say what the TV rights landscape will look like six years from now, but I feel reasonably confident in saying that college football won't be considerably less popular than it is now. And as long as demand is there, the money will follow.
Perhaps ESPN's cord-cutting crisis means it will no longer be able to afford throwing multi-billions around, but some new player will. Keep an eye on Amazon, which scored its first major sports deal with this fall's Thursday night NFL package. Or Twitter, Facebook or perhaps Netflix. Or something that doesn't yet exist.
If in fact streaming sites soon start beating out cable networks for sports rights, though, I have one pressing concern. I recently test-drove one of the new over-the-top services (i.e,, Sling TV, PlayStation Vue, YouTube TV) that include enough sports channels to ostensibly allow you to cut cable. As tempting as it would be to slash my monthly TV-watching expenses by about $100, I couldn't get past the full one-minute streaming delay.
Is the speed of delivery going to soon improve dramatically, or come 2024 are we all going to be watching college football games a minute behind the fans in the stadium? I don't know the answer; I'm genuinely curious.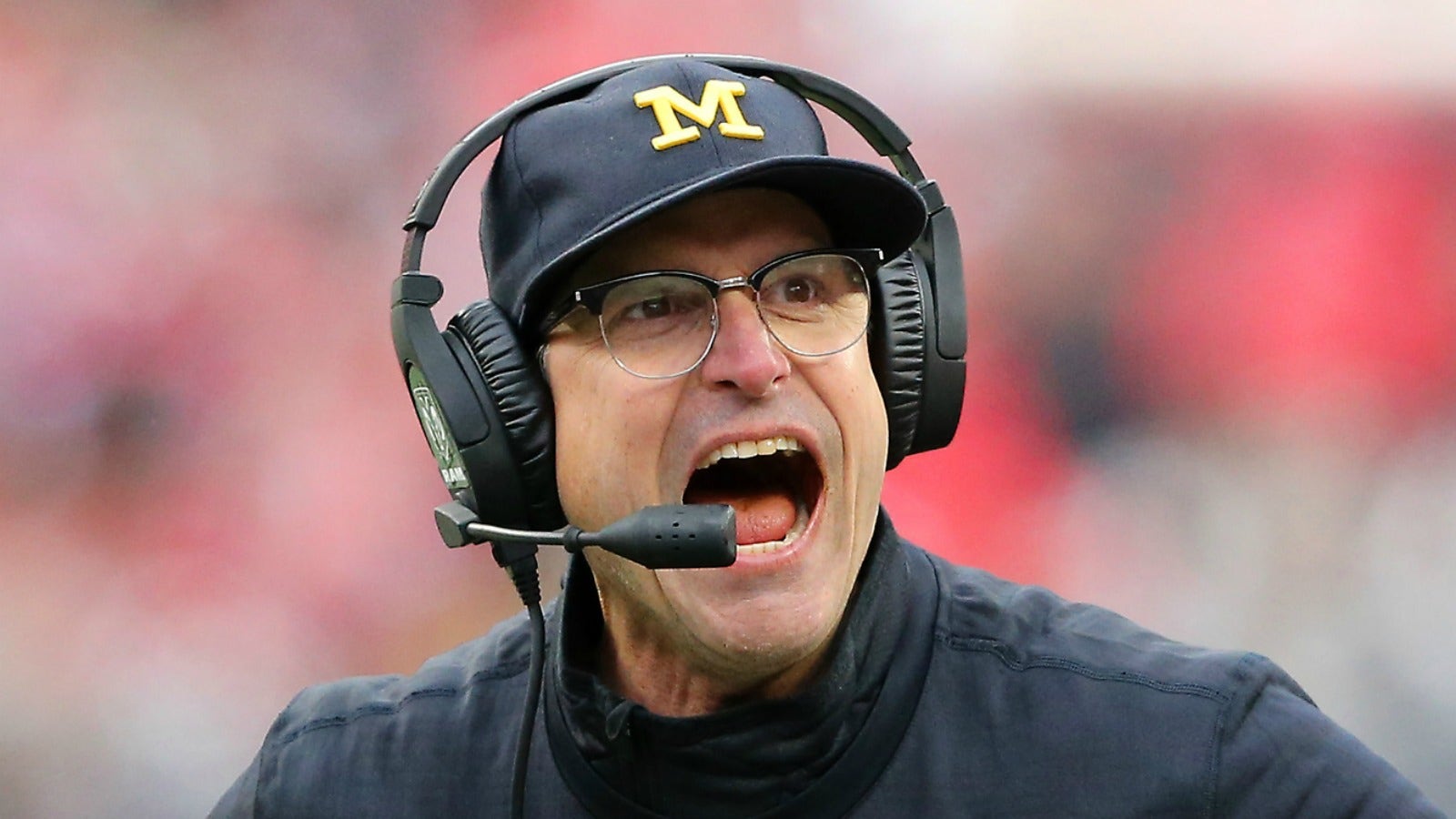 Who will Michigan play in the National Championship game?
– Shaun Booth
I don't know, it's hard to predict who else will be good so many years into the future.
Who gets the most recruiting leverage with the December signing period: top-shelf recruits being courted by multiple top-tier programs, or the programs themselves? Does this hurt or help the middle-tier recruits on the radar of both Power 5 and Group of 5 schools?
– John Benal, Ridgeland, Miss.
I'm fascinated to see how the December signing period plays out. Right now coaches can't even agree whether it's a good thing or a bad thing. And if you ask five different coaches, you'll get five different answers how this plays out.
The top 50-100 players in the country will likely be unaffected. No school is going to pull their offer if they choose to wait until February to sign. Their finalists will all hold a spot for them. Which means they'll have more time to take visits, meet with coaches one last time, see which coaches stay and leave, etc.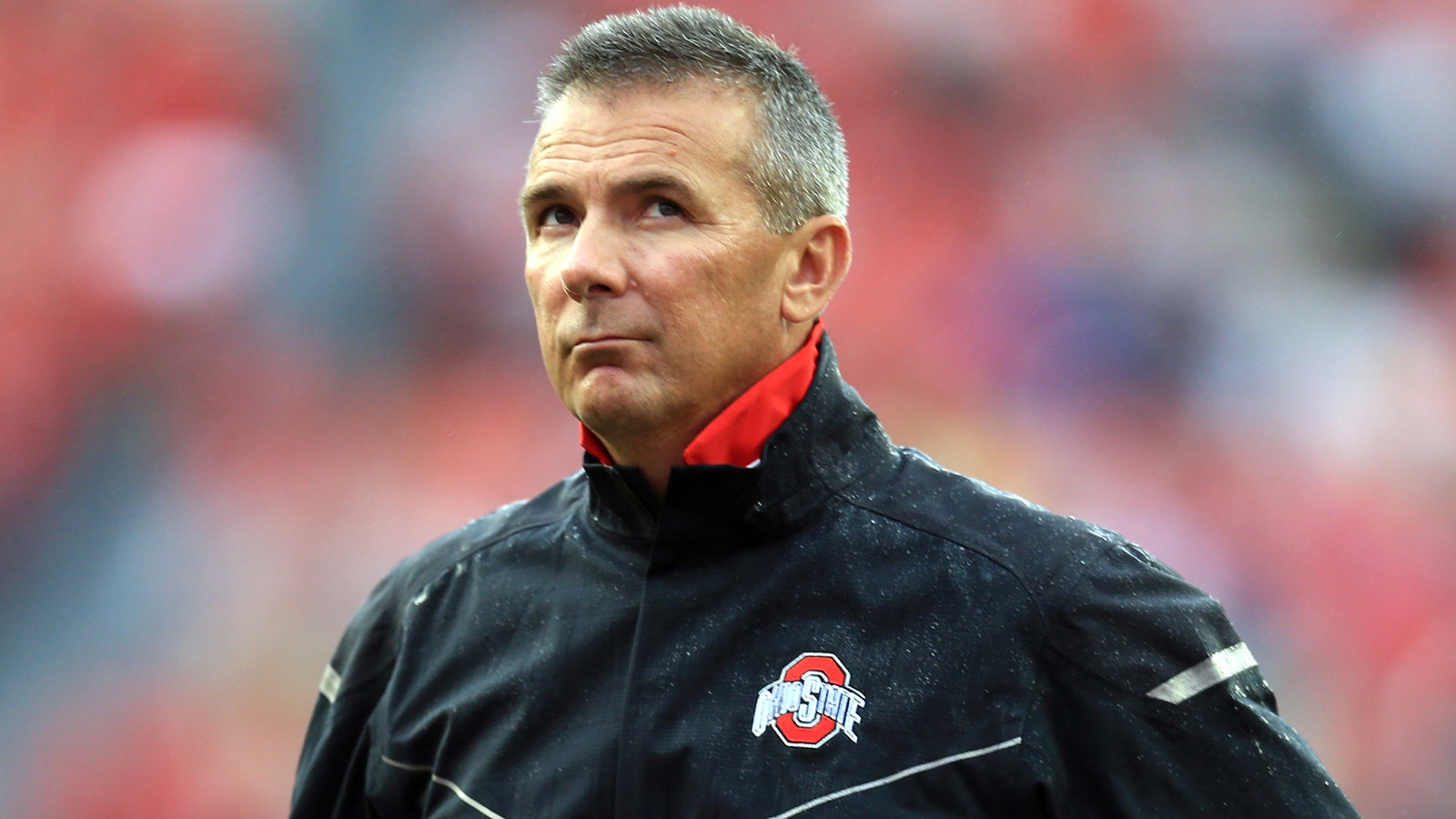 But the programs themselves will gain more leverage with the rest of the guys they're recruiting. I'm of the belief that December will replace February for at least 90 percent of signees. Coaches are going to want to lock up as much of their class as possible, and will thus put tremendous pressure on guys to decide early. Which means either you'll see a lot more decommits/flips earlier in the process, or you'll see fewer of them, period. Which the schools will love.
Ultimately, I think the losers in all of this will be late-bloomers who hadn't attracted much attention from Power 5 schools prior to their senior years of high school. Every year you see a whole bunch of guys who were committed to MAC or Sun Belt schools much of the year suddenly get an 11th-hour offer from a bigger school that whiffed at a certain position. Now, those guys will have likely signed on the dotted line by mid-December and no longer be available.
In 2014, Eastern Washington and Sam Houston State opened on August 23rd and ESPN billed it as some type of kickoff to the season. Fast-forward to 2016 and Cal- Hawaii kicked things off nearly a week before anyone else. Are we headed towards an earlier start to college football season seeing as this year there are five games scheduled the weekend before Labor Day Weekend? 
– John Hayes
That depends on whether more countries are going to follow Australia's lead and start staging college football games and/or Hawaii is going to start playing more home games.
Outside of this year's Australia matchup of Stanford-Rice, the other four "Week 0" games this year — Hawaii-UMass, Portland State-BYU, Oregon State-Colorado State and USF-San Jose State — share a common thread: They all involve either Hawaii or teams playing at Hawaii later in the season. In addition to granting a waiver for the Australia participants to start a week early, the NCAA recently passed a rule allowing teams with a 13-game schedule (teams that play at Hawaii) to start early.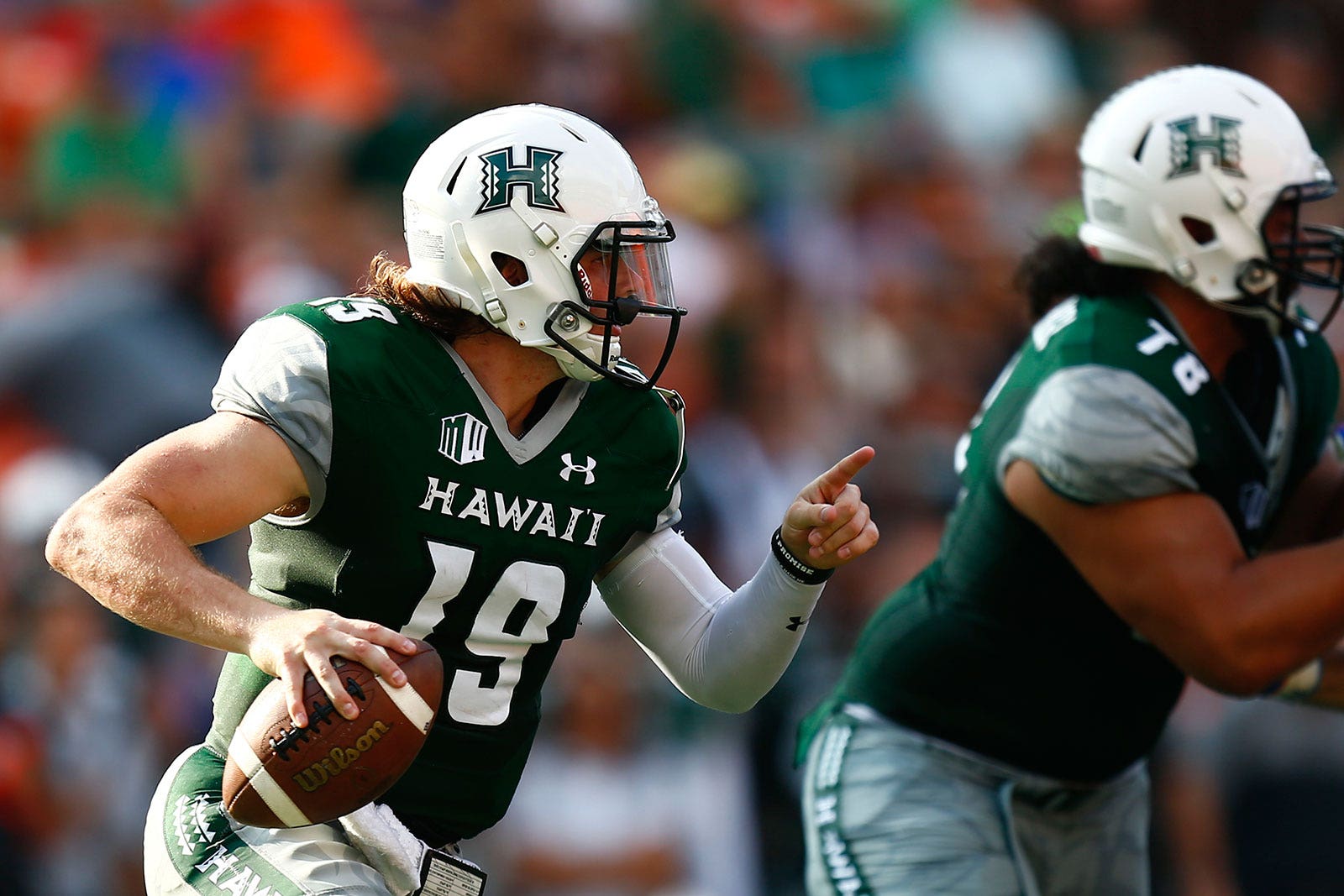 Which makes sense. The current calendar (Labor Day weekend through the first Saturday in December) dates to a time when only a couple of conferences had their own championship games, and some like the Big Ten still ended play before Thanksgiving. But by next year, all 10 FBS leagues will now be playing a championship game, which means in many years a team that plays at Hawaii won't have a bye week. It's hard enough for that school to get non-conference home games without that added issue.
So for the time being, I'd expect "Week 0" to feature roughly the same number and quality of games as you'll see this year, with the Alabama-FSU/Florida-Michigan type games still reserved for Labor Day weekend. But all it would take is a couple power conferences deciding they, too, want the benefits of an extra bye week and decide to push a proposal to change the calendar permanently.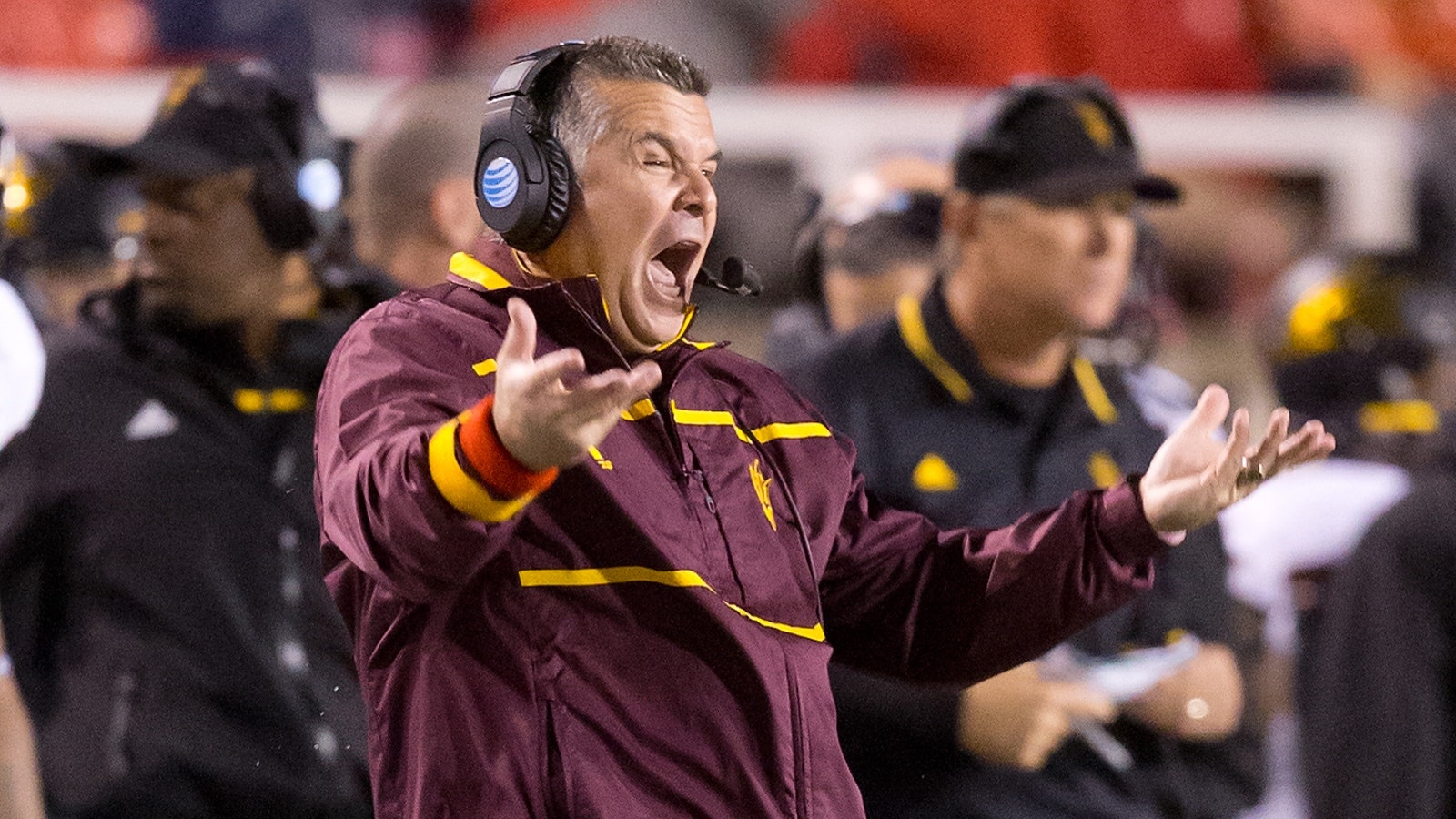 Hi Stewart. Does Todd Graham have a job at the end of the year? It seems his program is stuck in mediocrity. How much noise do the Sun Devils have to make so he sticks around?
– Scott Pirie, Regina, Saskatchewan
He's definitely on the hot seat. After a division title and a pair of 10-win seasons in 2013 and '14, the Sun Devils have endured consecutive losing records. Last season could not have ended in more humiliating fashion, a 56-35 loss to then 2-9 rival Arizona that yet again exposed one of the nation's most woeful defenses. On top of that, I sense no momentum whatsoever for ASU in recruiting. It currently has just one commit for 2018.
So, things aren't exactly looking up for Graham right now. But I wouldn't write his coaching obit just yet. For one thing, the Pac-12 South in general is pretty underwhelming right now outside of USC and, to a lesser degree, Utah. Arizona's Rich Rodriguez and UCLA's Jim Mora are also coaching for their jobs this fall. Colorado was a fantastic story in winning the division last year, but no one would be surprised if the Buffs regress quite a bit this season. ASU is hardly alone in its mediocrity.
And Graham is not without a couple of reasons for optimism in 2017. While it seems particularly tone-deaf to hire anyone associated with Art Briles right now, it's hard to argue the Xs and Os track record of new ASU defensive coordinator Phil Bennett. He spent the six seasons at Baylor and should be well equipped to help resurrect that defense. And there's a good chance Graham's starting quarterback will be Alabama transfer and former five-star recruit Blake Barnett.
Graham should still have a job if ASU can get to eight wins. I'll reserve judgment until closer to the season whether that's a realistic goal.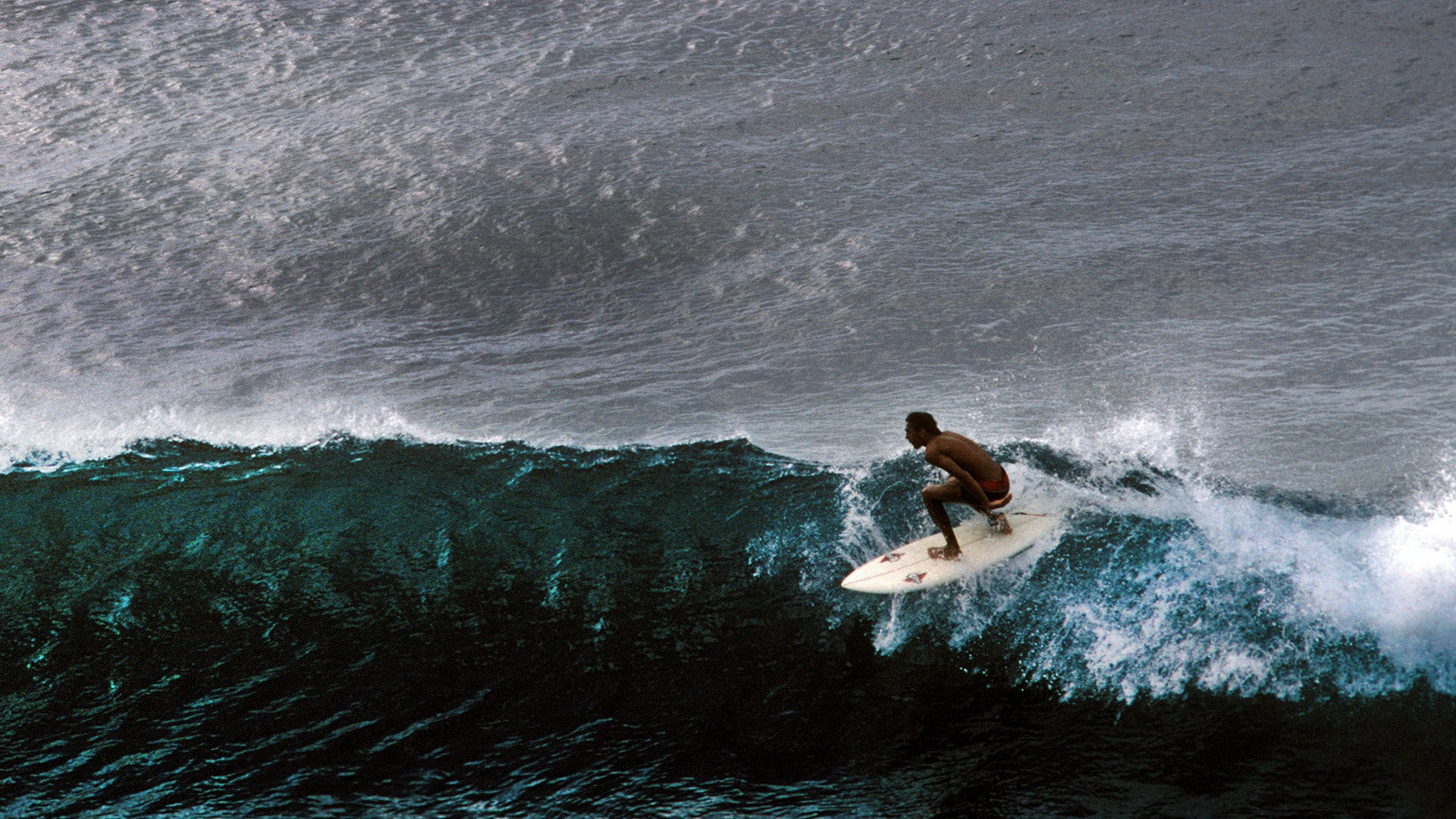 Do you not write anymore??
– Garth Cooper
A man's got to take vacation once in a while. But like I said, here's me making it up to you.
Stewart: I think it's been another five years since you published your last list of college football royalty tiers. I thought that list was really interesting. Any chance you'll publish an update? 
– Jason
It's hard to believe it's been 10 years since I published my original Program Pecking Order, and that I still get asked at least once a month or so when I'm going to update it.
Well — the time has come.
If you're not familiar with the concept, or just need a refresher, read the original 2007 column and my "five years later" update from 2012.
The 2017 update will drop … Thursday. With more than a couple particularly notable promotions and relegations.