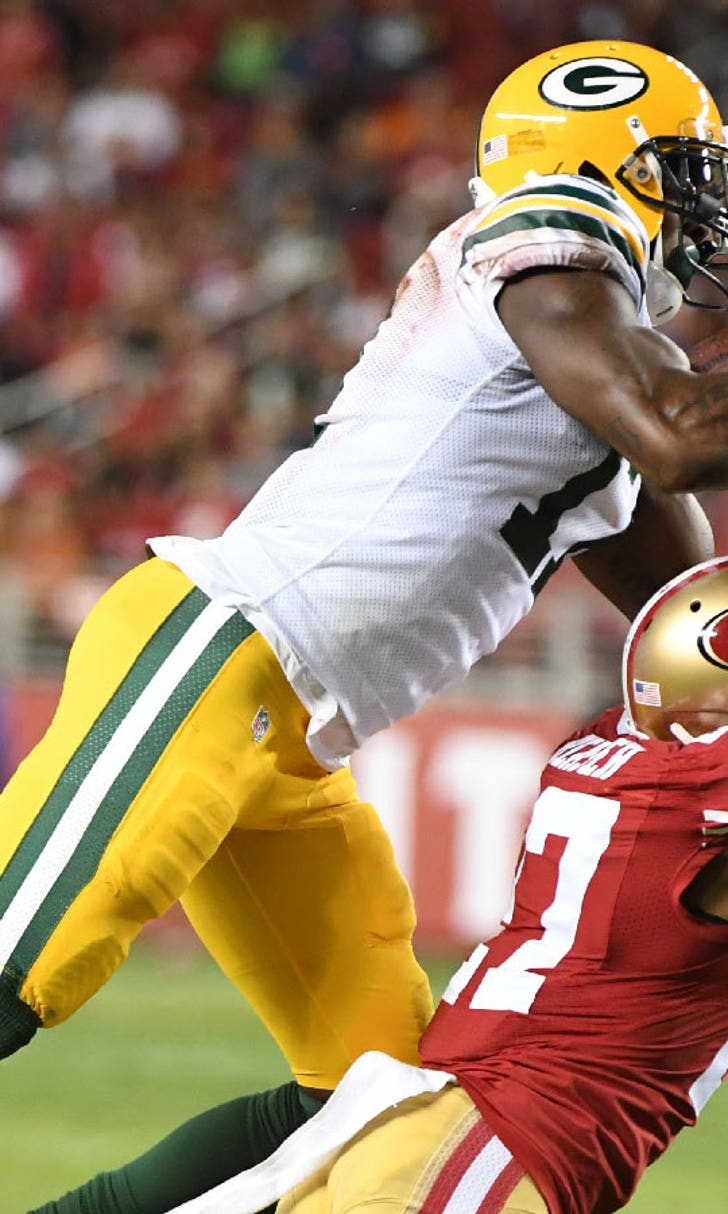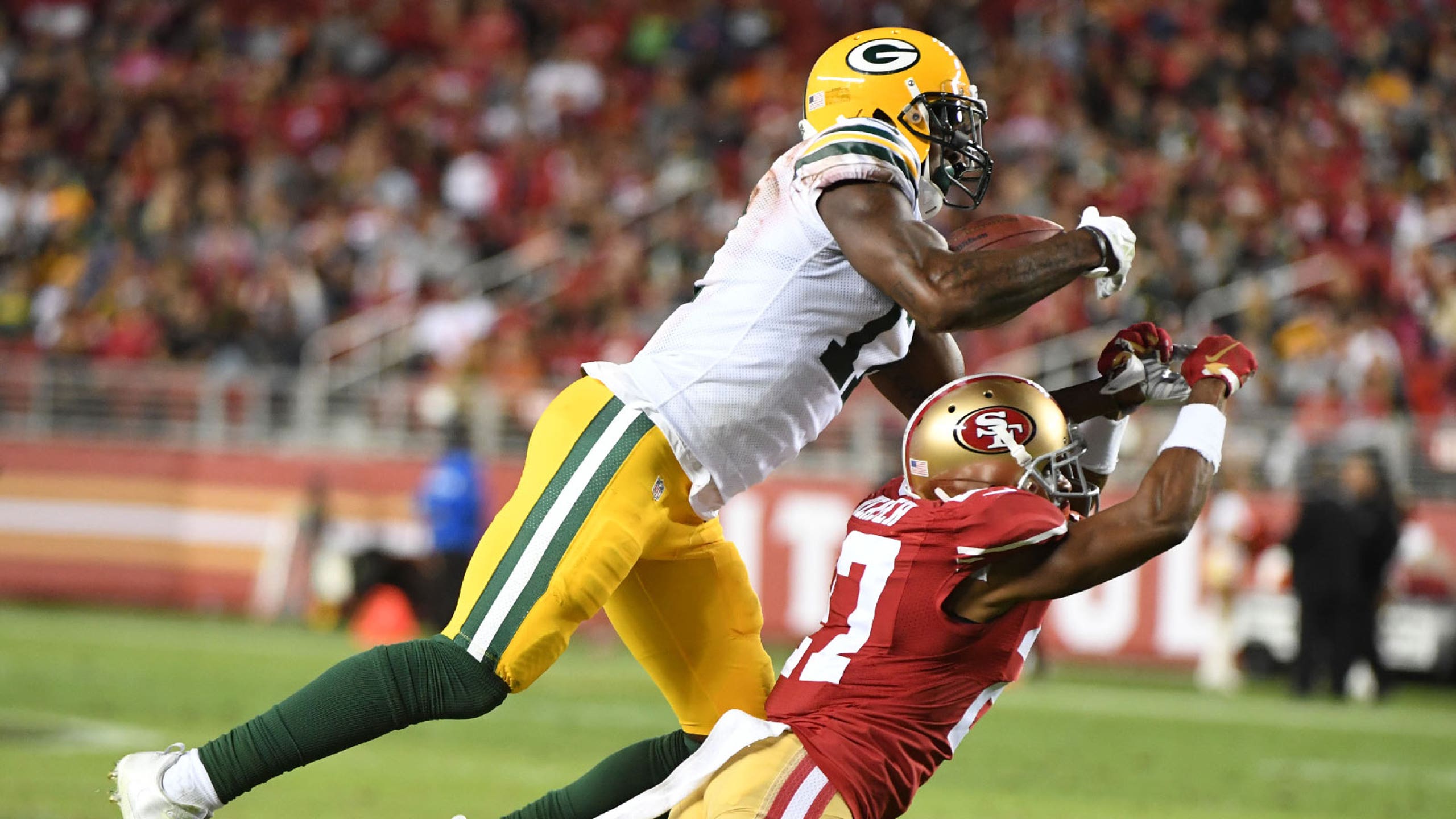 Upon Further Review: Packers at 49ers
BY foxsports • August 27, 2016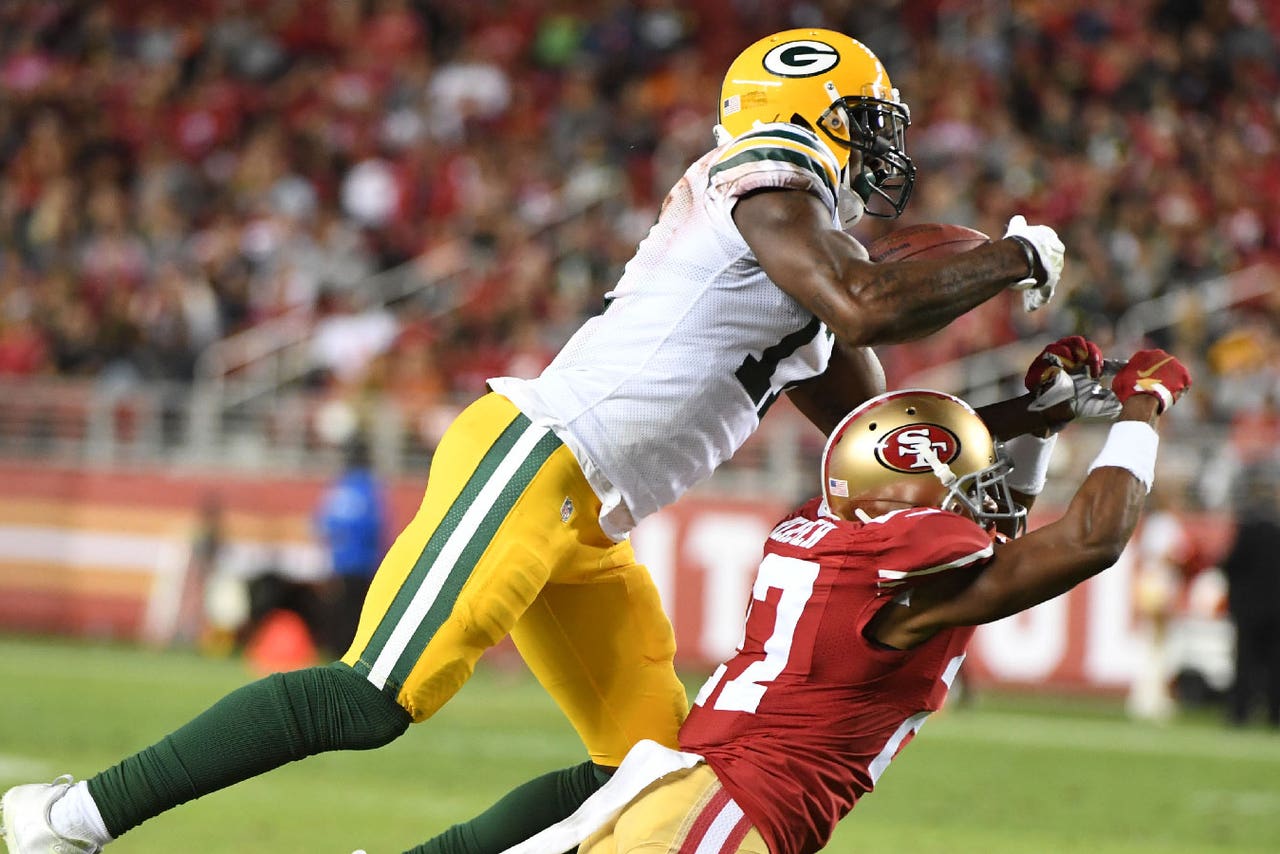 The third preseason game might be the most highly anticipated -- and let's not get carried away with that language, the buzz is still tepid at best -- as the starters see their most action of the exhibition season.
The Green Bay Packers likely saw enough from their starters in a 21-10 win at San Francisco to know they are in good shape for the regular season.
After being burned by Chip Kelly's offense last year in the preseason when Kelly was with Philadelphia, the Packers for the most part held the 49ers in check.
Meanwhile, Aaron Rodgers made his 2016 debut and had the Packers moving at a fast, efficient pace.
There are still things to clean up -- too many penalties, some miscues, etc. -- but head coach Mike McCarthy was happy with this win, or at least as much as you can during the preseason.
Here's a recap of Friday's game:
SUNDAY SCHOOL (ON FRIDAY)
-- As mentioned, Rodgers made his preseason debut -- and likely his only exhibition appearance -- and played two series. However, because of two long drives, he actually was able to get in for 26 plays.
-- A lot of talk this offseason has been the arrival of tight end Jared Cook and how he might be a good fit with Rodgers. It didn't take long for the quarterback to try and establish some game chemistry as his first two passes went to Cook (he caught the first; the second was a scramble which Rodgers dumped off but fell incomplete).
-- The Packers were fortunate on the first series of the game. Quinton Patton got past Sam Shields on a deep pass but Blaine Gabbert overthrew him. It likely would have been a touchdown. The 49ers scored on their next possession, so not the best day for the first-team defense.
-- Datone Jones, who is making the transition from defensive end to outside linebacker, made a nice read on a fake handoff and tackled 49ers QB Colin Kaepernick in the backfield.
-- With Rodgers limited and Brett Hundley once again out, Joe Callahan got the majority of QB snaps for the Packers. He had a number of impressive throws, including one when he scrambled and threw across his body deep to Davante Adams, who couldn't corral what would have been a touchdown catch. "That was one of the sweetest throws I've seen," Rodgers said. Callahan also hit Geronimo Allison on a 51-yard gain after scrambling. It all wasn't perfect, of course, as the QB did miss an open Trevor Davis deep in the third quarter.
-- Brandon Burks' 19-yard touchdown run was the result of good blocking by the Green Bay offensive line and some smart running by Burks. He made two cutbacks through holes before hitting daylight and making it into the end zone.
-- Linebacker Clay Matthews, like Rodgers, made his preseason debut but he was only on the field for nine plays.
-- Will the punting competition continue in the final preseason game? Neither Peter Mortell nor Tim Masthay stood out. Masthay had more consistency with his hang times, but his long boot of 49 was really a 36-yarder helped out by a bounce and roll. His other two punts averaged 40.0 yards. Mortell didn't have a good hang time until the second half, when he booted one 49 yards. He averaged just 40.0 yards on his four punts.
DULY NOTED
-- Fullback Aaron Ripkowski sat out the game after injuring his knee in practice.
-- McCarthy certainly didn't need to see Mason Crosby attempt field goals. The Packers went for it on fourth down six times -- and got a first down on five of those occasions, including a 4th-and-9 from the San Francisco 38-year-line in which Callahan hit Allison for a 10-yard pass.
-- Randall Cobb was flagged for offensive pass interference on Green Bay's opening drive, wiping out a 48-yard catch-and-run by Adams. Needless to say, the Packers weren't thrilled with that call. "We had kind of a phantom pass interference call on the first drive that would have put us in their territory," said Rodgers. Noted McCarthy, "(It's) preseason for the officials, too."
-- John Crockett led the Packers with 13 rushes for 46 yards, but had to leave the game after being hurt with 6:18 left in the third quarter as he fell to the turf following a swing pass.
-- Callahan played 51 snaps -- 61 percent of the offensive plays. Marquis Williams didn't enter until the fourth quarter and only got 6 snaps. That speaks rather loudly.
-- Cornerback Kentrell Price played 19 snaps on special teams (70 percent), the most on the team. Justin Perillo and Sam Barrington were next with 15 each.
-- Green Bay committed seven penalties and had two others declined.
WHAT IT MEANT
Let's face it: Not much. Some starters got their last (or only) taste of football before the start of the regular season and for the most part things went well. Also, no key players got hurt, which is always good. One thing we don't know, though, is if Jordy Nelson is ready to go or not. He didn't play and he and Rodgers haven't (and won't) been able to work on timing in game situations.
PLAYER OF THE GAME
Callahan was given a big opportunity to play and he impressed, completing 16 of 24 passes for 167 yards and a touchdown. The quarterback from Division III Wesley made several nice throws and the game never seemed too big for him. Now, he was playing with and against backups, but nevertheless the Packers have to feel a little better about their backup QB situation if Hundley remains sidelined.
DON'T FORGET ABOUT ME
While everyone wanted to see Cook and Rodgers finally play together, the tight end stayed on the field longer than expected, playing with the second team and Callahan as well. The result was five targets with four catches for 54 yards. He got open and made nice catches in traffic. There seems to be a lot of excitement with Cook at tight end and this game did nothing to dispel that notion.
THAT MOMENT
Seeing Aaron Rodgers move around in the pocket, scrambling and buying time -- he did this on a number of plays -- it felt like he was in midseason form. Yeah, I'd say Rodgers is ready to go for the season.
THIS NUMBER
39:29 -- Green Bay's time of possession. Yes, San Francisco head coach Chip Kelly doesn't care about this statistic -- he's all about fast-paced play -- but if we delve in a little deeper we see this has to do with a lot more than just the 49ers' style. San Francisco had 11 possessions -- five of which were three-and-outs and another just two plays (at the end of the game). The 49ers had two drives of 50-plus yards (53 and 52), both of which resulted in scored. The next longest drive? Just 17 yards. Meanwhile, Green Bay had three drives of 10-plus plays and three drives of 67-plus yards, all of which resulted in touchdowns.
THEY SAID IT
"Preseason is tough, man. I paid to play this week. With the prices they charge for tickets and the people I had coming to the game and the weekly stipend we get, I was paying this week. That's why we love the game, right?" -- Aaron Rodgers
"I would say Aaron is ready to go." -- McCarthy
WHAT'S NEXT
The Packers complete the preseason Thursday at Kansas City with the deadline to cut the roster to 53 players Saturday.
Dave Heller is the author of the upcoming book Ken Williams: A Slugger in Ruth's Shadow as well as Facing Ted Williams Players From the Golden Age of Baseball Recall the Greatest Hitter Who Ever Lived and As Good As It Got: The 1944 St. Louis Browns
---
---