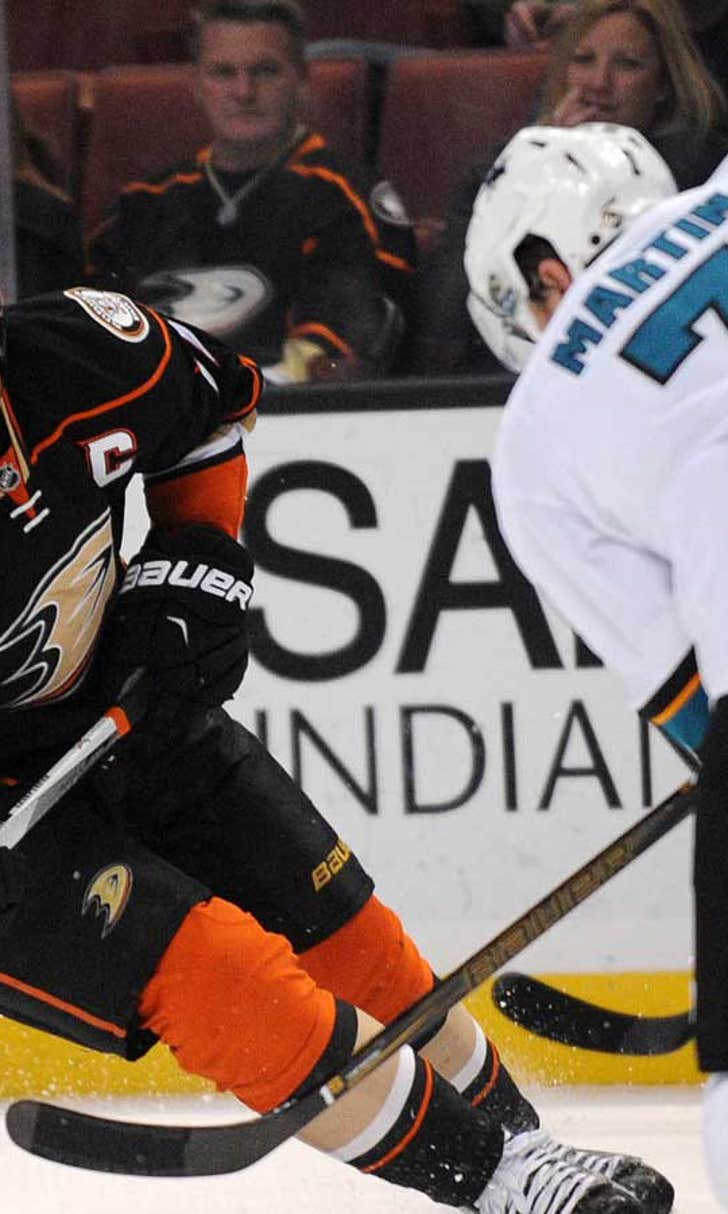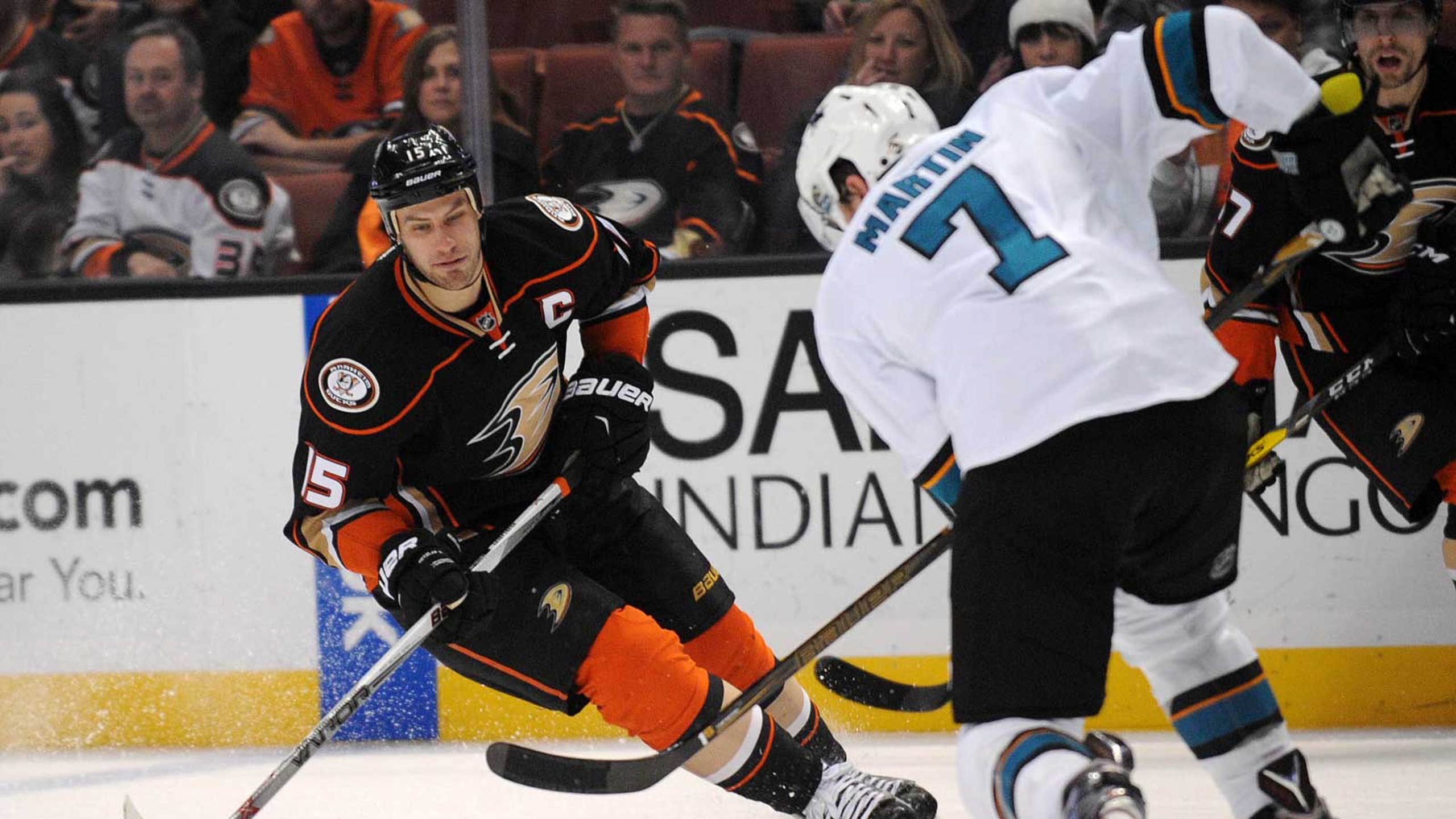 Sharks face Ducks in return home
BY foxsports • October 25, 2016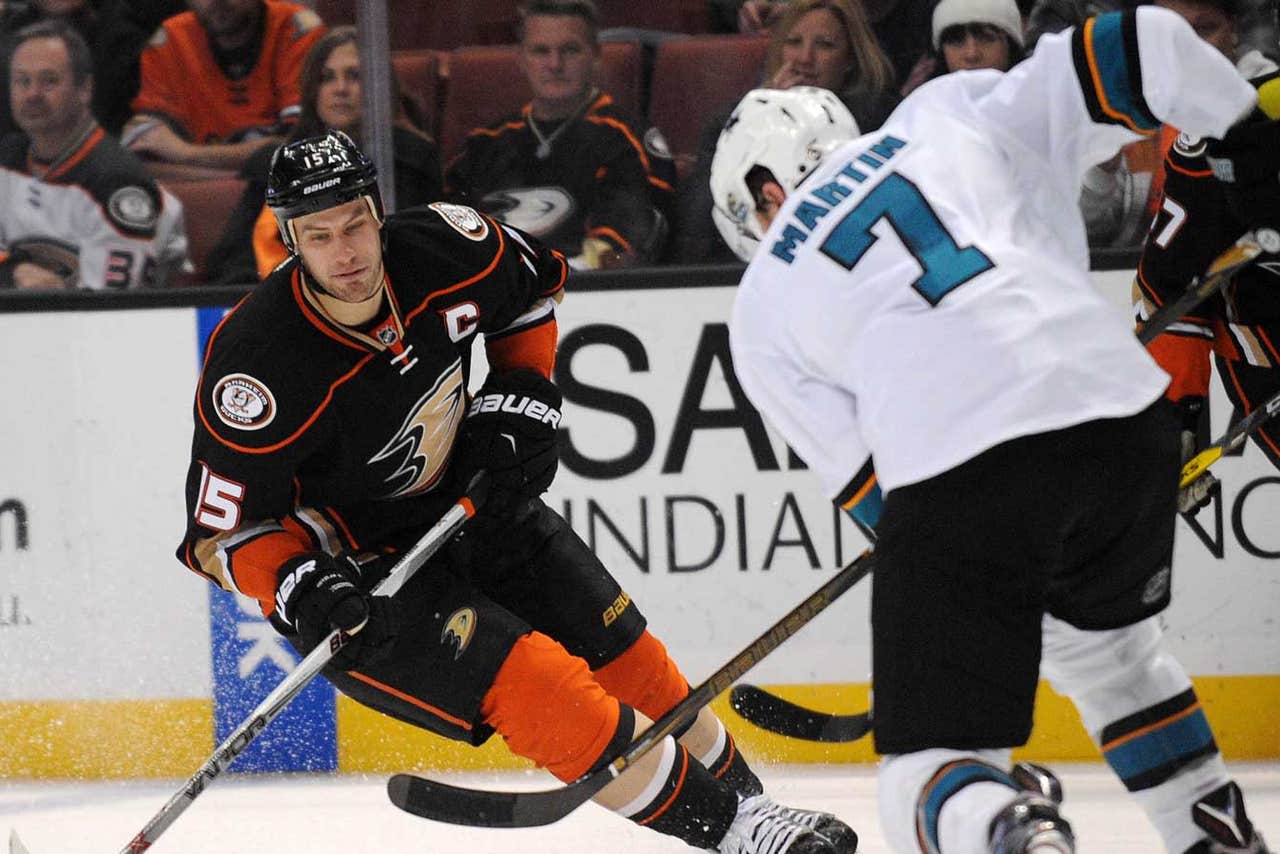 SAN JOSE, Calif. -- The Anaheim Ducks and San Jose Sharks meet Tuesday night, looking as much to reacquaint themselves with West Coast hockey as to get their early struggles straightened out.
The Sharks play for the first time at SAP Center since opening night on Oct. 12 when San Jose beat Los Angeles 2-1. The Sharks have been on the road ever since, capping a 2-3 trip on Saturday with a 3-0 loss at Detroit.
The Ducks, who opened the season with four straight losses during a five-game trip, beat Vancouver 4-2 on Sunday at Honda Center before climbing right back on a plane.
San Jose and Anaheim have combined to play 10 of its first 12 games away. Tuesday marks the first of three in a row at home for the Sharks while the Ducks will play as hosts five of the next six after Tuesday.
Both are taking the opportunity of home cooking to tweak how they've gone about things thus far. For the Sharks, that means new forward-line combinations, and the Ducks are looking to spark a slow-starting power play.
San Jose coach Peter DeBoer will have offseason acquisition Mikkel Boedker's added speed on the left wing alongside center Joe Thornton and captain Joe Pavelski. Former top-liner Tomas Hertl moves to center to play with wingers Patrick Marleau and Matt Nieto.
In addition, right winger Joel Ward joins center Logan Couture and Joonas Donskoi, and Chris Tierney will center a fourth group including Melker Karlsson and Tommy Wingels.
"It's not a panic situation or anything, I think you're always looking for ways to get the most out of your group," DeBoer told CSN Bay Area. "Our four-line game hasn't been where I want it to be."
Defenseman Brent Burns is off to a fast start offensively. He has three goals and nine points to share the league scoring lead with Edmonton's Connor McDavid before Monday's play. Pavelski has two goals and seven points and Couture and Thornton have five points apiece.
"There are nights where we handle the puck well and make some passes and keep it pretty simple. We've had success on those nights," Pavelski told the San Jose Mercury News. "You just have to understand the recipe. ... There's really no shortcuts around it."
In addition, San Jose's power play contributed a goal in each of its first three games, but is 0 of 8 in the last three outings. Overall, the Sharks are 3 of 20 on the power play as are the Ducks. Both teams look to get their special teams going.
"When you look at the history of the group, I don't any doubt they're going to have success," DeBoer told CSN Bay Area. "It hasn't started the way we wanted, the puck hasn't gone in and we're pressing a little bit now, but that will turn around.
"I think that mimics our five-on-fove play a little bit. We're creating some chances but not winning. We've got to find a way to stick some pucks in the net."
The Ducks put defenseman Shea Theodore, a recent call-up, on the power play to add a spark and the group responded with a 1-of-2 effort during a win over the Canucks. The power play is one area that Anaheim is missing hold-out restricted free agent Hampus Lindholm.
"We know Shea Theodore has that ability, offensive instincts and whatnot to run a power play," Anaheim coach Randy Carlyle told the Orange County Register. "Right now, he gives us that option of not taxing Cam (Fowler) and Sami Vatanen. To play the full two minutes of a power play, that's tough. Plus to play a regular shift, plus they're getting some penalty-killing time."
At even strength, the Ducks rely as usual on veteran forwards Ryan Getzlaf and Corey Perry, who are joined by Nick Richie on left wing. Getzlaf leads the team with eight points on the strength of seven assists.
Perry, who is next, has three goals and five points. His next point will be career No. 670 and will make Perry third on the franchise list in points behind Teemu Selanne (988) and Getzlaf (749).
Getzlaf, the captain, sees his team gaining momentum.
"We've been building," Getzlaf told the team's website. "It started in the second period against the Islanders (Oct. 16, a 3-2 shootout loss). We've started to build something from there."
Anaheim, which plays San Jose three times between Nov. 26-Dec. 27, won the last three meetings between the teams last year after losing its 2015-16 season opener to the Sharks.
---
---