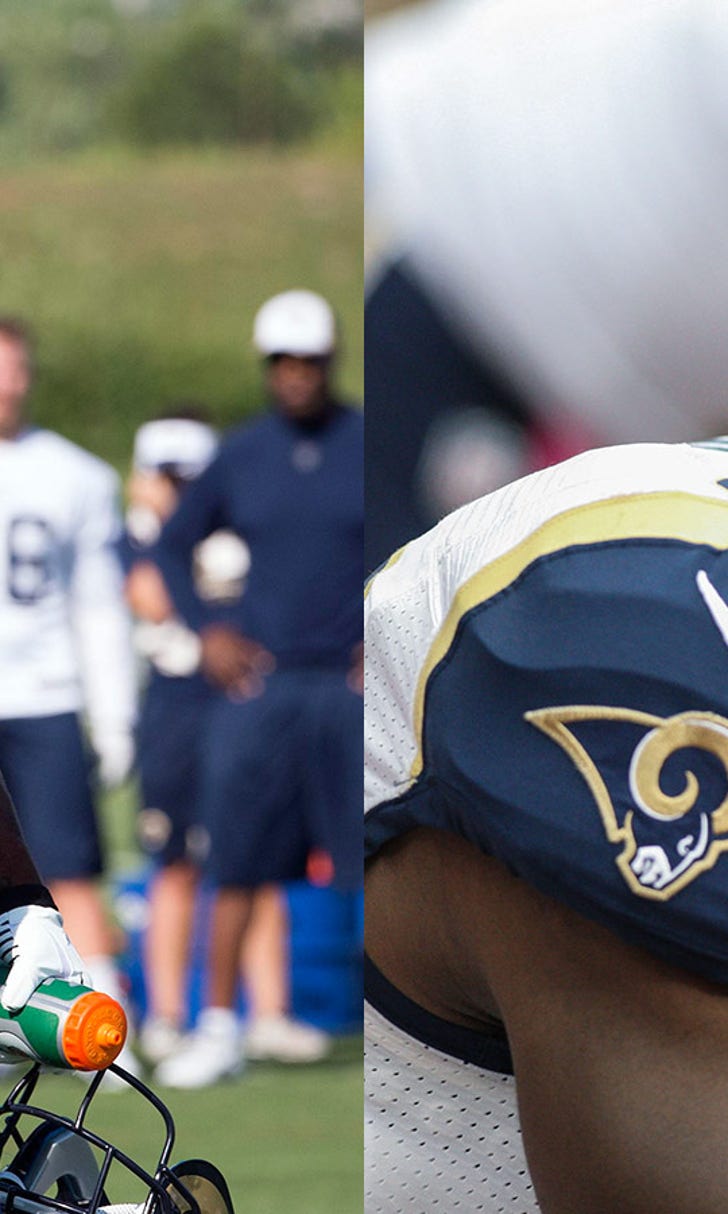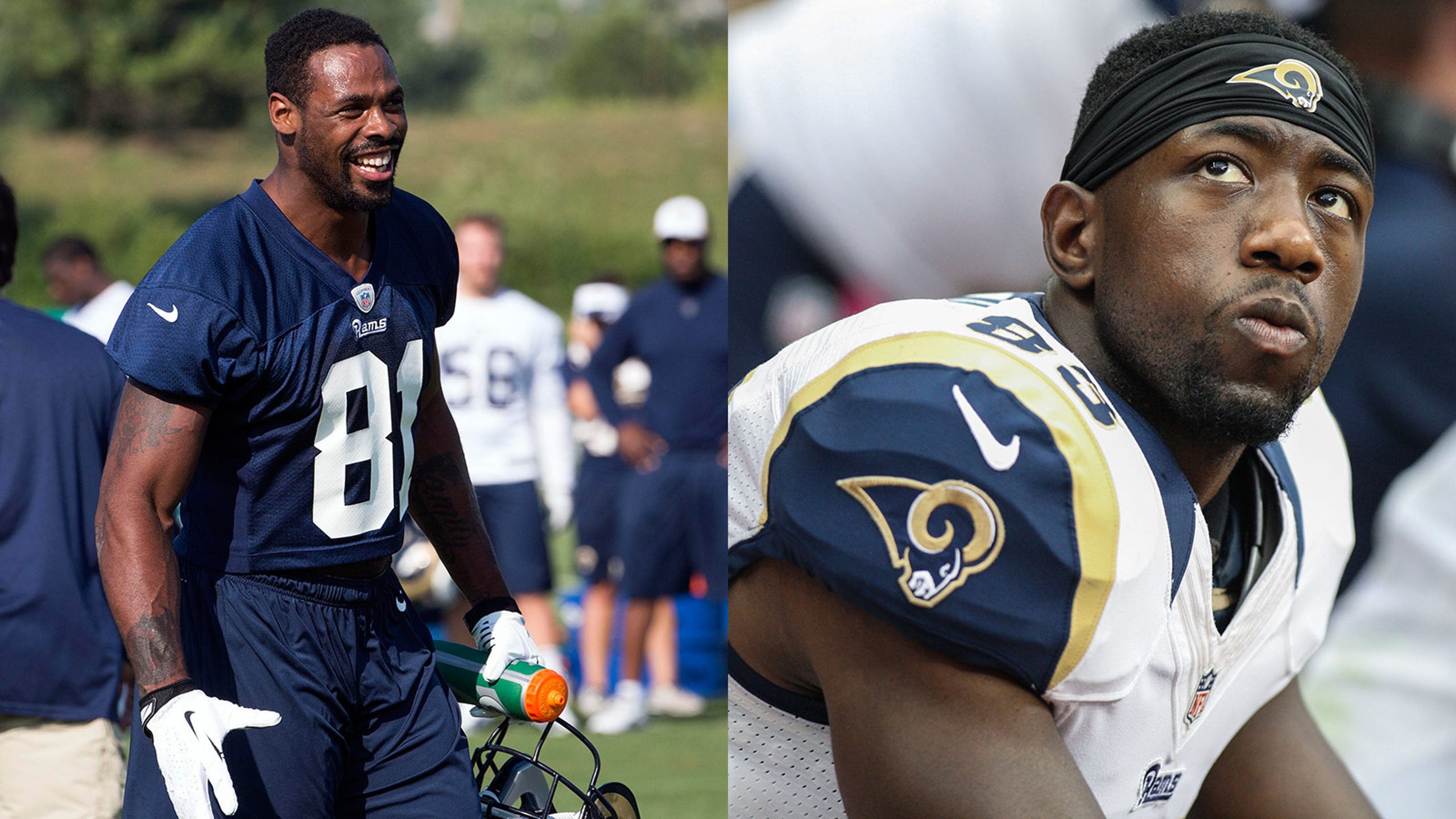 Rams WR Britt: He's a player and mentor, and he has a new lease on life
BY foxsports • August 13, 2014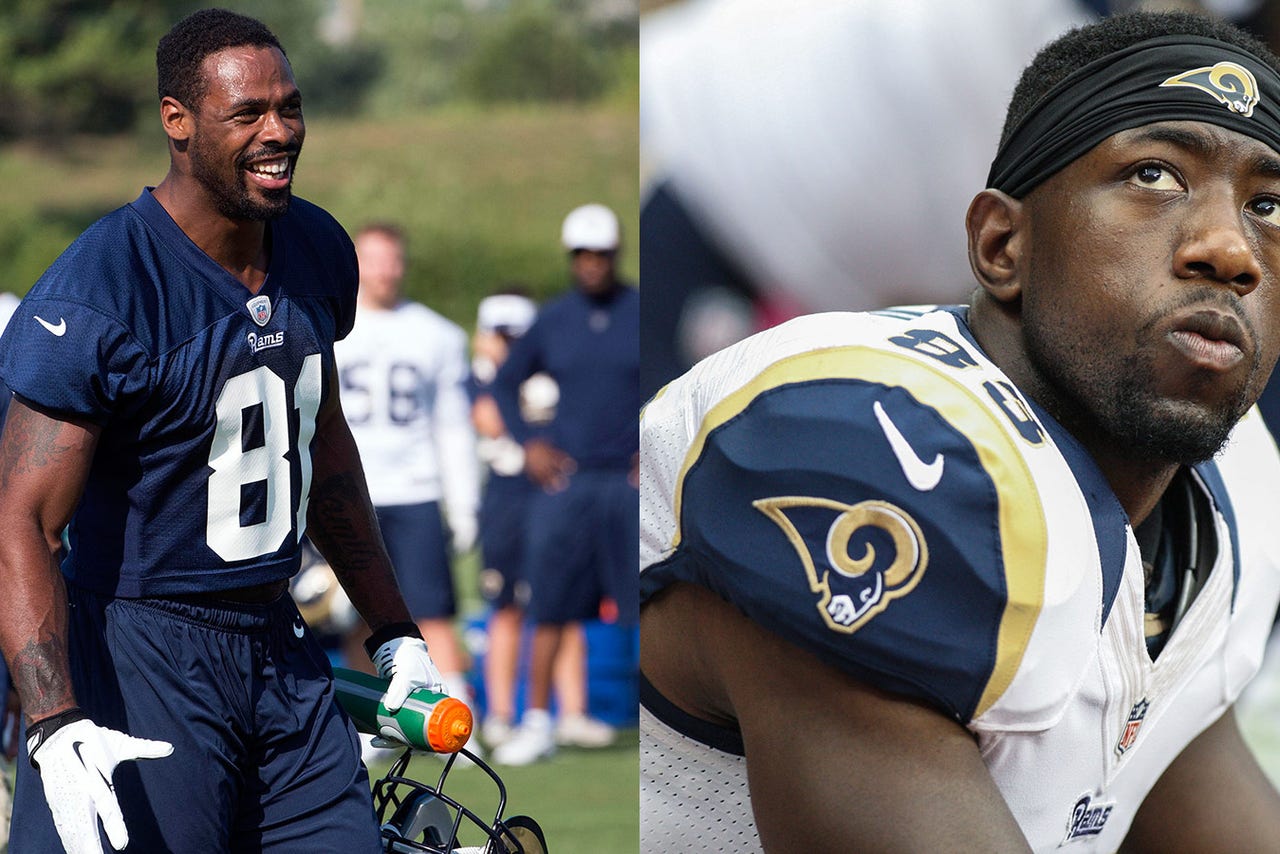 ST. LOUIS -- Rams coach Jeff Fisher knew what he was getting when the Rams decided to sign wide receiver Kenny Britt to a one-year contract in the offseason. Or at least he hoped he knew what he was getting.
A first-round pick for Tennessee in 2009 when Fisher was head coach of the Titans, Britt showed great promise his first two seasons, totaling 84 catches for 1,476 yards and 12 touchdowns. But he started finding trouble off the field -- he was arrested or questioned by police on several occasions -- and he suffered a torn ACL in 2011.
His on-field performance declined as well. After producing only 11 catches and no touchdowns last season, the Titans decided they didn't want him when he became an unrestricted free agent in March.
"It wasn't difficult at all," Fisher said of the decision to sign Britt. "I stayed in touch with Kenny during my year off when he was rehabbing. We spent some time together and I tried to help him get some things behind him. He did. He's got everything straightened out now."
Rams receivers coach Ray Sherman said that after talking to Fisher about Britt and meeting him in person, he had no qualms about the team's free-agent acquisition.
"I talked to coach Fisher before we signed him and he filled me in on everything," Sherman said. "I spent some time when he came on a visit. We talked and had a very good visit. I felt very comfortable with him, telling him the way it's going to be here, how we were going to do things and how important it was for not only our team, but also he and I to be on the same page. We have had no issues and it's been great since then."
That sure appears to be the case. Through OTAs and training camp, Britt has displayed the receiving skills that made him a first-round draft pick, moving to the top of the Rams' depth chart at wide receiver. And the Rams have gotten a lift in another area, too. He has emerged as a leader in the receivers room at the ripe old age of 25 (he turns 26 next month).
"I feel I'm coming of age," Britt said. "I came into the league at (the age of) 20. Each year you learn more about yourself. Starting a family has helped. I'm still growing as a person and a player. I have players looking up to me as one of the older guys on the team, so I definitely had to change some of the things in my life.
"I always tell the guys: 'Ain't no place I'd rather be. We could be home wishing we had a job. Right now, we're out here playing in the NFL.'"
Britt's passion has brought an energy to the receiver group that wasn't there in the past. His impact on third-year player Brian Quick has been most evident.
"One thing about Kenny is that Kenny may make a mistake as far as an incorrect route here and there, but he does it going full speed," Fisher said. "And Brian early on in his career, if he wasn't sure, he wasn't quite at full speed. I think Brian's learned just to go. Good things happen when you're running hard."
Quick agrees, while also acknowledging that knowing the offense has eliminated a lot of the thinking he was doing.
"I just watch him," Quick said of Britt. "He moves fast, so I try to do exactly what he does. He gets me going. He brings a lot of energy to the locker room. That's what we need. But being in this offense three years, everything's slowing up for me. I'm just getting better every day. That's what I'm doing right now is growing. But, yes, it's way better not thinking; just going out there and playing knowing exactly what you're doing."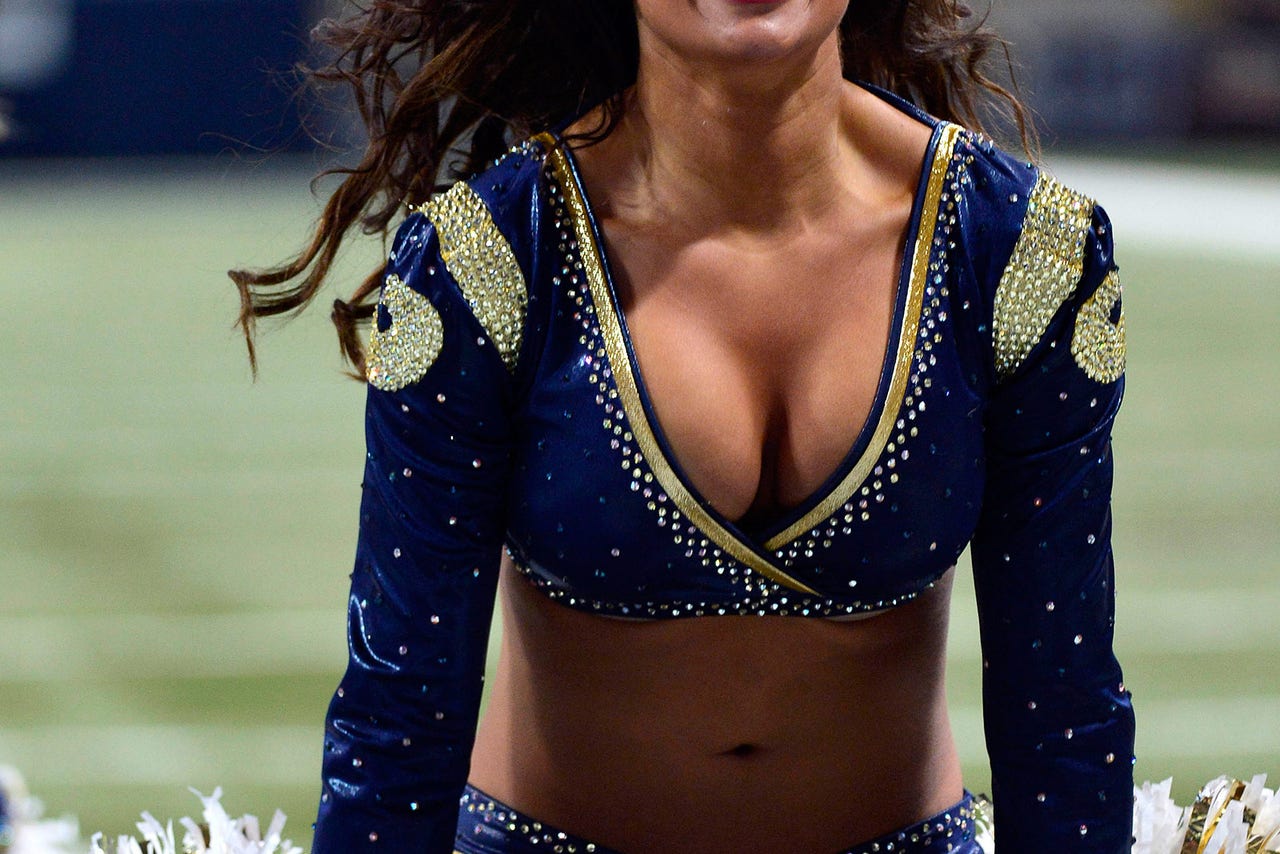 RAMS CHEERLEADERS: Flip through our photo album of Rams cheerleaders.
Sherman said of Britt: "He has taken Brian underneath his wing. Brian in his third year has grasped things well and he's playing faster. We were laughing about it a couple of days ago. When he was a rookie it was always, 'Quickie, what are you doing? Quickie, where are you supposed to line up?' It was always, 'Quickie, Quickie.'
"Right now, he'll come to me and say, 'Hey, I know I was supposed to do this or do that.' I don't really have to say much to him because he's doing everything the right way. There might be a technique or fundamental that I'll have to correct him on. But as far as the way he's playing and his athletic ability and what he's doing, he's been tremendous."
Quarterback Sam Bradford, who is preparing to play his first preseason game of the year after sitting out the opener, has watched Quick's growth since the receiver was taken by the Rams with the first pick of the second round of the 2012 NFL Draft.
"It's night and day with Quickie," he said. "He's always been tremendously talented. I think we're starting to see him really put everything together. I think he's had a great, great training camp. Even going back to OTAs and looking at some of the plays he's made, I think he's really developed. He's put the time in, he's worked really hard. From my standpoint, I'm glad to see that it's paying off for him."
Sherman understands that it often "takes some time" for receivers from small schools to become comfortable in an NFL offense. But he sees it happening with Quick, who played at Appalachian State.
"I'm really excited where he is right now, the way he's practicing, the way he's playing; it's really going to be a big plus for us," Sherman said. "He's an excellent blocker, tremendous speed and size, and very good hands. We're going to continue to get him some work in these preseason games and see what happens."
Britt's role as mentor has extended beyond Quick. He has had an impact on the entire receiving unit.
"He's brought leadership, brought toughness, brought experience," Sherman said. "He's really been a great addition not only to this team, but in my meeting room. He's really working very diligently as far as picking up things and trying to grasp it as quickly as possible. He's really doing a good job of it."
For Britt, he relishes taking on that leadership role even while still working to absorb the Rams' offense. For him, his chance with the Rams is like a new lease on life -- a chance to resurrect his career.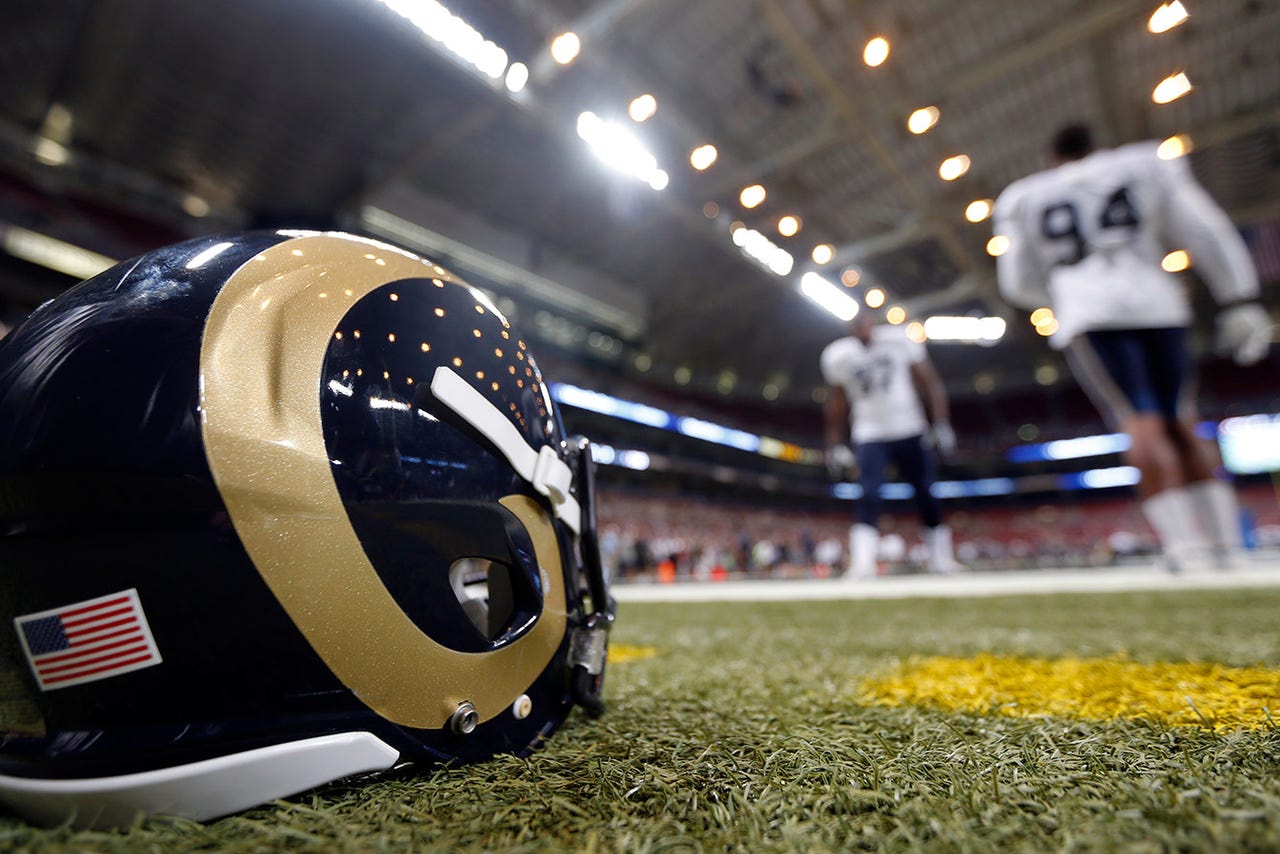 See who's doing what in workouts and throughout the preseason in our Rams training camp gallery.
"This is a young group," Britt said with considerable understatement. "I know how to run routes better than they do, being able to see coverages and how to run certain routes against different coverages. I had to take leadership in the room being a guy six years in the league, and coach had expectations of me to do it.
"But I'm still learning from these guys. The offensive coordinator is showing me a lot, the receivers coach is showing me a lot. It's like I'm a rookie all over again."
Like a bold rookie, to be sure. His expectations for this receiver group are high.
Said Britt: "Once we get this offense down pat and we're on the same page ... I'm saying right now (we can be) one of the best in the league."
Howard Balzer can be heard daily on H & Friends from 9-11 a.m. on FoxSportsRadio 1490.
---
---