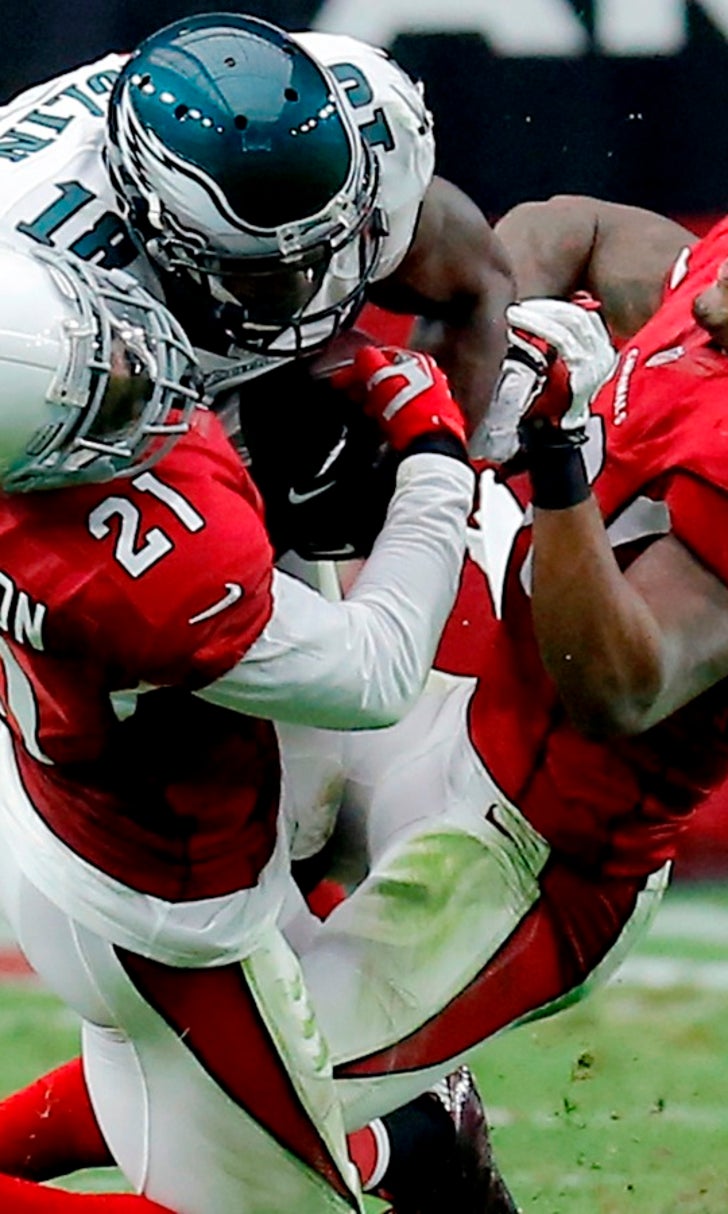 Peterson passes concussion test, cleared to practice
BY foxsports • October 29, 2014
TEMPE, Ariz. -- Cardinals cornerback Patrick Peterson on Wednesday was cleared to practice -- just four days after he left a game against the Eagles and was placed under the league's concussion protocols.
Peterson took a helmet-to-helmet hit from Eagles receiver Jeremy Maclin after Cardinals safety Deone Bucannon hit Maclin. Both Maclin and Peterson left the game but Maclin later returned.
"I was kind of worried when I woke up because it was like, 'Oh, man, I was knocked out for a second,'" Peterson said Wednesday. 
The concerns didn't last long. Safety Rashad Johnson said Peterson was jumping around in the locker room after the game, slapping helmets and backs. Peterson knew he had to pass concussions test before being cleared to practice or play, but he was anxious to do so for another reason.
"I was in here (Tuesday) trying to hurry and go take that test as fast as possible so I could go play golf," Peterson said. "The doctor said I could play but the doctor at home (wife Antonique) said I couldn't play so I wasn't able to play golf. I went around my backyard and just putted a little bit."
Peterson understands he dodged a potentially severe injury, and he added that he is now wearing a new helmet to better protect his head.
"I'm counting my blessings that I am OK; that it wasn't something serious that could hold me back a couple games," he said. "It was a bang, bang play. Like coach said, it was friendly fire. We move forward. It's a violent game." 
Quarterback Tony Romo's back will be the subject of rampant speculation until he takes the field or does not Sunday against the Cardinals at AT&T Stadium in Dallas.
The Cardinals are preparing as if he will play and the fact Romo was available to Cardinals media members on Wednesday suggests he's going to play. But when Romo was asked how he was doing, his answer was both funny and non-committal.
"Box of chocolates over here," he said. "We'll see as we get closer. I think you just take it each day and see what more you can do each day."
Romo was taken to the locker room after he was sacked by Washington Redskins linebacker Keenan Robinson in the third quarter of Sunday's 20-17 loss. He suffered a bruised back and X-rays at the game were negative. Romo returned in the fourth quarter after taking a painkilling shot. 
"I didn't sleep that well," Romo said. "I still had a little bit of the shot in me so it was probably better sleeping that night than the next night. At the same time, I don't sleep well after a loss, anyway."
Cowboys coach Jason Garrett said Romo wasn't able to go through the team's 'jog-through' practice on Wednesday.
"He's getting rehabbed so we'll see how he responds to that as the week goes on," Garrett said. "He has to be able to move around and do the things he needs to do to play in a game."
Garrett said the injury is not related to the back surgery Romo had in the offseason. Romo suffered a herniated disc against the Redskins in Week 16 of 2013, and he was placed on IR before the team's final game of the season. 
"If it's about pain tolerance, then I'll play," Romo said. "That part of it has never been an issue for me. The other part is you just have to make sure you can function and can go."
Larry Fitzgerald was named NFC Offensive Player of the Week for his performance in the Cardinals' 24-20 win over the Eagles on Sunday at University of Phoenix Stadium. 
Fitzgerald had a season-high seven catches for 160 yards, including a career-long 80-yard TD catch in the third quarter. His 160 receiving yards were his third-best single-game total in the regular season and the most since 2007. It was also his team leading and franchise record 37th career 100-yard receiving game.
Fitzgerald has at least one touchdown reception in all seven, career games against the Eagles (including postseason). In those seven games, he has 47 receptions for 802 yards and 11 touchdowns. This is the third time Fitzgerald has won this honor, all stemming from games against Philadelphia.
The trade deadline came and went on Tuesday as it normally does in the NFL -- without any significant moves. The Cardinals have a glaring need for a pass rusher with linebacker Daryl Washington (suspended) defensive end Darnell Dockett (ACL) and linebacker John Abraham (concussions) out for the season.
Arizona has just seven sacks; tied for the second-lowest total in the NFL. But pass rushers are a precious commodity in the NFL; not many teams are willing to part with them.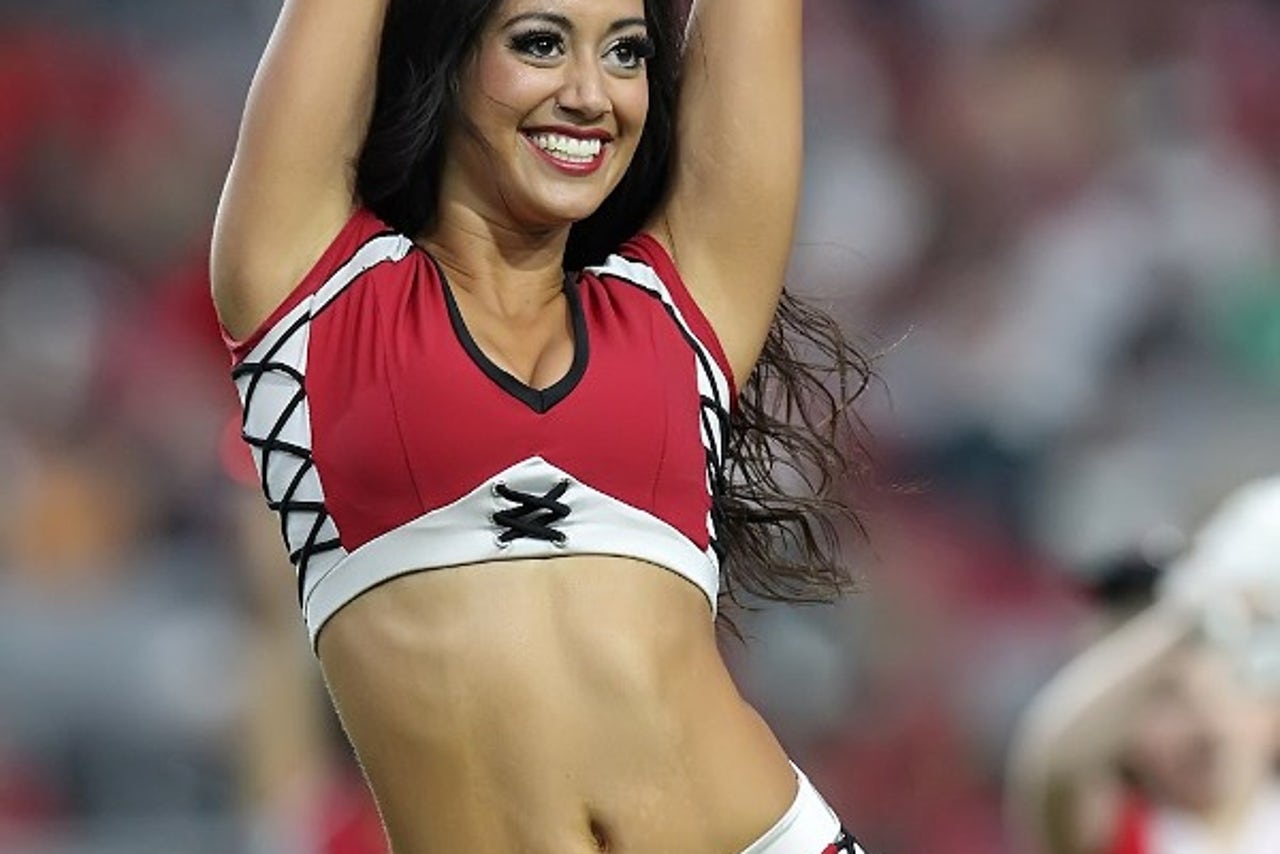 CHEERLEADERS GALLERY: WEEK 8 >>
Running back Stepfan Taylor (calf) has been ruled out of Sunday's game. Taylor said he injured the calf running down a punt on Sunday against the Eagles but termed himself week-to-week.
"It's feeling a lot better so we'll see where it goes," Taylor said. 
Safety Tony Jefferson (concussion) did not practice Wednesday and is still under league-mandated concussion protocols.
The Cardinals on Tuesday re-signed Valley product and running back Zach Bauman to the practice squad. In a corresponding move, the team cut cornerback Anthony Gaitor.
The move was necessary when Stepfan Taylor suffered a calf injury that coach Bruce Arians said would keep the running back out a while. The Cardinals have Andre Ellington, Robert Hughes and Marion Grice on their 53-man roster. Kerwynn Williams is on the practice squad.
Bauman signed as an undrafted rookie free agent out of Northern Arizona. He also attended Chandler Hamilton High.
Follow Craig Morgan on Twitter
---
---