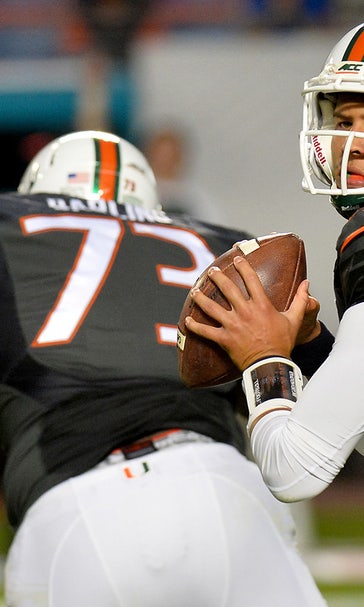 Five Burning Questions: Miami Hurricanes
July 1, 2015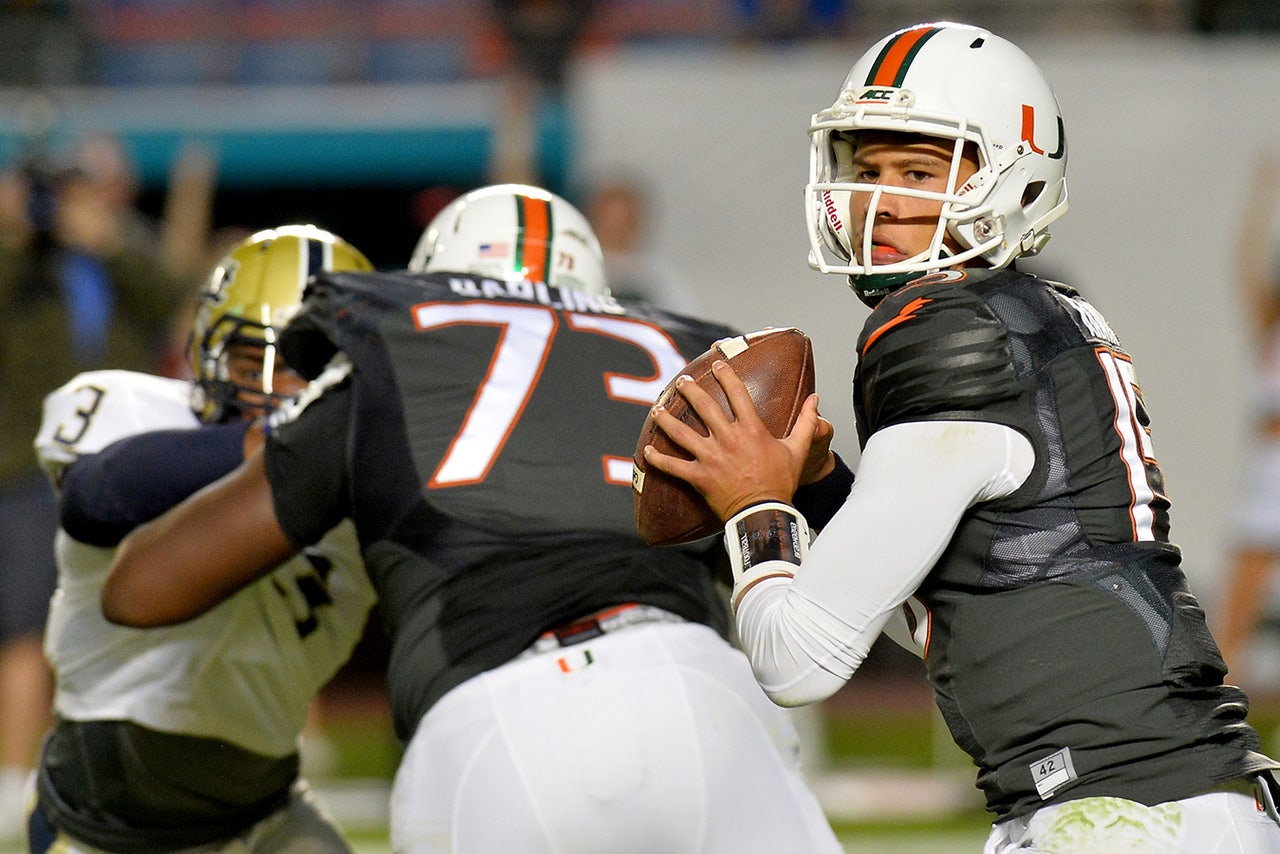 Miami's football program is still searching for its renaissance.
NCAA investigations and sanctions have slowed the progress of the Al Golden era, which is still awaiting its first 10-win season and bowl win after posting a 6-7 campaign, culminating in a four-game losing streak and an Independence Bowl loss, in 2014.
Still, the Hurricanes were competitive in all but two games, and if Miami's gains in recruiting (three straight top-20 classes from 2012 to 2014) start paying off on the field then perhaps the 2015 season picks up where 2013 left off. Here are five questions facing Golden's program this season:
Injuries and inefficiency from veterans forced Brad Kaaya, a four-star recruit out of California, into action as a true freshman last season -- and it might become one of the best things to happen in Golden's tenure. The school discovered its future behind center. The 6-foot-4 rising sophomore was, for the most part, excellent through his first 13 career games, even factoring in his late-season hiccups when very little went right for Miami.
Kaaya finished with 3,198 yards and 26 touchdowns, completing 58.5 percent of his passes and threw just 12 interceptions. Only Arizona's Anu Solomon averaged more passing yards per game among qualified FBS freshmen.
The Hurricanes have not exactly been deficient at the quarterback position, but Kaaya is poised to become the program's best signal-caller in years.
Now, the immediate question: Can he make the leap in 2015?
Kaaya's experience should pay off in his first full collegiate offseason, a time when many college players make their biggest gains. He will be with working with a new supporting cast -- all-around backfield star Duke Johnson will play on Sundays this fall, as will top receiver Phillip Dorsett and tight end Clive Walford, and the offensive line replaces three starters, including top-10 pick Ereck Flowers -- so it should be Kaaya's show from Day 1.
Golden's staff has stocked the roster with more high-school talent than most of the conference, so it's safe to assume that if their sophomore quarterback keeps progressing then offensive weapons will emerge. Look for Kaaya's new favorite target to emerge out of a group of former four-star recruits: Stacy Coley, Braxton Berrios or Malcolm Lewis.
"I think he's going to make a lot of progress in all the foundational things," Golden said of Kaaya. "He'll be smarter in terms of his comfort level with the offense and the players. He'll be in better condition than he was a year ago going into training camp. I think, obviously, it's hard to be a freshman quarterback that's also a leader. I think he'll make exceptional progress as a leader, not just of the offense, but one of the leaders of our team."
Though No. 1 overall draft pick Jameis Winston is no longer around, the ACC returned much of its top quarterback talent: Deshaun Watson (Clemson), Jacoby Brissett (NC State), Everett Golson (Florida State), Marquise Williams (UNC) and Justin Thomas (Georgia Tech), among others. Kaaya is somewhere in that mix. Even if he matches his first-year introduction to college football, the Hurricanes will be in better shape than the majority of college football at the most important position on the field.
Golden could have a backfield star on his hands.
Make that two potential backfield stars. Joseph Yearby, step right up.
The Hurricanes lost one of the most versatile and explosive running backs in the country in Duke Johnson, a third-round NFL Draft pick. Johnson was not only Miami's leading rusher by more than 1,000 yards, he was also Kaaya's No. 2 target. As a junior, he averaged 159.5 yards from scrimmage per game, the nation's fifth-best mark behind three other NFL Draft picks -- Melvin Gordon (Wisconsin), Tevin Coleman (Indiana) and Jay Ajayi (Boise State) -- and Toledo's Kareem Hunt. In short, it's extremely difficult to replace college superstars.
Yearby, Johnson's top backup in 2014, will likely get the first crack at the starting job. The homegrown product out of Miami Central was highly touted as a prep star and didn't disappoint in brief spurts last year, compiling 509 yards on 86 carries -- not quite as explosive as Johnson's numbers, but not far off. The 5-foot-9 speedster has an opportunity to submit his name into the conference's upper echelon of runners, perhaps even alongside Florida State's Dalvin Cook and Pittsburgh bruiser James Conner, if he starts reaching that potential.
If not, the Hurricanes have options.
Junior Gus Edwards is a different type of runner than Yearby, but he's shown his ability in on-and-off playing time over the past two seasons. A 6-foot-2 athlete, he's scored 11 touchdowns on 127 career carries and he impressed coaches during the spring. Sophomore Trayone Gray boasts similar size, though he doesn't bring near as much experience. Then there's Mark Walton, a top-10 running back in the 2015 class and the latest Miami high product to stay home.
Few programs feature that type of depth after losing a star to the NFL ranks.
All the same, Golden is keeping his options open.
"We really haven't changed who we are philosophically. Again, we're very excited about Gus and Joe, and Trayone Gray is very talented. He's still learning the position, and Mark Walton, certainly a young man coming in. So we're going to have the guys there," Golden said. "It may not be just one. It may be more getting several guys the same amount of touches. But, again, if one of those guys separates themselves as Duke did, then he'll get the majority of the touches.
"Right now we're still in that phase we're waiting to see one of them break out. If not, we'll do it by committee."
Miami trotted out a top-40 scoring defense for the first time since 2011 -- and now it will look to improve without some top-tier talent.
Linebacker Denzel Perryman was a second-round draft pick after racking up more than 13 percent of the team's tackles. Anthony Chickillo, a starting defensive end, was a sixth-round pick. Front-seven starters Olsen Pierre and Thurston Armbrister are also gone.
As Golden's staff tries to replace that production up front -- and find even more of it, particularly in terms of creating problems in opponents' backfields -- look for the Hurricanes to rely on a secondary that returns almost everyone. Safety Deon Bush is back after leading the back four in tackles and interceptions, standout junior corners Artie Burns and Corn Elder gained valuable experience and three other defensive backs played 13 games in 2014. Add 2013 starting safety Rashawn Jenkins, who missed the season with a back injury, back into the fold and Miami boasts quality depth and experience.
If the Hurricanes can find a pass rush and replace players like Perryman, the defense should not fall back to its 2012-13 depths.
There's almost always that stretch in the schedule, at least for teams looking for a breakthrough.
For Miami, it's no different. After two presumed cakewalks to open the season, the Hurricanes' test begins. In a six-week span, Golden's team will play Nebraska, Cincinnati, Florida State, Virginia Tech and Clemson. And while expectations for those schools might be lower than in past years -- Nebraska is entering Year 1 under a new coach, Florida State lost plenty of talent, etc. -- if Miami walks away from that defining stretch with two or three losses, it's going to be a surefire indicator that the program still has work to do. (It also will not quiet any Golden-related hot seat talk.)
The obvious game to underline is Week 6.
Since Jimbo Fisher took over the Florida State program, Miami has played little brother in the historic rivalry -- falling, at best, third in the state's pecking order behind its ACC rivals and Florida. The Hurricanes haven't won a game in the FSU rivalry since their 2009 upset. Fisher's teams are a perfect 5-0 against Miami, winning by an average of 15.2 points per game, and the Seminoles have not only captured ACC titles and a national championship trophy over that stretch but they've also dominated on the recruiting trail.
With Winston and 10 other NFL Draft picks leaving Tallahassee, this is an opportunity for Golden's program to make a statement -- especially if it gets by Nebraska and Cincinnati unscathed.
The school's 1980s pinnacle and its turn-of-the-century resurgence in the Butch Davis-Larry Coker days are long gone, the days of roping off the southern portion of arguably the most talent-rich recruiting state over. The Hurricanes have finished a season ranked just twice over the past decade. Even more difficult to comprehend considering the team's past Big East heights: The only year Miami even shared a Coastal Division title, it was postseason ineligible.
So the baseline for success is set: Win the Coastal.
Before talks of "The U Is Back" gain any credibility, Golden needs to find a way to get to the ACC Championship game. Since joining the league, Virginia Tech, Georgia Tech and Duke have taken the Coastal crown. And the division, once again, looks wide-open.
For the first time in conference history, Miami needs to take advantage.
---
---