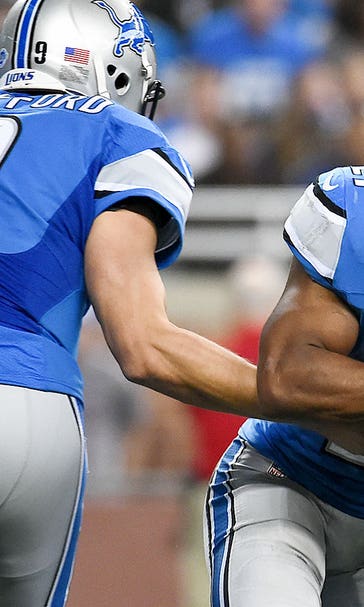 Fantasy Football Week 13 Running Back Advice: Lions' Abdullah getting busier
December 1, 2015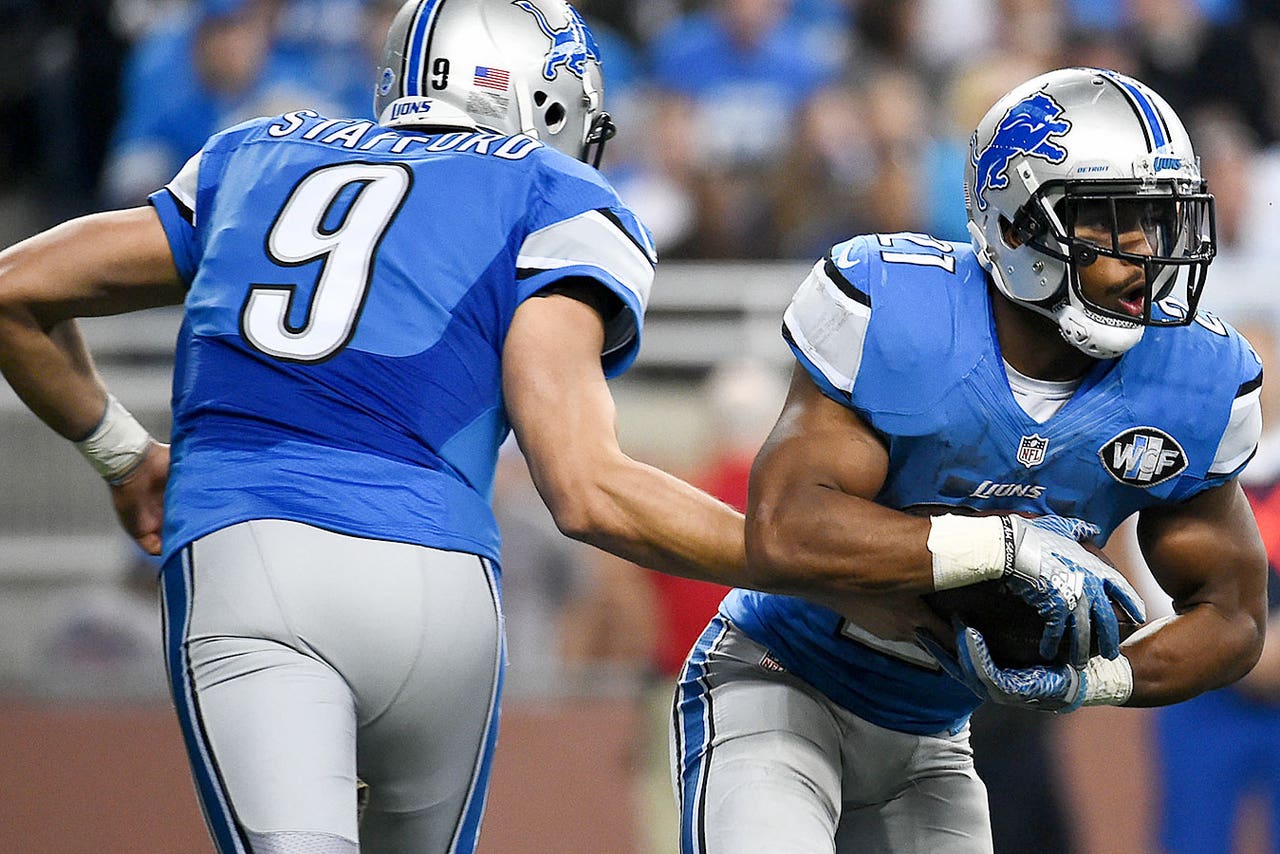 Each week during the 2015 season, we're going to take a look at five running-back-by committee (RBBC) situations that you should keep a close eye on. Some will have big questions, while others might be noted due to their circumstances becoming clearer. We'll usually focus more on the week immediately ahead than look down the road.
And now, in alphabetical order ...
Chicago Bears
Week 12 snap count: Matt Forte 38, Jeremy Langford 31
Forte had 16 touches (53 yards) to Langford's 13 (53 yards, plus a TD) versus the Packers on Thanksgiving night, and you should assume a fairly even split between the two backs moving forward. Langford has looked very good, and Forte is likely to leave as a free agent at the end of the season. Why would they bury the rookie who's going to be their lead back in 2016? Consider both backs as low-end RB2s. Sorry, Forte owners.
Cincinnati Bengals
Week 12 snap count: Jeremy Hill 28, Gio Bernard 27
Hill had 16 carries to Bernard's 10 in this game, but nine of Hill's came in the second half of the blowout win over the Rams. Gio is still the pick here, especially in PPR leagues.
However, Hill has had 13 or more carries in five of his last six games, and gets a home matchup with the Browns' terrible run defense (135.6 ypg). Both Bengals are worthy of RB2 status in Week 13.
Denver Broncos
Week 12 snap count: C.J. Anderson 44, Ronnie Hillman 28
Before Anderson's 48-yard game-winning run in overtime, he had 14 carries for 65 yards compared to Hillman's 14-59-1 line. Pretty even split for a run-oriented team, huh?
The snap disparity will tempt us to rank Anderson ahead of Hillman this week, but I think they're reeeeeaaaalllly close in the RB20-25 range. All of a sudden, we're supposed to believe that CJA is the lead dog? Maybe, maybe not.
Detroit Lions
Week 12 snap count: Ameer Abdullah 28, Theo Riddick 26, Joique Bell 17
Get excited, Abdullah owners. The Lions said they wanted to involve the speedy rookie more, and he's had 28 carries over the last two games. Sure, Riddick hogs the passing down duties, but Abdullah looks like a high-end flex play with some pretty good upside. I'll have him ranked higher than most for Week 13.
San Diego Chargers
Week 12 snap count: Danny Woodhead 34, Melvin Gordon 33
Are these guys teasing us again with Melvin Gordon? The rookie had 14 carries and five receptions for 80 yards from scrimmage against the Jaguars. He even had a second-quarter red-zone carry, but was stopped at the two-yard-line after a gain of five, and the Bolts threw on second and third downs.
Gordon has 72 touches over the last five games, but it's difficult to count on him because of a dearth of RZ touches along with a horrible offensive line. He might break out sometime, but who knows when it will happen? Gordon is flexy, and that's all. I'd rather not use him against the Broncos.
The same goes for Woodhead, who has averaged 8.5 touches over his last four games. He'll probably be a decent PPR option (as an RB2), but his fantasy production has regressed along with the Chargers' offense in recent weeks. The bet here is that their Week 12 explosion was an exception.
Others of note:
Arizona Cardinals: With Chris Johnson (fractured tibia) and Andre Ellington (turf toe) likely out, rookie David Johnson figures to carry the load at St. Louis.
Atlanta Falcons: Devonta Freeman is expected back from his two-game concussion absence. Roll with him, always.
Baltimore Ravens: Buck Allen (16 touches, 84 yards, TD) was solid on Monday night, so why did multi-team castoff Terrance West get seven carries. Heck if I know, but even though West looked pretty good, I'm not worried.
Green Bay Packers: Eddie Lacy is back in charge here. This article wasn't bullish enough on him last week. He's back to RB1 status.
Miami Dolphins: Why did Jay Ajayi get 41 snaps to Lamar Miller's 23 against the Jets? Maybe it was because the 'Fins were getting blown out as they only ran nine times, but with this week's change in offensive coordinators and a stated commitment to improve the run game, Ajayi has become intriguing. To stash, not yet to start. He's owned in 5.3 percent of FOXSports.com leagues.
New England Patriots: I was ahead of RotoCurve's Josh Collacchi by 3.7 points heading into Sunday night in a FLEX Leagues game, and he had Blount left. Blount ran just nine times for 27 yards, allowing me to eke out a win.
OK, enough about my teams. I don't think the same would happen this week, as a "Blount game" seems likely against the Eagles. The Pats' receiving weapons are depleted, and even though their pass defense has been especially bad, their run D is struggling as well.
New York Giants: Injured offensive linemen, a four-man committee in which only one back (Shane Vereen) has real skills but gets ignored too often, and a matchup with a fearsome Jets' defensive line. Pass, on everyone.
Tennessee Titans: Stop me if you've heard this before - the Titans want to get David Cobb more involved. We'll believe it when we see it, Mike Mularkey.
Washington Redskins: It looks like Matt Jones' fumbling issues have cost him, as Alfred Morris ran 23 times for 78 yards against the Giants, while Jones had 19 yards on eight attempts. We should probably expect more of the same against the Cowboys on Monday.
(Snap counts courtesy of NFL.com's Game Books.)
---
---