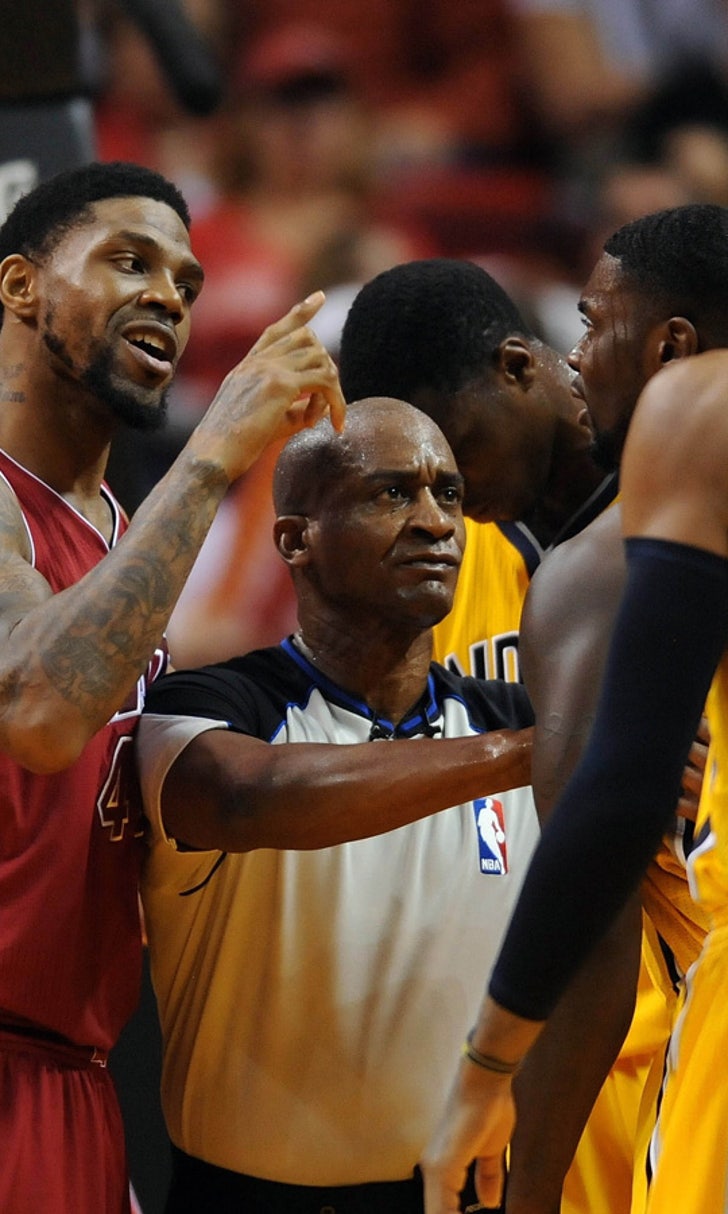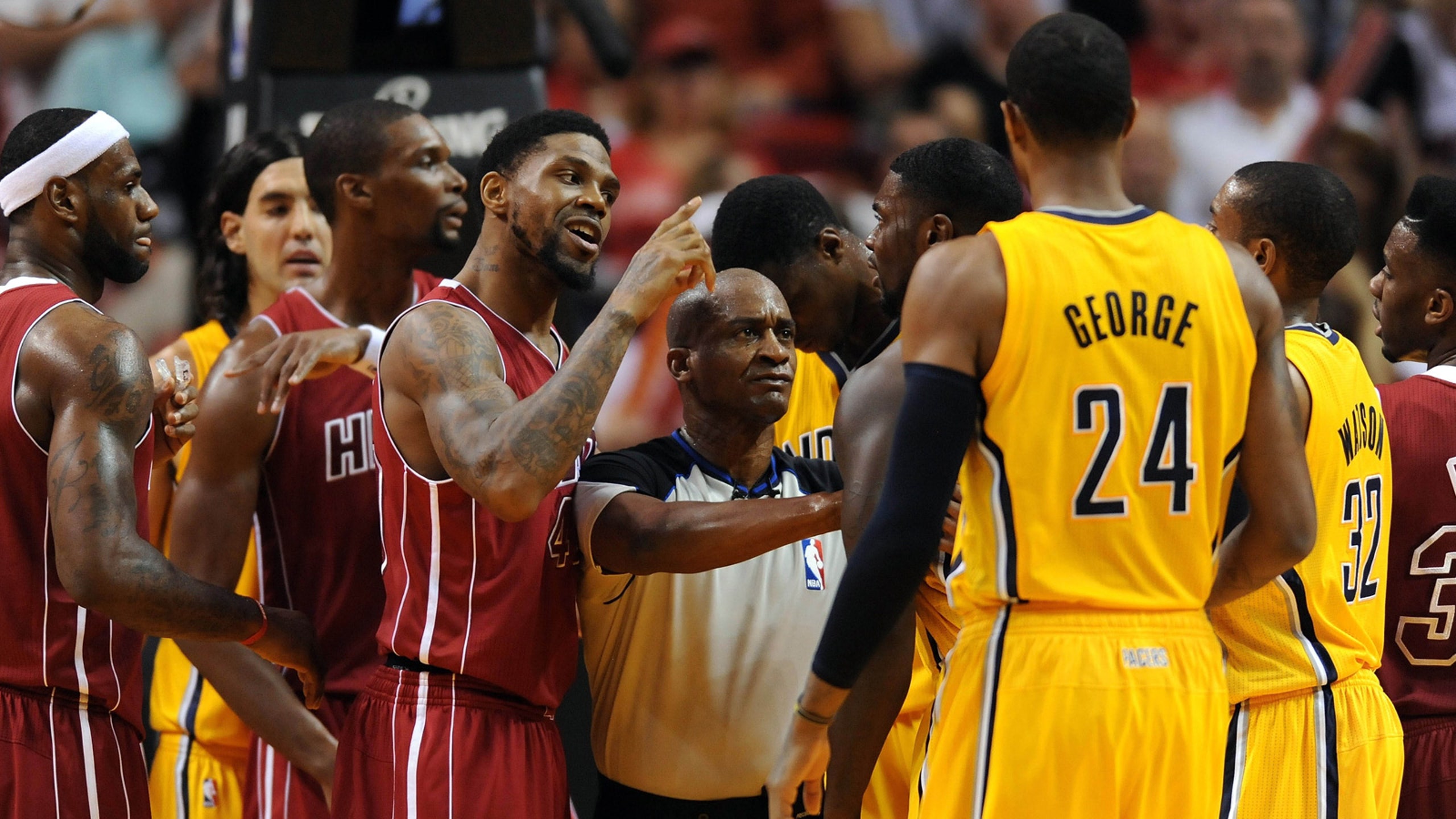 After epic battle, Heat-Pacers on back burner until March
BY foxsports • December 19, 2013
MIAMI -- One game in the standings now separates the Eastern Conference's top two teams after each protected its home court within a nine-day period.
But following the Miami Heat's come-from-behind 97-94 victory against the Indiana Pacers at AmericanAirlines Arena on Wednesday night, the two teams won't play each other again until late March.
"It's actually kind of sad we don't play them for three months," said LeBron James, who scored 24 points despite nearly sitting out due to a sore ankle. "This is a really, really good thing. Going against these guys brings out the best in us, we try to bring out the best in them.
"It was fun. It was fun the last eight days while it lasted. We can get on with the rest of our season now."
The Heat (19-6) defended their turf eight nights after the Pacers (20-5) earned a six-point victory at Bankers Life Fieldhouse. Two teams that seem to be on a collision course for a second straight Eastern Conference matchup are scheduled to play at Indiana on March 26 and at Miami on April 11.
"I'd love to play them every day," said Chris Bosh, whose 3-pointer with 1:30 left tied the score at 92. "They're one of the best teams in the league, and when you have that competition out there, it hopefully will bring out the best in you.
"It's not easy out there scoring, it's not easy playing defense (but) we rarely get these opportunities against a really good team like that. We'll continue to be confident in our craft and do what we do."
Dwyane Wade led the way by scoring a game-high 32 points on 15-of-25 shooting.
James, whose status had been a gametime decision after he twisted his left ankle against Utah on Monday night, added nine rebounds and seven assists. He also ran the offense in the final minutes as Miami went big -- or as big as it can go -- with center Chris Andersen joining the King, Bosh, Wade and Ray Allen on the floor.
James also sparked Miami by getting into a shouting match, apparently over a missed defensive assignment, with guard Mario Chalmers during a third-quarter timeout -- a confrontation with which coach Erik Spoelstra did not have a problem.
"That's really been our nature; I prefer that nature more often because our guys understand that never crosses the line," Spoelstra said. "We have very aggressive Type A personalities and they handled it. They shook hands by the time we came back . . . But I'll tell you what it did, it sparked more communication with everybody, more life and communication."
James downplayed the incident.
"(Chalmers) is my brother and it's all family," James said. "I was wrong and I told him that and we moved on."
They certainly did.
The Heat rallied from 15 points down in the third and from eight behind with 3:52 left. Miami closed with a 15-4 run to grab the victory and avoid a second loss in nine days to its biggest conference rival. On a night his team shot 5 of 21 from behind the arc, Allen nailed a 3-pointer to make it 95-92 with 59.5 seconds showing.
If Miami had lost, it would done so despite Indiana center Roy Hibbert being limited due to foul trouble. The Heat, who have had trouble dealing with the center's physical presence, undoubtedly would have been frustrated had lost with Hibbert getting just six points and two rebounds in 22:55.
As for Indiana, it was reminded of something it already knew too well: the importance of home-court advantage against quality teams.
Hibbert's bench time likely helped the Pacers cope with the defeat, though seeing and experiencing another intense Heat finish fueled by the home crowd probably brought back memories of Games 5 and 7 losses in last season's conference finals.
"It shows that we're a team who has been there before," Wade said. "No matter what the score is, we always feel like we have an opportunity to win the game.
"We're a 'grind' team. As much as on the outside, because we live in Miami and have some known players, it looks like we're not that kind of team, but we grind it out."
Although Wade insisted the latest Heat-Pacers battle was not a "statement game," Bosh disagreed.
"I am going to say every game against these guys is a statement game," Bosh said. "Every time you play an elite team it is a statement game. You always want to send messages. Our message was: We are to compete and we want to win games."
---
---