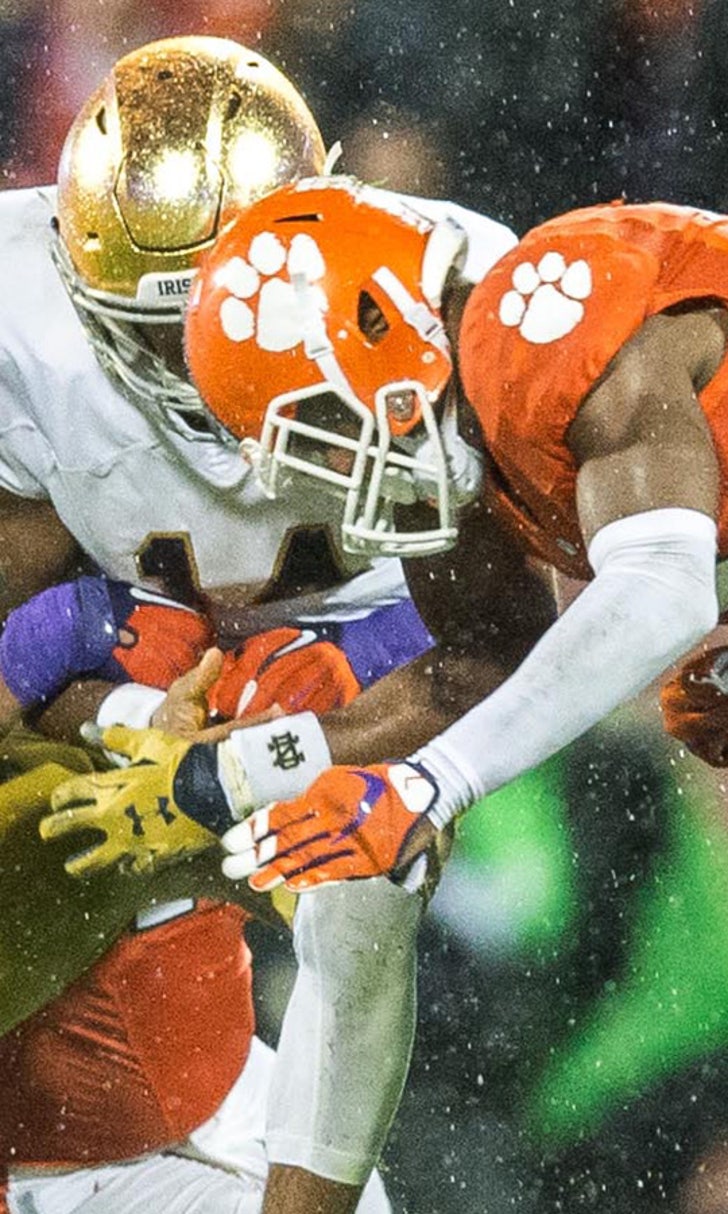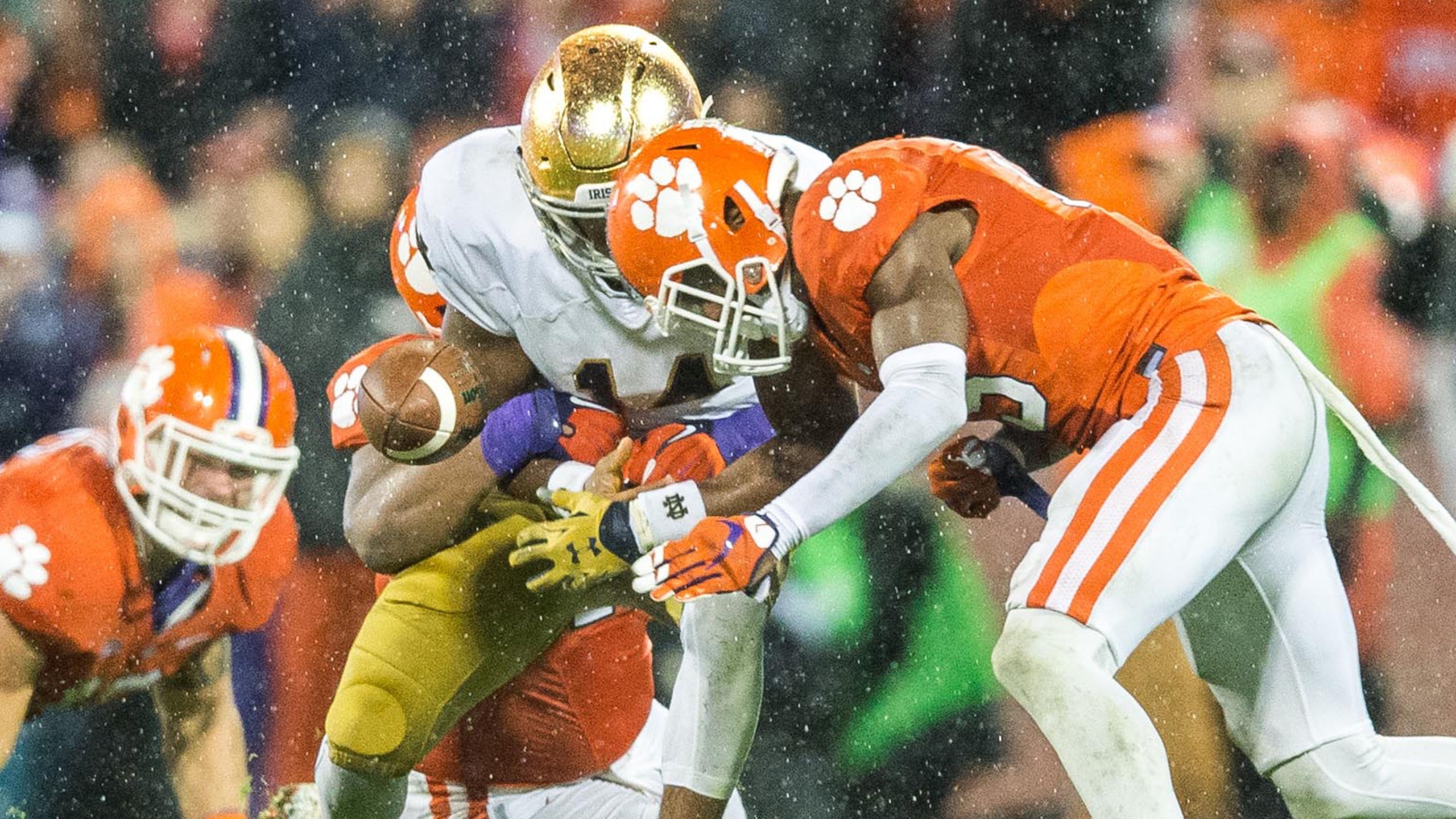 ACC Playlist: No. 6 Clemson remains ACC favorite despite close calls
BY Zach Dillard • October 9, 2015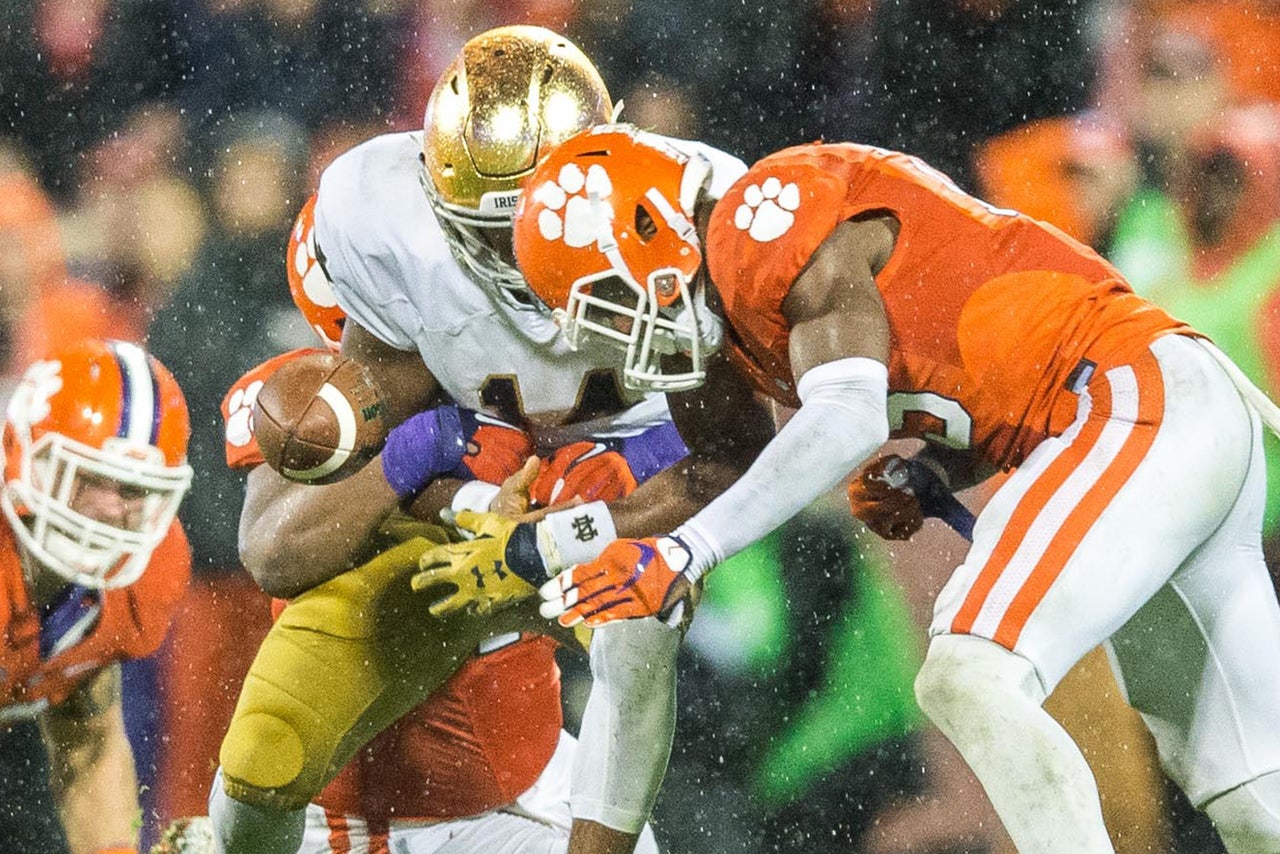 The ACC Playlist is a weekly preview of intriguing games and matchups in the Atlantic Coast Conference, loosely tied to various artists or songs in some way, shape or form. That's the plan at least.
The Clemson Tigers' bandwagon is filling up after their crucial win against Notre Dame last Saturday, but it brings up the question: What's changed?
Dabo Swinney's team entered the season as the ACC title favorites and have beaten two FBS teams by a combined five points — Louisville is sitting with a 2-3 record and Notre Dame was severely shorthanded, missing five starters. This is not meant to take away from Clemson's accomplishments, because beating Louisville on the road and the No. 6 team at home is better than the alternative, but the Tigers' 24-22 win over Notre Dame was far from a definitive statement.
The Fighting Irish lost, primarily, on self-inflicted mistakes in rain-soaked conditions: Dropped passes, fumbles, the works. With their starting quarterback, running back and tight end sidelined, redshirt freshman DeShone Kizer, making his third career start, put up 381 total yards and three touchdowns despite drops, constant pressure and turnovers. Notre Dame closed on a 19-3 fourth-quarter run. Kizer threw a late interception and Clemson shut down the running game, but in better conditions on a neutral field this game could have easily finished with a different outcome. Even after losing the turnover battle handily, the game came down to a failed two-point conversion.
(Florida State, the Tigers' primary challenger to ACC preeminence, has not inspired much confidence in its wins over South Florida, Boston College and Wake Forest.)
Undefeated records at this point in the season rarely come unearned. Still, the renewed enthusiasm around the Tigers is curious. After beating Wofford and Appalachian State and squeaking by Louisville and Notre Dame, Clemson has yet to put together a 60-minute game against a quality opponent.
So what's changed for the preseason ACC favorites? The "Clemsoning" narrative is dead and long gone after four straight 10-win seasons with wins over Ohio State, LSU, Oklahoma, Georgia, Auburn, Florida State, South Carolina, Georgia Tech, Virginia Tech and so on. Winning home games against ranked opponents is the norm for this program.
The Tigers have much to improve upon, though, if they are going to challenge for the four-team playoff. Those FBS win margins are too close for confidence right now. The good news: Advanced numbers love this revamped Tigers defense, Deshaun Watson is in uniform and two of the four toughest games on the schedule might be behind them.
Doak Campbell Stadium, Tallahassee, Fla., Saturday at 8 p.m.
Miami needs this one.
The Hurricanes have yet to beat their in-state rivals with Jimbo Fisher roaming the opposite sideline and, coming off a disappointing 34-23 loss to Cincinnati, they could use a breakthrough ACC opener in the worst way. The fact that the Seminoles carry a 17-game home winning streak into the rivalry game will not help matters in Doak Campbell, though the banners flying over Sun Life Stadium haven't exactly made home a charming place for Al Golden & Co.
The Hurricanes struggled to shut down the Bearcats' balanced attack, but Florida State has not been a juggernaut with Everett Golson running the show. Miami should have the advantage at quarterback and, if Seminoles' star Dalvin Cook is not at 100 percent, then his former high-school teammate Joe Yearby might be the most explosive playmaker on the field, too. Still, the Seminoles have locked down defensively (10th S&P+) and should key Fisher's seventh win over Miami.
Pusha T, "Numbers On The Boards" — This could turn into a low-scoring game, but it doesn't change the fact that every stadium should blare this hook after every score. Every. Single. Point.
Clemson Memorial Stadium, Clemson, S.C., Saturday at 3:30 p.m.
A strange thing happened to Georgia Tech this season: It lost almost all of its skill-position players, including two NFL-bound receivers, and the offense took several steps back. Funny how that works out sometimes.
The Yellow Jackets, which boasted a terrifying offense last season, rank just 39th in offensive efficiency this season, just a couple spots behind where its defense lines up. Clemson will not like help in this regard. The Tigers' defense went through its own high-profile personnel losses, but with talents like end Shaq Lawson, coordinator Brent Venables has his unit clicking.
Clemson ranks top-25 in both total tackles for loss and turnovers forced despite playing just four games to date. That spells trouble for the struggling Coastal preseason favorites.
The Stooges, "No Fun" — Playing against the option is never enjoyable. It makes for a different practice week, different scheme preparation, different pace of play. On the flip side, it's also never fun to lose, and this Georgia Tech team is on a three-game slide with the toughest part of its schedule still to come.
Alumni Stadium, Chestnut Hill, Mass., Saturday at 3 p.m.
The good news for these two offenses: Sophomore John Wolford could return after attempting just six passes in the past three games. Practically every other number associated with this matchup points to a low-scoring matchup.
Boston College's defense has been scary good thus far. The Eagles complement a problematic offense — one attempting to function without its starting quarterback — with the nation's most efficient defense. They average more than 8.5 tackles for loss per game, led by sophomore defensive end Harold Landry, and only two FBS teams are better at getting off the field on third downs.
All of this spells bad news for Wake Forest, which features a rather porous offensive line for the second straight season, but there are similar mismatches on the other side of the equation. Dave Clawson's defense ranks 39th in scoring and, much like Boston College, was able to keep tabs on Florida State.
Built To Spill, "Carry The Zero" — Boston College is coming off a 9-7 loss against Duke and has scored just 24 points in its past three games. The over-under on this matchup is set at 36.5, which, looking at both offenses, would feel like a track meet.
Lane Stadium, Blacksburg, Va., Friday at 8 p.m.
Here's the break down of Virginia Tech's final drive, led by backup quarterback Brenden Motley, against Pittsburgh last week: Sack, sack, near-interception, interception. Game over.
That burden does not fall exclusively on Motley's shoulders — the offensive line offered little to no help en route to giving up seven sacks to the Panthers — but this Virginia Tech offense has completely fallen apart without starting quarterback Michael Brewer, who broke his collarbone in the season opener against Ohio State. Brewer is listed as probable against NC State, but until the Hokies show some life on offense Jacoby Brissett and the Wolfpack hold the pregame edge.
Phantogram, "Don't Move" — An appropriate song title for Virginia Tech's offense at the moment.
Heinz Field, Pittsburgh, Pa., Saturday at 12:30 p.m.
Pat Narduzzi's group is flying under the radar.
It would have been difficult to ask for a better start to the first-year head coach's tenure than a 3-1 start without reigning ACC Player of the Year James Conner. Don't look now but Narduzzi might be working some defensive magic with this Panthers team (22nd nationally in efficiency). Pittsburgh has yet to face a top-tier offense, but it's a three-point loss to undefeated Iowa from a 4-0 record.
Virginia has shown some signs of life on offense this season, but the Cavaliers' defense has been surprisingly bad and Pitt is favored for a reason.
Solange, "Don't Let Me Down" — Aside from being a Dev Hynes-produced wonder, this pretty much sets the tone for Mike London's sixth (and possibly final) ACC stand.
(One final music aside: Solange's True EP is a top-to-bottom masterpiece. The fact that it charted 117 and 100 spots higher in Denmark and Sweden, respectively, than it did on the U.S. Billboard is directly correlated to those two countries enjoying a higher quality of life. OK, enjoy the football things.)
---
---