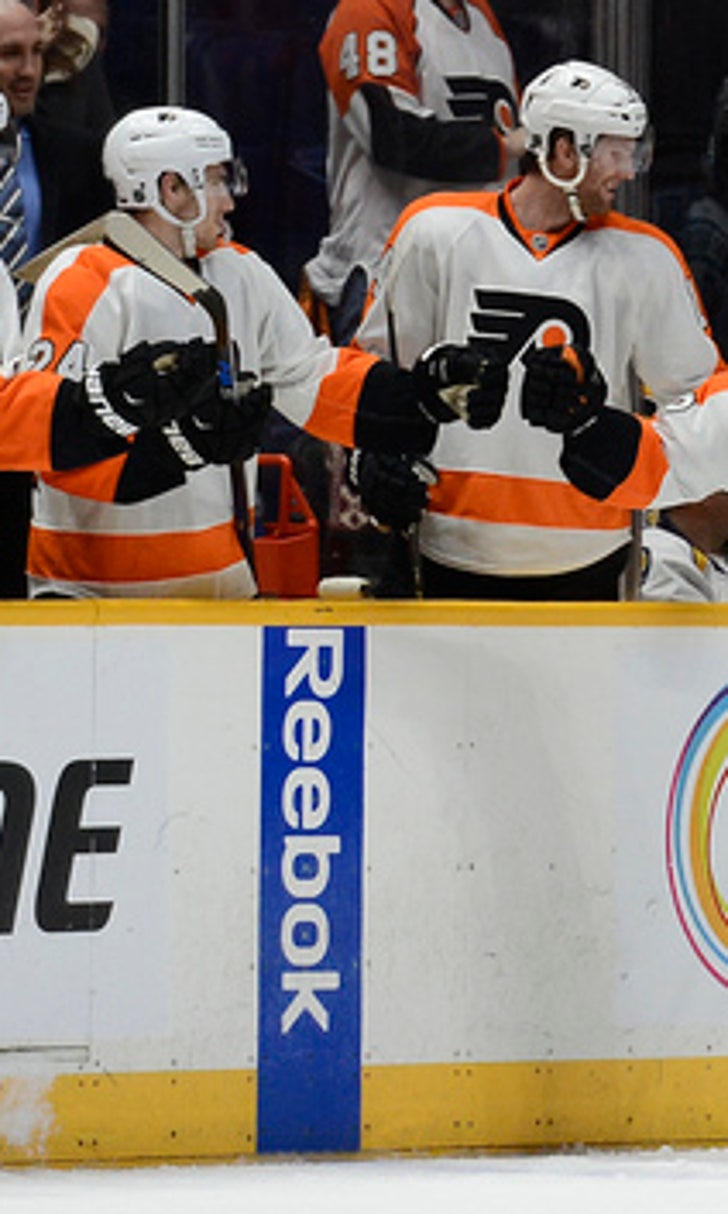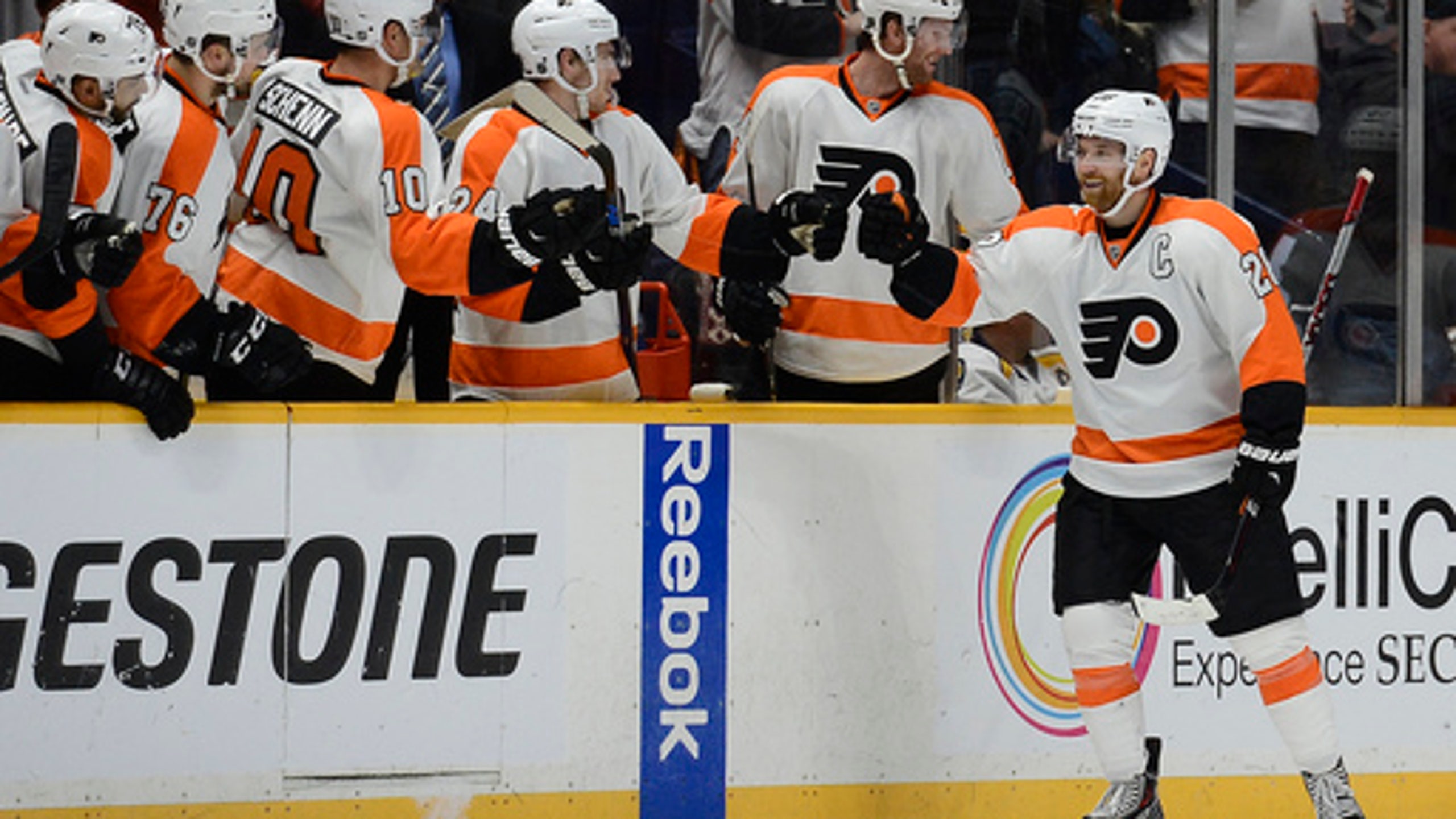 Simmonds scores twice to lead Flyers past Predators 6-3
BY foxsports • February 5, 2016
NASHVILLE, Tenn. (AP) No one appears to be able to stop Wayne Simmonds right now.
The Flyers star had two more goals and an assist, and Claude Giroux also scored twice to lead Philadelphia to a 6-3 victory over the Nashville Predators on Thursday night.
Simmonds has a five-game point-scoring streak in which he has six goals and three assists. Matt Read and Brayden Schenn also scored for Philadelphia, which has won three straight. Scott Laughton and Jakub Voracek each had a pair of assists for the Flyers.
''We haven't had many nights like that, but we made the most of our chances,'' Flyers coach Dave Hakstol said. ''We had good goaltending on our side of things and that gave us the opportunity to go to the other end and make some plays and capitalize.''
Ryan Johansen, Calle Jarnkrok and Shea Weber had the goals for Nashville, which has lost consecutive games.
''It was inconsistent through the night,'' Nashville coach Peter Laviolette said. ''We talked about our urgency, will to win, and where the level needs to be. Going into the first period, I don't think it was there. When we got behind, we seemed to fight a little bit harder, but it needs to be more consistent from the start.''
Read scored the game's first goal at 13:51 of the opening period. As Read carried the puck across Nashville's blue line, Predators defensemen Ryan Ellis and Barret Jackman collided with Flyers forward Michael Raffl, giving Read room to skate into the slot and beat Pekka Rinne with a wrist shot between the pads.
The Flyers have scored first in 10 of their last 12 games.
Schenn made it 2-0 at 15:49 of the first. Standing just to the left of the Nashville net, Schenn deflected Sean Couturier's shot from the lower part of the right circle past Rinne, who made 13 saves. Rinne stopped just three of five Philadelphia shots in the first.
The Flyers have carried a lead into the first intermission in three consecutive games.
Johansen made it 2-1 at 4:23 of the second. Roman Josi had the puck in the right circle and found Johansen cutting through the slot. Johansen made a quick move in tight traffic before beating Steve Mason high to the stick side with a wrist shot. Mason made 37 saves.
The Flyers regained a two-goal lead at 8:10 of the second.
Weber's stick broke at Philadelphia's blue line and, as he went to the bench to retrieve a new one, Laughton sent a long pass to Simmonds, sending him in on a breakaway on Rinne. Simmonds' initial shot was kicked away by Rinne, but Simmonds was able to slide the rebound by the prone goaltender.
''His stick breaks, I see him go to the bench, and as soon as he goes to the bench, I take off,'' Simmonds said. ''(Loughton) made a great pass, an unbelievable pass actually, and Pekka Rinne he made a great save, and I was lucky enough to put it in on the rebound.''
Giroux made it 4-1 at 16:15 with a one-timer from the slot off of a nice pass from Voracek. Jarnkrok made it 4-2 just 25 seconds later after converting the rebound of James Neal's shot.
Weber cut the Flyers lead to 4-3 at 10:03 of the third. With Nashville on a power play, Josi sent a pass to Weber above the left circle where he beat Mason with a one-timer.
Weber won the Hardest Shot Competition at last weekend's All-Star Game Skills Competition with a shot of 108.1 mph.
''We are where we are,'' Weber said. ''We've got to deal with it and we've got to find a way to win the games. Everyone in our situation is looking at it the same way. Our division is tight.''
Simmonds scored on the power play at 12:01 of the third to put the Flyers back in front by two goals. Giroux added his second of the night at 13:11.
NOTES: Nashville had only allowed one goal against in each of their previous five games. ... The Predators are 3-12-1 when trailing after the first period this season.
---
---