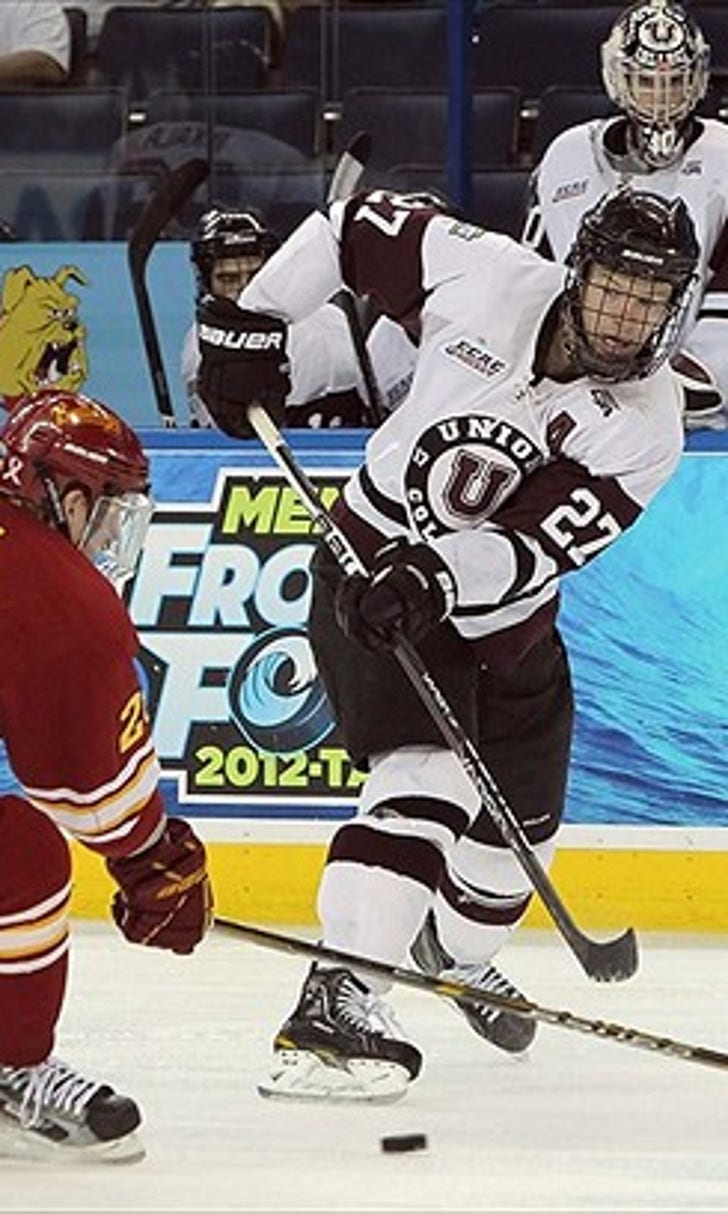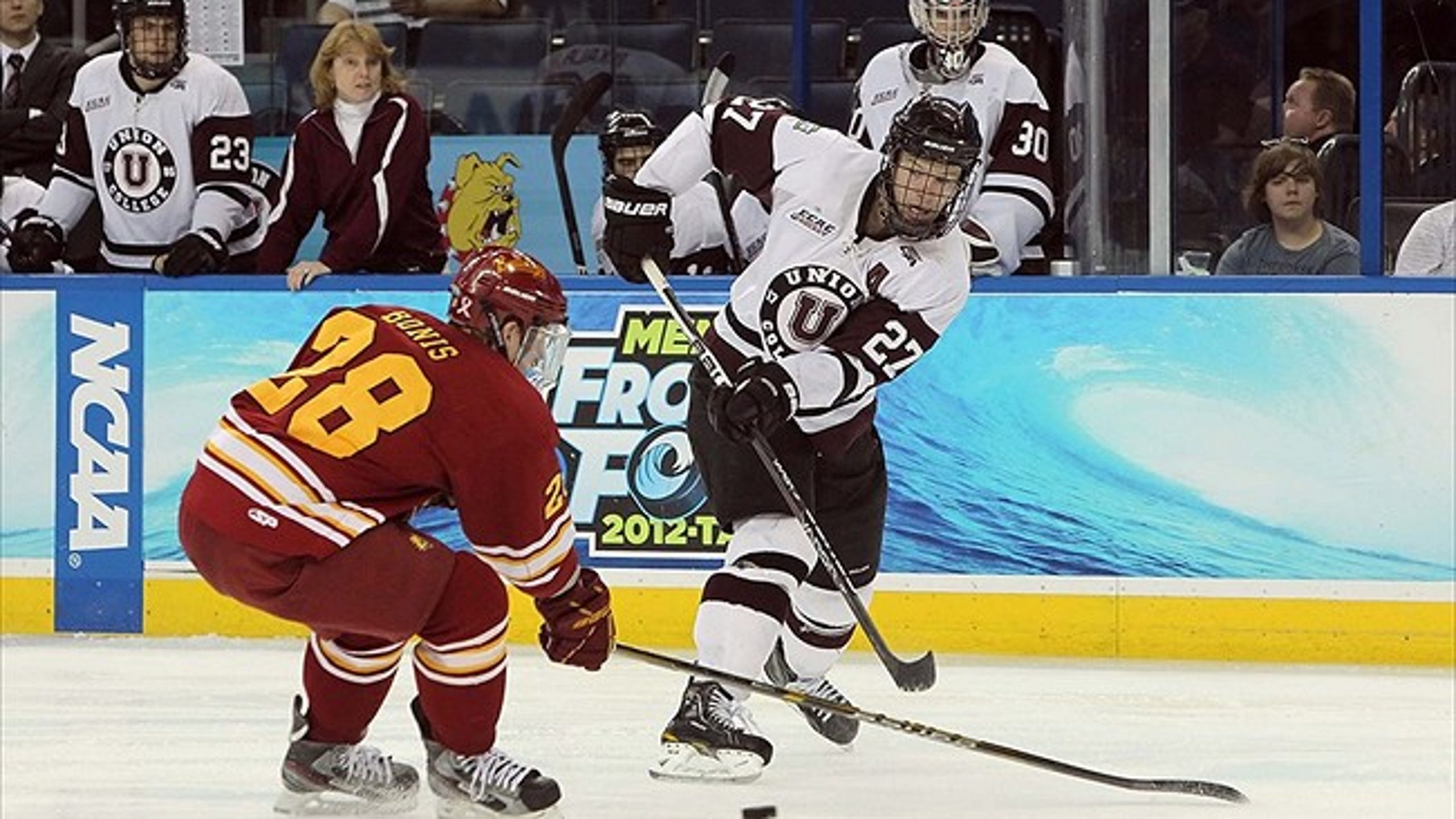 Ranking Carolina Hurricanes NCAA Prospects
BY Fansided and Chris Miracle/FanSided via Cardiac Cane • December 15, 2016
College hockey has become a more and more common route for players to get to the NHL. The flow of talent from the NCAA to the NHL is not quite as potent as it is from Canadian major junior leagues. Carolina Hurricanes players like Brett Pesce, Jacob Slavin, Noah Hanifin, and Justin Faulk, show why it is important to keep tabs on our NCAA prospects. The Hurricanes currently have 7 prospects playing in the NCAA. I will rank them in order of how I see their development coming along.
7. Collin Olson (G) Junior, Western Michigan University
After leaving Ohio State University in his sophomore year, Collin Olson returned to the USHL. Playing a season and a half with the Sioux City Musketeers, Olson then moved on to Western Michigan University. He has slightly stalled in his development after two hip surgeries. Currently
More from Cardiac Cane
fighting for time at Western Michigan, Olson seems unlikely to make it in the NHL. In four games at WMU this season he has posted a 1-2-1 record with a 2.88 GAA and a .883 Sv%.
6. Brendan Collier (LW) Senior, Northeastern University
Upon being cut from Boston University, Brendan Collier transferred to Northeastern University. Since joining Northeastern, Collier became a leader on the team and helped lead the Huskies to a Hockey East title and a berth in the NCAA tournament in 15-16. He is a depth forward at Northeastern and will likely end up in the Hurricanes' system. The NHL will be a long shot for Collier. This season he is posting a line of 16 GP/1 G/4 A/5 Pts/6 Pim/-9.
5. Luke Stevens (LW) Freshman, Yale University
Luke Stevens made the uncommon jump from prep school straight into NCAA hockey. He is likely to get limited time in his freshman year at Yale due to returning players. Stevens should focus  his time on developing his all around game. Standing at 6'5 205 lbs, he is a strong skater and has great hands, reminiscent of Jordan Staal. With size and skating ability he should become a scoring power forward. It is hard to determine how he will pan out, but it seems likely that he'll stay at Yale all four years before joining the Hurricanes system. Stevens is currently fighting for a spot in Yale's line up and holds a line of 7 GP/0 G/2 A/ 2 Pim/+4.
4. Max Zimmer (LW) Freshman, University of Wisconsin
In his freshman year at the University of Wisconsin, Max Zimmer is finding his legs. After spending a year with the Chicago Steel of the USHL, Zimmer is now learning the collegiate game at UW. His standout traits are his speed and skill. It's still too early to say how he will pan out, but he plays a top 6 style. If Zimmer is developed properly, he could be a point producer at the NHL level. Still, the Canes are likely to be patient with him. Zimmer has put up a line of 16 GP/2 G/3 A/4 Pim/-7.
3. Matt Filipe (LW/C) Freshman, Northeastern University
Being a freshman on the reigning Hockey East champs means you'll have to fight for ice time, and Matt Filipe is doing just that. The 6'2 forward plays a solid all around game, but is currently trying to work his way up Northeastern's depth chart. After putting up 36 points for the Cedar Rapids RoughRiders of the USHL, Filipe made the jump to college hockey. Playing against the talent in the Hockey East, Filipe should develop nicely for the Hurricanes. I see him potentially slotting into a second or third line role with the Canes. Filipe is consistently lining up on Northeastern's second and third line and is currently sporting a line of 16 GP/2 G/2 A/12 Pim/+0.
2. Jack Lafontaine (G) Freshman, University of Michigan
Jack Lafontaine may be one of the Hurricanes more intriguing college prospects. With other goalie prospects performing very well this season in their respective Canadian major junior leagues, Lafontaine sometimes gets overlooked. He performed very well at the Hurricanes prospect camp, and is currently fighting for time as a freshman at Michigan. There is no rush for Lafontaine to move into the Canes system, so it is likely he will play all 4 years at Michigan. In Lafontaine's limited time this season he has put up a record of 1-4-1 with a GAA of 3.13 and a Sv% of .919.
1. David Cotton (C) Freshman, Boston College
David Cotton ranks as the Hurricanes #1 collegiate prospect because of his upside potential. Playing for 5th ranked Boston College can be overwhelming , but that isn't stopping Cotton. He is still unpolished but is developing quickly. He earned a spot on one of BC's power play units, and is playing on their first line. Cotton has the ability to make his presence known by throwing his body around, while also finding open space and showcasing a knack for finding the net. This is something the Hurricanes are looking for as they currently lack size up front. I see him slotting between the dynamic pair of Sebastian Aho and Teuvo Teravainen. I project Cotton to be a top 6 forward if he continues his upward trajectory. In a breakout freshman season Cotton is boasting a line of 20 GP/6 G/7 A/10 Pim/+11.
---
---