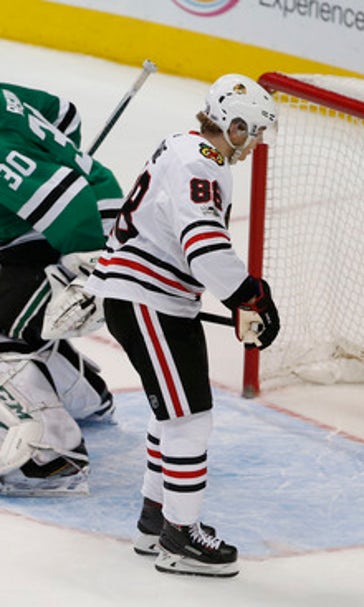 Radulov, Seguin score in shootout; Stars beat Blackhawks 3-2 (Dec 02, 2017)
December 3, 2017

DALLAS (AP) Alexander Radulov cleared his head and took what Anton Forsberg gave him. Tyler Seguin just did like Radulov. That was enough for the Dallas Stars.
Radulov and Seguin scored in the shootout to lift Dallas over the Chicago Blackhawks 3-2 on Saturday. It was Dallas' second win in three nights against Chicago, with both games stretching beyond regulation.
Radulov skated in front of Forsberg on his shootout try and went to his forehand for a short shot along the ice.
''I was trying to not think about it because every time you think, it's not going so well,'' Radulov said. ''I was just going there and keep my head up and see what he was gonna give me.''
Seguin used a similar move, except his puck ended up on the backhand at nearly the same spot.
Stars goalie Ben Bishop stopped shots by Jonathan Toews and Patrick Kane with his pads. Bishop made 33 saves.
Radulov also scored the game's first goal with an assist from Seguin.
Radek Faksa scored his fifth goal in the last three games for Dallas, which has won four in a row.
Cody Franson and Brandon Saad each had a goal for Chicago, which is 0-1-2 in the last three games. Forsberg had 32 saves in place of injured goalie Corey Crawford.
''He was good,'' Chicago coach Joel Quenneville said. ''Gave us a chance. You get a 2-2 game on the road with a chance to win it in OT, you don't mind a few chances.''
The shootout was preceded by a back-and-forth overtime, during which Forsberg made four saves.
''I'm sure it looked more hectic from the stands,'' he said.
Radulov's goal came on the power play at 5:57 of the first period.
The Blackhawks tied it 2 1/2 minutes later when Franson scored from the right point for his first goal in 16 games with Chicago since signing as a free agent in October.
Faksa restored a one-goal lead for the Stars at 12:15 of the second.
Chicago came back again to tie it at 2 when Saad redirected Connor Murphy's drive from above the left circle at 19:19.
The third period was scoreless. In overtime, Chicago had an excellent chance when Nick Schmaltz had a breakaway, but Bishop skated out to smother the puck in the left circle.
NOTES: Crawford allowed four goals in an overtime loss to Dallas on Thursday, then went on injured reserve Friday with an undisclosed injury. Chicago recalled G J.F. Berube from Rockford of the AHL. ... Forsberg has a 1-2-3 record this season, and 2-10-3 in his career. . The Stars had been 1 for 23 on the power play during the last eight games before Radulov scored, and they failed on their last four man advantages after that. ... Dallas is 10-2 at home, where they have won five in a row and outscored opponents by 19 goals in 12 games. ... The Stars have won all four games while wearing yellow skate laces to honor Jere Lehtinen since his number 26 was retired on Nov. 24.
UP NEXT
Blackhawks: Return home to play Los Angeles on Sunday night.
Stars: Travel to Colorado to play the Avalanche on Sunday night.
---
More AP hockey: https://apnews.com/tag/NHLhockey
---
---