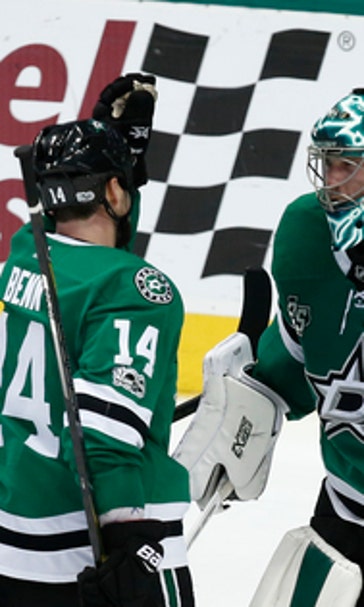 Pitlick scores 2, Stars hold on to beat Hurricanes 4-3 (Oct 21, 2017)
October 22, 2017

DALLAS (AP) After Tyler Pitlick's first career two-goal game helped Dallas build a four-goal lead, the Stars had to hold on to keep their winning streak going.
Jamie Benn and Tyler Seguin also scored to help Dallas beat the Carolina Hurricanes 4-3 Saturday night for its fourth straight win. Ben Bishop stopped 36 shots.
Dallas coach Ken Hitchcock credited the line centered by Radek Faksa with Pitlick and Antoine Roussel. Faksa assisted on both of Pitlick's goals.
''Faksa's line was the best line of any line on the ice for either team,'' Hitchcock said. ''They did everything we needed them to do. Our third line scored two goals in a game like this. That's just outstanding.''
Jeff Skinner scored twice for Carolina and Jordan Staal also had a goal to pull the Hurricanes within one with 4 1/2 minutes remaining.
''We had them dead to rights,'' Hitchcock said. ''The first goal gave them a little bit of life, the second goal, that's all on us. ... We played for two periods until the last (10) seconds exactly the way you have to play to beat them. The second goal gave them the life they needed. You can't defend skating backwards.''
Scott Darling finished with 22 saves for Carolina.
The Hurricanes pulled Darling for an extra skater for the final 2:49, including a 6-on-4 for two minutes after a penalty to Dallas' Martin Hanzal, but couldn't tie it.
''You've got to learn a lesson if you get in that big a hole,'' Hurricanes coach Bill Peters said. ''You've got to be ready to start.''
Skinner said the coach's message during the second intermission was simple: ''Just work hard. Going into the third, obviously it's a big hill to climb and you're not going to make it up in one shift.''
Benn opened the scoring 7:58 into the game. Alexander Radulov dropped the puck back to Benn in the slot, and he sent a wrist shot past Darling and in off the left goalpost.
Pitlick made it 2-0 with 1:53 left in the first as he flew into the goalmouth to knock in the rebound of Radek Faksa's shot from the left point.
''I saw a puck laying there and I dove at it and hit it in,'' Pitlick said.
Seguin scored coming out of the penalty box, taking a led pass from Mattias Janmark and skating in a two-man rush to beat Darling at 5:24 of the second. Pitlick followed with his second goal less than 2 1/2 minutes later, redirecting Antoine Roussel's pass from behind the net for Dallas' largest lead this season.
''The second goal (Roussel) made a heck of a play, got the puck, put it right on my tape and I just shot it hard,'' Pitlick said.
Skinner scored Carolina's first goal on his own rebound just 10 seconds before the period ended. He added another at 5:32 of the third period, tipping in a shot by Noah Hanifin.
NOTES: Commemorating 25 years in the NHL, Dallas honored retired former captain Brenden Morrow. He dropped the ceremonial first puck for Stars captain Benn and Carolina rookie Haydn Fleury. When Fleury was a boy, Morrow babysat for him in their hometown of Carlyle, Saskatchewan. ... Pitlick has 13 goals in 66 games over four seasons. ... Dallas was outshot for only the second time this season, 39-26.
UP NEXT
Hurricanes: Host Tampa Bay on Tuesday night.
Stars: At Colorado on Tuesday night to open a five-game trip.
---
---