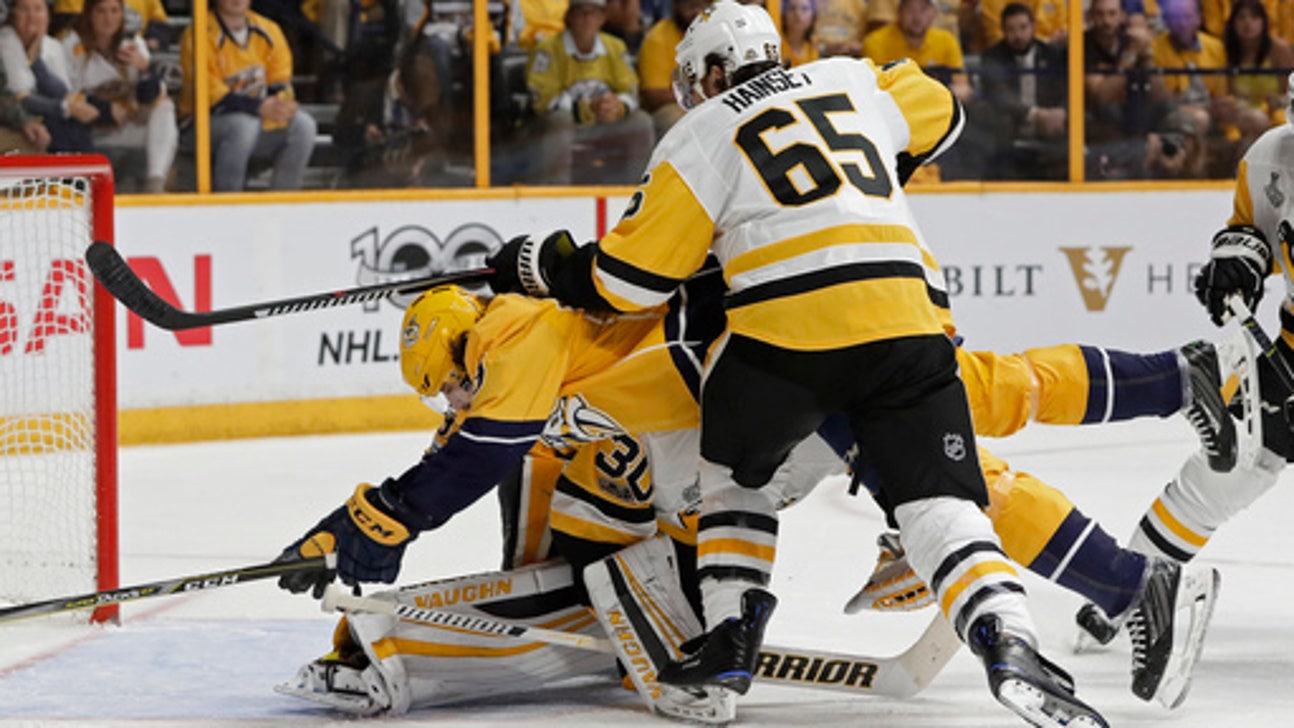 Penguins lose special teams battle, game to Nashville
Updated
Mar. 5, 2020 1:20 a.m. ET

NASHVILLE, Tenn. (AP) The Pittsburgh Penguins are still leading the Stanley Cup Final, no thanks to their scuffling power play.
The Penguins went 0-3 with the man advantage in losing Game 3 in Nashville, 5-1. The Predators scored on two of their three power play opportunities.
Coming up empty in six minutes of power play time was tough, but the Penguins only recorded one shot on Nashville goaltender Pekka Rinne during that time.
''The power play didn't get enough zone time,'' Penguins coach Mike Sullivan said. ''To give them the opportunity on the power play, my feeling or at least my observation coaching these guys, is when they have success on the power play, it helps their overall game, their 5-on-5 game as well. I think it gives them confidence. They feel the puck and we haven't had the success that we would like here in this early part of the series. We've certainly got to figure this out as a group and I believe we will.''
Pittsburgh is a woeful 1 for 13 on the power play in the series, with just four total shots on goal. Nashville is 4 of 10 and the Predators used the power play to climb within 2-1 in the Final ahead of Game 4 on Monday night.
''They pressure really hard and we tried to make plays through them,'' the Penguins' Patric Hornqvist said. ''We have to spread it out a little bit longer. We have to wait for opportunity. We can't force any plays and that's what we did there on all our power plays.''
Forwards Sidney Crosby and Evgeni Malkin led Pittsburgh forwards in power play time in Game 3 with 4 minutes and 3:46, respectively. Neither player generated a shot on goal on the power play - or at any other time in the game either.
''Those are important guys for us,'' Sullivan said. ''We want them to get pucks on the net because they have the ability to score.''
After taking a 1-0 lead into the first intermission, Pittsburgh fell behind 2-1 after Roman Josi and Frederick Gaudreau beat Matt Murray 42 seconds apart early in the second. Josi's goal came on the power play.
''They got some momentum when they got that power-play goal,'' Crosby said. ''You don't want to give up two quick goals like that. They get one on the power play, but to follow it up with another one and then you don't want to give one up late in the period. Kind of a couple of plays there that really gave them momentum and our own power play needs to be better too. We had opportunities to kind of build on that lead and we didn't.''
Mattias Ekholm concluded the scoring at 13:10 of the third with Nashville's second power-play goal of the game.
The Penguins allowed just two power-play shots on Murray in 4:05 during the game - and both ended up in the back of the net.
---
More AP NHL: https://apnews.com/tag/NHLhockey
---
---