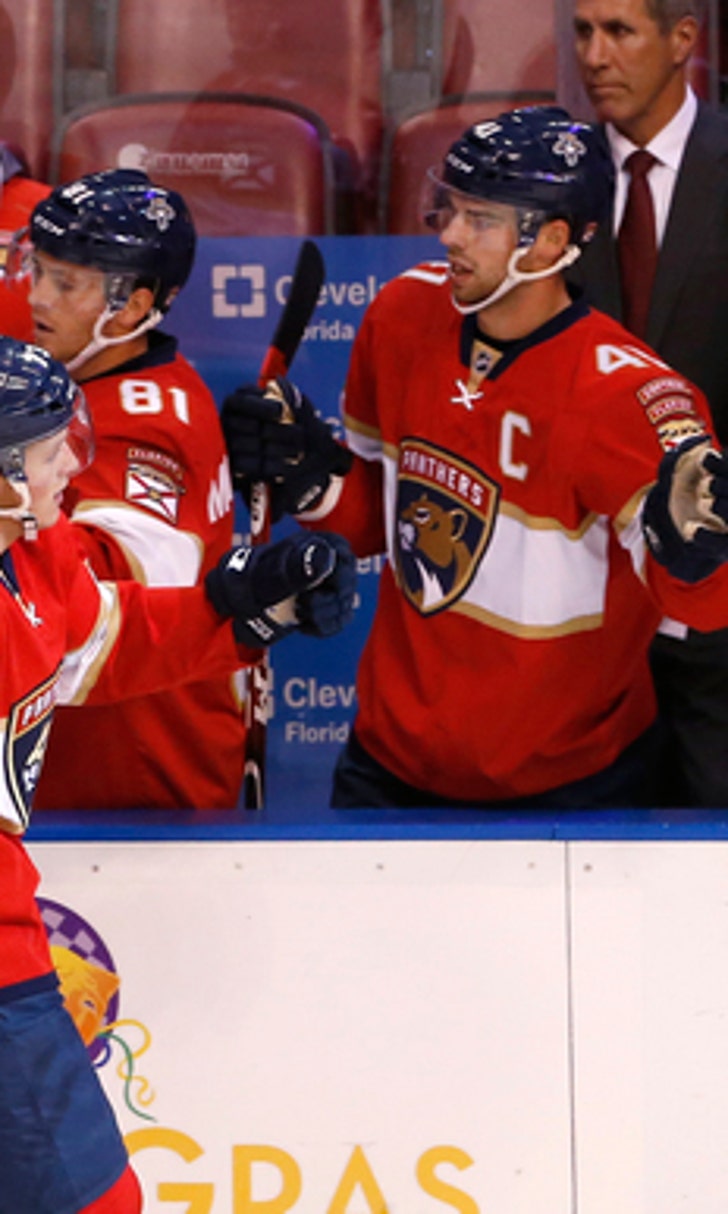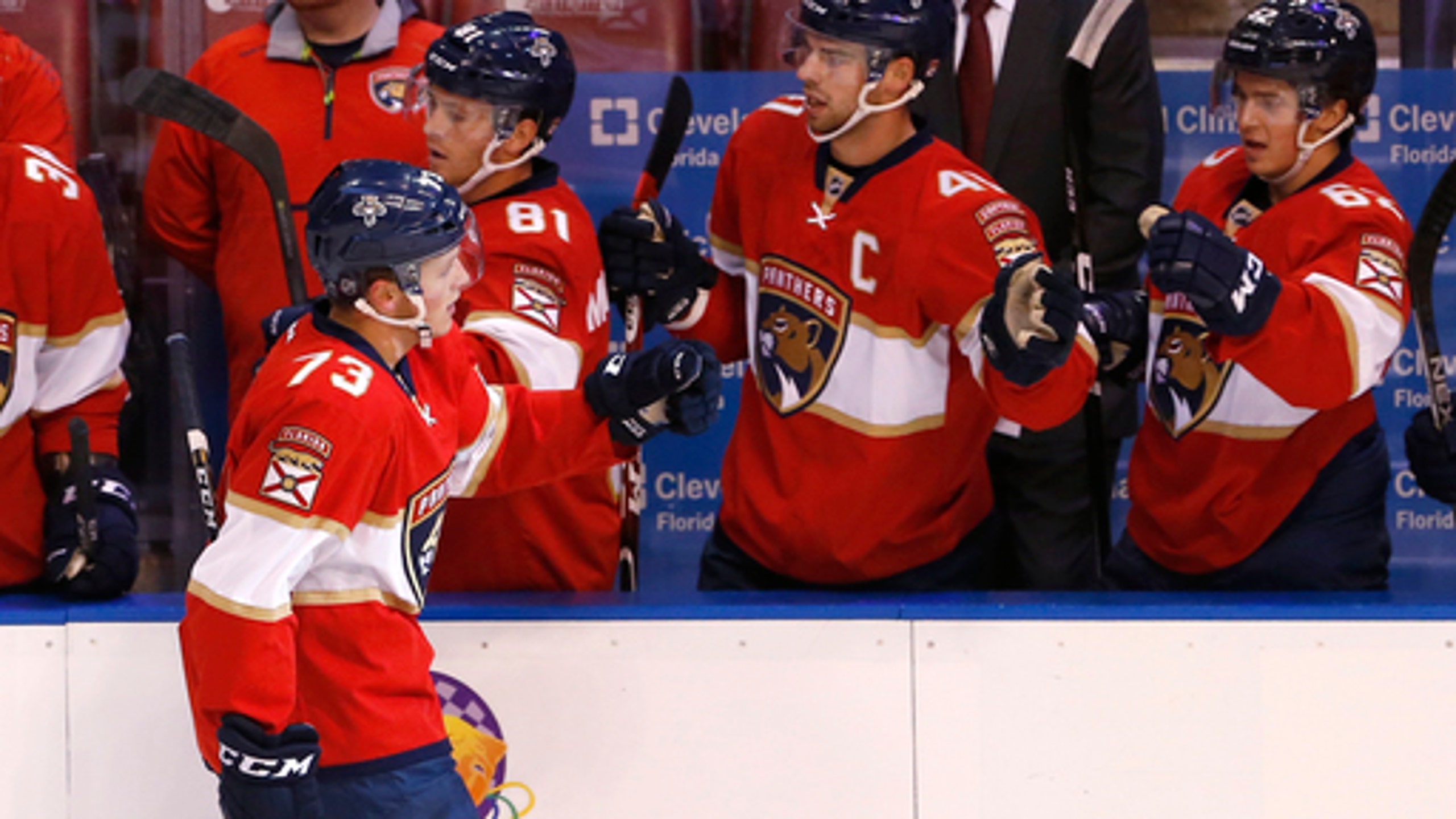 Panthers, Predators split split-squad doubleheader
BY foxsports • September 28, 2016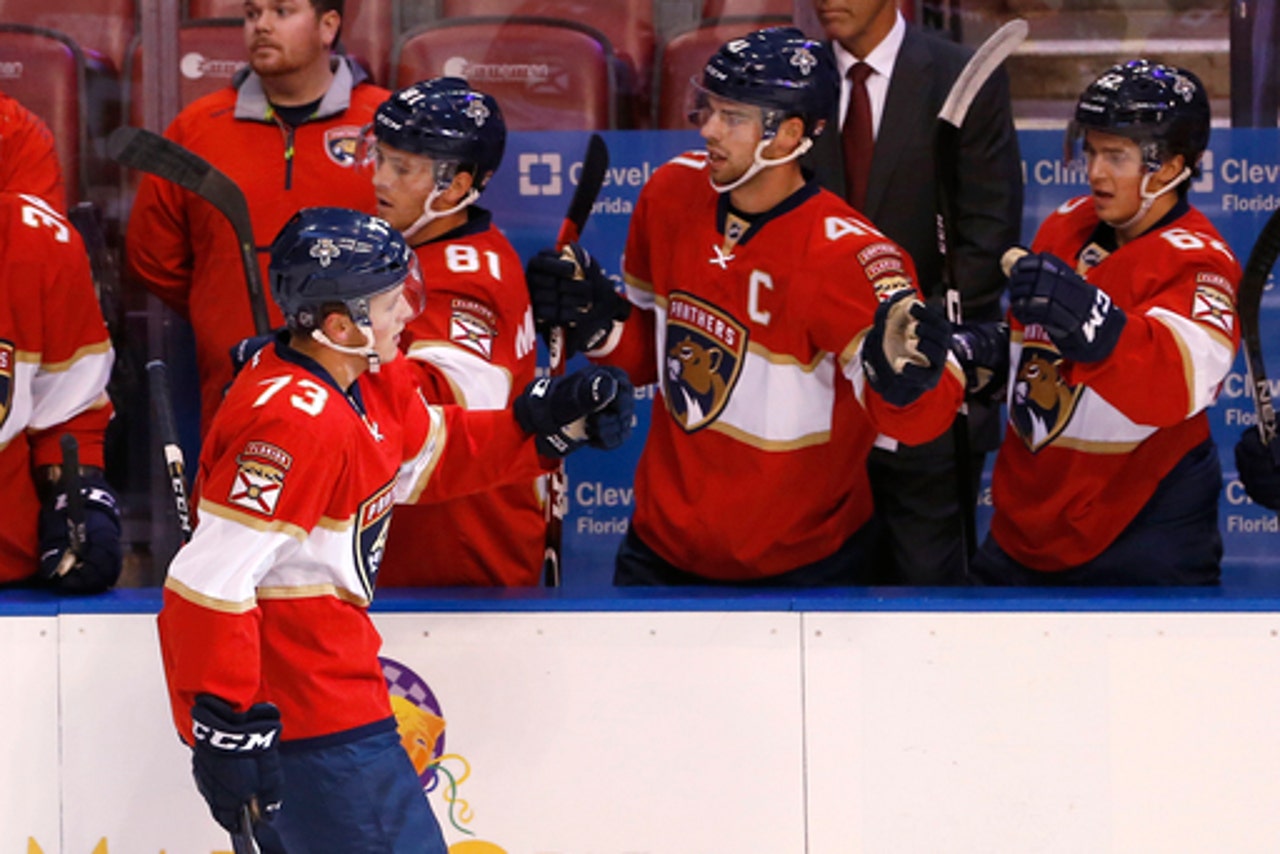 Greg McKegg scored 11 seconds into the third period to help the Florida Panthers beat the Nashville Predators 4-1 in a split-squad game on Tuesday night.
Dryden Hunt, Jonathan Ang, and Jonathan Marchessault also scored for the Panthers in Sunrise, Florida.
James Neal's power-play goal at 9:35 of the third accounted for Nashville's scoring.
James Reimer and Sam Brittain split time in goal for Florida. Reimer, who signed with Florida as a free agent, stopped all 12 shots he faced. Brittain allowed only Neal's goal on the 25 shots he saw.
While Marek Mazanec turned away 15 of 16 shots for Nashville, his replacement, Jonas Gunnarsson allowed three goals on seven shots in 16:53.
In the second game, also at the BB&T Center, Juuse Saros made 13 saves in the first two periods to lead the Predators to a 2-1 win over the Panthers.
Mark Visentin added five third-period saves for Nashville.
Miikka Salomaki and Pontus Alberg scored in the first period for Nashville, while Paul Thompson's second-period goal accounted for Florida's scoring.
Roberto Luongo allowed both Nashville goals on 14 shots to take the loss.
RED WINGS TOP PENGUINS
In Detroit, Evgeny Svechnikov's power-play goal with 5:19 left in the second helped the Red Wings to a 4-2 win over the Pittsburgh Penguins.
Mitch Callahan scored twice, and Riley Sheahan added a goal for the Red Wings.
Garrett Wilson scored second- and third-period goals for Pittsburgh.
Jimmy Howard and Jared Coreau split time in net for Detroit. Howard allowed one goal on 15 shots, and Coreau stopped 17 of 18 shots.
Pittsburgh's Marc-Andre Fleury allowed three goals on 19 shots in two periods, before being replaced by Casey Desmith, who made four saves in 18:10.
COLORADO'S LIEUWEN, SMITH BEAT WILD
In St. Paul, Minnesota, Nathan Lieuwen and Jeremy Smith combined for 27 saves to lead the Colorado Avalanche to a 4-1 win over the Minnesota Wild.
Smith stopped 16 of 17 shots in the first two periods before being replaced by Lieuwen, who stopped all 11 shots he faced in the third.
Mike Sislo, Rene Bourque, Mikhail Grigorenko and Ben Smith scored for the Avalanche.
Devan Dubnyk allowed three goals on 29 shots, and Victor Bartley scored for Minnesota.
COYOTES CLAW PAST DUCKS
In Anaheim, California, Adin Hill made 16 saves to lead the Arizona Coyotes to a 2-1 win over the Anaheim Ducks.
Hill replaced Justin Peters, who allowed a goal on 11 shots in 30:49.
The Anaheim goaltending duo of Matt Hackett and Kevin Boyle each allowed a goal. Hackett made 16 saves in 30:49, while Boyle stopped 18 of 19 shots in 27:18.
Henrik Samuelsson's goal 8:50 into the third period was the game-winner. Chris Mueller and Antoine Laganiere traded goals in the second.
NEW-LOOK RANGERS DOUBLE UP ISLANDERS
In New York, Chris Kreider, Mike Zibanejad and Brandon Pirri combined for seven points to lead the New York Rangers to a 5-2 win over a New York Islanders split-squad.
Pirri had a goal and two assists, while Krieder and Zibanejad had a goal and an assist apiece.
Dylan McIlrath and Dan Girardi added third-period goals for the Rangers. Girardi's goal was a short-handed empty netter with 2:13 left.
Magnus Hellberg made 12 saves in 29 1/2 minutes before giving way to Mackenzie Skapski, who had 17 stops.
Jason Chimera and Nick Leddy scored for the Islanders.
Jean-Francois Berube played the entire game in goal for the Islanders and finished with 26 saves.
FLYERS SOAR OVER ISLANDERS
In Philadelphia, Wayne Simmonds scored twice to lead the Flyers to a 4-0 win over an Islanders split-squad.
Dale Weise and Andy Miele also scored for the Flyers, and Steve Mason made 23 saves.
New York's Christopher Gibson allowed all four Philadelphia goals before being replaced by Eamon McAdam, who stopped five shots in 15:55.
SABRES EDGE SENATORS IN OT
In Buffalo, New York, Jake McCabe's goal 1:32 into overtime lifted the Sabres to a 3-2 win over the Ottawa Senators.
McCabe's goal accounted for the only lead for the Sabres. Nicholas Baptiste and Derek Grant also scored for Buffalo.
Chris Neil and Derick Brassard scored for Ottawa. Robin Lehner made 37 saves.
Andrew Hammond started for Ottawa and made 20 stops. He was replaced by Matthew O'Connor, who allowed two goals on 11 shots.
HURRICANES SLIP PAST LIGHTNING
In Tampa, Florida, Cam Ward made 16 saves in the first two periods to help the Carolina Hurricanes to a 3-2 win over the Tampa Bay Lightning.
Ward was replaced by Daniel Altshuller in the third, and he allowed both Lightning goals on 12 shots.
Brody Sutter, Lucas Hallmark and Jeff Skinner scored for the Hurricanes.
Brayden Point and Bokondji Imama had Tampa Bay's goals.
Adam Wilcox was charged with the loss, despite making 14 saves on 15 shots. Kristers Gudlevskis allowed two goals on 23 shots in the opening 30 minutes, 26 seconds.
---
---