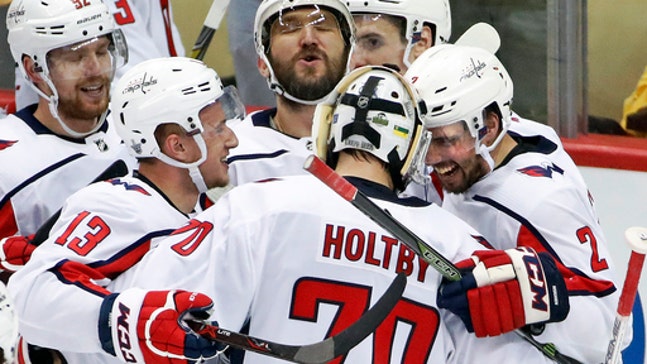 Ovechkin slays demons on first trip to Stanley Cup Final
Updated
Mar. 5, 2020 12:42 a.m. ET
ARLINGTON, Va. (AP) Raw emotion came from Alex Ovechkin as he wore an ''Eastern Conference champions'' hat for the first time.
''Oh my God,'' he said. ''It's unbelievable. I can't explain my emotions. I'm just happy for my boys, for organizations, for fans. Finally.''
Finally.
Ovechkin and the Washington Capitals will play for the Stanley Cup. It's a journey 14 years in the making from Ovechkin being the first overall draft pick to the greatest goal scorer of this generation - and a player who until this year hasn't made it out of the second round of the playoffs through little fault of his own. Yet he's gotten an uneven proportion of the blame.
Ovechkin essentially willed the Capitals to the Cup Final with 12 goals, 10 assists and the best postseason of his career. In one spring, the 32-year-old Russian superstar has ended Washington's 20-year final drought, slayed demons and destroyed the old narrative that he can't get the job done when it matters most.
''The special thing is because we're winning,'' Ovechkin said before the Capitals left for Las Vegas. ''That's the whole thing. That's all I can say. We win and we move forward. We've never been in this position before. All my career, I played for this team, and we never get the success like that.''
Ovechkin bore the brunt of nine playoff appearances ending after the first or second round despite being a point-a-game player. With time running out on chasing the trophy he knew all about as a kid, this season has featured a different-looking player.
General manager Brian MacLellan sees a new level of maturity on and off the ice that he believes comes from Ovechkin getting married. A different offseason training regimen allowed Ovechkin to produce more at even strength, and the result was an NHL-leading 49 goals.
''I think the way he plays this year is more within the team structure,'' MacLellan said. ''This is the most systematic he's played throughout his career, in my mind.''
In the playoffs, Ovechkin has raised his game even further. His vintage physicality and his willingness to get his body in front of shots and hustle down ice on the backcheck have been noticeable.
''When you see him blocking shots, you see him coming back hard, you see him playing physical, he's getting more and more excited,'' linemate Tom Wilson said. ''It seems like every round you win, he's playing even harder. And that's what you need out of your top guys. When he's going, you're aware he's on the ice. Everyone in the building knows he's on the ice.''
During the third round, Tampa Bay coach Jon Cooper said Ovechkin has ''taken 14 years of frustration out in one playoffs.'' Ovechkin is reluctant to talk about previous playoff disappointments, but they've been tied to him.
Even though this is a team sport, someone has to be the greatest player to never win the Cup. Until now, arguably that's Ovechkin, a label he has the chance to shed beginning in Game 1 of the final Monday at the expansion Vegas Golden Knights.
''He's an elite player that shoulders the responsibility of how our team performs, whether that is fair or unfair, and I think that happens to all those elite players in the league,'' MacLellan said. ''They get built up when they win and they get torn down a little bit when they lose. It is not always fair, because it is a team game. And for him, he has shouldered a lot of the burden that has gone on here for the last 11 years or whatever the time period has been, and hopefully this is a time when he gets payback and enjoys it this year.''
Ovechkin is enjoying hockey seemingly like never before. Coach Barry Trotz wondered if being the face of the franchise and carrying the burden weighed on Ovechkin all those years.
Getting past the Pittsburgh Penguins and the second round made Ovechkin look ''freer'' in Trotz's eyes.
''You want your top guys to be on a mission, and I think that has freed him to carry on the mission rather than have to explain why he didn't go farther and have to do it every spring,'' Trotz said. ''He's having fun. He's producing. He's all in. If you're going to have success, you have to have all-in contribution, and he has. I think he's enjoying the run, the playoffs, maybe for the first time in a long time.''
Since returning home to Washington after advancing to the Final, Ovechkin said fans have come up to him to say thank you, good job, and to express pride. But he doesn't want to celebrate too much because he knows how difficult every step of the playoffs is to conquer.
''It's hard. It's not easy,'' Ovechkin said. ''This organization, it's been too long to be in this position, and I've never been in this position. Only Brooks Orpik has won the Stanley Cup and been in the final. Now this group is excited and we're ready to go.''
---
More Stanley Cup coverage: https://apnews.com/tag/StanleyCupFinals
---
Follow Hockey Writer Stephen Whyno on Twitter at http://twitter.com/SWhyno
---
---