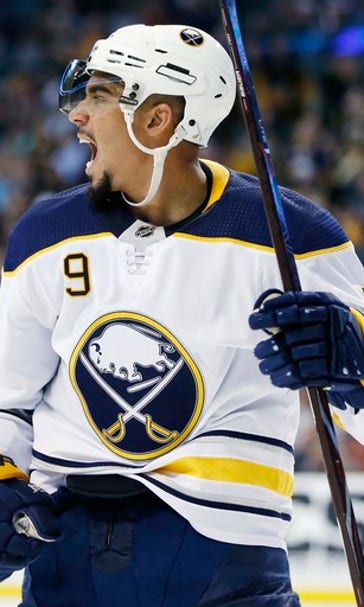 O'Reilly scores in OT to rally Sabres past Bruins, 5-4 (Oct 21, 2017)
October 21, 2017

BOSTON (AP) The Buffalo Sabres hope their exciting victory can turn around what's been a slow start so far.
Ryan O'Reilly scored 2:59 into overtime to give the Sabres a 5-4 win over the Boston Bruins on Saturday night, capping a comeback from a pair of three-goal deficits.
Former Boston University star and Hobey Baker winner Jack Eichel had a goal for the Sabres. Jason Pominville, Benoit Pouliot and Evander Kane also scored for Buffalo, which has just one regulation win this season. Robin Lehner stopped 27 shots.
''We talked before the game that we just needed to play a 60-minute game and the result will take care of itself,'' Buffalo coach Phil Housley said. ''Obviously we like the end. It's just one game, but it's something we can build off.''
They actually needed a few extra minutes.
''I think we need to use this game as an example of what it takes to win a hockey game,'' Eichel said.
Brad Marchand and David Pastrnak each scored two goals for the Bruins, and Anton Khudobin made 37 saves.
The Bruins held leads of 3-0 and 4-1, but Buffalo tied it when Kane scored out of a scramble in front with 2:08 to play.
''It's tough. These are the games you can't lose,'' Marchand said. ''We obviously didn't do the job there in the third to close it out.''
O'Reilly then won it when he spun from the side of the net and slipped a backhander over Khudobin. The play was reviewed, but the goal was upheld because a Boston player pushed Sabres defenseman Rasmus Ristolainen into the goaltender a few seconds before the shot.
''They made the call. You know how those go,'' Bruins coach Bruce Cassidy said. ''I lost so I disagree with it. They won so I'm sure they agree it with. They're tough calls, sometimes they go your way.''
With the Bruins leading 2-0, Marchand fired wrist shot that caromed into the net off the right post for his second goal of the game 37 seconds into the second period.
It could have been worse for the Sabres, but Lehner dropped to make a pad stop on Sean Kuraly's clean breakaway seconds later.
Buffalo sliced it to 3-1 when Pominville snapped a wrister by Khudobin's glove, but Pastrnak scored when his shot from the slot hit Buffalo defenseman Matt Tennyson's skate and bounced into the net at 11:42.
Marchand had a chance for the hat trick in the period, but Lehner made a sprawling save at the edge of the crease on his clean break in.
Eichel's goal cut it to 4-2 late in the period. Pouliot's score sliced it to one midway into the third.
Pastrnak scored off the rebound of Tim Schaller's shot 13:16 into the opening period, giving the Bruins a 1-0 edge.
Marchand made it 2-0 with a power-play goal a little less than two minutes later when he beat defenseman Marco Scandella to a loose puck after a faceoff and scored on a backhander.
Making his second straight start with top goalie Tuukka Rask sidelined indefinitely with a concussion sustained in practice this week, Khudobin made an arm stop on O'Reilly's short-handed bid on a partial breakaway late in the first period.
NOTES: Bruins C David Krejci and D Kevan Miller were both sidelined with injuries. ... Buffalo D Nathan Beaulieu missed the game with an upper body injury. ... D Paul Postma made his Bruins debut after injuries at the start of the season. He played 191 career games with Winnipeg before signing with Boston as a free agent during the offseason. ... The Sabres recalled D Zach Redmond from Rochester of the AHL, but he was scratched. ... Boston F Riley Nash had an assist for his 100th career NHL point.
UP NEXT
Sabres: Host Detroit on Tuesday night.
Bruins: Host San Jose in the third game of a four-game homestand on Thursday night.
---
---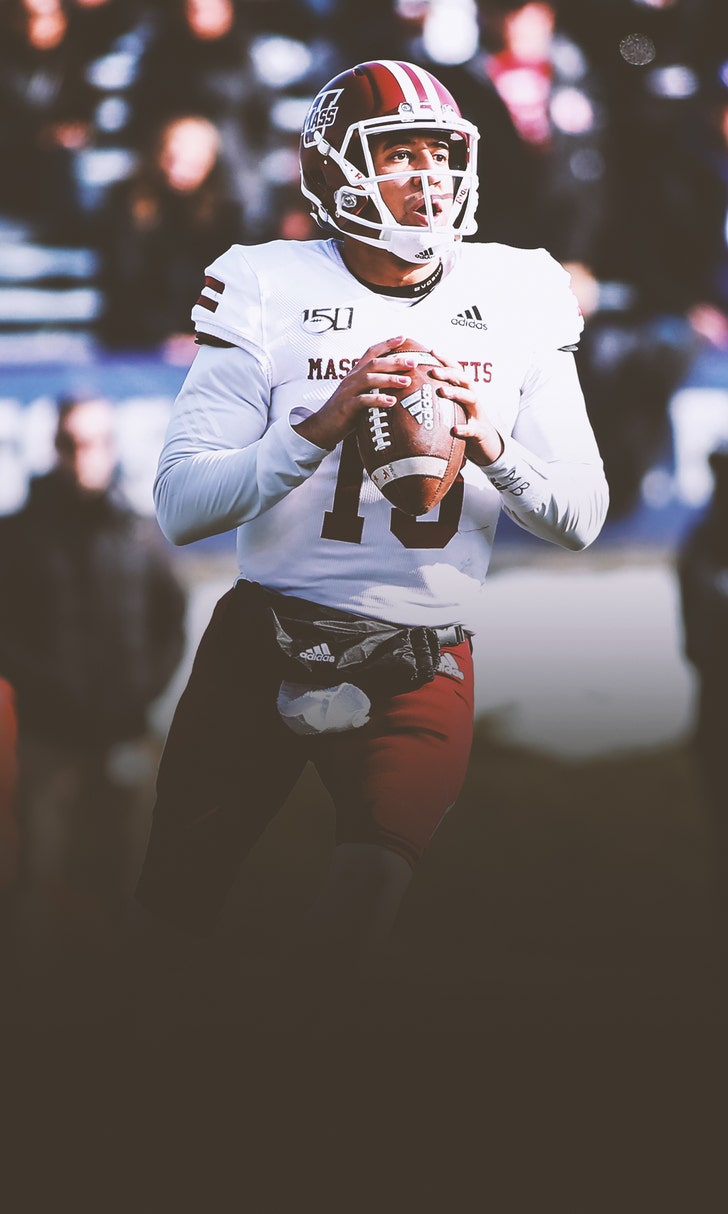 UMass Cancels Fall Football